Development of a kelp powder (Thallus laminariae) Standard Reference Material
Part of the following topical collections:
Abstract
A Standard Reference Material (SRM) of seaweed, SRM 3232 Kelp Powder (Thallus laminariae) has been developed to support food and dietary supplement measurements in compliance with the Food Safety Modernization Act (FSMA) and the Dietary Supplement Health and Education Act of 1994 (DSHEA). The material was characterized for nutritional minerals, arsenic species, isomers of vitamin K1, proximates, and toxic elements. Kelp is a rich source of vitamins and minerals, and it is an excellent source of dietary iodine. Kelp also contains a large amount of arsenic, which is toxic as inorganic species but much less so as organic species. To capture the dietary profile of kelp, certified values were issued for As, Ca, Cd, Cr, Cu, Fe, Hg, I, K, Mg, Mn, Mo, Na, Pb, and Zn. Reference values for proximates were assigned. For the first time, a certified value for iodine, reference values for isomers of vitamin K1, and reference values for arsenic species including arsenosugars were assigned in a seaweed. SRM 3232 fills a gap in Certified Reference Materials (CRMs) needed for quality assurance and method validation in the compositional measurements of kelp and similar seaweeds used as food and as dietary supplements.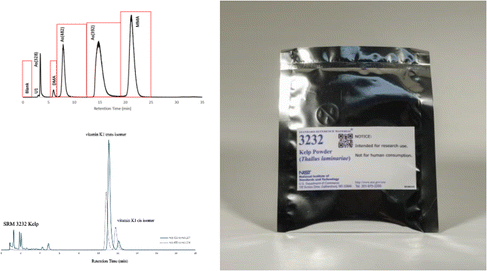 Keywords
Kelp 
Laminaria
Iodine 
Arsenosugar 
Vitamin K1 
SRM 
Notes
Acknowledgments
Support for the development of SRM 3232 was provided in part by the Office of Dietary Supplements of the National Institutes of Health (NIH-ODS). A gift of arsenosugar As(328) from Dr. John T. Creed of the U.S. Environmental Protection Agency, National Exposure Research Laboratory in Cincinnati, OH is gratefully acknowledged.
Compliance with Ethical Standards
Conflict of interest
The authors certify that they have no conflict of interest in the subject matter or materials discussed in this manuscript.
Human and Animal Studies
No animal or human subject was used in the work related to this manuscript.
Disclaimer
Certain commercial items are identified in this paper to specify adequately the experimental procedure. Such identification does not imply recommendation or endorsement by the National Institute of Standards and Technology, nor does it imply that the equipment identified is necessarily the best for the purpose.
Copyright information
© This is a U.S. government work and its text is not subject to copyright protection in the United States; however, its text may be subject to foreign copyright protection 2017