In situ, accurate, surface-enhanced Raman scattering detection of cancer cell nucleus with synchronous location by an alkyne-labeled biomolecular probe
Abstract
A surface-enhanced Raman scattering (SERS) method for in situ detection and analysis of the intranuclear biomolecular information of a cell has been developed based on a small, biocompatible, nuclear-targeting alkyne-tagged deoxyribonucleic acid (DNA) probe (5-ethynyl-2′-deoxyuridine, EDU) that can specially accumulate in the cell nucleus during DNA replications to precisely locate the nuclear region without disturbance in cell biological activities and functions. Since the specific alkyne group shows a Raman peak in the Raman-silent region of cells, it is an interior label to visualize the nuclear location synchronously in real time when measuring the SERS spectra of a cell. Because no fluorescent-labeled dyes were used for locating cell nuclei, this method is simple, nondestructive, non- photobleaching, and valuable for the in situ exploration of vital physiological processes with DNA participation in cell organelles.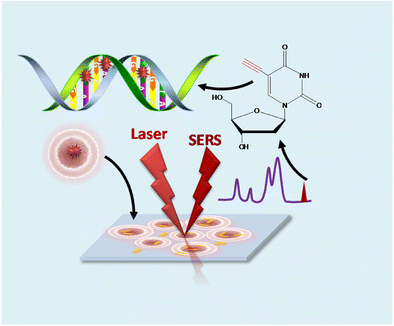 Keywords
Surface-enhanced Raman scattering 
Interior label 
Intranuclear detection 
Cell nucleus 
Nondestructive 
Notes
Acknowledgements
This work was funded by the National Natural Science Foundation of China (Grant Nos. 21373096, 21573087, 21573092, 91441105, and 31271478) and Science and Technology Development plan of Jilin Province in China (20150203013GX).
Compliance with ethical standards
Conflict of interest
The authors declare that they have neither financial nor nonfinancial conflicts of interest.
Ethics
Breast cancer cells (MCF-7) belong to cell line and we bought this cell line from Shanghai ATCC cell gank, which granted the permission of the Human Research Ethics Committee of the country for manipulations of human cells.
Copyright information
© Springer-Verlag GmbH Germany, part of Springer Nature 2017