Digital triplex DNA assay based on plasmonic nanocrystals
Abstract
A new analytical method has been developed to detect three kinds of DNA simultaneously based on magnetic beads and color-encoded plasmonic nanocrystals. Magnetic beads modified with capture DNA are employed to collect the specific target DNA, and color-encoded plasmonic nanocrystals are applied to signal the target through DNA hybridization. As a proof of concept, three types of representative metal nanocrystals of gold nanoparticle (AuNP), gold nanorod (AuNR), and gold/silver nanoparticle (Au/AgNP) were employed to signal three dissimilar virus-related protective antigen genes, Ebola virus (EV), Variola virus (VV), and Bacillus anthracis (BA), respectively. Detection limits of 0.5–3 fM were obtained showing the high sensitivity for DNA detection. The microscopic discrimination of the encoded nanoparticles allows simple, rapid, accurate, and cost-effective detection of multiple DNA molecules, indicative of the potential in practical applications.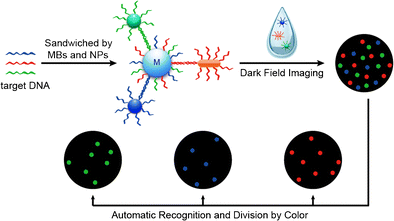 Keywords
DNA assay 
Plasmonic nanocrystals 
Color coding 
Single particle detection 
Notes
Acknowledgements
This work was supported by the National Science Foundation of China (grants 21273126 and 21573124) and the Fundamental Research Program of Shenzhen (JCYJ20140509172959966, JCYJ20160317152359560). HT thanks the financial support from The Science Technology Innovation Commission of Shenzhen Municipality (GJHZ20160301163644983) and The Health and Family Planning Commission of Shenzhen Municipality (201601019).
Compliance with ethical standards
Conflict of interest
The authors declare that they have no competing interests.
Copyright information
© Springer-Verlag Berlin Heidelberg 2017