A fully validated bioanalytical method using an UHPLC–MS/MS system for quantification of DNA and RNA oxidative stress biomarkers
Abstract
A new, rapid and effective ultra-high-performance liquid chromatography method with mass spectrometry detection is described for the separation and quantification of 8-hydroxy-2-deoxyguanosine, 8-hydroxyguanosine and creatinine in human urine. The present study uses an isotope-labelled internal standard ([15N]5-8-hydroxy-2-deoxyguanosine), a BIO core-shell stationary phase and an isocratic elution of methanol and water. Sample preparation of human urine was performed by solid-phase extraction (SPE) on Oasis HLB cartridges with methanol/water 50:50 (v/v) elution. Extraction recoveries ranged from 98.1% to 109.2%. Biological extracts showed high short-term stability. Several aspects of this procedure make it suitable for both clinical and research purposes: a short elution time of less than 3.2 min, an intra-day precision of 2.5–8.9%, an inter-day precision of 3.4–8.7% and low limits of quantification (27.7 nM for 8-hydroxyguanosine, 6.0 nM for 8-hydroxy-2-deoxyguanosine). Finally, simultaneous analysis of DNA and RNA oxidative stress biomarkers is a useful tool for monitoring disease progression in neurodegenerative disorders and cancer.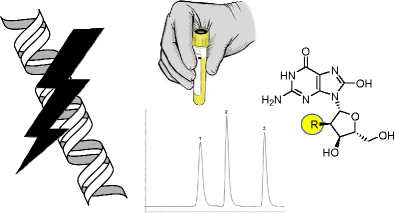 Keywords
8-Hydroxy-2-deoxyguanosine 
8-Hydroxyguanosine 
Creatinine 
Cancer 
UHPLC–MS/MS 
Human urine 
Notes
Acknowledgements
This work was supported by projects SVV 260 412, MH CZ - DRO (UHHK, 00179906) and Progress Q42.
Compliance with ethical standards
This study has been approved by the University Hospital Hradec Kralove ethics committee 201606 S21P and has been performed in accordance with the ethical standards.
Conflict of interest
The authors declare that they have no conflict of interest.
Copyright information
© Springer-Verlag Berlin Heidelberg 2017