A column switching ultrahigh-performance liquid chromatography-tandem mass spectrometry method to determine anandamide and 2-arachidonoylglycerol in plasma samples
Abstract
This study reports a fast, sensitive, and selective column switching ultrahigh-performance liquid chromatography-tandem mass spectrometry (UHPLC-MS/MS) method to determine the endocannabinoids (eCBs), anandamide (AEA), and 2-arachidonoylglycerol (2-AG) in plasma samples. This bidimensional system used a restricted access media column (RP-8 ADS, 25 mm × 4 mm × 25 μM) in the first dimension and a core-shell Kinetex C18 (100 mm × 2, 1.7 mm × 1 μM) column in the second dimension, followed by detection in a mass spectrometer triple quadrupole (multiple reactions monitoring mode) operating in the positive mode. RP-8 ADS was used for trace enrichment of eCBs (reverse phase partitioning) and macromolecular matrix size exclusion; the core-shell column was used for the chromatographic separation. The column switching UHPLC-MS/MS method presented a linear range spanning from 0.1 ng mL−1 (LOQ) to 6 ng mL−1 for AEA and from 0.04 ng mL−1 (LOQ) to 10 ng mL−1 for 2-AG. Excluding the LLOQ values, the precision assays provided coefficients of variation lower than 8% and accuracy with relative standard error values lower than 14%. Neither carryover nor matrix effects were detected. This high-throughput column switching method compared to conventional methods is time saving as it involves fewer steps, consumes less solvent, and presents lower LLOQ. The column switching UHPLC-MS/MS method was successfully applied to determine AEA and 2-AG in plasma samples obtained from Alzheimer's disease patients.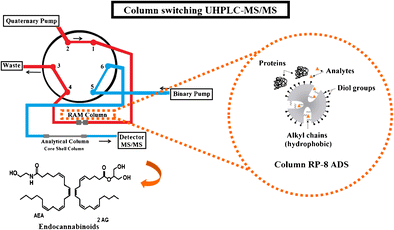 Keywords
Column switching 
Liquid chromatography-tandem mass spectrometry 
Endocannabinoids 
Plasma samples 
Notes
Acknowledgements
The authors would like to acknowledge CAPES (Coordenação de Aperfeiçoamento de Pessoal de Nível Superior), FAPESP (Fundação de Amparo à Pesquisa do Estado de São Paulo, process 2015/07619-1 and 2016/13639-8), and CNPq Brazil (Conselho Nacional de Desenvolvimento Científico e Tecnológico, process CNPq/MS/SCTIE/DECIT N° 26/2014 - Pesquisas sobre Distúrbios Neuropsiquiátricos; 466805/2014-4) for the financial support and fellowships.
Compliance with ethical standards
The samples were from plasma biobanking, and this study was part of a project approved by the Ethics Committee of the Ribeirão Preto Medical School Hospital in accordance with the ethical principles of the Declaration of Helsinki (permission number: 13478/2010), and all participants gave written informed consent to take part in the study.
Conflict of interest
The authors declare that they have no conflict of interest.
Copyright information
© Springer-Verlag Berlin Heidelberg 2017