Graphene oxide for solid-phase extraction of bioactive phenolic acids
Abstract
A solid-phase extraction (SPE) method for the efficient analysis of trace phenolic acids (PAs, caffeic acid, ferulic acid, protocatechuic acid, cinnamic acid) in urine was established. In this work, a graphene oxide (GO) coating was grafted onto pure silica to be investigated as SPE material. The prepared GO surface had a layered and wrinkled structure that was rough and well organized, which could provide more open adsorption sites. Owing to its hydrophilicity and polarity, GO showed higher extraction efficiency toward PAs than reduced GO did, in agreement with the theoretical calculation results performed by Gaussian 09 software. The adsorption mechanism of PAs on GO@Sil was also investigated through static state and kinetic state adsorption experiments, which showed a monolayer surface adsorption. Extraction capacity of the as-prepared material was optimized using the response surface methodology. Under the optimized conditions, the as-established method provided wide linearity range (2–50 μg L−1 for protocatechuic acid and 1–50 μg L−1 for caffeic acid, ferulic acid, and cinnamic acid) and low limits of detection (0.25–1 μg L−1). Finally, the established method was applied for the analysis of urine from two healthy volunteers. The results indicate that the prepared material is a practical, cost-effective medium for the extraction and determination of phenolic acids in complex matrices.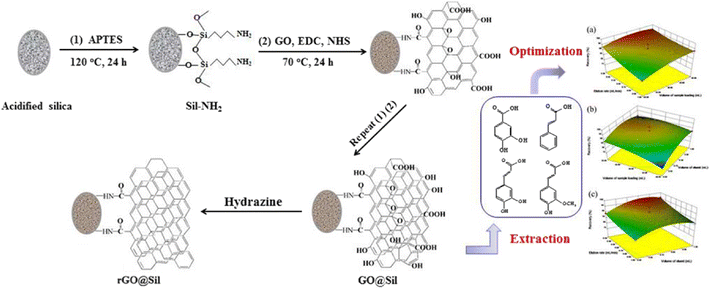 Keywords
Adsorption mechanism 
Graphene oxide 
Phenolic acid 
Response surface methodology 
Solid-phase extraction 
Abbreviations
APTES

3-aminopropyltriethoxysilane

BBD

Box–Behnken design

CafA

caffeic acid

CinA

cinnamic acid

EDC

N-(3-dimethylaminopropyl)-N-ethylcarbodiimide

FerA

ferulic acid

GO

graphene oxide

NHS

N-hydroxysuccinimide

PA

phenolic acid

ProA

protocatechuic acid

rGO

reduced graphene oxide

SPE

solid-phase extraction
Notes
Acknowledgements
This work was supported by the National Natural Science Foundation of China (21575149, 21505146 and 21575148); and Key Laboratory of Chemistry of Northwestern Plant Resources, Chinese Academy of Sciences, China (CNPR-2015kfkt-01).
Publisher's Note
Springer Nature remains neutral with regard to jurisdictional claims in published maps and institutional affiliations.
Compliance with ethical standards
The study was approved by the People's Hospital of Gansu Province Ethics Committee and was performed in accordance with the ethical standards.
Conflict of interest
The authors declare that they have no competing interests.
Informed consents
Informed consent of all individual participants who provided urine samples was obtained.
Copyright information
© Springer-Verlag Berlin Heidelberg 2017