Cross calibration between XRF and ICP-MS for high spatial resolution analysis of ombrotrophic peat cores for palaeoclimatic studies
Part of the following topical collections:
Abstract
Ombrotrophic peatlands are remarkable repositories of high-quality climatic signals because their only source of nutrients is precipitation. Although several analytical techniques are available for analysing inorganic components in peat samples, they generally provide only low-resolution data sets. Here we present a new analytical approach for producing high-resolution data on main and trace elements from ombrotrophic peat cores. Analyses were carried out on a 7-m-long peat core collected from Danta di Cadore, North-Eastern Italy (46° 34′ 16″ N, 12° 29′ 58″ E). Ca, Ti, Cr, Fe, Cu, Zn, Ga, Sr, Y, Cd, Ba and Pb were detected at a resolution of 2.5 mm with a non-destructive X-ray fluorescence core scanner (XRF-CS). Calibration and quantification of the XRF-CS intensities was obtained using collision reaction cell inductively coupled plasma quadruple mass spectrometry (CRC-ICP-QMS). CRC-ICP-QMS measurements were carried out on discrete samples at a resolution of 1 cm, after dissolution of 150-mg aliquots with 9 ml HNO3 and 1 ml HF at 220 °C in a microwave system. We compare qualitative XRF-CS and quantitative CRC-ICP-MS data and, however the several sources of variability of the data, develop a robust statistical approach to determine the R 2 and the coefficient of a simple regression model together with confidence intervals. Perfect positive correlations were estimated for Cd, Cr, Pb, Sr, Ti and Zn; high positive correlations for Ba (0.8954), Y (0.7378), Fe (0.7349) and Cu (0.7028); while moderate positive correlations for Ga (0.5951) and Ca (0.5435). With our results, we demonstrate that XRF scanning techniques can be used, together with other well-established geochemical techniques (such as ICP-MS), to produce high-resolution (up to 2.5 mm) quantitative data from ombrotrophic peat bog cores.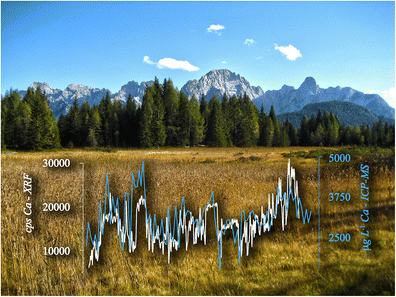 Keywords
ICP-MS 
XRF 
Trace elements 
Palaeoclimate 
Notes
Acknowledgments
The research leading to these results has received funding from CNR-IDPA (Next-Data project), Fondazione per l'Alta Cultura Bellunese and the European Research Council under the European Union's Seventh Framework Programme (FP7/2007-2013)/ERC Grant agreement no. 267696—'EARLYhumanIMPACT'. This is EARLYhumanIMPACT contribution 12. We are grateful to colleagues for technical and scientific assistance, and in particular, we would like to thank David Hodell for allowing the author Luisa Poto access to the facilities at the Godwin Laboratory for Palaeoclimate Research in the Department of Earth Sciences (Cambridge University) and Michael Krachler for his valuable advice on the acid digestion of peat samples.
Copyright information
© Springer-Verlag Berlin Heidelberg 2014