Abstract
An environmentally friendly sample pretreatment system based on solid-phase microextraction (SPME) for the sensitive determination of bisphenol A (BPA), bisphenol S (BPS) and biphenol (BP) is described. Two derivatisation reactions to obtain volatile derivatives are compared. Derivatisation with acetic anhydride (AA) was performed in situ in a 5-mM Na2CO3/NaHCO3 buffer solution and analytes were extracted by direct immersion (DI) using a PA fibre (85 µm) at 90°C for 40 min with stirring at 1,500 rpm. For derivatisation with bis-(trimethylsilyl)trifluoroacetamide (BSTFA), the analytes were first extracted by DI using the PA fibre at 70°C for 40 min with stirring at 500 rpm. The fibre was then removed, dried in a nitrogen stream for 2 min and introduced into the headspace of BSTFA at 50°C for 30 s. After derivatisation, the analytes were desorbed in the injection port of the GC in the splitless mode at 280°C for 4 min. The separation was carried out by coupling gas chromatography with mass spectrometry in the selected ion monitoring mode, GC-MS(SIM). The method allowed the determination of the migrating levels of bisphenols found in food cans, and it was validated for linearity, detection and quantitation limits, selectivity, accuracy and precision. Detection limits ranged from 3 to 16 pg mL−1, depending on the compound, at a signal-to-noise ratio of 3. Recoveries obtained for spiked samples were satisfactory for all compounds. Levels of BPA were higher than those of BPS and the lowest contents were found for BP.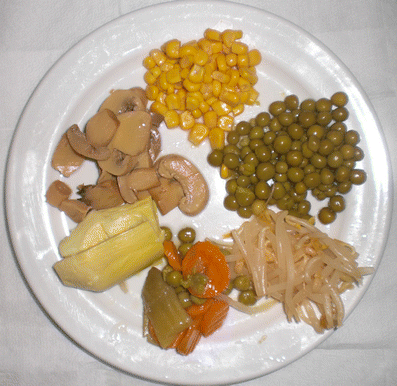 Access options
Buy single article
Instant access to the full article PDF.
USD 39.95
Price includes VAT (USA)
Tax calculation will be finalised during checkout.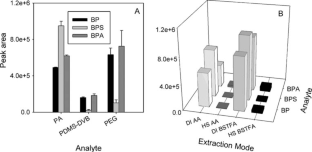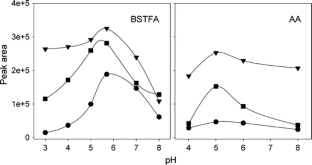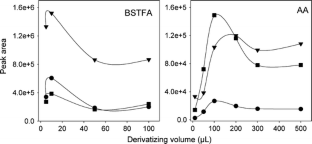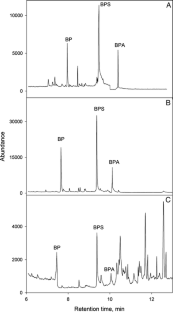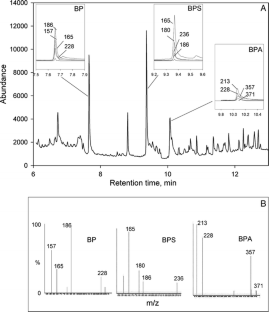 References
1.

Ballesteros-Gómez A, Rubio S, Pérez-Bendito D (2009) J Chromatogr A 1216:449–469

2.

Staples CA, Dom PB, Klecka GM, O'Blook ST, Harris LR (1998) Chemosphere 36:2149–2173

3.

Jeong-Hun K, Fusao K, Yoshiki K (2006) Toxicology 226:79–89

4.

Krishnan AV, Stathis P, Permuth SF, Tokes L, Feldman D (1993) Endocrinology 132:2279–2286

5.

Commision Directive 2004/19/EC, Off J Eur Commun L71 8

7.

Lambert C, Larroque M (1997) J Chromatogr Sci 35:57–62

8.

Yoshida T, Horie M, Hoshino Y, Nakazawa H (2001) Food Addit Contam 18:69–75

9.

Kang JH, Kondo F (2002) Food Addit Contam 19:886–890

10.

Kang JH, Kondo F (2002) Res Vet Sci 73:177–182

11.

Inoue K, Murayama S, Takeba K, Yoshimura Y, Nakazawa H (2003) J Food Compos Anal 16:497–506

12.

Shao B, Han H, Hu J, Zhao J, Wu G, Xue Y, Ma Y, Zhang S (2005) Anal Chim Acta 530:245–252

13.

Covaci A, Voorspoels S (2005) J Chromatogr B 827:216–223

14.

Kang JH, Kondo F, Katayama Y (2006) Anal Chim Acta 555:114–117

15.

Sun C, Leong LP, Barlow PJ, Chan SH, Bloodworth BC (2006) J Chromatogr A 1129:145–148

16.

Maragou NC, Lampi EN, Thomaidis NS, Koupparis MA (2006) J Chromatogr A 1129:165–173

17.

Kuruto-Niwa R, Tateota Y, Usuki Y, Nozawa R (2007) Chemosphere 66:1160–1164

18.

Gyong Y, Shin JH, Kim HY, Khim J, Lee MK, Hong J (2007) Anal Chim Acta 603:67–75

19.

Toyo'oka T, Oshige Y (2000) Anal Sci 16:1071–1076

20.

Nerín C, Salafranca J, Aznar M, Batlle R (2009) Anal Bioanal Chem 393:809–833

21.

Luque de Castro MD, Luque García JL (2002) Acceleration and automation of solid sample treatment. Elsevier, The Netherlands

22.

Pawliszyn J (1997) Solid phase microextraction. Theory and practice. Wiley-VCH, New York

23.

Pawliszyn J (ed) (1999) Applications of Solid Phase Microextraction. Royal Institute of Chemistry

24.

Salafranca J, Battle R, Nerín C (1999) J Chromatogr A 864:137–144

25.

Chang CM, Chou CC, Lee MR (2005) Anal Chim Acta 539:41–47

26.

Helaleh MIH, Fujii S, Korenaga T (2001) Talanta 54:1039–1047

27.

Braun P, Moeder M, Schhrader S, Popp P, Kuschk P, Engewald W (2003) J Chromatogr A 988:41–51

28.

Basheer C, Parthiban A, Jayaraman A, Kee-Lee H, Valiyaveettil S (2005) J Chromatogr A 1087:274–282

29.

Xiangli L, Li L, Shichun Z, Chongyu L, Tiangang L (2006) Chin J Anal Chem 34:325–328

30.

Nerín C, Philo MR, Salafranca J, Castle L (2002) J Chromatogr A 963:375–380

31.

del Olmo M, Zafra A, Suárez B, Gónzalez-Casado A, Taoufiki J, Vílchez JL (2005) J Chromatogr B 817:167–172

32.

Munguía-López EM, Gerardo-Lugo S, Peralta E, Bolumen S, Soto-Valdez H (2005) Food Addit Contam 22:892–898

33.

Biles JE, McNeal TP, Begley TH, Hollifield HC (1997) J Agric Food Chem 45:3541–3544

34.

Biles JE, McNeal TP, Begley TH (1997) J Agric Food Chem 45:4697–4700

35.

McNeal TP, Biles JE, Begley TH, Craun JC, Hopper ML, Sack CA (2000) ACS Symp Ser 747:33–34

36.

D'Antuono A (2001) Campo Dall'Orto V, Lo Balbo A, Sobral S, Rezzano I. J Agric Food Chem 49:1098–1101

37.

Dietz C, Sanz J, Cámara C (2006) J Chromatogr A 1103:183–192

38.

Kuo HW, Ding WH (2004) J Chromatogr A 1027:67–74

39.

Wingender RJ, Niketas P, Switala CK (1998) J Coat Technol 70:75–82

40.

Basheer C, Lee HK, Tan KS (2004) Mar Pollut Bull 48:1145–1167

41.

Goodson A, Summerfield W, Cooper I (2002) Food Addit Contam 19:796–802

42.

Thomson BM, Grounds PR (2005) Food Addit Contam 22:65–72

43.

Jin X, Jiang G, Huang G, Liu J, Zhou Q (2004) Chemosphere 56:1113–1119

44.

Stuart JD, Capulong CP, Launer KD, Pan X (2005) J Chromatogr A 1079:136–145

45.

del Olmo M, Gónzalez-Casado A, Navas NA, Vílchez JL (1997) Anal Chim Acta 346:87–92

46.

Vílchez JL, Zafra A, Gónzalez-Casado A, Hontoria E, del Olmo M (2001) Anal Chim Acta 431:31–40
Acknowledgements
The authors are grateful to the Spanish MEC (Project CTQ2009-08267/BQU) for financial support. N. Martínez-Castillo acknowledges a fellowship from Departamento de Formación del Personal Académico de la Universidad Centroccidental Lisandro Alvarado (Venezuela).
About this article
Cite this article
Viñas, P., Campillo, N., Martínez-Castillo, N. et al. Comparison of two derivatization-based methods for solid-phase microextraction–gas chromatography–mass spectrometric determination of bisphenol A, bisphenol S and biphenol migrated from food cans. Anal Bioanal Chem 397, 115–125 (2010). https://doi.org/10.1007/s00216-010-3464-7
Received:

Revised:

Accepted:

Published:

Issue Date:
Keywords
Gas chromatography–mass spectrometry

Solid-phase microextraction

On-fibre derivatisation

Bisphenols

Food cans