Abstract
Rationale
Depressed individuals demonstrate debilitating symptoms, including depressed mood, anhedonia, and effort-related deficits. Effort-related decision-making can be measured through providing subjects with a choice between high effort/reward and low effort/reward options, which is a dopamine (DA)–dependent behavior. While previous research has shown sex differences in depression rates, this has not been examined within operant-based effort-related decision-making tasks nor has DA been shown to underlie this behavior in female rats.
Objectives
The current study investigated sex differences in an effort-related decision-making task prior to and following administration of the DA D2 receptor antagonist haloperidol (HAL).
Methods
Adult rats were food restricted or fed freely and trained in an effort-related progressive ratio choice task. After stable responding, HAL was administered acutely (0.05–0.2 mg/kg) prior to testing.
Results
Results indicate a significant effect of sex on training variables, with males having a greater number of lever presses, higher ratios, and longer active lever times. Pretreatment with HAL significantly reduced the same measures in both sexes for the high-valued reward, while increasing chow consumption in the food restricted males. Food restricted rats showed a greater number of total lever presses and achieved higher ratios; however, the effect in male food restricted rats was greatest.
Conclusions
These data suggest that, although there are sex differences in training, HAL decreases behavior across sexes, demonstrating that the D2 mechanism is similar in both sexes. These findings provide a better understanding of motivational dysfunction in both sexes and potential treatment targets for depression.
Access options
Buy single article
Instant access to the full article PDF.
US$ 39.95
Tax calculation will be finalised during checkout.
Subscribe to journal
Immediate online access to all issues from 2019. Subscription will auto renew annually.
US$ 119
Tax calculation will be finalised during checkout.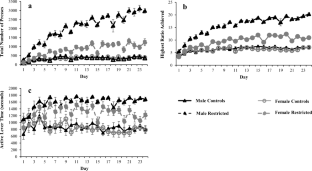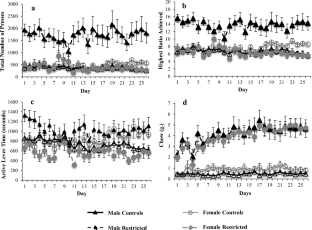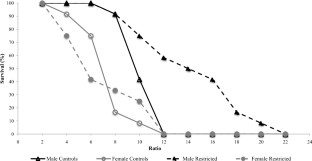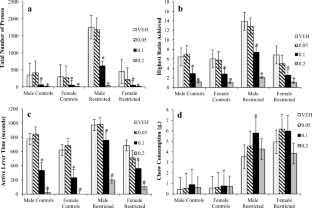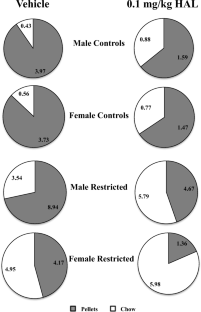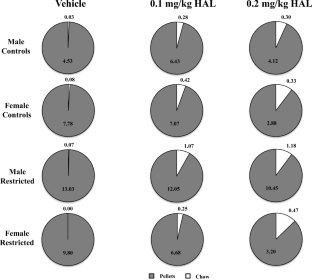 References
Aberman JE, Ward SJ, Salamone JD (1998) Effects of dopamine antagonists and accumbens dopamine depletions on time-constrained progressive-ratio performance. Pharmacol Biochem Behav 61(4):341–348

Ahn S, Phillips AG (1999) Dopaminergic correlates of sensory-specific satiety in the medial prefrontal cortex and nucleus accumbens of the rat. J Neurosci 19:RC29

Anderson EM, McWaters M, Matuszewich L (2017) Influence of gonadal hormones on motivation for a sucrose reward in female rats: alteration following exposure to haloperidol and apomorphine. Paper presented at the meeting of Experimental Biology. IL, Chicago

Barch DM, Gold JM, Kring AM (2017) Paradigms for assessing hedonic processing and motivation in humans: relevance to understanding negative symptoms in psychopathology. Schizophr Bull 43(4):701–705

Bassareo V, Di Chiara G (1999) Differential responsiveness of dopamine transmission to food-stimuli in nucleus accumbens shell/core compartments. Neuroscience 89:637–641

Becker, J. B., Arnold, A. P., Berkley, K. J., Blaustein, J. D., Eckel, L. A., Hampson, E., . . Young, E. (2005). Strategies and methods for research on sex differences. Endocrinology, 146, 1650-1673.

Bryce CA, Floresco SB (2016) Perturbations in effort-related decision-making driven by acute stress and corticotropin-releasing factor. Neuropsychopharmacoloy 41(8):2147–2159

Chong TT, Bonnelle V, Manohar S, Veromann KR, Muhammed K, Tofaris GK, Hu M, Husain M (2015) Dopamine enhances willingness to exert effort for reward in Parkinson's disease. Cortex 69:40–46

Cowen SL, Davis GA, Nitz DA (2012) Anterior cingulate neurons in the rat map anticipated effort and reward to their associated action sequences. J Neurophysiol 107(9):2393–2407

Dalla C, Edgecomb C, Whetstone AS, Shors TJ (2008) Females do not express learned helplessness like males do. Neuropsychopharmacology 33(7):1559–1569

Demyttenaere K, De Fruyt J, Stahl SM (2005) The many faces of fatigue in major depressive disorder. Int J Neuropsychopharmacol 8(1):93–105

Floresco SB, Ghods-Sharifi S (2007) Amygdala-prefrontal cortical circuitry regulates effort-based decision making. Cereb Cortex 17(2):251–260

Hart EE, Blair GJ, O'Dell TJ, Blair HT, Izquierdo A (2020) Chemogenetic modulation and single-photon calcium imaging in anterior cingulate cortex reveal a mechanism for effort-based decisions. J Neurosci 40(29):5628–5643

Klingerman CM, Williams WP III, Prasad A, Brahme N, Simberlund J, Schneider JE, Kriegsfeld LJ (2011) Food restriction-induced changes in gonadotropin-inhibiting hormone cells are associated with changes in sexual motivation and food hoarding, but not sexual performance and food intake. Front Endocrinol 2:101

Krieger DT (1974) Effect of neonatal hydrocortisone on corticosteroid circadian periodicity, responsiveness to ACTH and stress in prepuberal and adult rats. Neuroendocrinology 16(5-6):355–363

Lenglos C, Mitra A, Guevremont G, Timofeeva E (2013) Sex differences in the effects of chronic stress and food restriction on body weight gain and brain expression of CRF and relaxin-3 in rats. Genes Brain Behav 12(4):370–387

Marinelli M, Le Moal M, Piazza PV (1996) Acute pharmacological blockade of corticosterone secretion reverses food restriction-induced sensitization of the locomotor response to cocaine. Brain Res 724(2):251–255

McCullough LD, Salamone JD (1992) Involvement of nucleus accumbens dopamine in the motor activity induced by periodic food presentation: a microdialysis and behavioral study. Brain Res 592(1-2):29–36 https://doi-org.ezproxy.lib.uconn.edu/10.1016

Mott AM, Nunes EJ, Collins LE, Port RG, Sink KS, Hockemeyer J, Muller CE, Salamone JD (2009) The adenosine A2A antagonist MSX-3 reverses the effects of the dopamine antagonist haloperidol on effort-related decision-making in a T-maze cost/benefit procedure. Psychopharmacology 204(1):103–112

Presby RE, Kuperwasser F, Zorda E, Dimarco O, Rotolo RA, Yang J-H, Carratala-Ros C, Correa M, Salamone JD (2019) Modeling selection of voluntary physical activity in psychiatric disorders: effects of the SSRI fluoxetine in rodents. Paper presented at the meeting of Society for Neuroscience. IL, Chicago

Presby RE, Rotolo RA, Yang J-H, Correa M, Salamone JD (2020) Lisdexamfetamine suppresses instrumental and consummatory behaviors supported by foods with varying degrees of palatability: exploration of a binge-like eating model. Pharmacol Biochem Behav 189:1–7

Randall PA, Pardo M, Nunes EJ, Lopez Cruz L, Vemuri VK, Makriyannis A, Baqi Y, Muller CE, Correa M, Salamone JD (2012) Dopaminergic modulation of effort-related choice behavior as assessed by a progressive ratio chow feeding choice task: pharmacological studies and the role of individual differences. PLoS One 7(10):e47934

Randall PA, Lee CA, Podurgiel SJ, Hart E, Yohn SE, Jones M et al (2015) Bupropion increases selection of high effort activity in rats tested on a progressive ratio/chow feeding choice procedure: implications for treatment of effort-related motivational symptoms. Int J Neuropsychopharmacol 18(2):1–11

Reichelt AC, Abbott KN, Westbrook RF, Morris MJ (2016) Differential motivational profiles following adolescent sucrose access in male and female rats. Physiol Behav 157:13–19

Rowland NE (2007) Food or fluid restriction in common laboratory animals: balancing welfare considerations with scientific inquiry. Comp Med 57(2):149–160

Salamone JD (1988) Dopaminergic involvement in activational aspects of motivation: effects of haloperidol on schedule induced activity, feeding and foraging in rats. Psychobiology 16:196–206

Salamone JD, Steinpreis RE, McCullough LD, Smith P, Grebel D, Mahan K (1991) Haloperidol and nucleus accumbens dopamine depletion suppress lever pressing for food but increase free food consumption in a novel food choice procedure. Psychopharmacology 104(4):515–521 https://doi-org.ezproxy.lib.uconn.edu/10.1007/BF02245659

Salamone JD, Cousins MS, Bucher S (1994) Anhedonia or anergia? Effects of haloperidol and nucleus accumbens dopamine depletion on instrumental response selection in a T-maze cost/benefit procedure. Behav Brain Res 65:221–229

Salamone JD, Cousins MS, Snyder BJ (1997) Behavioral functions of nucleus accumbens dopamine: empirical and conceptual problems with the anhedonia hypothesis. Neurosci Biobehav Rev 21:341–359

Salamone JD, Correa M (2009) Dopamine/adenosine interactions involved in effort-related aspects of food motivation. Appetite 53(3):422–425

Salamone JD, Correa M, Ferrigno S, Yang JH, Rotolo RA, Presby RE (2018) The psychopharmacology of effort-related decision-making: dopamine, adenosine, and insights into the neurochemistry of motivation. Pharmacol Rev 70(4):747–762

Scheggi S, De Montis MG, Gambarana C (2018) Making sense of rodent models of anhedonia. Int J Neuropsychopharmacol 21(11):1049–1065

Schweimer J, Hauber W (2005) Involvement of the rat anterior cingulate cortex in control of instrumental responses guided by reward expectancy. Learn Mem 12(3):334–342

Sedki F, Abbas Z, Angelis S, Martin J, D'Cunha T, Shalev U (2013) Is it stress? The role of stress related systems in chronic food restriction-induced augmentation of heroin seeking in the rat. Front Neurosci 7:98

Shafiei N, Gray M, Viau V, Floresco SB (2012) Acute stress induces selective alterations in cost/benefit decision-making. Neuropsychopharmacology 37(10):2194–2209

Shors TJ, Mathew J, Sisti HM, Edgecomb C, Beckoff S, Dalla C (2007) Neurogenesis and helplessness are mediated by controllability in males but not in females. Biol Psychiatry 62(5):487–495

Song Z, Kalyani M, Becker JB (2018) Sex differences in motivated behaviors in animal models. Curr Opin Behav Sci 23:98–102

Steinman MQ, Crean KK, Trainor BC (2011) Photoperiod interacts with food restriction in performance in the Barnes maze in female California mice. Eur J Neurosci 33(2):361–370

Tapia MA, Lee JR, Weise VN, Tamasi AM, Will MJ (2019) Sex differences in hedonic and homeostatic aspects of palatable food motivation. Behav Brain Res 359:396–400

Treadway MT, Bossaller NA, Shelton RC, Zald DH (2012) Effort-based decision-making in major depressive disorder: a translational model of motivational anhedonia. J Abnorm Psychol 121(3):553–558

Tylee A, Gastpar M, Lépine JP, Mendlewicz J (1999) DEPRES II (Depression Research in European Society II): a patient survey of the symptoms, disability and current management of depression in the community. Int Clin Psychopharmacol

Van Haaren F, Van Hest A, Heinsbroek RP (1990) Behavioral differences between male and female rats: effects of gonadal hormones on learning and memory. Neurosci Biobehav Rev 14(1):23–33

Van Hest A, Van Haaren F, Van de Poll NE (1987) Behavioral differences between male and female Wistar rats in food rewarded lever holding. Physiol Behav 39(2):263–267

Yohn SE, Santerre JL, Nunes EJ, Kozak R, Podurgiel SJ, Correa M, Salamone JD (2015) The role of dopamine D1 receptor transmission in effort-related choice behavior: effects of D1 agonists. Pharmacol Biochem Behav 135:217–226

Walton ME, Bannerman DM, Alterescu K, Rushworth MF (2003) Functional specialization within medial frontal cortex of the anterior cingulate for evaluating effort-related decisions. J Neurosci 23:6475–6479

Winstanley CA, Floresco SB (2016) Deciphering decision making: variation in animal models of effort-and uncertainty-based choice reveals distinct neural circuitries underlying core cognitive processes. J Neurosci 36(48):12069–12079

Yohn SE, Reynolds S, Tripodi G, Correa M, Salamone JD (2018) The monoamine-oxidase B inhibitor deprenyl increases selection of high-effort activity in rats tested on a progressive ratio/chow feeding choice procedure: implications for treating motivational dysfunctions. Behav Brain Res 342:27–34

Yohn SE, Collins SL, Contreras-Mora HM, Errante EL, Rowland MA, Correa M, Salamone JD (2016) Not all antidepressants are created equal: differential effects of monoamine uptake inhibitors on effort-related choice behavior. Neuropsychopharmacology 41(3):686–694
Ethics declarations
Conflict of interest
The authors declare no competing interests.
Additional information
Publisher's note
Springer Nature remains neutral with regard to jurisdictional claims in published maps and institutional affiliations.
Supplementary information
About this article
Cite this article
Errante, E.L., Chakkalamuri, M., Akinbo, O.I. et al. Sex differences in effort-related decision-making: role of dopamine D2 receptor antagonism. Psychopharmacology (2021). https://doi.org/10.1007/s00213-021-05795-x
Received:

Accepted:

Published:
Keywords
Motivation

Reward

Depression

Sex differences

Dopamine

D2 receptor

Food restriction

Behavioral activation