Abstract
Depression resulted as an important factor associated with the myocardial infarction (MI) prognosis. Patients with MI also have a higher risk for developing depression. Although the issue of depression after MI has become a matter of clinical concern, the molecular mechanism underlying depression after MI remains unclear, whereby several strategies suggested have not got ideal effects, such as selective serotonin reuptake inhibitors. In this review, we summarized and discussed the occurrence mechanism of depression after MI, such as 5-hydroxytryptamine (5-HT) dysfunction, altered hypothalamus-pituitary-adrenal (HPA) axis function, gut microbiota imbalance, exosomal signal transduction, and inflammation. In addition, we offered a succinct overview of treatment, as well as some promising molecules especially from natural products for the treatment of depression after MI.
Access options
Buy single article
Instant access to the full article PDF.
US$ 39.95
Tax calculation will be finalised during checkout.
Subscribe to journal
Immediate online access to all issues from 2019. Subscription will auto renew annually.
US$ 119
Tax calculation will be finalised during checkout.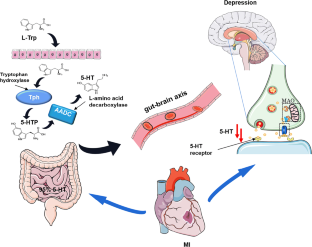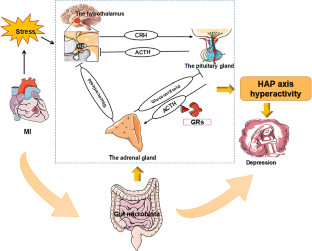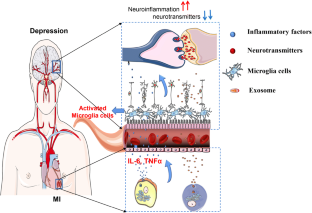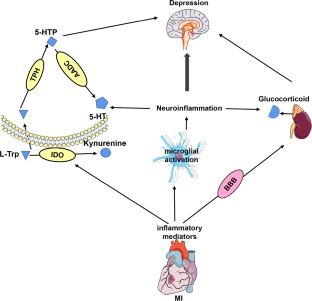 Abbreviations
AADC:

Amino acid decarboxylase

ACTH:

Adrenocortical hormones

AMI:

Acute myocardial infarction

BBB:

Blood–brain barrier

BDNF:

Brain-derived neurotrophic factor

CAD:

Coronary artery disease

CVD:

Cardiovascular disease

COR:

Cortisol

CRH:

Corticotropin-releasing hormone

CREATE:

Cardiovascular Risk Reduction by Early Anemia Treatment with Epoetin Beta

DHA:

Docosahexaenoic acid

ESC:

Embryonic stem cells

ENRICHD:

Enhancing Recovery in Coronary Heart Disease

EPA:

Eicosapentaenoic acid

GF:

Germfree

GRK2:

G protein–coupled receptor kinase 2

GRs:

Glucocorticoid receptors

GHSR:

Growth hormone secretagogue receptor

GFS:

Ginseng fruit saponins

HADS:

Hospital Anxiety and Depression Scale

HDRS:

Depression Rating Scale

HPA:

Hypothalamus–pituitary–adrenal

IDO:

Indoleamine 2,3-dioxygenase

IL-6:

Interleukin-6

IL-1β:

Interleukin-1β

IL-17a:

Interleukin-17a

L-Trp:

L-Tryptophan

MADRS:

Montgomery–Asberg Depression Rating Scale

MI:

Myocardial infarction

MAO:

Monoamine oxidase A

MSCs:

Mesenchymal stem cells

PHQ:

Patient Health Questionnaire

PI3K:

Phosphoinositide 3-kinase

PTX:

Pentoxifylline

PSD95:

Postsynaptic density protein-95

PrP:

Prion protein

SADHART:

Sertraline Antidepressant Heart Attack Randomized Trial

SERT:

Serotonin transporter

SSRIs:

Selective serotonin reuptake inhibitors

SYP:

Synaptophysin

SDF1:

Stromal-derived factor 1

TNF-α:

Necrosis factor alpha

TrkB:

Tyrosine kinase receptors

TPH:

Tryptophan hydroxylase

TMAO:

Trimethylamine N-oxide

TMA:

Trimethylamine

VEGF:

Vascular endothelial growth factor

5-HIAA:

5-Hydroxyindoleacetic acid

5-HT:

5-Hydroxytryptamine

5-HTP:

5-Hydroxytryptophan
References
Amamoto T, Sarai K (1976) On the tryptophan-serotonin metabolism in manic-depressive disorders. Changes in plasma 5-HT and 5-HIAA levels and urinary 5-HIAA excretion following oral loading of L-5HTP in patients with depression. Hiroshima J Med Sci 25:135–140

Anton Menarguez V, Sempere Ripoll JM, Martinez Amoros R (2019) Effectiveness of psychological intervention in cardiac rehabilitation. Semergen 45:288–294

Arseneault-Bréard J, Rondeau I, Gilbert K, Girard SA, Tompkins TA, Godbout R, Rousseau G (2012) Combination of Lactobacillus helveticus R0052 and Bifidobacterium longum R0175 reduces post-myocardial infarction depression symptoms and restores intestinal permeability in a rat model. Br J Nutr 107:1793–1799

Bah TM, Kaloustian S, Rousseau G, Godbout R (2011) Pretreatment with pentoxifylline has antidepressant-like effects in a rat model of acute myocardial infarction. Behav Pharmacol 22:779–784

Berge T, Bull-Hansen B, Solberg EE, Heyerdahl ER, Jorgensen KN, Vinge LE, Aaronaes M, Oie E, Hyldmo I (2019) Screening for symptoms of depression and anxiety in a cardiology department. Tidsskr Nor Laegeforen 139

Blumenthal JA, Babyak MA, Carney RM, Huber M, Saab PG, Burg MM, Sheps D, Powell L, Taylor CB, Kaufmann PG (2004) Exercise, depression, and mortality after myocardial infarction in the ENRICHD trial. Med Sci Sports Exerc 36:746–755

Blumenthal JA, Babyak MA, O'Connor C, Keteyian S, Landzberg J, Howlett J, Kraus W, Gottlieb S, Blackburn G, Swank A, Whellan DJ (2012) Effects of exercise training on depressive symptoms in patients with chronic heart failure: the HF-ACTION randomized trial. JAMA 308:465–474

Boersma SN, Maes S, Joekes K (2005) Goal disturbance in relation to anxiety, depression, and health-related quality of life after Myocardial Infarction. Qual Life Res 14:2265–2275

Bruce EC, Musselman DL (2005) Depression, alterations in platelet function, and ischemic heart disease. Psychosom Med 67(Suppl 1):S34–S36

Cao LH, Qiao JY, Huang HY, Fang XY, Zhang R, Miao MS, Li XM (2019) PI3K-AKT signaling activation and icariin: the potential effects on the perimenopausal depression-like rat model. Molecules 24:3700

Carmody TJ, Rush AJ, Bernstein I, Warden D, Brannan S, Burnham D, Woo A, Trivedi MH (2006) The Montgomery Asberg and the Hamilton ratings of depression: a comparison of measures. Eur Neuropsychopharmacol 16:601–611

Castro-Dominguez Y, Dharmarajan K, McNamara RL (2018) Predicting death after acute myocardial infarction. Trends Cardiovasc Med 28:102–109

Cenit MC, Sanz Y, Codoner-Franch P (2017) Influence of gut microbiota on neuropsychiatric disorders. World J Gastroenterol 23:5486–5498

Cernackova A, Durackova Z, Trebaticka J, Mravec B (2020) Neuroinflammation and depressive disorder: the role of the hypothalamus. J Clin Neurosci 75:5–10

Chen C, Du P, Wang J (2015) Paeoniflorin ameliorates acute myocardial infarction of rats by inhibiting inflammation and inducible nitric oxide synthase signaling pathways. Mol Med Rep 12:3937–3943

Coto E, Reguero JR, Alvarez V, Morales B, Batalla A, Gonzalez P, Martin M, Garcia-Castro M, Iglesias-Cubero G, Cortina A (2003) 5-Hydroxytryptamine 5-HT2A receptor and 5-hydroxytryptamine transporter polymorphisms in acute myocardial infarction. Clin Sci (Lond) 104:241–245

Dell'Osso L, Carmassi C, Mucci F, Marazziti D (2016) Depression, serotonin and tryptophan. Curr Pharm Des 22:949–954

Donders J, Darland K (2017) Psychometric properties and correlates of the PHQ-2 and PHQ-9 after traumatic brain injury. Brain Inj 31:1871–1875

Du Y, Gao XR, Peng L, Ge JF (2020) Crosstalk between the microbiota-gut-brain axis and depression. Heliyon 6:e04097

Dunlop BW, Rothbaum BO, Binder EB, Duncan E, Harvey PD, Jovanovic T, Kelley ME, Kinkead B, Kutner M, Iosifescu DV, Mathew SJ, Neylan TC, Kilts CD, Nemeroff CB, Mayberg HS (2014) Evaluation of a corticotropin releasing hormone type 1 receptor antagonist in women with posttraumatic stress disorder: study protocol for a randomized controlled trial. Trials 15:240

Fakhoury M (2016) Revisiting the serotonin hypothesis: implications for major depressive disorders. Mol Neurobiol 53:2778–2786

Franco AJ, Chen C, Scullen T, Zsombok A, Salahudeen AA, Di S, Herman JP, Tasker JG (2016) Sensitization of the hypothalamic-pituitary-adrenal axis in a male rat chronic stress model. Endocrinology 157:2346–2355

Fruhbeis C, Frohlich D, Kuo WP, Amphornrat J, Thilemann S, Saab AS, Kirchhoff F, Mobius W, Goebbels S, Nave KA, Schneider A, Simons M, Klugmann M, Trotter J, Kramer-Albers EM (2013) Neurotransmitter-triggered transfer of exosomes mediates oligodendrocyte-neuron communication. PLoS Biol 11:e1001604

Galecki P, Talarowska M (2018) Inflammatory theory of depression. Psychiatr Pol 52:437–447

Gershon MD (2013) 5-Hydroxytryptamine (serotonin) in the gastrointestinal tract. Curr Opin Endocrinol Diabetes Obes 20:14–21

Gilbert K, Arseneault-Breard J, Flores Monaco F, Beaudoin A, Bah TM, Tompkins TA, Godbout R, Rousseau G (2013) Attenuation of post-myocardial infarction depression in rats by n-3 fatty acids or probiotics starting after the onset of reperfusion. Br J Nutr 109:50–56

Gong XH, Liu H, Wang SJ, Liang SW, Wang GG (2019) Exosomes derived from SDF1-overexpressing mesenchymal stem cells inhibit ischemic myocardial cell apoptosis and promote cardiac endothelial microvascular regeneration in mice with myocardial infarction. J Cell Physiol 234:13878–13893

Gottlieb SS, Kop WJ, Thomas SA, Katzen S, Vesely MR, Greenberg N, Marshall J, Cines M, Minshall S (2007) A double-blind placebo-controlled pilot study of controlled-release paroxetine on depression and quality of life in chronic heart failure. Am Heart J 153:868–873

Guo LT, Wang SQ, Su J, Xu LX, Ji ZY, Zhang RY, Zhao QW, Ma ZQ, Deng XY, Ma SP (2019) Baicalin ameliorates neuroinflammation-induced depressive-like behavior through inhibition of toll-like receptor 4 expression via the PI3K/AKT/FoxO1 pathway. J Neuroinflammation 16:95

Halaris A (2017) Inflammation-associated co-morbidity between depression and cardiovascular disease. Curr Top Behav Neurosci 31:45–70

Hammond TR, Robinton D, Stevens B (2018) Microglia and the brain: complementary partners in development and disease. Annu Rev Cell Dev Biol 34:523–544

Hartung TJ, Friedrich M, Johansen C, Wittchen HU, Faller H, Koch U, Brahler E, Harter M, Keller M, Schulz H, Wegscheider K, Weis J, Mehnert A (2017) The Hospital Anxiety and Depression Scale (HADS) and the 9-item Patient Health Questionnaire (PHQ-9) as screening instruments for depression in patients with cancer. Cancer 123:4236–4243

Headrick JP, Peart JN, Budiono BP, Shum DHK, Neumann DL, Stapelberg NJC (2017) The heartbreak of depression: 'Psycho-cardiac' coupling in myocardial infarction. J Mol Cell Cardiol 106:14–28

Hobden B, Schwandt ML, Carey M, Lee MR, Farokhnia M, Bouhlal S, Oldmeadow C, Leggio L (2017) The validity of the Montgomery-Asberg Depression Rating Scale in an inpatient sample with alcohol dependence. Alcohol Clin Exp Res 41:1220–1227

Huang S, Frangogiannis NG (2018) Anti-inflammatory therapies in myocardial infarction: failures, hopes and challenges. Br J Pharmacol 175:1377–1400

Jahng JW, Song E, Sweeney G (2016) Crosstalk between the heart and peripheral organs in heart failure. Exp Mol Med 48:e217

Jeong JJ, Ha YM, Jin YC, Lee EJ, Kim JS, Kim HJ, Seo HG, Lee JH, Kang SS, Kim YS, Chang KC (2009) Rutin from Lonicera japonica inhibits myocardial ischemia/reperfusion-induced apoptosis in vivo and protects H9c2 cells against hydrogen peroxide-mediated injury via ERK1/2 and PI3K/Akt signals in vitro. Food Chem Toxicol 47:1569–1576

Jiang W, O'Connor C, Silva SG, Kuchibhatla M, Cuffe MS, Callwood DD, Zakhary B, Henke E, Arias RM, Krishnan R, Investigators S-C (2008) Safety and efficacy of sertraline for depression in patients with CHF (SADHART-CHF): a randomized, double-blind, placebo-controlled trial of sertraline for major depression with congestive heart failure. Am Heart J 156:437–444

Kang A, Hao H, Zheng X, Liang Y, Xie Y, Xie T, Dai C, Zhao Q, Wu X, Xie L, Wang G (2011) Peripheral anti-inflammatory effects explain the ginsenosides paradox between poor brain distribution and anti-depression efficacy. J Neuroinflammation 8:100

Kaptein KI, de Jonge P, van den Brink RH, Korf J (2006) Course of depressive symptoms after myocardial infarction and cardiac prognosis: a latent class analysis. Psychosom Med 68:662–668

Kirkham M, Berg DA, Simon A (2011) Microglia activation during neuroregeneration in the adult vertebrate brain. Neurosci Lett 497:11–16

Kjellstrom B, Gustafsson A, Nordendal E, Norhammar A, Nygren A, Nasman P, Ryden L, Asberg M, Committee Ps (2017) Symptoms of depression and their relation to myocardial infarction and periodontitis. Eur J Cardiovasc Nurs 16:468–474

Koopman M, El Aidy S, Consortium MI (2017) Depressed gut? The microbiota-diet-inflammation trialogue in depression. Curr Opin Psychiatry 30:369–377

Korzeniowska-Kubacka I, Bilinska M, Piotrowska D, Stepnowska M, Piotrowicz R (2017) The impact of exercise-only-based rehabilitation on depression and anxiety in patients after myocardial infarction. Eur J Cardiovasc Nurs 16:390–396

Kuribayashi K, Imamura K, Watanabe K, Miyamoto Y, Takano A, Sawada U, Sasaki N, Suga M, Sugino A, Hidaka Y, Iida M, Sudo M, Tokita M, Kawakami N (2019) Effects of an internet-based cognitive behavioral therapy (iCBT) intervention on improving depressive symptoms and work-related outcomes among nurses in Japan: a protocol for a randomized controlled trial. BMC Psychiatry 19:245

Lesperance F, Frasure-Smith N, Koszycki D, Laliberte MA, van Zyl LT, Baker B, Swenson JR, Ghatavi K, Abramson BL, Dorian P, Guertin MC, Investigators C (2007) Effects of citalopram and interpersonal psychotherapy on depression in patients with coronary artery disease: the Canadian Cardiac Randomized Evaluation of Antidepressant and Psychotherapy Efficacy (CREATE) trial. JAMA 297:367–379

Li D, Wang Y, Jin X, Hu D, Xia C, Xu H, Hu J (2020a) NK cell-derived exosomes carry miR-207 and alleviate depression-like symptoms in mice. J Neuroinflammation 17:126

Li S, Xu Y, Guo W, Chen F, Zhang C, Tan HY, Wang N, Feng Y (2020b) The impacts of herbal medicines and natural products on regulating the hepatic lipid metabolism. Front Pharmacol 11:351

Liang JQ, Liao HR, Xu CX, Li XL, Wei ZX, Xie GJ, Cheng Y (2020) Serum exosome-derived miR-139-5p as a potential biomarker for major depressive disorder. Neuropsychiatr Dis Treat 16:2689–2693

Liao Y, Chen K, Dong X, Li W, Li G, Huang G, Song W, Chen L, Fang Y (2018) Berberine inhibits cardiac remodeling of heart failure after myocardial infarction by reducing myocardial cell apoptosis in rats. Exp Ther Med 16:2499–2505

Lim MX, Png CW, Tay CY, Teo JD, Jiao H, Lehming N, Tan KS, Zhang Y (2014) Differential regulation of proinflammatory cytokine expression by mitogen-activated protein kinases in macrophages in response to intestinal parasite infection. Infect Immun 82:4789–4801

Liu H, Luiten PG, Eisel UL, Dejongste MJ, Schoemaker RG (2013) Depression after myocardial infarction: TNF-alpha-induced alterations of the blood-brain barrier and its putative therapeutic implications. Neurosci Biobehav Rev 37:561–572

Liu MY, Ren YP, Zhang LJ, Ding JY (2016) Pretreatment with ginseng fruit saponins affects serotonin expression in an experimental comorbidity model of myocardial infarction and depression. Aging Dis 7:680–686

Liu Y-M, Niu L, Wang L-L, Bai L, Fang X-Y, Li Y-C, Yi L-T (2017) Berberine attenuates depressive-like behaviors by suppressing neuro-inflammation in stressed mice. Brain Res Bull 134:220–227

Liu X, Jin G, Fan B, Xing Y, Wang L, Wang M, Yuan Y, Zhu Q (2018) The impact of ALDH2 activation by Alda-1 on the expression of VEGF in the hippocampus of a rat model of post-MI depression. Neurosci Lett 674:156–161

Liu M, Liu J, Zhang L, Geng Q, Ge Y (2019) Antidepressant-like effects of ginseng fruit saponin in myocardial infarction mice. Biomed Pharmacother 115:108900

Liu S, Chen J, Shi J, Zhou W, Wang L, Fang W, Zhong Y, Chen X, Chen Y, Sabri A, Liu S (2020) M1-like macrophage-derived exosomes suppress angiogenesis and exacerbate cardiac dysfunction in a myocardial infarction microenvironment. Basic Res Cardiol 115:22

Lopresti AL, Drummond PD (2017) Efficacy of curcumin, and a saffron/curcumin combination for the treatment of major depression: a randomised, double-blind, placebo-controlled study. J Affect Disord 207:188–196

Lu X, Wang Y, Liu C, Wang Y (2017) Depressive disorder and gastrointestinal dysfunction after myocardial infarct are associated with abnormal tryptophan-5-hydroxytryptamine metabolism in rats. PLoS One 12:e0172339

Lu Y, Sun G, Yang F, Guan Z, Zhang Z, Zhao J, Liu Y, Chu L, Pei L (2019) Baicalin regulates depression behavior in mice exposed to chronic mild stress via the Rac/LIMK/cofilin pathway. Biomed Pharmacother 116:109054

Luther KM, Haar L, McGuinness M, Wang Y, Lynch Iv TL, Phan A, Song Y, Shen Z, Gardner G, Kuffel G, Ren X, Zilliox MJ, Jones WK (2018) Exosomal miR-21a-5p mediates cardioprotection by mesenchymal stem cells. J Mol Cell Cardiol 119:125–137

Malan L, Mashele N, Malan NT, Harvey BH, Potgieter JC, Van Rooyen JM (2017) Depression symptoms facilitated fibrinolytic dysregulation and future coronary artery disease risk in a black male cohort: The Sympathetic Activity and Ambulatory Blood Pressure in Africans study. J Cardiovasc Nurs 32:401–408

May HT (2017) My APPROACH to the depressed patient after a myocardial infarction. Trends Cardiovasc Med 27:225

Mayer EA, Tillisch K, Gupta A (2015) Gut/brain axis and the microbiota. J Clin Invest 125:926–938

McMillan A, Hazen SL (2019) Gut microbiota involvement in ventricular remodeling post-myocardial infarction. Circulation 139:660–662

Meijer A, Conradi HJ, Bos EH, Thombs BD, van Melle JP, de Jonge P (2011) Prognostic association of depression following myocardial infarction with mortality and cardiovascular events: a meta-analysis of 25 years of research. Gen Hosp Psychiatry 33:203–216

Meijer A, Conradi HJ, Bos EH, Anselmino M, Carney RM, Denollet J, Doyle F, Freedland KE, Grace SL, Hosseini SH, Lane DA, Pilote L, Parakh K, Rafanelli C, Sato H, Steeds RP, Welin C, de Jonge P (2013) Adjusted prognostic association of depression following myocardial infarction with mortality and cardiovascular events: individual patient data meta-analysis. Br J Psychiatry 203:90–102

Mossner R, Lesch KP (1998) Role of serotonin in the immune system and in neuroimmune interactions. Brain Behav Immun 12:249–271

Ni W, Watts SW (2006) 5-hydroxytryptamine in the cardiovascular system: focus on the serotonin transporter (SERT). Clin Exp Pharmacol Physiol 33:575–583

Norlund F, Olsson EM, Burell G, Wallin E, Held C (2015) Treatment of depression and anxiety with internet-based cognitive behavior therapy in patients with a recent myocardial infarction (U-CARE Heart): study protocol for a randomized controlled trial. Trials 16:154

Otte C, Marmar CR, Pipkin SS, Moos R, Browner WS, Whooley MA (2004) Depression and 24-hour urinary cortisol in medical outpatients with coronary heart disease: the Heart and Soul Study. Biol Psychiatry 56:241–247

Oxenkrug G (2013) Serotonin-kynurenine hypothesis of depression: historical overview and recent developments. Curr Drug Targets 14:514–521

Petra AI, Panagiotidou S, Hatziagelaki E, Stewart JM, Conti P, Theoharides TC (2015) Gut-microbiota-brain axis and its effect on neuropsychiatric disorders with suspected immune dysregulation. Clin Ther 37:984–995

Qin L, Liu Y, Wang T, Wei SJ, Block ML, Wilson B, Liu B, Hong JS (2004) NADPH oxidase mediates lipopolysaccharide-induced neurotoxicity and proinflammatory gene expression in activated microglia. J Biol Chem 279:1415–1421

Rahnavard M, Hassanpour M, Ahmadi M, Heidarzadeh M, Amini H, Javanmard MZ, Nouri M, Rahbarghazi R, Safaie N (2019) Curcumin ameliorated myocardial infarction by inhibition of cardiotoxicity in the rat model. J Cell Biochem 120:11965–11972

Raic M (2017) Depression and heart diseases: leading health problems. Psychiatr Danub 29(Suppl 4):770–777

Rana I, Stebbing M, Kompa A, Kelly DJ, Krum H, Badoer E (2010) Microglia activation in the hypothalamic PVN following myocardial infarction. Brain Res 1326:96–104

Ranchord AM, Spertus JA, Buchanan DM, Gosch KL, Chan PS (2016) Initiation of beta-blocker therapy and depression after acute myocardial infarction. Am Heart J 174:37–42

Resnick RH, Gray SJ (1961) Distribution of serotonin (5-hydroxytryptamine) in the human gastrointestinal tract. Gastroenterology 41:119–121

Roest AM, Carney RM, Freedland KE, Martens EJ, Denollet J, de Jonge P (2013) Changes in cognitive versus somatic symptoms of depression and event-free survival following acute myocardial infarction in the Enhancing Recovery In Coronary Heart Disease (ENRICHD) study. J Affect Disord 149:335–341

Royall JA, Berkow RL, Beckman JS, Cunningham MK, Matalon S, Freeman BA (1989) Tumor necrosis factor and interleukin 1 alpha increase vascular endothelial permeability. Am J Phys 257:L399–L410

Sahoo S, Losordo DW (2014) Exosomes and cardiac repair after myocardial infarction. Circ Res 114:333–344

Saparov A, Ogay V, Nurgozhin T, Chen WCW, Mansurov N, Issabekova A, Zhakupova J (2017) Role of the immune system in cardiac tissue damage and repair following myocardial infarction. Inflamm Res 66:739–751

Schumacher SM, Gao E, Zhu W, Chen X, Chuprun JK, Feldman AM, Tesmer JJ, Koch WJ (2015) Paroxetine-mediated GRK2 inhibition reverses cardiac dysfunction and remodeling after myocardial infarction. Sci Transl Med 7: 277ra31.

Seibert K, Masferrer JL (1994) Role of inducible cyclooxygenase (COX-2) in inflammation. Receptor 4:17–23

Serebruany VL, Glassman AH, Malinin AI, Nemeroff CB, Musselman DL, van Zyl LT, Finkel MS, Krishnan KR, Gaffney M, Harrison W, Califf RM, O'Connor CM, Sertraline AntiDepressant Heart Attack Randomized Trial Study G (2003) Platelet/endothelial biomarkers in depressed patients treated with the selective serotonin reuptake inhibitor sertraline after acute coronary events: the Sertraline AntiDepressant Heart Attack Randomized Trial (SADHART) platelet substudy. Circulation 108:939–944

Shajib MS, Baranov A, Khan WI (2017) Diverse effects of gut-derived serotonin in intestinal inflammation. ACS Chem Neurosci 8:920–931

Shapiro PA (2015) Management of depression after myocardial infarction. Curr Cardiol Rep 17:80

Shi Y, Yan W, Lin Q, Wang W (2018) Icariin influences cardiac remodeling following myocardial infarction by regulating the CD147/MMP-9 pathway. J Int Med Res 46:2371–2385

Smolderen KG, Buchanan DM, Gosch K, Whooley M, Chan PS, Vaccarino V, Parashar S, Shah AJ, Ho PM, Spertus JA (2017) Depression treatment and 1-year mortality after acute myocardial infarction: insights from the TRIUMPH Registry (Translational Research Investigating Underlying Disparities in Acute Myocardial Infarction Patients' Health Status). Circulation 135:1681–1689

Snaith RP (2003) The Hospital Anxiety And Depression Scale. Health Qual Life Outcomes 1:29

Song Q, Fan C, Wang P, Li Y, Yang M, Yu SY (2018) Hippocampal CA1 betaCaMKII mediates neuroinflammatory responses via COX-2/PGE2 signaling pathways in depression. J Neuroinflammation 15:338

Song H, Wang Y, Wang R, Zhang X, Liu Y, Jia G, Chen PR (2020) SFPQ Is an FTO-binding protein that facilitates the demethylation substrate preference. Cell Chem Biol 27(283-291):e6

Stolp HB, Johansson PA, Habgood MD, Dziegielewska KM, Saunders NR, Ek CJ (2011) Effects of neonatal systemic inflammation on blood-brain barrier permeability and behaviour in juvenile and adult rats. Cardiovasc Psychiatry Neurol 2011:469046

Strik JJ, Honig A, Lousberg R, Lousberg AH, Cheriex EC, Tuynman-Qua HG, Kuijpers PM, Wellens HJ, Van Praag HM (2000) Efficacy and safety of fluoxetine in the treatment of patients with major depression after first myocardial infarction: findings from a double-blind, placebo-controlled trial. Psychosom Med 62:783–789

Sudo K, Takezawa Y, Kohsaka S, Nakajima K (2015) Involvement of nitric oxide in the induction of interleukin-1 beta in microglia. Brain Res 1625:121–134

Sun SJ, Wu XP, Song HL, Li GQ (2015) Baicalin ameliorates isoproterenol-induced acute myocardial infarction through iNOS, inflammation, oxidative stress and P38MAPK pathway in rat. Int J Clin Exp Med 8:22063–22072

Sundboll J, Schmidt M, Adelborg K, Pedersen L, Botker HE, Videbech P, Sorensen HT (2017) Impact of pre-admission depression on mortality following myocardial infarction. Br J Psychiatry 210:356–361

Swenson JR, O'Connor CM, Barton D, Van Zyl LT, Swedberg K, Forman LM, Gaffney M, Glassman AH, Sertraline Antidepressant Heart Attack Randomized Trial G (2003) Influence of depression and effect of treatment with sertraline on quality of life after hospitalization for acute coronary syndrome. Am J Cardiol 92:1271–1276

Tavakolizadeh J, Roshanaei K, Salmaninejad A, Yari R, Nahand JS, Sarkarizi HK, Mousavi SM, Salarinia R, Rahmati M, Mousavi SF, Mokhtari R, Mirzaei H (2018) MicroRNAs and exosomes in depression: potential diagnostic biomarkers. J Cell Biochem 119:3783–3797

Taylor CB, Youngblood ME, Catellier D, Veith RC, Carney RM, Burg MM, Kaufmann PG, Shuster J, Mellman T, Blumenthal JA, Krishnan R, Jaffe AS, Investigators E (2005) Effects of antidepressant medication on morbidity and mortality in depressed patients after myocardial infarction. Arch Gen Psychiatry 62:792–798

Thombs BD, Bass EB, Ford DE, Stewart KJ, Tsilidis KK, Patel U, Fauerbach JA, Bush DE, Ziegelstein RC (2006) Prevalence of depression in survivors of acute myocardial infarction. J Gen Intern Med 21:30–38

Tian M, Yuan YC, Li JY, Gionfriddo MR, Huang RC (2015) Tumor necrosis factor-alpha and its role as a mediator in myocardial infarction: a brief review. Chronic Dis Transl Med 1:18–26

Tian X, Wang Q, Guo R, Xu L, Chen QM, Hou Y (2016) Effects of paroxetine-mediated inhibition of GRK2 expression on depression and cardiovascular function in patients with myocardial infarction. Neuropsychiatr Dis Treat 12:2333–2341

Tomaz VS, Chaves Filho AJM, Cordeiro RC, Juca PM, Soares MVR, Barroso PN, Cristino LMF, Jiang W, Teixeira AL, de Lucena DF, Macedo DS (2020) Antidepressants of different classes cause distinct behavioral and brain pro- and anti-inflammatory changes in mice submitted to an inflammatory model of depression. J Affect Disord 268:188–200

Trudeau F, Gilbert K, Tremblay A, Tompkins TA, Godbout R, Rousseau G (2019) Bifidobacterium longum R0175 attenuates post-myocardial infarction depressive-like behaviour in rats. PLoS One 14:e0215101

van Melle JP, Verbeek DE, van den Berg MP, Ormel J, van der Linde MR, de Jonge P (2006) Beta-blockers and depression after myocardial infarction: a multicenter prospective study. J Am Coll Cardiol 48:2209–2214

Varatharaj A, Galea I (2017) The blood-brain barrier in systemic inflammation. Brain Behav Immun 60:1–12

von Kanel R, Begre S, Abbas CC, Saner H, Gander ML, Schmid JP (2010) Inflammatory biomarkers in patients with posttraumatic stress disorder caused by myocardial infarction and the role of depressive symptoms. Neuroimmunomodulation 17:39–46

Wang Y, Zhang ZZ, Wu Y, Zhan J, He XH, Wang YL (2013) Honokiol protects rat hearts against myocardial ischemia reperfusion injury by reducing oxidative stress and inflammation. Exp Ther Med 5:315–319

Wang Y, Wang Q, Yu W, Du H (2018) Crocin attenuates oxidative stress and myocardial infarction injury in rats. Int Heart J 59:387–393

Wang HW, Ahmad M, Jadayel R, Najjar F, Lagace D, Leenen FHH (2019a) Inhibition of inflammation by minocycline improves heart failure and depression-like behaviour in rats after myocardial infarction. PLoS One 14:e0217437

Wang W, Zheng Y, Wang M, Yan M, Jiang J, Li Z (2019b) Exosomes derived miR-126 attenuates oxidative stress and apoptosis from ischemia and reperfusion injury by targeting ERRFI1. Gene 690:75–80

Watts SW (2005) 5-HT in systemic hypertension: foe, friend or fantasy? Clin Sci (Lond) 108:399–412

Wei ZX, Xie GJ, Mao X, Zou XP, Liao YJ, Liu QS, Wang H, Cheng Y (2020) Exosomes from patients with major depression cause depressive-like behaviors in mice with involvement of miR-139-5p-regulated neurogenesis. Neuropsychopharmacology 45:1050–1058

Wilkowska A, Pikula M, Rynkiewicz A, Wdowczyk-Szulc J, Trzonkowski P, Landowski J (2015) Increased plasma pro-inflammatory cytokine concentrations after myocardial infarction and the presence of depression during next 6-months. Psychiatr Pol 49:455–464

Williams JB (1988) A structured interview guide for the Hamilton Depression Rating Scale. Arch Gen Psychiatry 45:742–747

Worcester MU, Goble AJ, Elliott PC, Froelicher ES, Murphy BM, Beauchamp AJ, Jelinek MV, Hare DL (2019) Mild depression predicts long-term mortality after acute myocardial infarction: a 25-year follow-up. Heart Lung Circ 28:1812–1818

Wu P, Vaseghi M (2020) The autonomic nervous system and ventricular arrhythmias in myocardial infarction and heart failure. Pacing Clin Electrophysiol 43:172–180

Wu KL, Chan SH, Chan JY (2012) Neuroinflammation and oxidative stress in rostral ventrolateral medulla contribute to neurogenic hypertension induced by systemic inflammation. J Neuroinflammation 9:212

Wu ZX, Li SF, Chen H, Song JX, Gao YF, Zhang F, Cao CF (2017) The changes of gut microbiota after acute myocardial infarction in rats. PLoS One 12:e0180717

Wu J, Niu P, Zhao Y, Cheng Y, Chen W, Lin L, Lu J, Cheng X, Xu Z (2019) Impact of miR-223-3p and miR-2909 on inflammatory factors IL-6, IL-1ss, and TNF-alpha, and the TLR4/TLR2/NF-kappaB/STAT3 signaling pathway induced by lipopolysaccharide in human adipose stem cells. PLoS One 14:e0212063

Wu R, Xiao D, Shan X, Dong Y, Tao WW (2020) Rapid and prolonged antidepressant-like effect of crocin is associated with GHSR-mediated hippocampal plasticity-related proteins in mice exposed to prenatal stress. ACS Chem Neurosci 11:1159–1170

Yohn CN, Gergues MM, Samuels BA (2017) The role of 5-HT receptors in depression. Mol Brain 10:28

Yu JB, Zhao ZX, Peng R, Pan LB, Fu J, Ma SR, Han P, Cong L, Zhang ZW, Sun LX, Jiang JD, Wang Y (2019) Gut microbiota-based pharmacokinetics and the antidepressant mechanism of paeoniflorin. Front Pharmacol 10:268

Yuan MJ, Maghsoudi T, Wang T (2016) Exosomes mediate the intercellular communication after myocardial infarction. Int J Med Sci 13:113–116

Yusha'u Y, Muhammad UA, Nze M, Egwuma JM, Igomu OJ, Abdulkadir M (2017) Modulatory role of rutin supplement on open space forced swim test murine model of depression. Niger J Physiol Sci 32:201–205

Zeng H, Ding M, Chen XX, Lu Q (2014) Microglial NADPH oxidase activation mediates rod cell death in the retinal degeneration in rd mice. Neuroscience 275:54–61

Zhang LJ, Liu MY, Rastogi R, Ding JN (2018) Psychocardiological disorder and brain serotonin after comorbid myocardial infarction and depression: an experimental study. Neurol Res 40:516–523

Zhang B, Wang PP, Hu KL, Li LN, Yu X, Lu Y, Chang HS (2019) Antidepressant-like effect and mechanism of action of honokiol on the mouse lipopolysaccharide (LPS) depression model. Molecules 24:2035

Zheng X, Zheng Y, Ma J, Zhang M, Zhang Y, Liu X, Chen L, Yang Q, Sun Y, Wu J, Yu B (2019) Effect of exercise-based cardiac rehabilitation on anxiety and depression in patients with myocardial infarction: A systematic review and meta-analysis. Heart Lung 48:1–7

Ziegelstein RC, Fauerbach JA, Stevens SS, Romanelli J, Richter DP, Bush DE (2000) Patients with depression are less likely to follow recommendations to reduce cardiac risk during recovery from a myocardial infarction. Arch Intern Med 160:1818–1823

Zimmer R, Riemer T, Rauch B, Schneider S, Schiele R, Gohlke H, Diller F, Steinbeck G, Katus H, Senges J, OMEGA-Study Group (2013) Effects of 1-year treatment with highly purified omega-3 fatty acids on depression after myocardial infarction: results from the OMEGA trial. J Clin Psychiatry 74:e1037–e1045

Zununi Vahed S, Barzegari A, Zuluaga M, Letourneur D, Pavon-Djavid G (2018) Myocardial infarction and gut microbiota: an incidental connection. Pharmacol Res 129:308–317
Funding
This work was supported by the National Natural Science Foundation of China (No. 81803765), the Natural Science Foundation of Guangdong Province (No. 1914050000567), the Special Innovation Projects of Universities in Guangdong Province (No. 2019KTSCX027), Scientific Research Team Training Project of GZUCM (No. 2019KYTD201), and Guangdong Key Laboratory for Translational Cancer Research of Chinese Medicine (No. 2018B030322011).
Ethics declarations
Conflict of interest
The authors declare no competing interests.
Additional information
Publisher's note
Springer Nature remains neutral with regard to jurisdictional claims in published maps and institutional affiliations.
About this article
Cite this article
Yang, Y., Li, X., Chen, S. et al. Mechanism and therapeutic strategies of depression after myocardial infarction. Psychopharmacology (2021). https://doi.org/10.1007/s00213-021-05784-0
Received:

Accepted:

Published:
Keywords
Myocardial infarction

Depression

Inflammation

Therapy