Abstract
Rationale
Ursolic acid (UA) has exhibited anti-inflammatory and anti-oxidative drug effects.
Objectives
In the research, we assessed the effects of UA on Nthy-ori 3-1 cells stimulated by IL-1β and attempted to elucidate the mechanisms underlying the effects.
Methods
Autoimmune thyroiditis (AIT) was simulated using Nthy-ori 3-1 cells by IL-1β (10 μM) treatment. UA (20 μM) was applied to ameliorate the injury of Nthy-ori 3-1 cells. The target of UA was predicted by TCMSP, BATMAN, and GEO database. Targeted relationship between lncRNA MALAT1 and miR-206, as well as miR-206 and PTGS1, was predicted by bioinformatics software and identified by dual luciferase assays. Cytokines in the cell supernatant and the apoptosis of cells were detected by ELISAs and flow cytometry assays, respectively. Expression levels of NF-κB signaling pathway-related proteins were estimated by western blot.
Results
By enquiring TCMSP, BATMAN, and GEO database, PTGS1 was identified as a target of UA. Afterward, a ceRNA network among MALAT1, miR-206, and PTGS1 was constructed. The expression levels of MALAT1 and PTGS1 in AIT tissues were obviously enhanced. Moreover, the ceRNA network formed by MALAT1/miR-206/PTGS1 contributed to the damage of Nthy-ori 3-1 cells induced by IL-1β. However, UA ameliorated the Nthy-ori 3-1 cells injury induced by IL-1β through mediating the MALAT1/miR-206/PTGS1 ceRNA network and NF-κB signaling pathway.
Conclusions
UA treatment significantly relieved the injury of Nthy-ori 3-1 cells via inhibiting the ceRNA mechanism of MALAT1/miR-206/PTGS1 and inflammatory pathways, insinuating that UA may be helpful for the treatment of AIT.
Access options
Buy single article
Instant access to the full article PDF.
US$ 39.95
Tax calculation will be finalised during checkout.
Subscribe to journal
Immediate online access to all issues from 2019. Subscription will auto renew annually.
US$ 119
Tax calculation will be finalised during checkout.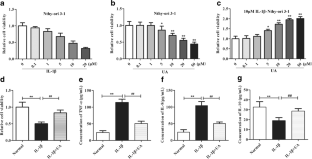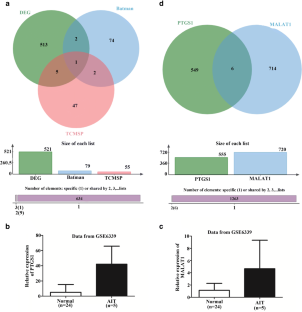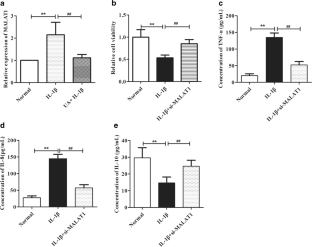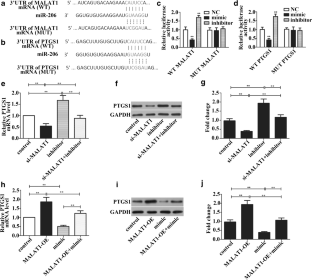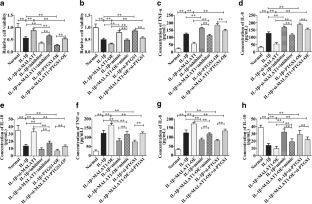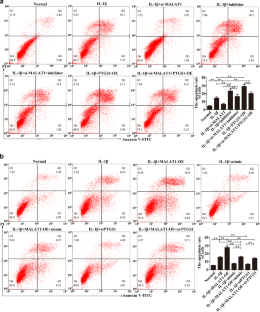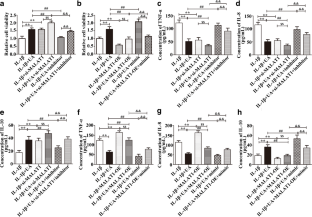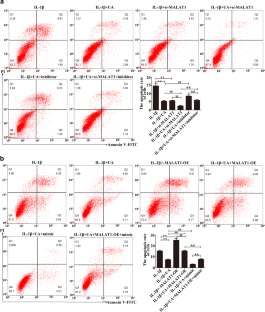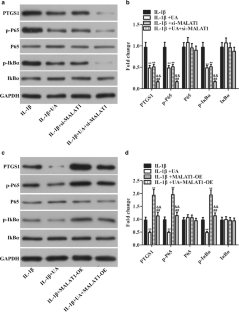 References
Biswas S, Thomas AA, Chen S, Aref-Eshghi E, Feng B, Gonder J, Sadikovic B, Chakrabarti S (2018) MALAT1: an epigenetic regulator of inflammation in diabetic retinopathy. Sci Rep 8:6526

Boelaert K, Newby PR, Simmonds MJ, Holder RL, Carr-Smith JD, Heward JM, Manji N, Allahabadia A, Armitage M, Chatterjee KV et al (2010) Prevalence and relative risk of other autoimmune diseases in subjects with autoimmune thyroid disease. Am J Med 123:183.e181–183.e189

Cao DW, Liu MM, Duan R, Tao YF, Zhou JS, Fang WR, Zhu JR, Niu L, Sun JG (2020) The lncRNA Malat1 functions as a ceRNA to contribute to berberine-mediated inhibition of HMGB1 by sponging miR-181c-5p in poststroke inflammation. Acta Pharmacol Sin 41:22–33

Chen H, Wang X, Yan X, Cheng X, He X, Zheng W (2018) LncRNA MALAT1 regulates sepsis-induced cardiac inflammation and dysfunction via interaction with miR-125b and p38 MAPK/NFkappaB. Int Immunopharmacol 55:69–76

Choi SH, Aid S, Bosetti F (2009) The distinct roles of cyclooxygenase-1 and -2 in neuroinflammation: implications for translational research. Trends Pharmacol Sci 30:174–181

Chu H, Qu X, Wang F, Chang J, Cheng R, Song X, Chen T, Zhang G (2019) MicroRNA-206 promotes lipopolysaccharide-induced inflammation injury via regulation of IRAK1 in MRC-5 cells. Int Immunopharmacol 73:590–598

Dean B, Gibbons A, Gogos A, Udawela M, Thomas E, Scarr E (2018) Studies on prostaglandin-endoperoxide synthase 1: lower levels in schizophrenia and after treatment with antipsychotic drugs in conjunction with aspirin. Int J Neuropsychopharmacol 21:216–225

Dey BK, Gagan J, Dutta A (2011) miR-206 and -486 induce myoblast differentiation by downregulating Pax7. Mol Cell Biol 31:203–214

Duan X, Zohaib A, Li Y, Zhu B, Ye J, Wan S, Xu Q, Song Y, Chen H, Cao S (2015) miR-206 modulates lipopolysaccharide-mediated inflammatory cytokine production in human astrocytes. Cell Signal 27:61–68

Fallahi P, Ferrari SM, Ruffilli I, Elia G, Biricotti M, Vita R, Benvenga S, Antonelli A (2016) The association of other autoimmune diseases in patients with autoimmune thyroiditis: review of the literature and report of a large series of patients. Autoimmun Rev 15:1125–1128

Fu X, Zeng L, Liu Z, Ke X, Lei L, Li G (2016) MicroRNA-206 regulates the secretion of inflammatory cytokines and MMP9 expression by targeting TIMP3 in Mycobacterium tuberculosis-infected THP-1 human macrophages. Biochem Biophys Res Commun 477:167–173

Habtemariam S (2019) Antioxidant and anti-inflammatory mechanisms of neuroprotection by ursolic acid: addressing brain injury, cerebral ischemia, cognition deficit, anxiety, and depression. Oxidative Med Cell Longev 2019:8512048

Hirooka Y, Mitsuma T, Nogimori T, Ishizuki Y (1993) Deregulated production of interleukin-8 (IL-8) in autoimmune thyroid disease studied by newly developed IL-8 radioimmunoassay. Endocr Regul 27:11–15

Hussain H, Green IR, Ali I, Khan IA, Ali Z, Al-Sadi AM, Ahmed I (2017) Ursolic acid derivatives for pharmaceutical use: a patent review (2012-2016). Expert Opin Ther Pat 27:1061–1072

Jaen RI, Prieto P, Casado M, Martin-Sanz P, Bosca L (2018) Post-translational modifications of prostaglandin-endoperoxide synthase 2 in colorectal cancer: an update. World J Gastroenterol 24:5454–5461

Jin C, Yan B, Lu Q, Lin Y, Ma L (2016) The role of MALAT1/miR-1/slug axis on radioresistance in nasopharyngeal carcinoma. Tumour Biol 37:4025–4033

Kargman SL, O'Neill GP, Vickers PJ, Evans JF, Mancini JA, Jothy S (1995) Expression of prostaglandin G/H synthase-1 and -2 protein in human colon cancer. Cancer Res 55:2556–2559

Koehler, V.F., Filmann, N., and Mann, W.A. (2019). Vitamin D status and thyroid autoantibodies in autoimmune thyroiditis. Hormone and metabolic research = Hormon- und Stoffwechselforschung = Hormones et metabolisme 51, 792-797.

Kong Q, Ma Y, Yu J, Chen X (2017) Predicted molecular targets and pathways for germacrone, curdione, and furanodiene in the treatment of breast cancer using a bioinformatics approach. Sci Rep 7:15543

Lei Y, Yang J, Li H, Zhong H, Wan Q (2019) Changes in glucose-lipid metabolism, insulin resistance, and inflammatory factors in patients with autoimmune thyroid disease. J Clin Lab Anal 33:e22929

Li D, Hao S, Zhang J (2019) Long non-coding RNA UCA1 exerts growth modulation by miR-15a in human thyroid cancer TPC-1 cells. Artif Cells Nanomed Biotechnol 47:1815–1822

Li L, Zhang X, Cui L, Wang L, Liu H, Ji H, Du Y (2013) Ursolic acid promotes the neuroprotection by activating Nrf2 pathway after cerebral ischemia in mice. Brain Res 1497:32–39

Liang WJ, Zeng XY, Jiang SL, Tan HY, Yan MY, Yang HZ (2019) Long non-coding RNA MALAT1 sponges miR-149 to promote inflammatory responses of LPS-induced acute lung injury by targeting MyD88. Cell Biol Int

Liu S, Bai Z, Li J (2012) [Comprehensive evaluation of multi-quality characteristic indexes of Chaenomeles speciosa and C. sinensis fruits]. Zhongguo Zhong yao za zhi = Zhongguo zhongyao zazhi =. China Journal of Chinese Materia Medica 37:901–907

Lu, J., Wu, D.M., Zheng, Y.L., Hu, B., Zhang, Z.F., Ye, Q., Liu, C.M., Shan, Q., and Wang, Y.J. (2010a). Ursolic acid attenuates D-galactose-induced inflammatory response in mouse prefrontal cortex through inhibiting AGEs/RAGE/NF-kappaB pathway activation. Cerebral cortex (New York, NY : 1991) 20, 2540-2548.

Lu J, Wu DM, Zheng YL, Hu B, Zhang ZF, Ye Q, Liu CM, Shan Q, Wang YJ (2010b) Ursolic acid attenuates D-galactose-induced inflammatory response in mouse prefrontal cortex through inhibiting AGEs/RAGE/NF-κB pathway activation. Cerebral Cortex (New York, NY : 1991) 20:2540–2548

Machado DG, Neis VB, Balen GO, Colla A, Cunha MP, Dalmarco JB, Pizzolatti MG, Prediger RD, Rodrigues AL (2012) Antidepressant-like effect of ursolic acid isolated from Rosmarinus officinalis L. in mice: evidence for the involvement of the dopaminergic system. Pharmacol Biochem Behav 103:204–211

Manu KA, Kuttan G (2008) Ursolic acid induces apoptosis by activating p53 and caspase-3 gene expressions and suppressing NF-kappaB mediated activation of bcl-2 in B16F-10 melanoma cells. Int Immunopharmacol 8:974–981

Najid A, Simon A, Cook J, Chable-Rabinovitch H, Delage C, Chulia AJ, Rigaud M (1992) Characterization of ursolic acid as a lipoxygenase and cyclooxygenase inhibitor using macrophages, platelets and differentiated HL60 leukemic cells. FEBS Lett 299:213–217

Ou C, Geng T, Wang J, Gao X, Chen X, Luo X, Tong X, Cao L, Wang Z, Xiao W (2020) Systematically investigating the pharmacological mechanism of Dazhu Hongjingtian in the prevention and treatment of acute mountain sickness by integrating UPLC/Q-TOF-MS/MS analysis and network pharmacology. J Pharm Biomed Anal 179:113028

Park S, Zhu J, Altan-Bonnet G, Cheng SY (2019) Monocyte recruitment and activated inflammation are associated with thyroid carcinogenesis in a mouse model. Am J Cancer Res 9:1439–1453

Patel NA, Moss LD, Lee JY, Tajiri N, Acosta S, Hudson C, Parag S, Cooper DR, Borlongan CV, Bickford PC (2018) Long noncoding RNA MALAT1 in exosomes drives regenerative function and modulates inflammation-linked networks following traumatic brain injury. J Neuroinflammation 15:204

Peng H, Liu Y, Tian J, Ma J, Tang X, Rui K, Tian X, Mao C, Lu L, Xu H et al (2015) The long noncoding RNA IFNG-AS1 promotes t helper type 1 cells response in patients with Hashimoto's thyroiditis. Sci Rep 5:17702

Rodriguez-Munoz A, Vitales-Noyola M, Ramos-Levi A, Serrano-Somavilla A, Gonzalez-Amaro R, Marazuela M (2016) Levels of regulatory T cells CD69(+)NKG2D(+)IL-10(+) are increased in patients with autoimmune thyroid disorders. Endocrine 51:478–489

Ru J, Li P, Wang J, Zhou W, Li B, Huang C, Li P, Guo Z, Tao W, Yang Y, Xu X, Li Y, Wang Y, Yang L (2014) TCMSP: a database of systems pharmacology for drug discovery from herbal medicines. J Cheminformatics 6:13

Salmena L, Poliseno L, Tay Y, Kats L, Pandolfi PP (2011) A ceRNA hypothesis: the Rosetta Stone of a hidden RNA language? Cell 146:353–358

Shishodia S, Majumdar S, Banerjee S, Aggarwal BB (2003) Ursolic acid inhibits nuclear factor-kappaB activation induced by carcinogenic agents through suppression of IkappaBalpha kinase and p65 phosphorylation: correlation with down-regulation of cyclooxygenase 2, matrix metalloproteinase 9, and cyclin D1. Cancer Res 63:4375–4383

Smith WL, DeWitt DL, Garavito RM (2000) Cyclooxygenases: structural, cellular, and molecular biology. Annu Rev Biochem 69:145–182

Sun W, Zhang L, Li R (2017) Overexpression of miR-206 ameliorates chronic constriction injury-induced neuropathic pain in rats via the MEK/ERK pathway by targeting brain-derived neurotrophic factor. Neurosci Lett 646:68–74

Takada K, Nakane T, Masuda K, Ishii H (2010) Ursolic acid and oleanolic acid, members of pentacyclic triterpenoid acids, suppress TNF-alpha-induced E-selectin expression by cultured umbilical vein endothelial cells. Phytomedicine 17:1114–1119

Tsai SJ, Yin MC (2008) Antioxidative and anti-inflammatory protection of oleanolic acid and ursolic acid in PC12 cells. J Food Sci 73:H174–H178

Volzke H, Ludemann J, Robinson DM, Spieker KW, Schwahn C, Kramer A, John U, Meng W (2003) The prevalence of undiagnosed thyroid disorders in a previously iodine-deficient area. Thyroid 13:803–810

Voorby HA, Kabel PJ, de Haan M, Jeucken PH, van der Gaag RD, de Baets MH, Drexhage HA (1990) Dendritic cells and class II MHC expression on thyrocytes during the autoimmune thyroid disease of the BB rat. Clin Immunol Immunopathol 55:9–22

Wang, J., Su, L., Chen, X., Li, P., Cai, Q., Yu, B., Liu, B., Wu, W., and Zhu, Z. (2014). MALAT1 promotes cell proliferation in gastric cancer by recruiting SF2/ASF. Biomedicine & pharmacotherapy = Biomedecine & pharmacotherapie 68, 557-564.

Wang Y, Liu Y, Zhang M, Lv L, Zhang X, Zhang P, Zhou Y (2019) Inhibition of PTGS1 promotes osteogenic differentiation of adipose-derived stem cells by suppressing NF-kB signaling. Stem Cell Res Ther 10:57

Xing H, Guo S, Zhang Y, Zheng Z, Wang H (2016) Upregulation of microRNA-206 enhances lipopolysaccharide-induced inflammation and release of amyloid-β by targeting insulin-like growth factor 1 in microglia. Mol Med Rep 14:1357–1364

Xue YZ, Li ZJ, Liu WT, Shan JJ, Wang L, Su Q (2019) Down-regulation of lncRNA MALAT1 alleviates vascular lesion and vascular remodeling of rats with hypertension. Aging 11:5192–5205

Yao J, Wang XQ, Li YJ, Shan K, Yang H, Wang YN, Yao MD, Liu C, Li XM, Shen Y et al (2016) Long non-coding RNA MALAT1 regulates retinal neurodegeneration through CREB signaling. EMBO Mol Med 8:346–362

Yin R, Li T, Tian JX, Xi P, Liu RH (2018) Ursolic acid, a potential anticancer compound for breast cancer therapy. Crit Rev Food Sci Nutr 58:568–574

Yin X, Zhang J, Li C, Zhang Z, Jin T, Song L, Zhang R, Wang W, Tao Y, Wang X (2019) LncRNA HOXA11-AS accumulation-induced microRNA-761 downregulation regulates cell growth by targeting TRIM29 in papillary thyroid cancer. Am J Transl Res 11:6826–6837

Zhang HX, Kang Y, Li N, Wang HF, Bao YR, Li YW, Li XZ, Jiang Z, Chen G (2020a) Triterpenoids from Liquidambar Fructus induced cell apoptosis via a PI3K-AKT related signal pathway in SMMC7721 cancer cells. Phytochemistry 171:112228

Zhang N, Liu S, Shi S, Chen Y, Xu F, Wei X, Xu Y (2020b) Solubilization and delivery of Ursolic-acid for modulating tumor microenvironment and regulatory T cell activities in cancer immunotherapy. J Control Release

Zhou HJ, Wang LQ, Wang DB, Yu JB, Zhu Y, Xu QS, Zheng XJ, Zhan RY (2018) Long noncoding RNA MALAT1 contributes to inflammatory response of microglia following spinal cord injury via the modulation of a miR-199b/IKKbeta/NF-kappaB signaling pathway. Am J Physiol Cell Physiol 315:C52–c61

Zhuo Y, Zeng Q, Zhang P, Li G, Xie Q, Cheng Y (2017) Functional polymorphism of lncRNA MALAT1 contributes to pulmonary arterial hypertension susceptibility in Chinese people. Clin Chem Lab Med 55:38–46
Ethics declarations
Conflict of interests
The authors declared that they have no conflict of interest.
Additional information
Publisher's note
Springer Nature remains neutral with regard to jurisdictional claims in published maps and institutional affiliations.
About this article
Cite this article
Mou, L., Liao, L., Zhang, Y. et al. Ursolic acid ameliorates Nthy-ori 3-1 cells injury induced by IL-1β through limiting MALAT1/miR-206/PTGS1 ceRNA network and NF-κB signaling pathway. Psychopharmacology (2021). https://doi.org/10.1007/s00213-021-05761-7
Received:

Accepted:

Published:
Keywords
Apoptosis

Autoimmune thyroiditis

ceRNA

Inflammatory

Ursolic acid