Abstract
Rationale
Virtually all cocaine self-administration studies have used a "unit dose" as a reinforcing stimulus; the subject is a passive recipient of an experimenter-selected dose.
Objectives
The present experiments examined the consequence of requiring the subject to actively determine the dose and speed of each injection.
Methods
A two-lever procedure was used in which responding on a progressive ratio (PR) schedule provided access to cocaine on a hold down (HD) schedule. With HD, the pump is turned on for the duration that the lever is held down, thus the dose and speed of injection is determined by the behavior of the subject. The procedure allows for the evaluation of both drug taking and drug seeking responses.
Results
The results were qualitatively different from PR self-administration studies using unit dose. The self-administered HD dose varied across the session; the self-administered dose was found to inversely correlate with drug levels at the time of access. Importantly, the 2 L-PR-HD procedure identified a subpopulation of subjects that showed extremes in both drug seeking and drug taking. Subjects at the top end of the distribution displayed unprecedented final ratios (> 900) and rapidly self-administered very large doses (> 1.4 mg; ~ 4.2 mg/kg). Manipulation of drug-taking variables (HD access duration and concentration of drug in the pump) showed that the immediacy of a cocaine bolus, not the duration of access, is the major determinant of drug seeking.
Conclusions
Incorporating a consummatory response into a PR procedure provides a unique perspective on the interactions of drug-seeking and drug-taking.
This is a preview of subscription content, log in to check access.
Access options
Buy single article
Instant access to the full article PDF.
US$ 39.95
Price includes VAT for USA
Subscribe to journal
Immediate online access to all issues from 2019. Subscription will auto renew annually.
US$ 199
This is the net price. Taxes to be calculated in checkout.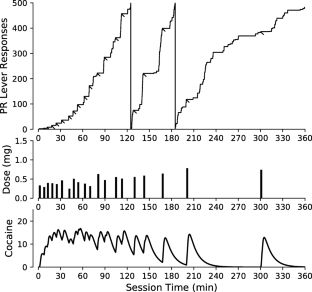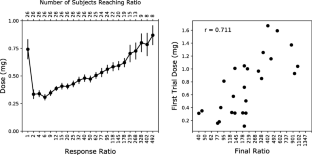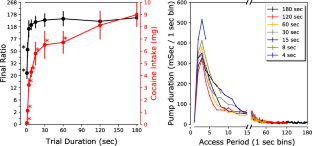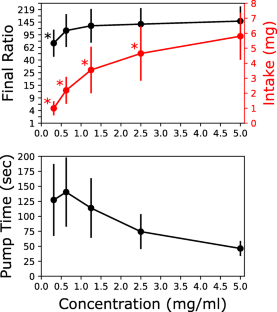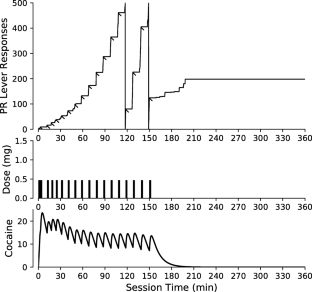 Notes
1.

The use of a 20-sec timeout can be traced to the original publication of Weeks (1964). It has since been used in virtually all self-administration experiments. It appears that a time out was first imposed to prevent an "accidental" overdose. It is certainly possible that the occasional overdose may be averted during the initial day or two of training; however, there is little evidence that an overdose is an issue once a regular pattern of FR1 responding has been established. The continued use of a 20-sec timeout during an experiment is, in our opinion, unnecessary and may adversely affect the results.
References
Ahmed SH, Koob GF (1999) Long-lasting increase in the set point for cocaine self-administration after escalation in rats. Psychopharmacology 146:303–312

Allain F, Samaha AN (2019) Revisiting long-access versus short-access cocaine self-administration in rats: intermittent intake promotes addiction symptoms independent of session length. Addict Biol 24:641–651. https://doi.org/10.1111/adb.12629

Allain F, Minogianis EA, Roberts DCS, Samaha AN (2015) How fast and how often: the pharmacokinetics of drug use are decisive in addiction. Neurosci Biobehav Rev 56:166–179. https://doi.org/10.1016/j.neubiorev.2015.06.012

Calipari ES, Ferris MJ, Zimmer BA, Roberts DCS, Jones SR (2013) Temporal pattern of cocaine intake determines tolerance vs sensitization of cocaine effects at the dopamine transporter. Neuropsychopharmacology 38:2385–2392. https://doi.org/10.1038/npp.2013.136

Depoortere RY, Li DH, Lane JD, Emmett-Oglesby MW (1993) Parameters of self-administration of cocaine in rats under a progressive-ratio schedule. Pharmacol Biochem Behav 45:539–548

French ED, Lopez M, Peper S, Kamenka JM, Roberts DCS (1995) A comparison of the reinforcing efficacy of PCP, the PCP derivatives TCP and BTCP, and cocaine using a progressive ratio schedule in the rat. Behav Pharmacol 6:223–228

Gancarz AM, Kausch MA, Lloyd DR, Richards JB (2012) Between-session progressive ratio performance in rats responding for cocaine and water reinforcers. Psychopharmacology 222:215–223. https://doi.org/10.1007/s00213-012-2637-9

Gerber GJ, Wise RA (1989) Pharmacological regulation of intravenous cocaine and heroin self-administration in rats: a variable dose paradigm. Pharmacol Biochem Behav 32:527–531

Gratton A, Wise RA (1994) Drug- and behavior-associated changes in dopamine-related electrochemical signals during intravenous cocaine self-administration in rats. J Neurosci 14:4130–4146

Gueye AB, Allain F, Samaha AN (2019) Intermittent intake of rapid cocaine injections promotes the risk of relapse and increases mesocorticolimbic BDNF levels during abstinence. Neuropsychopharm 44:1027–1035. https://doi.org/10.1038/s41386-018-0249-8

Holtz NA, Carroll ME (2013) Escalation of i.v. cocaine intake in peri-adolescent vs. adult rats selectively bred for high (HiS) vs. low (LoS) saccharin intake. Psychopharmacology 227:243–250. https://doi.org/10.1007/s00213-012-2958-8

James MH, Bowrey HE, Stopper CM, Aston-Jones G (2019) Demand elasticity predicts addiction endophenotypes and the therapeutic efficacy of an orexin/hypocretin-1 receptor antagonist in rats. Eur J Neurosci 50:2602–2612. https://doi.org/10.1111/ejn.14166

Kawa AB, Bentzley BS, Robinson TE (2016) Less is more: prolonged intermittent access cocaine self-administration produces incentive-sensitization and addiction-like behavior. Psychopharmacology 233:3587–3602. https://doi.org/10.1007/s00213-016-4393-8

Kawa AB, Allain F, Robinson TE, Samaha AN (2019) The transition to cocaine addiction: the importance of pharmacokinetics for preclinical models. Psychopharmacology 236:1145–1157. https://doi.org/10.1007/s00213-019-5164-0

Kiyatkin EA, Stein EA (1995) Fluctuations in nucleus accumbens dopamine during cocaine self-administration behavior: an in vivo electrochemical study. Neuroscience 64:599–617

Li DH, Depoortere RY, Emmett-Oglesby MW (1994) Tolerance to the reinforcing effects of cocaine in a progressive ratio paradigm. Psychopharmacology 116:326–332

Liu Y, Morgan D, Roberts DCS (2007) Cross-sensitization of the reinforcing effects of cocaine and amphetamine in rats. Psychopharmacology 195:369–375. https://doi.org/10.1007/s00213-007-0909-6

Minogianis EA, Shams WM, Mabrouk OS, Wong JT, Brake WG, Kennedy RT, du Souich P, Samaha AN (2019) Varying the rate of intravenous cocaine infusion influences the temporal dynamics of both drug and dopamine concentrations in the striatum. Eur J Neurosci 50:2054–2064. https://doi.org/10.1111/ejn.13941

Morgan D, Liu Y, Oleson EB, Roberts DCS (2009) Cocaine self-administration on a hold-down schedule of reinforcement in rats. Psychopharmacology 201:601–609. https://doi.org/10.1007/s00213-008-1328-z

Nicola SM, Deadwyler SA (2000) Firing rate of nucleus accumbens neurons is dopamine-dependent and reflects the timing of cocaine-seeking behavior in rats on a progressive ratio schedule of reinforcement. J Neurosci 20:5526–5537

Norman AB, Tsibulsky VL (2006) The compulsion zone: a pharmacological theory of acquired cocaine self-administration. Brain Res 1116:143–152. https://doi.org/10.1016/j.brainres.2006.07.092

Olmstead MC, Parkinson JA, Miles FJ, Everitt BJ, Dickinson A (2000) Cocaine-seeking by rats: regulation, reinforcement and activation. Psychopharmacology 152:123–131

Olmstead MC, Lafond MV, Everitt BJ, Dickinson A (2001) Cocaine seeking by rats is a goal-directed action. Behav Neurosci 115:394–402

Pan HT, Menacherry S, Justice JB (1991) Differences in the pharmacokinetics of cocaine in naive and cocaine-experienced rats. J Neurochem 56:1299–1306. https://doi.org/10.1111/j.1471-4159.1991.tb11425.x

Pelloux Y, Everitt BJ, Dickinson A (2007) Compulsive drug seeking by rats under punishment: effects of drug taking history. Psychopharmacology 194:127–137. https://doi.org/10.1007/s00213-007-0805-0

Pelloux Y, Dilleen R, Economidou D, Theobald D, Everitt BJ (2012) Reduced forebrain serotonin transmission is causally involved in the development of compulsive cocaine seeking in rats. Neuropsychopharmacology 37:2505–2514. https://doi.org/10.1038/npp.2012.111

Richardson NR, Roberts DCS (1996) Progressive ratio schedules in drug self-administration studies in rats: a method to evaluate reinforcing efficacy. J Neurosci Methods 66:1–11

Roberts DCS, Bennett SAL, Vickers GJ (1989a) The estrous cycle affects cocaine self-administration on a progressive ratio schedule in rats. Psychopharmacology 98:408–411. https://doi.org/10.1007/BF00451696

Roberts DCS, Loh EA, Vickers G (1989b) Self-administration of cocaine on a progressive ratio schedule in rats: dose-response relationship and effect of haloperidol pretreatment. Psychopharmacology 97:535–538

Roberts DCS, Gabriele A, Zimmer BA (2013) Conflation of cocaine seeking and cocaine taking responses in IV self-administration experiments in rats: methodological and interpretational considerations. Neurosci Biobehav Rev 37:2026–2036. https://doi.org/10.1016/j.neubiorev.2013.04.017

Suto N, Wise RA, Vezina P (2011) Dorsal as well as ventral striatal lesions affect levels of intravenous cocaine and morphine self-administration in rats. Neurosci Lett 493:29–32. https://doi.org/10.1016/j.neulet.2011.02.011

Tsibulsky VL, Norman AB (1999) Satiety threshold: a quantitative model of maintained cocaine self-administration. Brain Res 839:85–93. https://doi.org/10.1016/s0006-8993(99)01717-5

Vanderschuren LJ, Everitt BJ (2004) Drug seeking becomes compulsive after prolonged cocaine self-administration. Science 305:1017–1019

Veeneman MM, van Ast M, Broekhoven MH, Limpens JH, Vanderschuren LJ (2012) Seeking-taking chain schedules of cocaine and sucrose self-administration: effects of reward size, reward omission, and alpha-flupenthixol. Psychopharmacology 220:771–785. https://doi.org/10.1007/s00213-011-2525-8

Weeks JR (1962) Experimental morphine addiction: method for automatic intravenous injections in unrestrained rats. Science 138:143–144

Wise RA (1987) Intravenous drug self-administration: a special case of positive reinforcement. In: Bozarth MA (ed) Methods of Assessing the Reinforcing Properties of Abused Drugs. Springer, New York, pp 117–141

Wise RA, Newton P, Leeb K, Burnette B, Pocock D, Justice JB (1995) Fluctuations in nucleus accumbens dopamine concentration during intravenous cocaine self-administration in rats. Psychopharmacology 120:10–20

Zimmer BA, Dobrin CV, Roberts DCS (2011) Brain-cocaine concentrations determine the dose self-administered by rats on a novel behaviorally dependent dosing schedule. Neuropsychopharmacology 36:2741–2749. https://doi.org/10.1038/npp.2011.165

Zimmer BA, Oleson EB, Roberts DCS (2012) The motivation to self-administer is increased after a history of spiking brain levels of cocaine. Neuropsychopharmacology 37:1901–1910. https://doi.org/10.1038/npp.2012.37

Zorrilla EP, Wee S, Zhao Y, Specio S, Boutrel B, Koob GF, Weiss F (2012) Extended access cocaine self-administration differentially activates dorsal raphe and amygdala corticotropin-releasing factor systems in rats. Addict Biol 17:300–308. https://doi.org/10.1111/j.1369-1600.2011.00329.x
Acknowledgments
The authors would like to thank Leanne Thomas for administrative support and Holly Vines-Buben, Jordan Crawford, and Amanda Gabriele for assistance with data collection and analysis. We thank the National Institute of Drug Abuse (NIDA) Drug Supply Program for providing cocaine HCl.
Funding
This study is supported by NIDA research grants R01 DA14030 and P50 DA06634.
Ethics declarations
Conflict of interest
The authors declare that they have no conflicts of interest.
All experimental procedures were approved by the Institutional Animal Care and Use Committee at Wake Forest University and conformed to the National Institutes of Health Guide for the Care and Use of Laboratory Animals.
Additional information
Publisher's note
Springer Nature remains neutral with regard to jurisdictional claims in published maps and institutional affiliations.
Electronic supplementary material
About this article
Cite this article
Roberts, D.C.S., Zimmer, B.A. Hold-down as an alternative to unit dose in cocaine self-administration experiments: Characterization using a progressive ratio schedule. Psychopharmacology (2020). https://doi.org/10.1007/s00213-020-05565-1
Received:

Accepted:

Published:
Keywords
Cocaine

Progressive ratio schedule

Hold-down schedule

Motivation

Vulnerability

Addiction

Drug taking

Drug seeking