Abstract
Rationale
(−)-Stepholidine is a tetrahydroberberine alkaloid that is known to interact with dopamine receptors and has also been proposed as a novel antipsychotic agent. Its suggested novelty lies in the fact that it has been proposed to have D1-like receptor agonist and D2-like receptor antagonist properties. Thus, it might be effective in treating both positive and negative (cognition) symptoms of schizophrenia. However, its activity on specific dopamine receptor subtypes has not been clarified, especially with respect to its ability to activate D1-like receptors.
Objectives
We wished to examine the affinity and functional activity of (−)-stepholidine at each of the human dopamine receptor subtypes expressed in a defined cellular environment.
Methods
D1–D5 dopamine receptors were stably expressed in cell lines and their interactions with (−)-stepholidine were examined using radioligand binding and various functional signaling assays. Radioligand binding assays were also performed using bovine striatal membranes.
Results
(−)-Stepholidine exhibited high (nM) affinity for D1 and D5 receptors, somewhat lower (two- to four-fold) affinity for D2 and D3 receptors, and low micromolar affinity for D4 receptors. Functionally, (−)-stepholidine was ineffective in activating G protein-mediated signaling of D1-like and D2 receptors and was also ineffective in stimulating β-arrestin recruitment to any dopamine receptor subtype. It did, however, antagonize all of these responses. It also antagonized D1–D2 heteromer-mediated Ca2+ mobilization. Radioligand binding assays of D1-like receptors in brain membranes also indicated that (−)-stepholidine binds to the D1 receptor with antagonist-like properties.
Conclusions
(−)-Stepholidine is a pan-dopamine receptor antagonist and its in vivo effects are largely mediated through dopamine receptor blockade with potential cross-talk to other receptors or signaling proteins.
Access options
Buy single article
Instant access to the full article PDF.
US$ 39.95
Tax calculation will be finalised during checkout.
Subscribe to journal
Immediate online access to all issues from 2019. Subscription will auto renew annually.
US$ 119
Tax calculation will be finalised during checkout.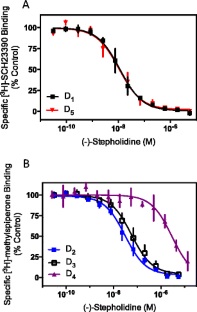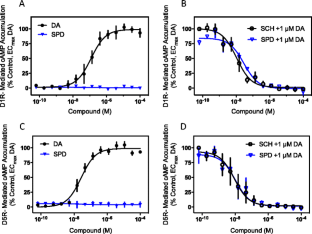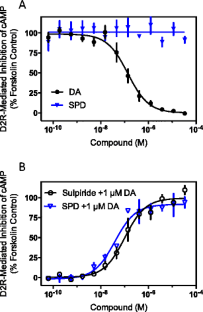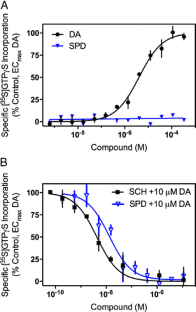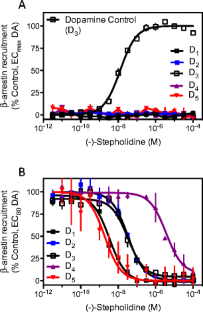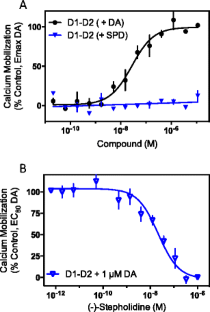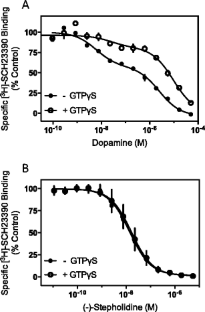 References
Abi-Dargham A, Mawlawi O, Lombardo I, Gil R, Martinez D, Huang Y, Hwang DR, Keilp J, Kochan L, Van Heertum R, Gorman JM, Laruelle M (2002) Prefrontal dopamine D1 receptors and working memory in schizophrenia. J Neurosci 22:3708–3719

Allen JA, Yost JM, Setola V, Chen X, Sassano MF, Chen M, Peterson S, Yadav PN, Huang XP, Feng B, Jensen NH, Che X, Bai X, Frye SV, Wetsel WC, Caron MG, Javitch JA, Roth BL, Jin J (2011) Discovery of beta-arrestin-biased dopamine D2 ligands for probing signal transduction pathways essential for antipsychotic efficacy. Proc Natl Acad Sci U S A 108:18488–18493

Banala AK, Levy BA, Khatri SS, Furman CA, Roof RA, Mishra Y, Griffin SA, Sibley DR, Luedtke RR, Newman AH (2011) N-(3-fluoro-4-(4-(2-methoxy or 2,3-dichlorophenyl)piperazine-1-yl)butyl)arylcarboxamides as selective dopamine D3 receptor ligands: critical role of the carboxamide linker for D3 receptor selectivity. J Med Chem 54:3581–3594

Beaulieu JM, Gainetdinov RR (2011) The physiology, signaling, and pharmacology of dopamine receptors. Pharmacol Rev 63:182–217

Beaulieu JM, Gainetdinov RR, Caron MG (2009) Akt/GSK3 signaling in the action of psychotropic drugs. Annu Rev Pharmacol Toxicol 49:327–347

Chen X, Sassano MF, Zheng L, Setola V, Chen M, Bai X, Frye SV, Wetsel WC, Roth BL, Jin J (2012) Structure-functional selectivity relationship studies of beta-arrestin-biased dopamine D(2) receptor agonists. J Med Chem 55:7141–7153

Cheng Y, Prusoff WH (1973) Relationship between the inhibition constant (K1) and the concentration of inhibitor which causes 50 per cent inhibition (I50) of an enzymatic reaction. Biochem Pharmacol 22:3099–3108

Chun LS, Free RB, Doyle TB, Huang XP, Rankin ML, Sibley DR (2013) D1-D2 dopamine receptor synergy promotes calcium signaling via multiple mechanisms. Mol Pharmacol 84:190–200

Dong ZJ, Chen LJ, Jin GZ, Creese I (1997a) GTP regulation of (−)-stepholidine binding to R(H) of D1 dopamine receptors in calf striatum. Biochem Pharmacol 54:227–232

Dong ZJ, Guo X, Chen LJ, Han YF, Jin GZ (1997b) Dual actions of (−)-stepholidine on the dopamine receptor-mediated adenylate cyclase activity in rat corpus striatum. Life Sci 61:465–472

Ehrlich AT, Furuyashiki T, Kitaoka S, Kakizuka A, Narumiya S (2013) Prostaglandin E receptor EP1 forms a complex with dopamine D1 receptor and directs D1-induced cAMP production to adenylyl cyclase 7 through mobilizing G(betagamma) subunits in human embryonic kidney 293 T cells. Mol Pharmacol 84:476–486

Ellenbroek BA, Zhang XX, Jin GZ (2006) Effects of (−)stepholidine in animal models for schizophrenia. Acta Pharmacol Sin 27:1111–1118

Free RB, Chun LS, Moritz AE, Miller BN, Doyle TB, Conroy JL, Padron A, Meade JA, Xiao J, Hu X, Dulcey AE, Han Y, Duan L, Titus S, Bryant-Genevier M, Barnaeva E, Ferrer M, Javitch JA, Beuming T, Shi L, Southall NT, Marugan JJ, Sibley DR (2014) Discovery and characterization of a G protein-biased agonist that inhibits beta-arrestin recruitment to the D2 dopamine receptor. Mol Pharmacol 86:96–105

Free RB, Hazelwood LA, Cabrera DM, Spalding HN, Namkung Y, Rankin ML, Sibley DR (2007) D1 and D2 dopamine receptor expression is regulated by direct interaction with the chaperone protein calnexin. J Biol Chem 282:21285–21300

Gao M, Chu HY, Jin GZ, Zhang ZJ, Wu J, Zhen XC (2011) l-Stepholidine-induced excitation of dopamine neurons in rat ventral tegmental area is associated with its 5-HT(1A) receptor partial agonistic activity. Synapse 65:379–387

Guo Y, Zhang H, Chen X, Cai W, Cheng J, Yang Y, Jin G, Zhen X (2009) Evaluation of the antipsychotic effect of bi-acetylated l-stepholidine (l-SPD-A), a novel dopamine and serotonin receptor dual ligand. Schizophr Res 115:41–49

Hess EJ, Albers LJ, Le H, Creese I (1986) Effects of chronic SCH23390 treatment on the biochemical and behavioral properties of D1 and D2 dopamine receptors: potentiated behavioral responses to a D2 dopamine agonist after selective D1 dopamine receptor upregulation. J Pharmacol Exp Ther 238:846–854

Hutcheson JD, Setola V, Roth BL, Merryman WD (2011) Serotonin receptors and heart valve disease—it was meant 2B. Pharmacol Ther 132:146–157

Jin GZ, Huang KX, Sun BC (1992) Dual actions of (−)-stepholidine on dopamine receptor subtypes after substantia nigra lesion. Neurochem Int 20(Suppl):175S–178S

Jin GZ, Zhu ZT, Fu Y (2002) (−)-Stepholidine: a potential novel antipsychotic drug with dual D1 receptor agonist and D2 receptor antagonist actions. Trends Pharmacol Sci 23:4–7

Kapur S, Mamo D (2003) Half a century of antipsychotics and still a central role for dopamine D2 receptors. Prog Neuro-Psychopharmacol Biol Psychiatry 27:1081–1090

Lane JR, Powney B, Wise A, Rees S, Milligan G (2008) G protein coupling and ligand selectivity of the D2L and D3 dopamine receptors. J Pharmacol Exp Ther 325:319–330

Leff SE, Hamblin MW, Creese I (1985) Interactions of dopamine agonists with brain D1 receptors labeled by 3H-antagonists. Evidence for the presence of high and low affinity agonist-binding states. Mol Pharmacol 27:171–183

Luttrell LM, Gesty-Palmer D (2010) Beyond desensitization: physiological relevance of arrestin-dependent signaling. Pharmacol Rev 62:305–330

Masri B, Salahpour A, Didriksen M, Ghisi V, Beaulieu JM, Gainetdinov RR, Caron MG (2008) Antagonism of dopamine D2 receptor/beta-arrestin 2 interaction is a common property of clinically effective antipsychotics. Proc Natl Acad Sci U S A 105:13656–13661

Missale C, Nash SR, Robinson SW, Jaber M, Caron MG (1998) Dopamine receptors: from structure to function. Physiol Rev 78:189–225

Mo J, Guo Y, Yang YS, Shen JS, Jin GZ, Zhen X (2007) Recent developments in studies of l-stepholidine and its analogs: chemistry, pharmacology and clinical implications. Curr Med Chem 14:2996–3002

Mo J, Zhang H, Yu LP, Sun PH, Jin GZ, Zhen X (2010) L-stepholidine reduced L-DOPA-induced dyskinesia in 6-OHDA-lesioned rat model of Parkinson's disease. Neurobiol Aging 31:926–936

Moreno E, Moreno-Delgado D, Navarro G, Hoffmann HM, Fuentes S, Rosell-Vilar S, Gasperini P, Rodriguez-Ruiz M, Medrano M, Mallol J, Cortes A, Casado V, Lluis C, Ferre S, Ortiz J, Canela E, McCormick PJ (2014) Cocaine disrupts histamine H3 receptor modulation of dopamine D1 receptor signaling: sigma1-D1-H3 receptor complexes as key targets for reducing cocaine's effects. J Neurosci 34:3545–3558

Natesan S, Reckless GE, Barlow KB, Odontiadis J, Nobrega JN, Baker GB, George SR, Mamo D, Kapur S (2008) The antipsychotic potential of l-stepholidine—a naturally occurring dopamine receptor D1 agonist and D2 antagonist. Psychopharmacology 199:275–289

Pei L, Li S, Wang M, Diwan M, Anisman H, Fletcher PJ, Nobrega JN, Liu F (2010) Uncoupling the dopamine D1-D2 receptor complex exerts antidepressant-like effects. Nat Med 16:1393–1395

Perreault ML, Hasbi A, O'Dowd BF, George SR (2014) Heteromeric dopamine receptor signaling complexes: emerging neurobiology and disease relevance. Neuropsychopharmacology 39:156–168

Rashid AJ, So CH, Kong MM, Furtak T, El-Ghundi M, Cheng R, O'Dowd BF, George SR (2007) D1-D2 dopamine receptor heterooligomers with unique pharmacology are coupled to rapid activation of Gq/11 in the striatum. Proc Natl Acad Sci U S A 104:654–659

Rominger DH, Cowan CL, Gowen-MacDonald W, Violin JD (2014) Biased ligands: pathway validation for novel GPCR therapeutics. Curr Opin Pharmacol 16C:108–115

Schulz DW, Stanford EJ, Wyrick SW, Mailman RB (1985) Binding of [3H]SCH23390 in rat brain: regional distribution and effects of assay conditions and GTP suggest interactions at a D1-like dopamine receptor. J Neurochem 45:1601–1611

Setola V, Dukat M, Glennon RA, Roth BL (2005) Molecular determinants for the interaction of the valvulopathic anorexigen norfenfluramine with the 5-HT2B receptor. Mol Pharmacol 68:20–33

Shenoy SK, Lefkowitz RJ (2011) beta-Arrestin-mediated receptor trafficking and signal transduction. Trends Pharmacol Sci 32:521–533

Sibley DR, Monsma FJ Jr (1992) Molecular biology of dopamine receptors. Trends Pharmacol Sci 13:61–69

Skinbjerg M, Seneca N, Liow JS, Hong J, Weinshenker D, Pike VW, Halldin C, Sibley DR, Innis RB (2010) Dopamine beta-hydroxylase-deficient mice have normal densities of D(2) dopamine receptors in the high-affinity state based on in vivo PET imaging and in vitro radioligand binding. Synapse 64:699–703

Strange PG (2010) Use of the GTPgammaS ([35S]GTPgammaS and Eu-GTPgammaS) binding assay for analysis of ligand potency and efficacy at G protein-coupled receptors. Br J Pharmacol 161:1238–1249

Sun BC, Jin GZ (1992) Characteristics of (−)-stepholidine on the firing activity of substantia nigral dopamine neurons after repeated reserpine treatment. Biol Signals 1:331–338

Sun BC, Zhang XX, Jin GZ (1996) (−)-Stepholidine acts as a D1 partial agonist on firing activity of substantia nigra pars reticulata neurons in 6-hydroxydopamine-lesioned rats. Life Sci 59:299–306

Sun Y, Dai J, Hu Z, Du F, Niu W, Wang F, Liu F, Jin G, Li C (2009) Oral bioavailability and brain penetration of (−)-stepholidine, a tetrahydroprotoberberine agonist at dopamine D(1) and antagonist at D(2) receptors, in rats. Br J Pharmacol 158:1302–1312

Urban JD, Clarke WP, von Zastrow M, Nichols DE, Kobilka B, Weinstein H, Javitch JA, Roth BL, Christopoulos A, Sexton PM, Miller KJ, Spedding M, Mailman RB (2007) Functional selectivity and classical concepts of quantitative pharmacology. J Pharmacol Exp Ther 320:1–13

Urs NM, Daigle TL, Caron MG (2011) A dopamine D1 receptor-dependent beta-arrestin signaling complex potentially regulates morphine-induced psychomotor activation but not reward in mice. Neuropsychopharmacology 36:551–558

Urs NM, Snyder JC, Jacobsen JP, Peterson SM, Caron MG (2012) Deletion of GSK3beta in D2R-expressing neurons reveals distinct roles for beta-arrestin signaling in antipsychotic and lithium action. Proc Natl Acad Sci U S A 109:20732–20737

Violin JD, Crombie AL, Soergel DG, Lark MW (2014) Biased ligands at G-protein-coupled receptors: promise and progress. Trends Pharmacol Sci 35:308–316

Wang M, Wong AH, Liu F (2012) Interactions between NMDA and dopamine receptors: a potential therapeutic target. Brain Res 1476:154–163

Xu SX, Yu LP, Han YR, Chen Y, Jin GZ (1989) Effects of tetrahydroprotoberberines on dopamine receptor subtypes in brain. Acta Pharmacol Sin 10:104–110

Yang K, Jin G, Wu J (2007) The neuropharmacology of (−)-stepholidine and its potential applications. Curr Neuropharmacol 5:289–294

Zou LL, Liu J, Jin GZ (1997) Involvement of receptor reserve in D1 agonistic action of (−)-stepholidine in lesioned rats. Biochem Pharmacol 54:233–240
Acknowledgments
This work was supported, in part, by the Intramural Research Program of the National Institute of Neurological Disorders and Stroke (NINDS). All authors declare no conflicts of interest. The authors would like to thank Dr. Peter W. Dematteo (NIDA) for optical rotation analysis and NMR confirmation of (−)stepholidine batches, and Mr. Bryce Adams for technical assistance.
Additional information
Julie A. Meade and R. Benjamin Free contributed equally to this work.
Electronic supplementary material
Below is the link to the electronic supplementary material.
About this article
Cite this article
Meade, J.A., Free, R.B., Miller, N.R. et al. (-)-Stepholidine is a potent pan-dopamine receptor antagonist of both G protein- and β-arrestin-mediated signaling. Psychopharmacology 232, 917–930 (2015). https://doi.org/10.1007/s00213-014-3726-8
Received:

Accepted:

Published:

Issue Date:
Keywords
Stepholidine

Dopamine

Antipsychotic

β-arrestin

Receptor