Abstract
The antioxidant and cardioprotective effects of oleuropein have been reported in several studies; however, its effect on ketamine cardiotoxicity has not been known yet. The aim of this study was to investigate the effects of oleuropein in ketamine-induced cardiotoxicity model in rats. A total of 28 male Wistar Albino rats were included in the study and they were randomly divided into four groups, each having seven rats. Group 1 (control): rats were given 1 mL of DMSO by oral gavage method for 7 days. Group 2 (ketamine): on the seventh day of the study, 60 mg/kg ketamine was administered intraperitoneally. Then, 60 mg/kg ketamine was administered intraperitoneally every 10 min for 3 h. Group 3 (oleuropein): rats were given 200 mg/kg/day oleuropein by oral gavage method for 7 days. Group 4 (oleuropein + ketamine): rats were given 1 × 200 mg/kg oleuropein by oral gavage method for 7 days. Furthermore, 60 mg/kg ketamine was administered intraperitoneally on the seventh day of the experiment. Then, 60 mg/kg ketamine was administered intraperitoneally every 10 min for 3 h. Serum cardiac marker (TnI, CK-MB and CK) levels were measured. Histopathological analysis was performed on a portion of the cardiac tissue. Cardiac tissue oxidative stress and antioxidant markers (MDA, GSH, GSH.Px and CAT), TNF-α, IL-6, NF-κB, COX-2 and Nrf-2 gene expressions, and protein conversion levels of related genes were determined. Data obtained showed that ketamine administration increased MDA (p < 0.001), TNF-α (p < 0.01), IL-6 (p < 0.01), COX-2 (p < 0.001) and NF-κB (p < 0.001) levels, as well as serum TnI (p < 0.001), CK-MB (p < 0.001) and CK (p < 0.01) levels whereas decreased GSH (p < 0.05) and Nrf-2 (p < 0.05) levels, as well as GSH-Px (p < 0.001) and CAT (p < 0.05) enzyme activities. Oleuropein administration was observed to decrease MDA, TNF-α, IL-6, COX-2, NF-κB, TnI, CK-MB and CK levels close to the control group and to increase GSH levels and GSH-Px and CAT enzyme activities close to the control group. This study showed that oleuropein administration reversed the increased oxidative stress and inflammation as a result of the use of ketamine and had protective effects on the heart.
Access options
Buy single article
Instant access to the full article PDF.
US$ 39.95
Tax calculation will be finalised during checkout.
Subscribe to journal
Immediate online access to all issues from 2019. Subscription will auto renew annually.
US$ 119
Tax calculation will be finalised during checkout.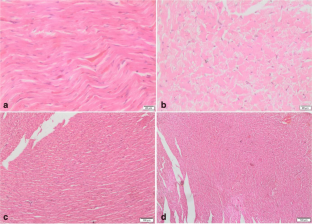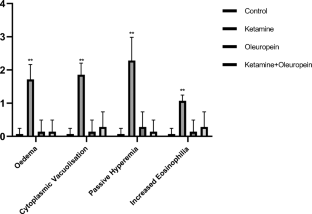 References
Adams J 3rd, Bodor GS, Davila-Roman VG, Delmez JA, Apple FS, Ladenson J, Jaffe AS (1993) Cardiac troponin I. A marker with high specificity for cardiac injury. Circulation 88:101–106

Aebi H (1983) Catalase. Methods of enzymatic analysis

Ahiskalioglu A, Ince I, Aksoy M, Ahiskalioglu EO, Comez M, Dostbil A, Celik M, Alp HH, Coskun R, Taghizadehghalehjoughi A (2015) Comparative investigation of protective effects of metyrosine and metoprolol against ketamine cardiotoxicity in rats. Cardiovasc Toxicol 15:336–344

Ahmadvand H, Bagheri S, Tamjidi-Poor A, Cheraghi M, Azadpour M, Ezatpour B, Moghadam S, Shahsavari G, Jalalvand M (2016) Biochemical effects of oleuropein in gentamicin-induced nephrotoxicity in rats. ARYA atherosclerosis 12:87

Aksoy M, Ince I, Ahiskalioglu A, Dostbil A, Celik M, Turan MI, Cetin N, Suleyman B, Alp HH, Suleyman H (2014) The suppression of endogenous adrenalin in the prolongation of ketamine anesthesia. Med Hypotheses 83:103–107

Andreadou I, Iliodromitis EK, Mikros E, Constantinou M, Agalias A, Magiatis P, Skaltsounis AL, Kamber E, Tsantili-Kakoulidou A, Kremastinos DT (2006) The olive constituent oleuropein exhibits anti-ischemic, antioxidative, and hypolipidemic effects in anesthetized rabbits. J Nutr 136:2213–2219

Andreadou I, Sigala F, Iliodromitis EK, Papaefthimiou M, Sigalas C, Aligiannis N, Savvari P, Gorgoulis V, Papalabros E, Kremastinos DT (2007) Acute doxorubicin cardiotoxicity is successfully treated with the phytochemical oleuropein through suppression of oxidative and nitrosative stress. J Mol Cell Cardiol 42:549–558

Andreadou I, Mikros E, Ioannidis K, Sigala F, Naka K, Kostidis S, Farmakis D, Tenta R, Kavantzas N, Bibli S-I (2014) Oleuropein prevents doxorubicin-induced cardiomyopathy interfering with signaling molecules and cardiomyocyte metabolism. J Mol Cell Cardiol 69:4–16

Banerjee S, Sood S, Dinda A, Das T, Maulik S (2003) Chronic oral administration of raw garlic protects against isoproterenol-induced myocardial necrosis in rat. Comp Biochem Physiol C Toxicol Pharmacol 136:377–386

Boghdady NAE (2013) Antioxidant and antiapoptotic effects of proanthocyanidin and ginkgo biloba extract against doxorubicin-induced cardiac injury in rats. Cell Biochem Funct 31:344–351

Cetin N, Suleyman B, Altuner D, Kuyrukluyildiz U, Ozcicek F, Coskun R, Kurt N, Suleyman H (2015) Effect of disulfiram on ketamine-induced cardiotoxicity in rats. Int J Clin Exp Med 8:13540

Chan W, Liang Y, Wai MS, Hung AS, Yew D (2011) Cardiotoxicity induced in mice by long term ketamine and ketamine plus alcohol treatment. Toxicol Lett 207:191–196

Chatterjee K, Zhang J, Tao R, Honbo N, Karliner JS (2008) Vincristine attenuates doxorubicin cardiotoxicity. Biochem Biophys Res Commun 373:555–560

Chen L, Wang X, Wang H, Li Y, Yan W, Han L, Zhang K, Zhang J, Wang Y, Feng Y (2012) miR-137 is frequently down-regulated in glioblastoma and is a negative regulator of Cox-2. Eur J Cancer 48:3104–3111

Chernyshov G, Plotnikov M, Smol'iakova V, Krasnov E (2007) Therapeutic effect of p-tyrosol on myocardial electric instability induced by coronary occlusion. Eksp Klin Farmakol 70:23–25

Comer BS, Camoretti-Mercado B, Kogut PC, Halayko AJ, Solway J, Gerthoffer WT (2015) Cyclooxygenase-2 and microRNA-155 expression are elevated in asthmatic airway smooth muscle cells. Am J Respir Cell Mol Biol 52:438–447

Coskun R, Turan MI, Turan IS, Gulapoglu M (2014) The protective effect of thiamine pyrophosphate, but not thiamine, against cardiotoxicity induced with cisplatin in rats. Drug Chem Toxicol 37:290–294

Dillon P, Copeland J, Jansen K (2003) Patterns of use and harms associated with non-medical ketamine use. Drug Alcohol Depend 69:23–28

Droogmans S, Lauwers R, Cosyns B, Roosens B, Franken PR, Weytjens C, Bossuyt A, Lahoutte T, Schoors D, Van Camp G (2008) Impact of anesthesia on valvular function in normal rats during echocardiography. Ultrasound Med Biol 34:1564–1572

El-Awady E-SE, Moustafa YM, Abo-Elmatty DM, Radwan A (2011) Cisplatin-induced cardiotoxicity: mechanisms and cardioprotective strategies. Eur J Pharmacol 650:335–341

Esmailidehaj M, Rasulian B, Rezvani ME, Delfan B, Mosaddeghmehrjardi MH, Pourkhalili K (2012) The anti-infarct, antistunning and antiarrhythmic effects of oleuropein in isolated rat heart. EXCLI J 11:150

Giordano FJ (2005) Oxygen, oxidative stress, hypoxia, and heart failure. J Clin Invest 115:500–508

Güvenç M, Cellat M, Özkan H, Tekeli İO, Uyar A, Gökçek İ, İşler CT, Yakan A (2019) Protective effects of tyrosol against DSS-induced ulcerative colitis in rats. Inflammation:1–12

Janahmadi Z, Nekooeian AA, Moaref AR, Emamghoreishi M (2015) Oleuropein offers cardioprotection in rats with acute myocardial infarction. Cardiovasc Toxicol 15:61–68

Janahmadi Z, Nekooeian AA, Moaref AR, Emamghoreishi M (2017) Oleuropein attenuates the progression of heart failure in rats by antioxidant and antiinflammatory effects. Naunyn Schmiedeberg's Arch Pharmacol 390:245–252

Ji Y, He Y, Liu L, Zhong X (2010) MiRNA-26b regulates the expression of cyclooxygenase-2 in desferrioxamine-treated CNE cells. FEBS Lett 584:961–967

Lawrence RA, Burk RF (1976) Glutathione peroxidase activity in selenium-deficient rat liver. Biochem Biophys Res Commun 71:952–958

Li C, Gao Y, Tian J, Xing Y, Zhu H, Shen J (2012a) Long-term oral Asperosaponin VI attenuates cardiac dysfunction, myocardial fibrosis in a rat model of chronic myocardial infarction. Food Chem Toxicol 50:1432–1438

Li Y, Shi J, Yang B, Liu L, Han C, Li W, Dong D, Pan Z, Liu G, Geng J (2012b) Ketamine-induced ventricular structural, sympathetic and electrophysiological remodelling: pathological consequences and protective effects of metoprolol. Br J Pharmacol 165:1748–1756

Libby P, Bonow RO, Mann DL, Zipes DP (2007) Braunwald's heart disease: a textbook of cardiovascular medicine, 2-volume set. Elsevier Health Sciences

Livak KJ, Schmittgen TD (2001) Analysis of relative gene expression data using real-time quantitative PCR and the 2− ΔΔCT method. Methods 25:402–408

Lowry OH, Rosebrough NJ, Farr AL, Randall RJ (1951) Protein measurement with the Folin phenol reagent. J Biol Chem 193:265–275

Luna LG (1968) Manual of histologic staining methods of the Armed Forces Institute of Pathology

Manna C, Migliardi V, Golino P, Scognamiglio A, Galletti P, Chiariello M, Zappia V (2004) Oleuropein prevents oxidative myocardial injury induced by ischemia and reperfusion. J Nutr Biochem 15:461–466

Omar SH (2010) Oleuropein in olive and its pharmacological effects. Sci Pharm 78:133–154

Parvin R, Akhter N (2008) Protective effect of tomato against adrenaline-induced myocardial infarction in rats. Bangladesh Med Res Counc Bull 34:104–108

Petroni A, Blasevich M, Salami M, Papini N, Montedoro GF, Galli C (1995) Inhibition of platelet aggregation and eicosanoid production by phenolic components of olive oil. Thromb Res 78:151–160

Placer ZA, Cushman LL, Johnson BC (1966) Estimation of product of lipid peroxidation (malonyl dialdehyde) in biochemical systems. Anal Biochem 16:359–364

Rio DC, Ares M, Hannon GJ, Nilsen TW (2010) Purification of RNA using TRIzol (TRI reagent). Cold Spring Harbor Protocols 2010: pdb. prot5439

Salaun C, Greaves J, Chamberlain LH (2010) The intracellular dynamic of protein palmitoylation. J Cell Biol 191:1229–1238

Sedlak J, Lindsay RH (1968) Estimation of total, protein-bound, and nonprotein sulfhydryl groups in tissue with Ellman's reagent. Anal Biochem 25:192–205

Shi J, Zhang L, Zhang Y-W, Surma M, Mark Payne R, Wei L (2012) Downregulation of doxorubicin-induced myocardial apoptosis accompanies postnatal heart maturation. Am J Phys Heart Circ Phys 302:H1603–H1613

Spotoft H, Korshin J, Søjrensen MB, Skovsted P (1979) The cardiovascular effects of ketamine used for induction of anaesthesia in patients with valvular heart disease. Can Anaesth Soc J 26:463–467

Tsung JS, Tsung SS (1986) Creatine kinase isoenzymes in extracts of various human skeletal muscles. Clin Chem 32:1568–1570

Urso ML, Clarkson PM (2003) Oxidative stress, exercise, and antioxidant supplementation. Toxicology 189:41–54

Vochyánová Z, Bartošová L, Bujdáková V, Fictum P, Husník R, Suchý P, Šmejkal K, Hošek J (2015) Diplacone and mimulone ameliorate dextran sulfate sodium-induced colitis in rats. Fitoterapia 101:201–207

Weiner AL, Vieira L, McKay CA Jr, Bayer MJ (2000) Ketamine abusers presenting to the emergency department: a case series. J Emerg Med 18:447–451

White JM, Ryan CF (1996) Pharmacological properties of ketamine. Drug and alcohol review 15:145–155

Yang M, Yao Y, Eades G, Zhang Y, Zhou Q (2011) MiR-28 regulates Nrf2 expression through a Keap1-independent mechanism. Breast Cancer Res Treat 129:983–991

Zhang J-Y, Yang Z, Fang K, Shi Z-L, Ren D-H, Sun J (2017) Oleuropein prevents the development of experimental autoimmune myocarditis in rats. Int Immunopharmacol 48:187–195
Funding
This study funded by the Scientific Research Project Coordination of the Hatay Mustafa Kemal University, Turkey (No: 18.M.062/2018).
Ethics declarations
All procedures were performed in accordance with the directions of the Guide for the Care and Use of Laboratory Animals, and the experimental procedures were approved by the Experimental Animal Ethics Committee of Mustafa Kemal University (MKU-HADYEK 2018/1-5).
Ethical statement
After approval of the Local Ethics Committee for Animal Trials of the Hatay Mustafa Kemal University (HMKU) (No: 2018/1-5), the study conducted at the Experimental Animal Application and Research Center, HMKU, Turkey.
Conflict of interest
The authors decalare that they have no conflict of interest.
Additional information
Publisher's note
Springer Nature remains neutral with regard to jurisdictional claims in published maps and institutional affiliations.
About this article
Cite this article
Çömez, M.S., Cellat, M., Özkan, H. et al. Protective effect of oleuropein on ketamine-induced cardiotoxicity in rats. Naunyn-Schmiedeberg's Arch Pharmacol 393, 1691–1699 (2020). https://doi.org/10.1007/s00210-020-01870-w
Received:

Accepted:

Published:

Issue Date:
Keywords
Ketamine

Oleuropein

Cardiotoxicity