Abstract
The aim of the present study was to explore the ameliorative role of imatinib and tetrabenazine in acute stress–induced behavioural and biochemical changes in mice. Cold-water immersion (5 min duration) was employed to induce acute stress and the resulting changes in the locomotor activity, exploratory behaviour, motor activity and social behaviour were assessed using the actophotometer, the hole board, the open field and the social interaction tests. The biochemical alterations were assessed by measuring the plasma corticosterone levels using ELISA kit. Cold-water immersion-induced acute stress diminished the locomotor activity, exploratory behaviour, motor activity and social behaviour along with increase in the plasma corticosterone levels. Administration of imatinib (50 and 100 mg/kg, i.p.), a tyrosine kinase inhibitor, significantly attenuated the cold-water immersion-induced behavioural alterations with normalization of the plasma corticosterone levels in a dose-dependent manner. Moreover, administration of tetrabenazine (1 and 2 mg/kg, i.p.), a vesicular monoamine transporter 2 (VMAT2) inhibitor, also abolished the acute stress–induced behavioural and biochemical changes in a dose-dependent manner. The beneficial effects of imatinib and tetrabenazine in normalizing acute stress–induced biochemical and behavioural changes make them promising therapeutic agents in the treatment of acute stress–related problems.
Access options
Buy single article
Instant access to the full article PDF.
US$ 39.95
Tax calculation will be finalised during checkout.
Subscribe to journal
Immediate online access to all issues from 2019. Subscription will auto renew annually.
US$ 119
Tax calculation will be finalised during checkout.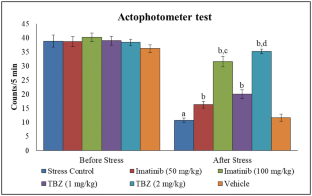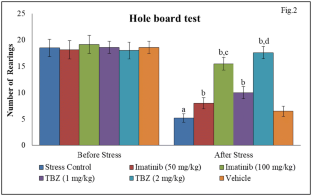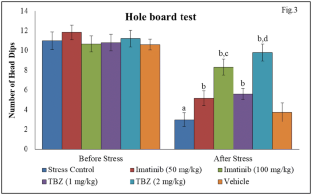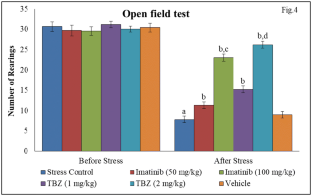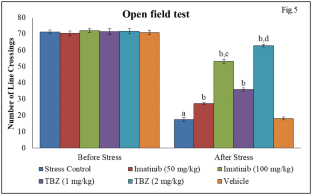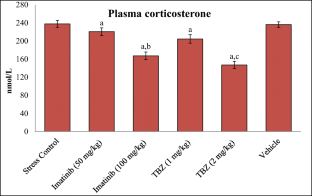 References
Selye H (1998) A syndrome produced by diverse nocuous agents. J Neuropsychiatr Clin Neurosci 10(2):230–231

Joseph DN, Whirledge S (2017 Oct 24) Stress and the HPA Axis: balancing homeostasis and fertility. Int J Mol Sci 18(10):E2224

Tsigos C, Chrousos GP (2002) Hypothalamic-pituitary-adrenal axis, neuroendocrine factors and stress. J Psychosom Res 53(4):865–871

Armario A, Marti J, Gil M (1990) The serum glucose response to acute stress is sensitive to the intensity of the stressor and to habituation. Psychoneuroendocrinology. 15:341–347

Mitsumoto Y, Mori A (2018) Acute restraint stress augments 1-methyl-4-phenyl-1,2,3,6-tetrahydropyridine neurotoxicity via increased toxin uptake into the brain in C57BL/6 mice. Neurosci Bull 34(5):849–853

Miyamoto T, Funakami Y, Kawashita E, Nomura A, Sugimoto N, Saeki H, Tsubota M, Ichida S, Kawabata A (2017) Repeated cold stress enhances the acute restraint stress-induced hyperthermia in mice. Biol Pharm Bull 40(1):11–16

Mancuso C, Navarra P, Preziosi P (2010) Roles of nitric oxide, carbon monoxide, and hydrogen sulfide in the regulation of the hypothalamic-pituitary-adrenal axis. J Neurochem 113(3):563–575

Munhoz CD, Garcia-Bueno B, Madrigal JL, Lepsch LB, Scavone C, Leza JC (2008) Stress-induced neuroinflammation: mechanisms and new pharmacological targets. Braz J Med Biol Res 41(12):1037–1046

Lagraauw HM, Kuiper J, Bot I (2015) Acute and chronic psychological stress as risk factors for cardiovascular disease: insights gained from epidemiological, clinical and experimental studies. Brain Behav Immun 50:18–30

Zhang X, Yu M, Yu W, Weinberg J, Shapiro J, McElwee KJ (2009) Development of alopecia areata is associated with higher central and peripheral hypothalamic-pituitary-adrenal tone in the skin graft induced C3H/HeJ mouse model. J Invest Dermatol 129(6):1527–1538

Caso JR, Leza JC, Menchen L (2008) The effects of physical and psychological stress on the gastro-intestinal tract: lessons from animal models. Curr Mol Med 8(4):299–312

Steptoe A, Hamer M, Chida Y (2007) The effects of acute psychological stress on circulating inflammatory factors in humans: a review and meta-analysis. Brain Behav Immun 21(7):901–912

Baccarani M, Saglio G, Goldman J, Hochhaus A, Simonsson B, Appelbaum F, Apperley J, Cervantes F, Cortes J, Deininger M, Gratwohl A, Guilhot F, Horowitz M, Hughes T, Kantarjian H, Larson R, Niederwieser D, Silver R, Hehlmann R (2006) European LeukemiaNet. Evolving concepts in the management of chronic myeloid leukemia: recommendations from an expert panel on behalf of the European LeukemiaNet. Blood 108(6):1809–1820

Ben AE, Demetri GD (2016) A safety evaluation of imatinib mesylate in the treatment of gastrointestinal stromal tumor. Expert Opin Drug Saf 15(4):571–578

Paul MK, Mukhopadhyay AK (2004) Tyrosine kinase-role and significance in cancer. Int J Med Sci 1(2):101–115

Hirano AA, Greengard P, Huganir RL (1988) Protein tyrosine kinase activity and its endogenous substrates in rat brain: a subcellular and regional survey. J Neurochem 50(5):1447–1455

Savage DG, Antman KH (2002) Imatinib mesylate-a new oral targeted therapy. N Engl J Med 346(9):683–693

Druker BJ, Talpaz M, Resta DJ, Peng B, Buchdunger E, Ford JM, Lydon NB, Kantarjian H, Capdeville R, Ohno-Jones S, Sawyers CL (2001) Efficacy and safety of a specific inhibitor of the BCR-ABL tyrosine kinase in chronic myeloid leukemia. N Engl J Med 344(14):1031–1037

Wu R, Chen H, Ma J, He Q, Huang Q, Liu Q, Li M, Yuan Z (2016) c-Abl–p38α signaling plays an important role in MPTP-induced neuronal death. Cell Death Differ 23(3):542–552

Cancino GI, Perez AK, Castro PU, Toledo EM, von Bernhardi R, Alvarez AR (2011) c-Abl tyrosine kinase modulates tau pathology and Cdk5 phosphorylation in AD transgenic mice. Neurobiol Aging 32(7):1249–1261

Kumar M, Kulshrestha R, Singh N, Jaggi AS (2019) Expanding spectrum of anticancer drug, imatinib, in the disorders affecting brain and spinal cord. Pharmacol Res 143:86–96

Sogawa R, Kimura S, Yakabe R, Mizokami Y, Tasaki M, Sueoka-Aragane N, Narisawa Y, Kimura S (2018) Anxiety and depression associated with tyrosine kinase inhibitor discontinuation in patients with chronic myeloid leukemia. Int J Clin Oncol 23:974–979

Boxall AR, Lancaster B, Garthwaite J (1996) Tyrosine kinase is required for long-term depression in the cerebellum. Neuron. 16:805–813

Kutlu MG, Cole RD, Connor DA, Natwora B, Gould TJ (2018) Tyrosine receptor kinase B receptor activation reverses the impairing effects of acute nicotine on contextual fear extinction. J Psychopharmacol 32:367–372

Kenney CJ, Hunter CB, Mejia NI, Jankovic J (2007) Tetrabenazine in the treatment of Tourette syndrome. J Pediatr Neurol 5(1):9–13

Yero T, Rey JA (2008) Tetrabenazine (Xenazine), an FDA-approved treatment option for Huntington's disease-related chorea. P T 33(12):690–694

Harriott ND, Williams JP, Smith EB, Bozigian HP, Grigoriadis DE (2018) VMAT2 inhibitors and the path to ingrezza (Valbenazine). Prog Med Chem 57(1):87–111

Schafer MK, Weihe E, Eiden LE (2013) Localization and expression of VMAT2 across mammalian species: a translational guide for its visualization and targeting in health and disease. Adv Pharmacol 68:319–334

Eiden LE, Weihe E (2011) VMAT2: a dynamic regulator of brain monoaminergic neuronal function interacting with drugs of abuse. Ann N Y Acad Sci 1216:86–98

Tillinger A, Sollas A, Serova LI, Kvetnansky R, Sabban EL (2010) Vesicular monoamine transporters (VMATs) in adrenal chromaffin cells: stress-triggered induction of VMAT2 and expression in epinephrine synthesizing cells. Cell Mol Neurobiol 30(8):1459–1465

Kondo Y, To M, Saruta J, Hayashi T, Sugiyama H, Tsukinoki K (2013) Role of TrkB expression in rat adrenal gland during acute immobilization stress. J Neurochem 124:224–232

Zucker M, Aviv A, Shelef A, Weizman A, Rehavi M (2002) Elevated platelet vesicular monoamine transporter density in untreated patients diagnosed with major depression. Psychiatry Res 112:251–256

Kitanaka N, Kitanaka J, Hall FS, Kandori T, Murakami A, Muratani K, Nakano T, Uhl GR, Takemura M (2018) Tetrabenazine, a vesicular monoamine transporter-2 inhibitor, attenuates morphine-induced hyperlocomotion in mice through alteration of dopamine and 5-hydroxytryptamine turnover in the cerebral cortex. Pharmacol Biochem Behav 172:9–16

Lee KS, Lim BV, Jang MH, Shin MC, Lee TH, Kim YP, Shin HS, Cho SY, Kim H, Shin MS, Kim EH, Kim CJ (2002) Hypothermia inhibits cell proliferation and nitric oxide synthase expression in rats. Neurosci Lett 329(1):53–56

Agrawal A, Jaggi AS, Singh N (2011) Pharmacological investigations on adaptation in rats subjected to cold water immersion stress. Physiol Behav 103(3–4):321–329

Kee-Won K, Seong-Soo C, Ran-Sook W, Hong-Won S (2003) Development of anti-nociceptive tolerance and changes of opioid receptor ligand binding in central nervous system of the mouse forced to single and repeated swimming in the cold water. Brain Res Bull 61:93–97

Kaur R, Jaggi AS, Singh N (2010) Studies on effect of stress preconditioning in restrain stress-induced behavioural alterations. Yakugaku Zasshi 130(2):215–221

Kumari B, Kumar A, Dhir A (2007) Protective effect of non-selective and selective COX-2-inhibitors in acute immobilization stress-induced behavioural and biochemical alterations. Pharmacol Rep 59:699–707

Brown GR, Nemes C (2008) The exploratory behaviour of rats in the hole-board apparatus: is head-dipping a valid measure of neophilia? Behav Process 78(3):442–448

Takeda H, Tsuji M, Matsumiya T (1998) Changes in head-dipping behaviour in the hole-board test reflect the anxiogenic and/or anxiolytic state in mice. Eur J Pharmacol 350:21–29

Prut L, Belzung C (2003) The open field as a paradigm to measure the effects of drugs on anxiety-like behaviours: a review. Eur J Pharmacol 463(1–3):3–33

Roman E, Gustafsson L, Berg M, Nylander I (2006) Behavioural profiles and stress-induced corticosteroid secretion in male Wistar rats subjected to short and prolonged periods of maternal separation. Horm Behav 50(5):736–747

Verma M, Bali A, Singh N, Jaggi AS (2016) Investigating the role of nisoldipine in foot-shock-induced post-traumatic stress disorder in mice. Fundam Clin Pharmacol 30:128–136

Wilson CA, Koenig JI (2014) Social interaction and social withdrawal in rodents as readouts for investigating the negative symptoms of schizophrenia. Eur Neuropsychopharmacol 24:759–773

Kaur A, Bali A, Singh N, Jaggi AS (2015) Investigating the stress attenuating potential of furosemide in immobilization and electric foot shock stress models in mice. Naunyn Schmiedeberg's Arch Pharmacol 388(5):497–507

Manchanda RK, Jaggi AS, Singh N (2011) Ameliorative potential of sodium cromoglycate and diethyldithiocarbamic acid in restraint stress-induced behavioural alterations in rats. Pharmacol Rep 63(1):54–63

Jianhua F, Wei W, Xiaomei L, Shao-Hui W (2017) Chronic social defeat stress leads to changes of behaviour and memory-associated proteins of young mice. Behav Brain Res 316:136–144

Rodrigues MES, Bekhbat M, Houser MC, Chang J, Walker DI, Jones DP, do Oller Nascimento CMP, Barnum CJ, Tansey MG (2017) Chronic psychological stress and high-fat high-fructose diet disrupt metabolic and inflammatory gene networks in the brain, liver, and gut and promote behavioural deficits in mice. Brain Behav Immun 59:158–172

Browne CA, Hanke J, Rose C, Walsh I, Foley T, Clarke G, Schwegler H, Cryan JF, Yilmazer HD (2014) Effect of acute swim stress on plasma corticosterone and brain monoamine levels in bi-directionally selected DxH recombinant inbred mouse strains differing in fear recall and extinction. Stress. 17(6):471–483

Hwang KA, Hwang YJ, Hwang IG, Song J, Jun KY (2019) Low temperature-aged garlic extract suppresses psychological stress by modulation of stress hormones and oxidative stress response in brain. J Chin Med Assoc 82(3):191–195

Retana-Marquez S, Bonilla-Jaime H, Vazquez-Palacios G, Dominguez-Salazar E, Martinez-Garcia R, Velazquez-Moctezuma J (2003) Body weight gain and diurnal differences of corticosterone changes in response to acute and chronic stress in rats. Psychoneuroendocrinology. 28(2):207–227

Lafrance M, Roussy G, Belleville K, Maeno H, Beaudet N, Wada K, Sarret P (2010) Involvement of NTS2 receptors in stress-induced analgesia. Neuroscience. 166(2):639–652

Kumar N, Singh N, Jaggi AS (2012) Anti-stress effects of cilnidipine and nimodipine in immobilization subjected mice. Physiol Behav 105(5):1148–1155

Bhatia N, Jaggi AS, Singh N, Anand P, Dhawan R. Kaur A, Bali A, Singh N, Jaggi AS. Adaptogenic potential of curcumin in experimental chronic stress and chronic unpredictable stress-induced memory deficits and alterations in functional homeostasis. J Nat Med 2011; 65(3–4):532–543

Pringle NP, Mudhar HS, Collarini EJ, Richardson WD (1992) PDGF receptors in the rat CNS: during late neurogenesis, PDGF alpha-receptor expression appears to be restricted to glial cells of the oligodendrocyte lineage. Development. 115(2):535–551

O'Donnell J, Zeppenfeld D, McConnell E, Pena S, Nedergaard M (2012) Norepinephrine: a neuromodulator that boosts the function of multiple cell types to optimize CNS performance. Neurochem Res 37(11):2496–2512

Benloucif S, Bennett EL, Rosenzweig MR (1995) Norepinephrine and neural plasticity: the effects of xylamine on experience-induced changes in brain weight, memory, and behaviour. Neurobiol Learn Mem 63(1):33–42

Dayas CV, Buller KM, Day TA (2001) Medullary neurones regulate hypothalamic corticotropin-releasing factor cell responses to an emotional stressor. Neuroscience. 105(3):707–719

Tanra AJ, Kagaya A, Okamoto Y, Muraoka M, Motohashi N, Yamawaki S (1995) TJS-010, a new prescription of oriental medicine, antagonizes tetrabenazine-induced suppression of spontaneous locomotor activity in rats. Prog Neuro-Psychopharmacol Biol Psychiatry 19:963–971

Satou T, Anderson AJ, Itoh T, Tamai Y, Hayashi Y, Hashimoto S (2001) Repetitive administration of tetrabenazine induces irreversible changes in locomotion and morphology of the substantia nigra in rats. Exp Toxicol Pathol 53:303–308

Chen JJ, Ondo WG, Dashtipour K, Swope DM (2012) Tetrabenazine for the treatment of hyperkinetic movement disorders: a review of the literature. Clin Ther 34:1487–1504
Acknowledgements
The authors are thankful to the Department of Pharmaceutical Sciences and Drug Research, Punjabi University, Patiala, Punjab, India for providing facilities for this research work. The authors are grateful to Laurus Labs Limited, Visakhapatnam, Andhra Pradesh, India, for giving us the gift sample of imatinib for this work. The authors are also grateful to Inke, S.A., Barcelona, Spain, for providing us the gift sample of tetrabenazine for this work.
Additional information
Publisher's note
Springer Nature remains neutral with regard to jurisdictional claims in published maps and institutional affiliations.
About this article
Cite this article
Kumar, M., Singh, N. & Jaggi, A.S. Exploring the anti-stress effects of imatinib and tetrabenazine in cold-water immersion-induced acute stress in mice. Naunyn-Schmiedeberg's Arch Pharmacol 393, 1625–1634 (2020). https://doi.org/10.1007/s00210-020-01862-w
Received:

Accepted:

Published:

Issue Date:
Keywords
Imatinib

Tetrabenazine

Acute stress

Behavioural changes

Corticosterone