Abstract
Endometritis is an inflammatory disorder of the endometrial lining of the uterine tissue in postpartum stage. Endometritis mostly progresses subclinically and causes infertility through the disruption of the hormonal balance. It has been shown in many studies that resveratrol has anti-inflammatory and antioxidant properties. However, the possible beneficial effects of resveratrol in endometritis have not been determined yet. The aim of the present study is to evaluate the treatment potential of resveratrol in an experimentally induced endometritis model in rats. Endometritis was induced in 12-week-old female, nonpregnant, Sprague Dawley rats. The animals were divided into six groups: control (NaCl 0.9%) and endometritis (NaCl 0.9%), marbofloxacin + PGF2α, marbofloxacin, marbofloxacin + resveratrol, and resveratrol groups. To induce endometritis, 5 mg/kg/s.c. progesterone was given for 5 days, and then Escherichia coli (50 μl, 1 × 105 cfu/rat) was injected in the right cornu uteri following laparotomy. Sixteen hours after bacterial inoculation, the treatment protocol was applied for 14 days. At the end of the experiment, the total oxidant status (TOS) and total antioxidant status (TAS) were examined spectrophotometrically in uterus tissues. The severity of inflammation in uterus samples and follicular activity in ovarian tissues were histopathologically evaluated. In addition, serum cytokine levels were determined. While TAS in uterine tissue significantly increased in the resveratrol group when compared to that of the other groups (p < 0.05), there was no difference between the groups in TOS (p > 0.05). The inflammation of the endometrium and the numbers of corpus luteum in the endometritis group were highly significant when compared to those of the other groups (p < 0.05). The recovery of inflammation and follicular activity were similar to those of the other groups in resveratrol group. However, it was realized that resveratrol administration reduced serum cytokine levels. According to the results of the current study, resveratrol was found to be effective in the treatment of endometritis with its antioxidant and anti-inflammatory functions.
This is a preview of subscription content, log in to check access.
Access options
Buy single article
Instant access to the full article PDF.
US$ 39.95
Price includes VAT for USA
Subscribe to journal
Immediate online access to all issues from 2019. Subscription will auto renew annually.
US$ 199
This is the net price. Taxes to be calculated in checkout.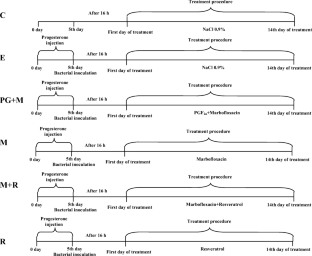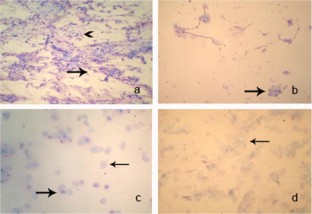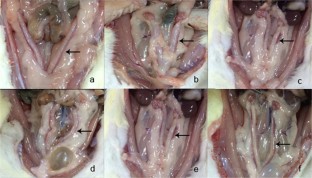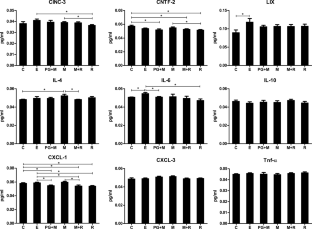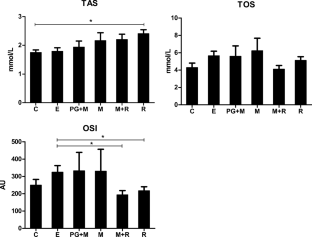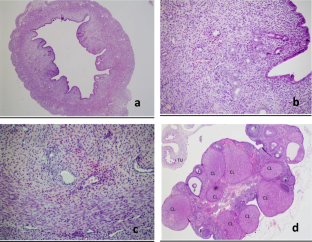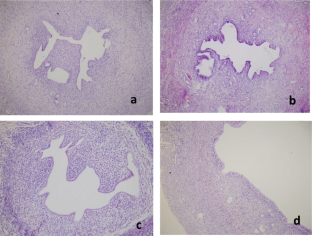 References
Adnane M, Kaidi R, Hanzen C, England GCW (2017) Risk factors of clinical and subclinical endometritis in cattle: a review. Turk J Vet Anim Sci 41:1–11. https://doi.org/10.3906/vet-1603-63

Amaya SC, Savaris RF, Filipovic CJ, Wise JD, Hestermann E, Young SL, Lessey BA (2014) Resveratrol and endometrium: a closer look at an active ingredient of red wine using in vivo and in vitro models. Reprod Sci 21(11):1362–1369. https://doi.org/10.1177/1933719114525271

Arora N, Sandford J, Browning GF, Sandy JR, Wright PJ (2006) A model for cystic endometrial hyperplasia/pyometra complex in the bitch. Theriogenology 66(6-7):1530–1536. https://doi.org/10.1016/j.theriogenology.2006.02.019

Baithalu RK, Maharana BR, Mishra C, Sarangi L, Lipismita Samal L (2010) Canine pyometra. Vet World 3:340–342

Baumann H, Gauldie J (1994) The acute phase response. Immunol Today 15(2):74–80. https://doi.org/10.1016/0167-5699(94)90137-6

Bayoglu Tekin Y, Guven S, Kirbas A, Kalkan Y, Tumkaya L, Guvendag Guven ES (2015) Is resveratrol a potential substitute for leuprolide acetate in experimental endometriosis? Eur J Obstet Gynecol Reprod Biol 184:1–6. https://doi.org/10.1016/j.ejogrb.2014.10.041

Belokrinitskaia TE, Vitkovskiĭ IA (1999) Anti-inflammatory cytokine in early diagnosis of endometritis after Cesarean section. Klin Lab Diagn 24:33–35

Bhat KPL, Pezzuto JM (2001) Natural modulators of estrogen biosynthesis and function as chemopreventive agents. Arch Pharm Res 24:473–484. https://doi.org/10.1007/BF02975150

Boby J, Kumar H, Gupta HP, Jan MH, Singh SK, Patra MK, Nandi S, Abraham A, Krishnaswamy N (2017) Endometritis increases pro-inflammatory cytokines in follicular fluid and cervico-vaginal mucus in the buffalo cow. Anim Biotechnol 28(3):163–167. https://doi.org/10.1080/10495398.2016.1244067

Brodzki P, Kostro K, Krakowski L, Marczuk J (2015) Inflammatory cytokine and acute phase protein concentrations in the peripheral blood and uterine washings of cows with subclinical endometritis in the late postpartum period. Vet Res Commun 39(2):143–149. https://doi.org/10.1007/s11259-015-9635-4

Choong ML, Yong YP, Tan AC, Luo B, Lodish HF (2004) LIX: a chemokine with a role in hematopoietic stem cells maintenance. Cytokine 25(6):239–245

Cora MC, Kooistra L, Travlos G (2015) Vaginal cytology of the laboratory rat and mouse: review and criteria for the staging estrus cycle using stained vaginal smears. Toxicol Pathol 43:776–793. https://doi.org/10.1177/0192623315570339

Dubuc J, Duffield TF, Leslie KE, Walton JS, LeBlanc SJ (2010) Risk factors for postpartum uterine diseases in dairy cows. J Dairy Sci 93(12):5764–5771. https://doi.org/10.3168/jds.2010-3429

Erel O (2004) A novel automated direct measurement method for total antioxidant capacity using a new generation, more stable ABTS radical cation. Clin Biochem 37(4):277–285

Erel O (2005) A new automated colorimetric method for measuring total oxidant status. Clin Biochem 38(12):1103–1111. https://doi.org/10.1016/j.clinbiochem.2005.08.008

Finkel T, Holbrook NJ (2000) Oxidants, oxidative stress and the biology of ageing. Nature 408:239–247. https://doi.org/10.1016/j.clinbiochem.2003.11.015

Fischer C, Drillich M, Odau S, Heuwieser W, Einspanier R, Gabler C (2010) Selected pro-inflammatory factor transcripts in bovine endometrial epithelial cells are regulated during the oestrous cycle and elevated in case of subclinical or clinical endometritis. Reprod Fertil Dev 22:818–829. https://doi.org/10.1071/RD09120

Forbes BA, Sahm DF, Weissfeld AS (2002) Laboratory methods for detection of antibacterial resistance. In: Bailey & Scott's diagnostic microbiology. Eleventh edn. St. Louis: Mosby Inc; 2002.; pp. 230–231

Gabler C, Drillich M, Fischer C, Holder C, Heuwieser W, Einspanier R (2009) Endometrial expression of selected transcripts involved in prostaglandin synthesis in cows with endometritis. Theriogenology 71:993–1004. https://doi.org/10.1016/j.theriogenology.2008.11.009

Galvão KN, Santos JEP (2014) Recent advances in the immunology and uterine microbiology of healthy cows and cows that develop uterine disease. Turk J Vet Anim Sci 38:577–588. https://doi.org/10.3906/vet-1407-29

Galvão KN, Santos NR, Galvão JS, Gilbert RO (2011) Association between endometritis and endometrial cytokine expression in postpartum Holstein cows. Theriogenology 76(2):290–299. https://doi.org/10.1016/j.theriogenology.2011.02.006

Garg K, Khare A, Bansal R, Sharma S, Chaudhary N (2017) Effects of different contraceptive methods on cervico-vaginal cytology. J Clin Diagn Res 11(7):EC09–EC11. https://doi.org/10.7860/JCDR/2017/28213.10219

Groppetti D, Pecile A, Barbero C, Martino PA (2012) Vaginal bacterial flora and cytology in proestrous bitches: role on fertility. Theriogenology 77(8):1549–1556. https://doi.org/10.1016/j.theriogenology.2011.11.022

Guide for the Care and Use of Laboratory Animals (2011) National Research Council (US) Committee for the Update of the Guide for the Care and Use of Laboratory Animals, 8th edn. National Academies Press (US), Washington (DC)

Gülçin İ (2010) Antioxidant properties of resveratrol: a structure–activity insight. Innov Food Sci Emerg Technol 11(1):210–218. https://doi.org/10.1016/j.ifset.2009.07.002

Handa O, Naito Y, Yoshikawa (2006) Rat cytokine-induced neutrophil chemoattractant-1 (CINC1) in inflammation. J Clin Biochem Nutr 38(2):51–58. https://doi.org/10.3164/jcbn.38.51

Heidarpour M, Mohri M, Fallah-Rad AH, Shahreza FD, Mohammadi M (2012) Oxidative stress and trace elements before and after treatment in dairy cows with clinical and subclinical endometritis. Revue Méd Vét 163(12):628–633

Hughes VM, Stevenson K, Sharp JM (2001) Improved preparation of high molecular weight DNA for pulsed-field gel electrophoresis from mycobacteria. J Microbiol Methods 44(3):209–215. https://doi.org/10.1016/S0167-7012(00)00246-3

Hussain T, Tan B, Yin Y, Blachier F, Tossou MC, Rahu N (2016) Oxidative stress and inflammation: what polyphenols can do for us? Oxidative Med Cell Longev 2016:7432797–7432799. https://doi.org/10.1155/2016/7432797

Hwang D, Lim YH (2015) Resveratrol antibacterial activity against Escherichia coli is mediated by Z-ring formation inhibition via suppression of FtsZ expression. Sci Rep 5:10029. https://doi.org/10.1038/srep10029

Ishikawa Y, Nakada K, Hagiwara K, Kirisawa R, Iwai H, Moriyoshi M, Sawamukai Y (2004) Changes in interleukin-6 concentration in peripheral blood of pre- and post-partum dairy cattle and its relationship to postpartum reproductive diseases. J Vet Med Sci 66(11):1403–1408. https://doi.org/10.1292/jvms.66.1403

Jang M, Cai L, Udeani GO, Slowing KV, Thomas CF, Beecher CW, Fong HH, Farnsworth NR, Kinghorn AD, Mehta RG, Moon RC, Pezzuto JM (1997) Cancer chemoprotective activity of resveratrol, a natural product derived from grapes. Science 275:218–220. https://doi.org/10.1126/science.275.5297.218

Kempisty B, Bukowska D, Wozna M, Piotrowska H, Jackowska M, Zuraw A, Ciesiolka S, Antosik P, Maryniak H, Ociepa E, Sz P, Brussow KP, Jaskowski JM, Nowicki M (2013) Endometritis and pyometra in bitches: A review. Vet Med 58(6):289–297. https://doi.org/10.17221/6864-VETMED

Khare S, Ficht TA, Santos RL, Romano J, Ficht AR, Zhang S, Grant IR, Libal M, Hunter D, Adams LG (2004) Rapid and sensitive detection of Mycobacterium avium subsp. paratuberculosis in bovine milk and feces by a combination of immunomagnetic bead separation-conventional PCR and real-time PCR. J Clin Microbiol 42(3):1075–1081. https://doi.org/10.1128/jcm.42.3.1075-1081.2004

Kim IH, Kang HG, Jeong JK, Hur TY, Jung YH (2014) Inflammatory cytokine concentrations in uterine flush and serum samples from dairy cows with clinical or subclinical endometritis. Theriogenology 82(3):427–432. https://doi.org/10.1016/j.theriogenology.2014.04.022

Kitaya K, Yasuo T, Tada Y, Hayashi T, Taguchi S, Funabiki M, Nakamura Y (2013) Current understanding of chronic endometritis. Diagn Histopathol 19(7):231–237. https://doi.org/10.1016/j.mpdhp.2013.06.006

Kitaya K, Takeuchi T, Mizuta S, Matsubayashi H, Ishikawa T (2018) Endometritis: new time, new concepts. Fertil Steril 110(3):344–350. https://doi.org/10.1016/j.fertnstert.2018.04.012

Leigh O, L Raji, Diakodue E (2013) Detection of standing heat in bitches: Application of vaginal cytology. World Journal of Life Science and Medical Research 3:21–25

Liang Y, Shen T, Ming Q, Han G, Zhang Y, Liang J, Zhu D (2018) Alpinetin ameliorates inflammatory response in LPS-induced endometritis in mice. Int Immunopharmacol 62:309–312. https://doi.org/10.1016/j.fertnstert.2018.04.012

Lim CG, Fowler ZL, Hueller T, Schaffer S, Koffas MAG (2011) High-yield resveratrol production in engineered Escherichia coli. Appl Environ Microbiol 77(10):3451–3460. https://doi.org/10.1128/AEM.02186-10

Liu M, Yin Y, Ye X, Zeng M, Zhao Q, Keefe DL, Liu L (2013) Resveratrol protects against age-associated infertility in mice. Hum Reprod 28(3):707–717. https://doi.org/10.1093/humrep/des437

Lugrin J, Rosenblatt-Velin N, Parapanov R, Liaudet L (2014) The role of oxidative stress during inflammatory processes. Biol Chem 395(2):203–230. https://doi.org/10.1515/hsz-2013-0241

Ma DSL, Tan LT, Chan KG, Yap WH, Pusparajah P, Chuah LH, Ming LC, Khan TM, Lee LH, Goh BH (2018) Resveratrol-potential antibacterial agent against foodborne pathogens. Front Pharmacol 9:102. https://doi.org/10.3389/fphar.2018.00102

McFarland J (1907) Nephelometer: an instrument for estimating the number of bacteria in suspensions used for calculating the opsonic index and for vaccines. J Am Med Assoc 14:1176–1178. https://doi.org/10.1001/jama.1907.25320140022001f

Mikamo H, Kawazoe K, Sato Y, Izumi K, Tamaya T (1998) Therapeutic effects of a new quinolone, DU-6859a, on polymicrobial infections in a newly designed model of rat uterine endometritis. J Antimicrob Chemother 41(1):131–133

Mishra K, Wadhwa N, Guleria K, Agarwal S (2008) ER, PR and Ki-67 expression status in granulomatous and chronic non-specific endometritis. J Obstet Gynaecol Re 34:371–378

Nayki C, Nayki U, Gunay M, Kulhan M, Çankaya M, Humeyra Taskın Kafa A, Balci G (2017) Oxidative and antioxidative status in the endometrium of patients with benign gynecological disorders. J Gynecol Obstet Hum Reprod 46(3):243–247. https://doi.org/10.1016/j.jogoh.2017.02.002

Nishikawa Y, Baba T, Imori T (1984) Effect of the estrous cycle on uterine infection induced by Escherichia coli. Infect Immun 43(2):678–683

Oh WY, Shahidi F (2018) Antioxidant activity of resveratrol ester derivatives in food and biological model systems. Food Chem 261:267–273. https://doi.org/10.1016/j.foodchem.2018.03.085

Orallo F (2006) Comparative studies of the antioxidant effects of cis- and trans-resveratrol. Curr Med Chem 13(1):87–98. https://doi.org/10.2174/092986706775197962

Paccola CC, Resende CG, Stumpp T, Miraglia SM, Cipriano I (2013) The rat estrous cycle revisited: a quantitative and qualitative analysis. Anim Reprod 10(4):677–683

Palmer C (2014) Postpartum uterine infection. In: Hopper RM (ed) Bovine reproduction. 1st ed. Chapter 50. John Wiley & Sons, Inc. pp 440–448

Parkinson T (2001) Infertility in the cow. In: Noakes DE, Parkinson TJ, England GCW (eds) Arthur's veterinary reproduction and obstetrics, 8th edn. Saunders Company, Philadelphia, pp 383–471

Pessoa AS, Aguiar GPS, Oliveira JV, Bortoluzzi AJ, Paulino A, Lanzaa M (2019) Precipitation of resveratrol-isoniazid and resveratrol-nicotinamide cocrystals by gas antisolvent. J Supercrit Fluids 145:93–102. https://doi.org/10.1016/j.supflu.2018.11.014

Phyu HE, Irwin JC, Vella RK, Fenning AS (2016) Resveratrol shows neuronal and vascular-protective effects in older, obese, streptozotocin-induced diabetic rats. Br J Nutr 115(11):1911–1918. https://doi.org/10.1017/S0007114516001069

Poulsen MM, Fjeldborg K, Ornstrup MJ, Kjær TN, Nøhr MK, Pedersen SB (2015) Resveratrol and inflammation: challenges in translating pre-clinical findings to improved patient outcomes. Biochim Biophys Acta 1852(6):1124–1136. https://doi.org/10.1016/j.bbadis.2014.12.024

Prunner I, Pothmann H, Wagener K, Giuliodori M, Huber J, Ehling-Schulz M, Drillich M (2014) Dynamics of bacteriologic and cytologic changes in the uterus of postpartum dairy cows. Theriogenology 82:1316–1322. https://doi.org/10.1016/j.theriogenology.2014.08.018

Rajkumar K, Ganguli S, Menon KMJ, Mead RA, Murphy BD (1988) Studies of the mechanism of action of prostaglandin F2[alpha] induced luteolysis in rats. Prostaglandins 36:547–564. https://doi.org/10.1016/0090-6980(88)90049-4

Ramsey IK (2008) BSAVA small animal formulary, 6th edn. British Small Animal Veterinary Association, England, Quedgeley

Roberts RA, Laskin DL, Smith CV, Robertson FM, Allen EM, Doorn JA, Slikker W (2009) Nitrative and oxidative stress in toxicology and disease. Toxicol Sci 112:4–16. https://doi.org/10.1093/toxsci/kfp179

Salah N, Yimer N (2017) Cytological endometritis and its agreement with ultrasound examination in postpartum beef cows. Vet World 10(6):605–609. https://doi.org/10.14202/vetworld.2017.605-609

Salehi B, Mishra AP, Nigam M, Sener B, Kilic M, Sharifi-Rad M, Fokou PVT, Martins N, Sharifi-Rad J (2018) Resveratrol: a double-edged sword in health benefits. Biomedicines 6(3):E91. https://doi.org/10.3390/biomedicines6030091

Salilew-Wondim D, Ibrahim S, Gebremedhn S, Tesfaye D, Heppelmann M, Bollwein H, Pfarrer C, Tholen E, Neuhoff C, Schellander K, Hoelker M (2016) Clinical and subclinical endometritis induced alterations in bovine endometrial transcriptome and miRNome profile. BMC Genomics 17:218. https://doi.org/10.1186/s12864-016-2513-9

Sánchez A, Calpena AC, Clares B (2015) Evaluating the oxidative stress in inflammation: role of melatonin. Int J Mol Sci 16:16981–17004. https://doi.org/10.3390/ijms160816981

Sheldon IM, Dobson H (2004) Postpartum uterine health in cattle. Anim Reprod Sci 82-83:295–306. https://doi.org/10.1016/j.anireprosci.2004.04.006

Singh D, Mendonsa R, Koli M, Subramanian M, Nayak SK (2019) Antibacterial activity of resveratrol structural analogues: a mechanistic evaluation of the structure-activity relationship. Toxicol Appl Pharmacol 367:23–32. https://doi.org/10.1016/j.taap.2019.01.025

Singletary SJ, Kirsch AJ, Watson J, Karim BO, Huso DL, Hurn PD, Murphy SJ (2005) Lack of correlation of vaginal impedance measurements with hormone levels in the rat. Contemp Top Lab Anim Sci 44(6):37–42

Smith J, Wadleigh D, Xia Y-R, Mar RA, Herschman H, Lusis A (2002) Cloning and genomic localization of the murine LPS-induced CXC chemokine (LIX) gene, Scyb5. Immunogenetics 54(8):599–603

Smith M, Hagerty KA, Skipper B, Bocklage T (2010) Chronic endometritis: a combined histopathologic and clinical review of cases from 2002 to 2007. Int J Gynecol Pathol 29(1):44–50. https://doi.org/10.1097/PGP.0b013e3181ae81bb

Smoliga JM, Baur JA, Hausenblas HA (2011) Resveratrol and health--a comprehensive review of human clinical trials. Mol Nutr Food Res 55(8):1129–1141. https://doi.org/10.1002/mnfr.201100143

Tabibiazar M, Mohammadifar MA, Roufegarinejad L, Ghorbani M, Hashemi M, Hamishehkar H (2019) Improvement in dispersibility, stability and antioxidant activity of resveratrol using a colloidal nanodispersion of BSA-resveratrol. Food Biosci 27:46–53. https://doi.org/10.1016/j.fbio.2018.10.015

Tortorella C, Piazzolla G, Matteo M, Pinto V, Tinelli R, Sabbà C, Fanelli M, Cicinelli E (2014) Interleukin-6, interleukin-1β, and tumor necrosis factor α in menstrual effluents as biomarkers of chronic endometritis. Fertil Steril 101(1):242–247. https://doi.org/10.1016/j.fertnstert.2013.09.041

Turk R, Koledić M, Maćešić N, Benić M, Dobranić V, Đuričić D, Cvetnić L, Samardžija M (2017) The role of oxidative stress and inflammatory response in the pathogenesis of mastitis in dairy cows. Mljekarstvo 67(2):91–101. https://doi.org/10.15567/mljekarstvo.2017.0201

van Diest PJ, van Dam P, Henzen-Logmans SC, Berns E, van der Burg ME, Green J, Vergote I (1997) A scoring system for immunohistochemical staining: consensus report of the task force for basic research of the EORTC-GCCG. European Organization for Research and Treatment of Cancer-Gynaecological Cancer Cooperative Group. J Clin Pathol 50(10):801–804

Wu S, Wolfe A (2012) Signaling of cytokines is important in regulation of GnRH neurons. Mol Neurobiol 45(1):119–125. https://doi.org/10.1007/s12035-011-8224-y

Wu H, Dai A, Chen X, Yang X, Li X, Huang C, Jiang K, Deng G (2018) Leonurine ameliorates the inflammatory responses in lipopolysaccharide-induced endometritis. Int Immunopharmacol 61:156–161. https://doi.org/10.1016/j.intimp.2018.06.002

Xia N, Daiber A, Förstermann U, Li H (2017) Antioxidant effects of resveratrol in the cardiovascular system. Br J Pharmacol 174(12):1633–1646. https://doi.org/10.1111/bph.13492

Xu D, Xiong H, Xiao Z, He J, Liao Q, Xue L, Wang N, Yang Q (2015) Uterine cytokine profile in a rat model of endometritis. Am J Reprod Immunol 73(3):214–220. https://doi.org/10.1111/aji.12330
Acknowledgments
This research was supported by The Scientific and Technical Research Council of Turkey (TUBITAK) under the Grant Number 215S660.
Ethics declarations
All procedures were performed in accordance with the directions of the Guide for the Care and Use of Laboratory Animals, and the experimental procedures were approved by the Experimental Animal Ethics Committee of Gazi University (G.U.ET- 15.037).
Conflict of interest
The authors declare that they have no conflicts of interest.
Additional information
Publisher's note
Springer Nature remains neutral with regard to jurisdictional claims in published maps and institutional affiliations.
About this article
Cite this article
Demirel, M.A., Han, S., Tokmak, A. et al. Therapeutic effects of resveratrol in Escherichia coli-induced rat endometritis model. Naunyn-Schmiedeberg's Arch Pharmacol 392, 1577–1589 (2019). https://doi.org/10.1007/s00210-019-01696-1
Received:

Accepted:

Published:

Issue Date:
Keywords
Endometritis

Inflammation

Oxidation

Resveratrol