Abstract
Overexpression of 15-lipoxygenase-1 (15-LOX-1) enzyme has been reported in prostate tumors, and its expression levels are associated with the degree of cancer malignancy. The aim of this study was to investigate inhibitory effects of stylosin and some similar synthetic monoterpenoids on 15-LOX and also their cytotoxic and anti-cancer activities on prostate cancer cells. Cytotoxicity of compounds was evaluated on prostate cancer cell line "PC-3" and normal human fibroblast "HFF3" cells using AlamarBlue reduction test. The inhibitory effects of the compounds against soybean 15-LOX, a commercially available enzyme, were also assessed. Finally, mechanism of cell death was investigated by flow cytometry. Some of these terpenoids had cytotoxic effects on PC-3 cells, and strong positive correlation was observed between the 15-LOX-1 inhibition potential and the cytotoxicity of the compounds. Moreover, flow cytometry results indicated that apoptosis was the predominant mechanism of induced cell death, which emphasizes the potential of these compounds in prostate cancer therapy. Among studied terpenoids, "fenchyl ferulate" exhibited about three times more cytotoxicity than cisplatin. Strong positive correlation observed between 15-LOX inhibition potential and cytotoxicity of the compounds indicates selective anti-cancer properties of the compounds might be exerted via inhibition of 15-LOX-1 in PC-3 cells. Furthermore, observed cytotoxicity is mediated through apoptosis, which is probably triggered via 15-LOX-1 inhibition.
This is a preview of subscription content, log in to check access.
Access options
Buy single article
Instant access to the full article PDF.
US$ 39.95
Price includes VAT for USA
Subscribe to journal
Immediate online access to all issues from 2019. Subscription will auto renew annually.
US$ 199
This is the net price. Taxes to be calculated in checkout.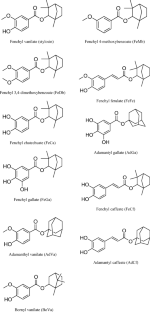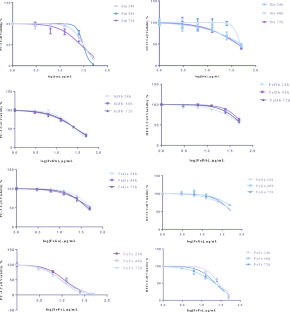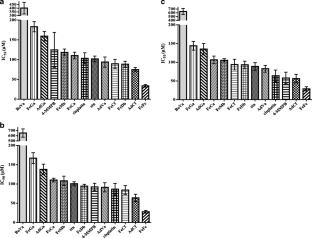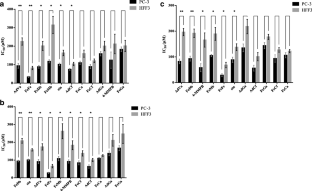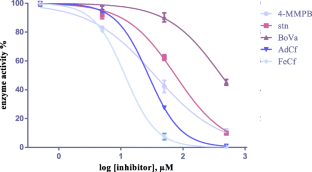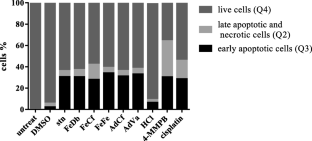 References
Akinsete JA, Ion G, Witte TR, Hardman WE (2011) Consumption of high ω-3 fatty acid diet suppressed prostate tumorigenesis in C3 (1) Tag mice. Carcinogenesis 33:140–148. https://doi.org/10.1093/carcin/bgr238

Allott EH, Arab L, Su LJ, Farnan L, Fontham ETH, Mohler JL, Bensen JT, Steck SE (2017) Saturated fat intake and prostate cancer aggressiveness: results from the population-based North Carolina-Louisiana Prostate Cancer Project. Prostate Cancer Prostatic Dis 20:48–54. https://doi.org/10.1038/pcan.2016.39

Al-Nasiry S, Geusens N, Hanssens M, Luyten C, Pijnenborg R (2007) The use of Alamar Blue assay for quantitative analysis of viability, migration and invasion of choriocarcinoma cells. Hum Reprod 22:1304–1309. https://doi.org/10.1093/humrep/dem011

Anand P, Sundaram C, Jhurani S, Kunnumakkara AB, Aggarwal BB (2008) Curcumin and cancer: an "old-age" disease with an "age-old" solution. Cancer Lett 267:133–164. https://doi.org/10.1016/j.canlet.2008.03.025

Arghiani N, Matin MM, Bahrami AR, Iranshahi M, Sazgarnia A, Rassouli FB (2014) Investigating anticancer properties of the sesquiterpene ferutinin on colon carcinoma cells, in vitro and in vivo. Life Sci 109:87–94. https://doi.org/10.1016/j.lfs.2014.06.006

Atanasov AG, Waltenberger B, Pferschy-Wenzig EM, Linder T, Wawrosch C, Uhrin P, Temml V, Wang L, Schwaiger S, Heiss EH, Rollinger JM, Schuster D, Breuss JM, Bochkov V, Mihovilovic MD, Kopp B, Bauer R, Dirsch VM, Stuppner H (2015) Discovery and resupply of pharmacologically active plant-derived natural products: a review. Biotechnol Adv 33:1582–1614. https://doi.org/10.1016/j.biotechadv.2015.08.001

Bagirov VY, Sheichenko V, Aliev G, Pimenov M (1980) Esters from Ferula stylosa. Chem Nat Compd 16:562–563. https://doi.org/10.1007/BF00564858

Bakavoli M, Nikpour M, Rahimizadeh M, Saberi M, Sadeghian H (2007) Design and synthesis of pyrimido [4, 5-b][1, 4] benzothiazine derivatives, as potent 15-lipoxygenase inhibitors. Bioorg Med Chem 15:2120–2126. https://doi.org/10.1016/j.bmc.2006.12.022

Berquin IM, Min Y, Wu R, Wu J, Perry D, Cline JM, Thomas MJ, Thornburg T, Kulik G, Smith A, Edwards IJ, D'Agostino R Jr, Zhang H, Wu H, Kang JX, Chen YQ (2007) Modulation of prostate cancer genetic risk by omega-3 and omega-6 fatty acids. J Clin Investig 117:1866–1875. https://doi.org/10.1172/JCI31494

Chen C-N, Huang HH, Wu CL, Lin CPC, Hsu JTA, Hsieh HP, Chuang SE, Lai GM (2007) Isocostunolide, a sesquiterpene lactone, induces mitochondrial membrane depolarization and caspase-dependent apoptosis in human melanoma cells. Cancer Lett 246:237–252. https://doi.org/10.1016/j.canlet.2006.03.004

Choi J-H, Lee K-T (2009) Costunolide-induced apoptosis in human leukemia cells: involvement of c-Jun N-terminal kinase activation. Biol Pharm Bull 32:1803–1808

Chung LY, Soo WK, Chan KY, Mustafa MR, Goh SH, Imiyabir Z (2009) Lipoxygenase inhibiting activity of some Malaysian plants. Pharm Biol 47:1142–1148

Cordell GA (2011) Sustainable medicines and global health care. Planta Med 77:1129–1138. https://doi.org/10.1055/s-0030-1270731

Cragg GM, Schepartz SA, Suffness M, Grever MR (1993) The taxol supply crisis. New NCI policies for handling the large-scale production of novel natural product anticancer and anti-HIV agents. J Nat Prod 56:1657–1668

David B, Wolfender J-L, Dias DA (2015) The pharmaceutical industry and natural products: historical status and new trends. Phytochem Rev 14:299–315. https://doi.org/10.1007/s11101-014-9367-z

Guo X-S, Zhang Y-Z (1983) Chemical studies on the Chinese drug Qin pi, the bark of Fraxinus stylosa. Acta Pharm Sin 6:006

Gutierrez-Lugo M-T, Deschamps JD, Holman TR, Suarez E, Timmermann BN (2004) Lipoxygenase inhibition by anadanthoflavone, a new flavonoid from the aerial parts of Anadenanthera colubrina. Planta Med 70:263–265. https://doi.org/10.1055/s-2004-818920

Hosseinymehr M, Matin MM, Sadeghian H, Bahrami AR, Kaseb-Mojaver N (2016) 8-Farnesyloxycoumarin induces apoptosis in PC-3 prostate cancer cells by inhibition of 15-lipoxygenase-1 enzymatic activity. Anti-Cancer Drugs 27:854–862. https://doi.org/10.1097/CAD.0000000000000399

Hu Y, Sun H, Owens RT, Gu Z, Wu J, Chen YQ, O'Flaherty JT, Edwards IJ (2010) Syndecan-1-dependent suppression of PDK1/Akt/bad signaling by docosahexaenoic acid induces apoptosis in prostate cancer. Neoplasia 12:826–836

Hu Y, Sun H, O'flaherty JT, Edwards IJ (2012) 15-Lipoxygenase-1-mediated metabolism of docosahexaenoic acid is required for syndecan-1 signaling and apoptosis in prostate cancer cells. Carcinogenesis 34:176–182. https://doi.org/10.1093/carcin/bgs324

Iranshahi M, Jabbari A, Orafaie A, Mehri R, Zeraatkar S, Ahmadi T, Alimardani M, Sadeghian H (2012) Synthesis and SAR studies of mono O-prenylated coumarins as potent 15-lipoxygenase inhibitors. Eur J Med Chem 57:134–142. https://doi.org/10.1016/j.ejmech.2012.09.006

Jagetia GC, Baliga MS, Venkatesh P, Ulloor JN, Mantena SK, Genebriera J, Mathuram V (2005) Evaluation of the cytotoxic effect of the monoterpene indole alkaloid echitamine in vitro and in tumour-bearing mice. J Pharm Pharmacol 57:1213–1219. https://doi.org/10.1211/jpp.57.9.0017

Kelavkar UP, Cohen C (2004) 15-Lipoxygenase-1 expression upregulates and activates insulin-like growth factor-1 receptor in prostate cancer cells. Neoplasia 6:41–52

Kelavkar U, Cohen C, Kamitani H, Eling TE, Badr KF (2000) Concordant induction of 15-lipoxygenase-1 and mutant p53 expression in human prostate adenocarcinoma: correlation with Gleason staging. Carcinogenesis 21:1777–1787

Kelavkar U et al (2007) DNA methylation paradigm shift: 15-lipoxygenase-1 upregulation in prostatic intraepithelial neoplasia and prostate cancer by atypical promoter hypermethylation. Prostaglandins Other Lipid Mediat 82:185–197. https://doi.org/10.1016/j.prostaglandins.2006.05.015

Khalifa RA, Nasser MS, Gomaa AA, Osman NM, Salem HM (2013) Resazurin microtiter assay plate method for detection of susceptibility of multidrug resistant Mycobacterium tuberculosis to second-line anti-tuberculous drugs. Egypt J Chest Dis Tuberc 62:241–247. https://doi.org/10.1016/j.ejcdt.2013.05.008

Kingston DG (2010) Modern natural products drug discovery and its relevance to biodiversity conservation. J Nat Prod 74:496–511. https://doi.org/10.1021/np100550t

Kobayashi N, Barnard RJ, Henning SM, Elashoff D, Reddy ST, Cohen P, Leung P, Hong-Gonzalez J, Freedland SJ, Said J, Gui D, Seeram NP, Popoviciu LM, Bagga D, Heber D, Glaspy JA, Aronson WJ (2006) Effect of altering dietary ω-6/ω-3 fatty acid ratios on prostate cancer membrane composition, cyclooxygenase-2, and prostaglandin E2. Clin Cancer Res 12:4662–4670. https://doi.org/10.1158/1078-0432.CCR-06-0459

Larsson SC, Kumlin M, Ingelman-Sundberg M, Wolk A (2004) Dietary long-chain n-3 fatty acids for the prevention of cancer: a review of potential mechanisms. Am J Clin Nutr 79:935–945. https://doi.org/10.1093/ajcn/79.6.935

Mansoor TA, Ramalho RM, Mulhovo S, Rodrigues CM, Ferreira MJU (2009) Induction of apoptosis in HuH-7 cancer cells by monoterpene and β-carboline indole alkaloids isolated from the leaves of Tabernaemontana elegans. Bioorg Med Chem Lett 19:4255–4258. https://doi.org/10.1016/j.bmcl.2009.05.104

Matin MM, Nakhaeizadeh H, Bahrami AR, Iranshahi M, Arghiani N, Rassouli FB (2014) Ferutinin, an apoptosis inducing terpenoid from Ferula ovina. Asian Pac J Cancer Prev 15:2123–2128

Newman DJ, Cragg GM (2012) Natural products as sources of new drugs over the 30 years from 1981 to 2010. J Nat Prod 75:311–335. https://doi.org/10.1021/np200906s

Newman DJ, Cragg GM (2016) Natural products as sources of new drugs from 1981 to 2014. J Nat Prod 79:629–661. https://doi.org/10.1021/acs.jnatprod.5b01055

Norrish A, Skeaff C, Arribas G, Sharpe S, Jackson R (1999) Prostate cancer risk and consumption of fish oils: a dietary biomarker-based case-control study. Br J Cancer 81:1238–1242. https://doi.org/10.1038/sj.bjc.6690835

O'flaherty JT et al (2012) 15-lipoxygenase metabolites of docosahexaenoic acid inhibit prostate cancer cell proliferation and survival. PLoS One 7:e45480. https://doi.org/10.1371/journal.pone.0045480

Orafaie A, Sadeghian H, Bahrami AR, Saboormaleki S, Matin MM (2017) 5-farnesyloxycoumarin: a potent 15-LOX-1 inhibitor, prevents prostate cancer cell growth. Med Chem Res 26:227–234. https://doi.org/10.1007/s00044-016-1737-1

Paterna A, Borralho PM, Gomes SE, Mulhovo S, Rodrigues CM, Ferreira M-JU (2015) Monoterpene indole alkaloid hydrazone derivatives with apoptosis inducing activity in human HCT116 colon and HepG2 liver carcinoma cells. Bioorg Med Chem Lett 25:3556–3559. https://doi.org/10.1016/j.bmcl.2015.06.084

Rai G, Kenyon V, Jadhav A, Schultz L, Armstrong M, Jameson JB II, Hoobler E, Leister W, Simeonov A, Holman TR, Maloney DJ (2010) Discovery of potent and selective inhibitors of human reticulocyte 15-lipoxygenase-1. J Med Chem 53:7392–7404. https://doi.org/10.1021/jm1008852

Rampersad SN (2012) Multiple applications of Alamar Blue as an indicator of metabolic function and cellular health in cell viability bioassays. Sensors 12:12347–12360. https://doi.org/10.3390/s120912347

Rassouli FB, Matin MM, Iranshahi M, Bahrami AR (2011) Investigating the cytotoxic and apoptosis inducing effects of monoterpenoid stylosin in vitro. Fitoterapia 82:742–749. https://doi.org/10.1016/j.fitote.2011.03.005

Rose DP (1997) Dietary fatty acids and prevention of hormone-responsive cancer. Proc Soc Exp Biol Med 216:224–233

Rose DP, Connolly JM (1991) Effects of fatty acids and eicosanoid synthesis inhibitors on the growth of two human prostate cancer cell lines. Prostate 18:243–254

Sadeghian H, Seyedi SM, Jafari Z (2018) Design and synthesis of new esters of terpenoid alcohols as 15-lipoxygenase inhibitors. Iran J Basic Med Sci 21:738. https://doi.org/10.22038/IJBMS.2018.27910.6794

Shang-Gao L et al (2012) Cytotoxic sesquiterpene lactones from Vernonia bockiana. Chin J Nat Med 10:230–233. https://doi.org/10.3724/SP.J.1009.2012.00230

Siegel RL, Miller KD, Jemal A (2016) Cancer statistics, 2016. CA Cancer J Clin 66:7–30. https://doi.org/10.3322/caac.21442

Spindler SA, Sarkar FH, Sakr WA, Blackburn ML, Bull AW, Lagattuta M, Reddy RG (1997) Production of 13-hydroxyoctadecadienoic acid (13-HODE) by prostate tumors and cell lines. Biochem Biophys Res Commun 239:775–781. https://doi.org/10.1006/bbrc.1997.7471

Suraneni M et al (2010) Transgenic expression of 15-lipoxygenase 2 (15-LOX-2) in mouse prostate leads to hyperplasia and cell senescence. Oncogene 29:4261–4275. https://doi.org/10.1038/onc.2010.197

Terry P, Lichtenstein P, Feychting M, Ahlbom A, Wolk A (2001) Fatty fish consumption and risk of prostate cancer. Lancet 357:1764–1766. https://doi.org/10.1016/S0140-6736(00)04889-3

Terry PD, Rohan TE, Wolk A (2003) Intakes of fish and marine fatty acids and the risks of cancers of the breast and prostate and of other hormone-related cancers: a review of the epidemiologic evidence. Am J Clin Nutr 77:532–543. https://doi.org/10.1093/ajcn/77.3.532

Valiahdi SM, Iranshahi M, Sahebkar A (2013) Cytotoxic activities of phytochemicals from Ferula species. DARU J Pharm Sci 21:39. https://doi.org/10.1186/2008-2231-21-39

Vines G (2004) Herbal harvests with a future: towards sustainable sources for medicinal plants. Plantlife International

Zadra G, Photopoulos C, Loda M (2013) The fat side of prostate cancer. Biochim Biophys Acta (BBA)-Mol Cell Biol Lipids 1831:1518–1532. https://doi.org/10.1016/j.bbalip.2013.03.010
Acknowledgments
The authors are grateful to Prof. K. Abnous and Dr. P. Lavaee from Mashhad University of Medical Sciences, and Dr. R. Jalal from Ferdowsi University of Mashhad (FUM) for their kind technical support. We would like to thank M. Mirahmadi for his technical assistance on flow cytometry.
Funding
This study was funded by FUM under grant no. 31788.
Ethics declarations
Conflict of interest
The authors declare that they have no conflict of interest.
Ethics approval
This article does not contain any studies with human participants or animals performed by any of the authors.
Additional information
Publisher's note
Springer Nature remains neutral with regard to jurisdictional claims in published maps and institutional affiliations.
About this article
Cite this article
Goftari, S.N., Sadeghian, H., Bahrami, A.R. et al. Stylosin and some of its synthetic derivatives induce apoptosis in prostate cancer cells as 15-lipoxygenase enzyme inhibitors. Naunyn-Schmiedeberg's Arch Pharmacol 392, 1491–1502 (2019). https://doi.org/10.1007/s00210-019-01689-0
Received:

Accepted:

Published:

Issue Date:
Keywords
Prostate cancer

Stylosin

15-LOX-1

Monoterpenoids

Cytotoxicity