Abstract
Elevated testosterone during late pregnancy has been linked to cardiac dysfunction and poor pregnancy outcomes. The role of mineralocorticoid receptor (MR) in testosterone-induced cardiac dysfunction has not been fully elucidated. The study was therefore designed to investigate the role of MR on gestational excess androgen-induced cardiac disrupted glutathione-dependent antioxidant system and elevated endoglin (Eng) linking it with pregnancy outcomes. Thirty-two pregnant Wistar rats were randomly allotted into four groups (n = 8/group) receiving (sc) olive oil, testosterone propionate (0.5 mg/kg) singly or in combination with non-selective MR blocker (MRB), spironolactone (0.25 mg/kg; po) or selective MRB, and eplerenone (1.0 mg/kg; po) in late between gestational days 14 and 19. The results showed that testosterone exposure resulted in elevated fasting blood glucose, increased cardiac mass, free fatty acid, endoglin, malonaldehyde, oxidized glutathione, uric acid, and lactate production and cardiac injury marker enzymes. On the other hand, testosterone exposure caused reduction in cardiac adenosine, nitric oxide, glutathione, glutathione peroxidase, and glucose-6-phosphate dehydrogenase activities. However, MR blockade by spironolactone and or eplerenone attenuated the effects induced by testosterone exposure. Taken together, the findings from the current study demonstrates that lategestational testosterone induces poor pregnancy outcome that is accompanied by cardiac lipotoxicity,glutathione-dependent antioxidant defense depletion, increased endoglin, lactate and uric acid productionthrough MR activation.
This is a preview of subscription content, log in to check access.
Access options
Buy single article
Instant access to the full article PDF.
US$ 39.95
Price includes VAT for USA
Subscribe to journal
Immediate online access to all issues from 2019. Subscription will auto renew annually.
US$ 199
This is the net price. Taxes to be calculated in checkout.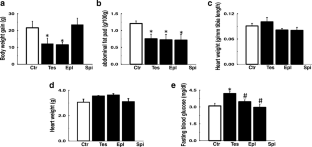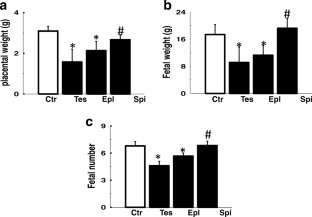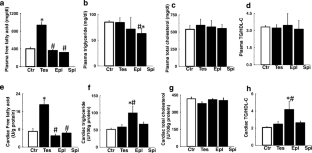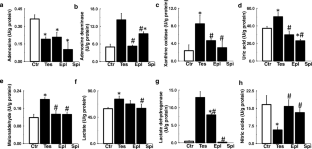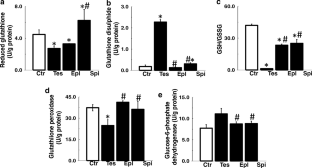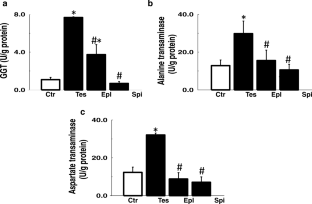 References
Acromite MT, Mantzorons CS, Leach RE, Hurwitz J, Dorey LG (1999) Androgens in preeclampsia. Am J Obstet Gynecol 180:60–63

Aquilano K, Baldelli S, Ciriolo MR (2014) Glutathione: new roles in redox signaling for an old antioxidant. Front Pharmacol 5:196

Bickel C, Rupprecht HJ, Blankenberg S, Rippin G, Hafner G, Daunhauer R et al (2002) Serum uric acid as an independent predictor of mortality in patients with angiographically proven coronary artery disease. Am J Cardiol 89:12–17

Blázquez-Medela AM, García-Ortiz L, Gómez-Marcos MA, Recio-Rodríguez JI, Angel Sánchez-Rodríguez A, López-Novoa JM (2010) Increased plasma soluble endoglin levels as an indicator of cardiovascular alterations in hypertensive and diabetic patients. BMC Med 8:86

Buster JE, Chang RJ, Preston DL (1979) Interrelationships of circulating maternal steroid concentrations in the third trimester pregnancies. J Clin Endocrinol Metab 48:139–142

Dalton TP, Chen Y, Schneider SN, Nebert DW, Shertzer HG (2004) Genetically altered mice to evaluate glutathione homeostasis in health and disease. Free Radic Biol Med 37(10):1511-1526

Deneke SM, Fanburg BL (1989) Regulation of cellular glutathione. Am J Phys 257:L163–L173

Dickhout JG, Hossain GS, Pozza LM, Zhou J, Lhotak S, Austin RC (2005) Peroxynitrite causes endoplasmic reticulum stress and apoptosis in human vascular endothelium: implications in atherogenesis. Arterioscler Thromb Vasc Biol 25:2623–2629

Förstermann U, Sessa WC (2012) Nitric oxide synthases: regulation and function. Eur Heart J 33(7):829–837

Jadhav AA, Jain A (2013) Adenosine deaminase activity in normal pregnancy and pregnancy associated disorders. Arch Physiol Biochem 119:88–91

Jia G, Habibi J, Bostick PB (2015) Uric acid promotes left ventricular diastolic dysfunction in mice fed with western diet. Hypertension 65:531–539

Kelley EE, Khoo NK, Hundley NJ, Malik UZ, Freeman BA, Tarpey MM (2010) Hydrogen peroxide is the major oxidant product of xanthine oxidase. Free Radic Biol Med 48:493–498

Lee JY, Sohn KH, Rhee SH, Hwang D (2001) Saturated fatty acids but not unsaturated fatty acids induce the expression of cyclooxygenase-2 mediated through Toll-like receptor 4. J Biol Chem 276:16683–16689

Lee JG, Kang DG, Yu JR, Kim Y, Kim J, Koh G et al (2011) Changes in adenosine deaminase activity in patients with type 2 diabetes mellitus and effect of DPP-4 inhibitor treatment on ADA activity. Diabetes Metab J 35:149–158

Liu PY, Death AK, Handelsman DJ (2003) Androgens and cardiovascular disease. Endocr Rev 24(3):313–340

Luft FC (2006) Soluble endoglin (sEng) joins the soluble fms-like tyrosine kinase (sFLT) receptor as a pre-eclampsia molecule. Nephrol Dial Transplant 21:3052–3054

Mandal AK, Mount DB (2015) The molecular physiology of uric acid homeostasis. Annu Rev Physiol 77:323–345

Markey CM, Coombs MA, Sonnenschein C, Soto AM (2003) Mammalian development in a changing environment: exposure to endocrine disruptors reveals the developmental plasticity of steroid-hormone target organs. Evol Dev 5:67–75

McEwen B (1992) Steroid hormones: effect on brain development and function. Horm Res Paediatr 37:1–10

Morgan D, Oliveira-Emilio HR, Keane D, Hirata AE, Santos da Rocha M, Bordin S (2007) Glucose, palmitate and pro-inflammatory cytokines modulate production and activity of a phagocyte-like NADPH oxidase in rat pancreatic islets and a clonal beta cell line. Diabetologia 50:359–369

Nagoshi T, Yoshimura M, Rosano GMC, Lopaschuk GD, Mochizuki S (2011) Optimization of cardiac metabolism in heart failure. Curr Pharm Des 17(35):3846–3853

Olatunji LA, Areola ED, Badmus OO (2018) Endoglin inhibition by sodium acetate and flutamide ameliorates cardiac defective G6PD-dependent antioxidant defense in gestational testosterone exposed rats. Biopha 107:1641–1647

Patinha D, Afonso J, Sousa T, Morato M, Albino-Teixeira A (2014) Activation of adenosine receptors improves renal antioxidant status in diabetic Wistar but not SHR rats. Ups J Med Sci 119:10–18

Powe CE, Levine RJ, Karumanchi SA (2011) Preeclampsia, a disease of the maternal endothelium: the role of antiangiogenic factors and implications for later cardiovascular disease. Circulation 123:2856–2869

Rickard AJ, Morgan J, Tesch G, Funder JW, Fuller PJ, Young MJ et al (2009) Deletion of mineralocorticoid receptors from macrophages protects against deoxycorticosterone/salt-induced cardiac fibrosis and increased blood pressure. Hypertension 54:537–543

Serin IS, Kula M, Basbug M, Unluhizarci K, Gucer S, Tayyar M (2001) Androgen levels of preeclamptic patients in the third trimester of pregnancy and six weeks after delivery. Acta Obstet Gynecol Scand 80:1009–1013

Sowers JR, Whaley-Connell A, Epstein M (2004) Narrative review: the emerging clinical implications of the role of aldosterone in the metabolic syndrome and resistant hypertension. Am J Physiol Ren Physiol 286:F1178–F1184

Steegers EA, Von DP, Duvekot JJ, Pijnenborg R (2010) Pre-eclampsia. Lancet 376:631–644

Talbott E, Guzick D, Clerici A, Berga S, Detre K, Weimer K (1995) Coronary heart disease risk factors in women with polycystic ovary syndrome. Arterioscler Thromb Vasc Biol 15:821–826

Tirosh A, Garg R, Adler GK (2010) Mineralocorticoid receptor antagonists and the metabolic syndrome. Curr Hypertens Rep 12(4):252–257

Tsybouleva N, Zhang L, Chen S, Patel R, Lutucuta S, Nemoto S, DeFreitas G, Entman M, Carabello BA, Roberts R, Marian AJ (2004) Aldosterone, through novel signaling proteins, is a fundamental molecular bridge between the genetic defect and the cardiac phenotype of hypertrophic cardiomyopathy. Circulation 109:1284–1291

Ungerer JP, Oosthuizen HM, Bissbort SH, Vermaak WJ (1992) Serum adenosine deaminase: isoenzymes and diagnostic application. Clin Chem 38:1322–1326

Venkatesha S, Toporsian M, Lam C, Hanai J, Mammoto T, Kim YM, Bdolah Y, Lim KH, Yuan HT, Libermann TA, Stillman IE, Roberts D, D'Amore PA, Epstein FH, Sellke FW, Romero R, Sukhatme VP, Letarte M, Karumanchi SA (2006) Soluble endoglin contributes to the pathogenesis of preeclampsia. Nat Med 12:642–649

Xu Y, Wang Y, Yan S, Zhou Y, Yang Q, Pan Y, Zeng X, An X, Liu Z, Wang L, Xu J, Cao Y, Fulton DJ, Weintraub NL, Bagi Z, Hoda MN, Wang X, Li Q, Hong M, Jiang X, Boison D, Weber C, Wu C, Huo Y (2017) Intracellular adenosine regulates epigenetic programming in endothelial cells to promote angiogenesis. EMBO Mol Med 9(9):1263–1278

Zhang Y, Handy DE, Loscalzo J (2005) Adenosine-dependent induction of glutathione peroxidase 1 in human primary endothelial cells and protection against oxidative stress. Circ Res 96:8317
Acknowledgements
The authors wish to appreciate Pfizer Inc. for providing the eplerenone (PF-02845980) used in this study via the Compound Transfer Program (CTP), Request Number WI223005.
Funding
This study was supported by the International Society of Hypertension (ISH) through the ISH grant for mentors (2017).
Ethics declarations
Conflict of interest
LAO received eplerenone (PF-02845980) used in this study from Pfizer Inc. (NY, USA) via the Compound Transfer Program (CTP).
Additional information
Publisher's note
Springer Nature remains neutral with regard to jurisdictional claims in published maps and institutional affiliations.
About this article
Cite this article
Usman, T.O., Badmus, O.O., Kim, I. et al. Mineralocorticoid receptor blockade attenuates disrupted glutathione-dependent antioxidant defense and elevated endoglin in the hearts of pregnant rats exposed to testosterone. Naunyn-Schmiedeberg's Arch Pharmacol 392, 773–784 (2019). https://doi.org/10.1007/s00210-019-01630-5
Received:

Accepted:

Published:

Issue Date:
Keywords
Androgen

Endoglin

Cardiac hypertrophy glutathione-antioxidant system

Pregnancy