Impact of diet restriction in the management of diabetes: evidences from preclinical studies
Abstract
The inappropriate dietary habits lead to the onset of age-related pathologies which include diabetes and cardiovascular ailments. Dietary restriction and nutritional therapy play an important role in the prevention of these chronic ailments. Preclinical research provides a basis for the therapeutic exploration of new dietary interventions for the clinical trials to potentiate the scientific management of diabetes and its related complications which further help in translating these nutritional improvements from bench to bedside. Within the same context, numerous therapeutically proved preclinical dietary interventions like high-fiber diet, caloric restriction, soy isoflavone-containing diets, etc., have shown the promising results for the management of diabetes and the associated complications. The focus of the present review is to highlight the various preclinical evidences of diet restriction for the management of diabetes and which will be helpful for enlightening the new ideas of nutritional therapy for future research exploration. In addition, some potential approaches are also discussed which are associated with various nutritional interventions to combat progressive diabetes and the associated disorders.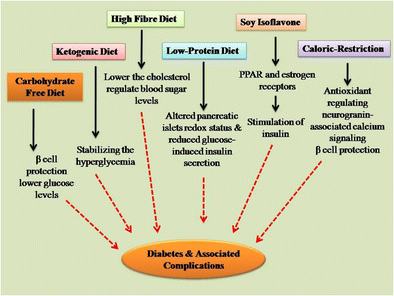 Keywords
Dietary restriction (DR) 
Hyperinsulinemia 
Nutrition therapy 
Caloric restriction (CR) 
Abbreviations
AGES

Advanced glycation end products

AMPK

AMP-activated protein kinase

CR

Caloric restriction

DN

Diabetic nephropathy

DNA

Deoxyribonucleic acid

DR

Dietary restriction

ET

Exercise training

GLUT2

Glucose transporter 2

HbAIC

Hemoglobin A1c or glycated hemoglobin

HDL

High-density lipoprotein

HFD

High-fat diet

IGF-1

Insulin-like growth factor 1

KD

Ketogenic diet

LCKD

Low-carbohydrate ketogenic diet

LDL

Low-density lipoprotein

LFSMP

Low-fat soy milk powder

MDA

Malondialdehyde

MNT

Medical nutrition therapy

mTORC1

Mammalian target of rapamycin complex 1

NAD+

Nicotinamide adenine dinucleotide

OLETF

Otsuka-Long-Evans-Tokushima fatty

PPAR

Peroxisome proliferator-activated receptor

SIRT

Sirtuins

STZ

Streptozotocin

T2DM

Type 2 diabetes mellitus

TG

Triglyceride

WHO

World Health Organization
Notes
Acknowledgements
We want to acknowledge the Department of Pharmaceutical Sciences and Drug Research, Punjabi University, Patiala and UGC, New Delhi for extending the necessary research facilities for our work. We also want to acknowledge Elegant Foreign Language Institute (EFLI) IELTS Institute Sunam, Punjab, India for English writing and editing.
Funding information
The authors are thankful to DST-SERB, New Delhi for providing financial assistance under project no. EMR/2014/000438 to accomplish this research work.
Compliance with ethical standards
Conflict of interest
The authors declare that they have no conflict of interest.
Copyright information
© Springer-Verlag GmbH Germany, part of Springer Nature 2017