Abstract
Heat shock proteins are molecular chaperones that are immunogens as well as potent inducers of an antigen-specific immunological response. In this study, we aimed to evaluate if co-immunization of Brucella rOmp22 and rDnaK proteins had boosted immunogenic activity as compared to rOmp22 immunization alone in mice. For this, gene-encoding DnaK of B. abortus was cloned, expressed in E. coli and purified using Ni–NTA agarose. Immuno-modulatory effect of rDnaK protein was evaluated in mice when co-immunized with Brucella rOmp22. Four groups of mice (n = 6 per group) were used in the study. The control group was immunized with rOmp22 alone, while rOmp22 emulsified with conventional adjuvants (Freund's complete and incomplete adjuvants) and rOmp22 mixed with rDnaK were injected to group I and group II in mice, respectively. Group III mice were immunized with rDnaK alone. IgG class switching (IgG1 and IgG2a) response to immunization was assessed by enzyme-linked immunosorbent assay and expression of IL-4 and IL-12 mRNA was assessed by real-time PCR to evaluate the immune response in mice. The ratio of IgG1–IgG2a was less than 1 in mice co-immunized with rOmp22 and rDnaK, indicating that the immune response was directed towards CMI arm in this group of mice. Moreover, IL-12 mRNA expression was also up-regulated to a greater extent in mice co-immunized with rOmp22 and rDnaK as compared to those immunized with rOmp22 along with the conventional adjuvants, or rOmp22 alone. Our data suggest that rDnaK could be responsible for modulating the immune response, specifically the CMI response.
Access options
Buy single article
Instant access to the full article PDF.
US$ 39.95
Tax calculation will be finalised during checkout.
Subscribe to journal
Immediate online access to all issues from 2019. Subscription will auto renew annually.
US$ 119
Tax calculation will be finalised during checkout.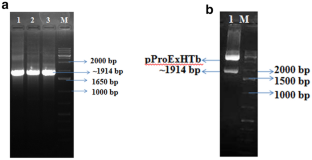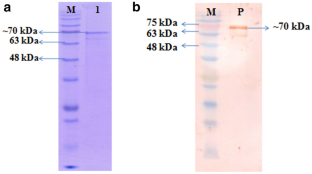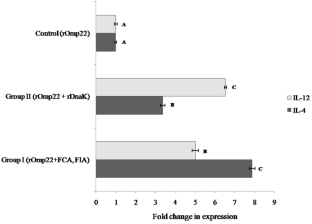 References
Abasht B, Kaiser MG, Lamont SJ (2008) Toll-like receptor gene expression in cecum and spleen of advanced intercross line chicks infected with Salmonella enteric serovar Enteritidis. Vet Immunol Immunopathol 123:314–323

Atzingen MV, Rodriguez D, Siqueira GH, Leite LCC, Nascimento ALTO (2014) Induction of boosted immune response in mice by leptospiral surface proteins expressed in fusion with DnaK. BioMed Res Int 24:564285. https://doi.org/10.1155/2014/564285

Basu S, Binder RJ, Ramalingam T, Srivastava PK (2001) CD91 is a common receptor for heat shock proteins gp96, HSP90, HSP70 and calreticulin. Immunity 14:303–313

Binder RJ (2014) Functions of heat shock proteins in pathways of the innate and adaptive immune system. J Immunol 193:5765–5771

Borges JC, Ramos CH (2005) Protein folding assisted by chaperones. Protein Pept Lett 12:257–261

Calderwood SK, Theriault J, Gray PJ, Gong J (2007) Cell surface receptors for molecular chaperones. Methods 43:199–206

Colaco CA, Bailey CR, Keeble J, Walker KB (2004) BCG (Bacille Calmette-Guerin) HspCs (heat-shock protein peptide complexes) induce T-helper 1 responses and protect against live challenge in a murine aerosol challenge model of pulmonary tuberculosis. Biochem Soc Trans 32:626–628

Deenick EK, Hasbold J, Hodgkin PD (2005) Decision criteria for resolving isotype switching conflicts by B cells. Eur J Immunol 35:2949–2955

Dhakal J, Brah GS, Agrawal RK, Pawar HN, Kaur D, Verma R (2013) Over-expression of gene encoding heat shock protein 70 from Mycobacterium tuberculosis and its evaluation as vaccine adjuvant. Indian J Med Microbiol 31:123–129

Hay FC, Westwood OMR, Nelson PN (2002) Isolation of cells. In: Frances, John (eds) Practical Immunology, 4th edn. Blackwell Science Ltd, UK, pp 179–202

Laemmli UK (1970) Cleavage of structural protein during the assembly of the head bacteriophage T4. Nature 227:680–685

Lehner T, Bergmeier LA, Wang Y, Tao L, Sing M, Spallek R, van der Zee R (2000) Heat shock proteins generate beta-chemokines which function as innate adjuvants enhancing adaptive immunity. Eur J Immunol 30:594–603

Lindquist S, Craig EA (1988) The heat shock proteins. Ann Rev Genetics 22:637–677

Livak KJ, Schmittgen TD (2001) Analysis of relative gene expression data using real-time quantitative PCR and the2-[Delta][Delta]CT method. Methods 25:402–408

McNeill RE, Miller N, Kerin MJ (2007) Evaluation and validation of candidate endogenous control genes for real-time quantitative PCR studies of breast cancer. BMC Mol Biol 8:107–119

Minhas P, Verma R, Pawar HN, Kaur D, Kaur G, Mahajan K, Dhakal J, Saini U, Deka D, Agawal R (2013) Molecular cloning, expression and immunological characterization of gene encoding 22 kDa outer membrane protein (Omp22) from Brucella abortus. Indian Vet J 90:54–57

Minhas P, Sunil Kumar BV, Verma R (2019) Evaluation of immuno-modulating effect of recombinant heat shock protein 40 of Brucella abortus in mice. 3Biotech. https://doi.org/10.1007/s13205-019-1905-3

Mosser DM (2007) The many faces of macrophage activation. J Leukoc Biol 73:209–212

Qian J, Wang S, Yang J, Xie J, Lin P, Freeman ME III, Yi Q (2005) Targeting heat shock proteins for immunotherapy in multiple myeloma: generation of myeloma-specific CTLs using dendritic cells pulsed with tumor-derived gp96. Clin Cancer Res 11:8808–8815

Qiu XB, Shao YM, Miao S, Wang L (2006) The diversity of DnaJ/HSP40 family, the crucial partners for HSP70 chaperones. Cell Mol Life Sci 63:2560–2570

Rapp UK, Kaufmann SH (2004) DNA vaccination with gp96-peptide fusion proteins induces protection against an intracellular bacterial pathogen. Int Immunol 16:597–605

Roman E, Moreno C (1996) Synthetic peptides non-covalently bound to bacterial hsp70 elicit peptide-specific T-cell responses in vivo. Immunology 88:487–492

Rostamian M, Sohrabi S, Kavosifard H, Niknam HM (2017) Lower levels of IgG1 in comparison with IgG2a are associated with protective immunity against Leishmania tropica infection in BALB/c mice. J Microbiol Immunol Infect 50:160–166

Sambrook JF, Russell DW (2001) Molecular cloning, a laboratory manual. Cold Spring Harbor Lab Press 3:1–2100

Segal BH, Wang XY, Dennis CG, Youn R, Repasky EA, Manjili MH, Subjeck JR (2006) Heat shock proteins as vaccine adjuvants in infections and cancer. Drug Discov Today 11:534–540

Spandidos A, Wang X, Wang H, Seed B (2010) Primer Bank: a resource of human and mouse PCR primer pairs for gene expression detection and quantification. Nucleic Acids Res 38:D792–D799

Srivastava P (2002a) Interaction of heat shock proteins with peptides and antigen presenting cells: chaperoning of the innate and adaptive immune responses. Ann Rev Immunol 20:395–425

Srivastava P (2002b) Role of heat shock proteins in innate and adaptive immunity. Nat Rev Immunol 2:185–194

Sunil Kumar BV, Bhardwaj R, Mahajan K, Kashyap N, Kumar A, Verma R (2018) The overexpression of HSP90B1 is associated with tumorigenesis of canine mammary glands. Mol Cell Biochem 440:23–31

Suzue K, Young RA (1996) Adjuvant-free hsp70 fusion protein system elicits humoral and cellular immune responses to HIV-1 p24. J Immunol 156:873–879

Towbin H, Staehelin O, Gordon J (1979) Electrophoretic transfer of proteins from polyacrylamide gels to nitrocellulose sheets: Procedure and some applications. Proc Nat Acad Sci USA 76:43500–43504

Weigl E, Kopecek P, Raska M, Hradilova S (1999) Heat shock proteins in immune reactions. Folia Microbiol 44:561–566

Whittall T, Wang Y, Younson J, Kelly C, Bergmeier L, Peters B, Singh M, Lehner T (2006) Interaction between the CCR5 chemokine receptors and microbial HSP70. Eur J Immunol 36:2304–2314

Wieland A, Denzel M, Schmidt E, Kochanek S, Kreppel F, Reimann J, Schirmbeck R (2008) Recombinant complexes of antigen with stress proteins are potent CD8 T-cell stimulating immunogens. J Mol Med 86(9):1067–1079
Acknowledgements
The authors are thankful to the University Grant Commission, India, for providing funds to carry out the research work [F.No. 42-54/2013 (SR)].
Ethics declarations
Conflict of interest
None of the authors of this paper has a financial or personal relationship with other people or organizations that could inappropriately influence or bias the content of the paper.
Ethics statement
All the procedures described were conducted under ethical approval and experimental license from the Institutional Animal Ethics Committee (IAEC) vide memo no. IAEC/2015/30–63.
Additional information
Publisher's Note
Springer Nature remains neutral with regard to jurisdictional claims in published maps and institutional affiliations.
Communicated by Erko Stackebrandt.
About this article
Cite this article
Minhas, P., Kumar, B.V.S. & Verma, R. Expression of recombinant DnaK of Brucella abortus and its evaluation as immuno-modulator. Arch Microbiol (2021). https://doi.org/10.1007/s00203-021-02190-0
Received:

Revised:

Accepted:

Published:
Keywords
Brucella abortus

Heat shock proteins

Expression

DnaK

Omp22

Immuno-modulator