Abstract
Adhesion is recognized as the first important step of a probiont for intestinal colonization. This study assessed the ability of an antagonistic Pseudomonas aeruginosa FARP72 to adhere and colonize the intestine of yellowtail catfish, Pangasius pangasius both in vitro and in vivo. For the in vitro assay, the whole intestines of each of two starved P. pangasius were introduced separately into tubes containing bluish-green pigment-producing P. aeruginosa FARP72 at 8.00 log10 CFU/mL and physiological saline (0.85% sodium chloride) and incubated for 1 h at 30 ± 1 °C. The homogenate mucus solutions from the intestine samples were serially diluted and plated onto Pseudomonas isolation agar to determine the counts of bluish-green pigment-producing P. aeruginosa (BPPAC). The difference between the numbers of BPPAC and presumptive Pseudomonas counts (PPC) in the treated and control intestines was attributed to the adherence of P. aeruginosa FARP72. The levels of BPPAC and PPC in the treated intestines were 6.09 ± 0.59 log10 CFU/g. Similarly, following 30 days of feeding P. pangasius with P. aeruginosa FARP72 supplemented diet, the intestine of catfish recorded the BPPAC of 5.83 ± 0.64 log CFU/g. In control samples, the BPPACs were recorded as < 3.00 log10 CFU/g. The scanning electron micrograph of the intestines of P. pangasius following the in vitro and in vivo adhesion assays confirmed the ability of this bacterium to strongly adhere to the intestine, thus making it most suitable candidate probiont for use in freshwater catfish aquaculture.
Access options
Buy single article
Instant access to the full article PDF.
US$ 39.95
Tax calculation will be finalised during checkout.
Subscribe to journal
Immediate online access to all issues from 2019. Subscription will auto renew annually.
US$ 119
Tax calculation will be finalised during checkout.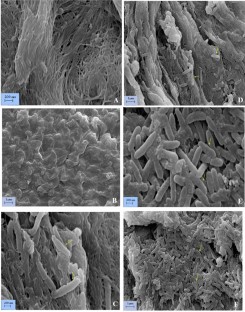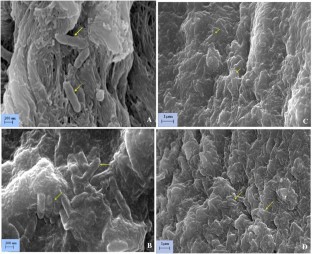 Availability of data and materials
The data that support the findings of this study are available from the corresponding author upon reasonable request.
References
Balcazar JL, Vendrell D, Blas ID, Ruiz-Zarzuela I, Girones O, Muzquiz JL (2008) In-vitro competitive adhesion and production of antagonistic compounds by lactic acid bacteria against fish pathogens. Vet Microbiol 122(3–4):373–380

Collado MC, Meriluoto J, Salminen S (2008) Adhesion and aggregation properties of probiotic and pathogen strains. Eur Food Res Technol 226:1065–1073

Ekmekci H, Aslim B, Ozturk S (2009) Characterization of vaginal lactobacilli coaggregation ability with Escherichia coli. Microbiol Immunol 53(2):59–65

Ferguson RM, Merrifield DL, Harper GM, Rawling MD, Mustafa S, Picchietti S, Balcázar JL, Davies SJ (2010) The effect of Pediococcus acidilactici on the gut microbiota and immune status of on-growing red tilapia (Oreochromis niloticus). J Appl Microbiol 109(3):851–862

Fernandes IM, Bastos YF, Barreto DS, Lourenço LS, Penha JM (2017) The efficacy of clove oil as an anaesthetic and in euthanasia procedure for small-sized tropical fishes. Braz J Biol 77(3):444–450

Ghosh K, Roy M, Kar N, Ringo E (2010) Gastrointestinal bacteria in rohu, Labeo rohita scanning electron microscopy and bacteriological study. Acta Ichthyol Piscat 40(2):129–135

Hoque F (2015) Screening and characterisation of antagonistic Pseudomonas aeruginosa FARP72 as a potential probiotic agent. Indian J Fish 62(4):80–90

Hoque F, Abraham TJ, Nagesh TS, Kamilya D (2019) Pseudomonas aeruginosa FARP72 offers protection against Aeromonas hydrophila infection in Labeo rohita. Probiotics Antimicrob Proteins 11(3):973–980

Ibrahim F, Ouwehand AC, Salminen SJ (2004) Effect of temperature on in vitro adhesion of potential fish probiotics. Microb Ecol Health Dis 16(4):222–227

Kesarcodi-Watson A, Kaspar H, Lategan MJ, Gibson L (2008) Probiotics in aquaculture: the need principles and mechanisms of action and screening processes. Aquaculture 274:1–14

Kos B, Suskovic J, Vukovic S, Simpraga M, Frece J, Matosic S (2003) Adhesion and aggregation ability of probiotic strain Lactobacillus acidophilus M92. J Appl Microbiol 94:981–987

Lehata S, Inagaki T, Okunishi S, Nakano M, Tanaka R, Maeda H (2010) Improved gut environment of abalone Haliotis gigantea through Pediococcus sp. Ab1 treatment. Aquaculture 305:59–65

Magariños B, Romalde JL, Noya M, Barja JL, Toranzo AE (1996) Adherence and invasive capacities of the fish pathogen Pasteurella piscicida. FEMS Microbiol Lett 138(1):29–34

Merrifield W, Dimitroglou A, Foey A, Davies SJ, Baker RTM, Bøgwald J, Castex M, Ringø E (2010) The current status and future focus of probiotic and prebiotic applications for salmonids. Aquaculture 302(1–2):1–18

Monteagudo-Mera A, Rastall RA, Gibson GR, Charalampopoulos D, Chatzifragkou A (2019) Adhesion mechanisms mediated by probiotics and prebiotics and their potential impact on human health. Appl Microbiol Biotechnol 103:6463–6472

Nikoskelainen S, Salminen S, Bylund G, Ouwehand A (2001) Characterization of the properties of human and dairy-derived probiotics for prevention of infectious diseases in fish. Appl Environ Microbiol 67:2430–2435

Ouwehand AC, Kirjavainen PV, Gronlund MM, Isolauri E, Salminen S (1999) Adhesion of probiotic microbiotic microorganisms to intestinal mucus. Int Dairy J 9(9):623–630

Pan X, Wu T, Zhang L, Song Z, Tang H, Zhao Z (2008) In vitro evaluation on adherence and antimicrobial properties of a candidate probiotic Clostridium butyricum CB2 for farmed fish. J Appl Microbiol 105:1623–1629

Planas M, Perez-Lorenzo M, Hjelm M, Gram L, Fiksdal IU, Bergh Ø (2006) Probiotic effect in vivo of Roseobacter strain 27–4 against Vibrio (Listonella) anguillarum infections in turbot (Scophthalmus maximus L.) larvae. Aquaculture 255(1–4):323–333

Ringø E, Olsen RE (1999) The effect of diet on aerobic bacterial flora associated with intestine of Arctic charr (Salvelinus alpinus L.). J Appl Microbiol 86(1):22–28

Ringø E, Olsen RE, Mayhew TM, Myklebust R (2003) Electron microscopy of the intestinal microflora of fish. Aquaculture 227:395–415

Ringø E, Wesmajervi MS, Bendiksen HR, Berg A, Olsen RE, Johnsen T et al (2001) Identification and characterization of carnobacteria isolated from fish intestine. Syst Appl Microbiol 24:183–191

Rinkinen M, Matto J, Salminen S, Westermarck E, Ouwehand AC (2000) In vitro adhesion of lactic acid bacteria to canine small intestinal mucus. J Anim Physiol Anim Nutr 84:43–47

Schaber JA, Hammond A, Carty NL, Williams SC, Colmer-Hamood JA, Burrowes BH, Dhevan V, Griswold JA, Hamood AN (2007) Diversity of biofilms produced by quorum-sensing deficient clinical isolates of Pseudomonas aeruginosa. J Med Microbiol 56:738–748

Sugimura Y, Hagi T, Hoshino T (2011) Correlation between in vitro mucus adhesion and the in vivo colonization ability of lactic acid bacteria: screening of new candidate carp probiotics. Biosci Biotechnol Biochem 75(3):511–515

Thomas-Jinu S, Goodwin AE (2004) Acute columnaris infection in channel catfish Ictalurus punctatus (Rafinesque): efficacy of practical treatments for warmwater aquaculture ponds. J Fish Dis 27(1):23–28

Tuomola EM, Salminen SJ (1998) Adhesion of some probiotic and dairy Lactobacillus strains to Caco-2 cell cultures. Int J Food Microbiol 41(1):45–51

Verschuere L, Rombaut G, Sorgeloos P, Verstraete W (2000) Probiotic bacteria as biolog10ical control agents in aquaculture. Microbiol Mol Biol Res 64(4):655–671

Villamil L, Tafalla C, Figueras A, Novoa B (2002) Evaluation of immunomodulatory effects of lactic acid bacteria in turbot (Scophthalmus maximus). J Clin Diag Lab Immunol 9(6):1318–1323

Vine NG, Leukes WD, Kaiser H (2004) In vitro growth characteristics of five candidate aquaculture probiotics two fish pathogens grown in fish intestinal mucus. FEMS Lett Microbiol 231(1):145–152

Wang Y, Ren Z, Fu L, Su X (2016) Two highly adhesive lactic acid bacteria strains are protective in zebrafish infected with Aeromonas hydrophila by evocation of gut mucosal immunity. J Appl Microbiol 120(2):441–451

Yousefian M, Amiri MS (2009) A review of the use of prebiotic in aquaculture for fish and shrimp. African J Biotechnol 8(25):7313–7318
Funding
This research was supported by the Department of Science and Technology (DST), Ministry of Science and Technology, New Delhi, Govt. of India under the scheme "Innovation in Science Pursuit for Inspired Research (INSPIRE)", Fellowship No. IF140455.
Ethics declarations
Ethics approval
Authors of this paper have read and approved the final version submitted. The contents of this manuscript have not been copyrighted or published previously. (1) The contents of this manuscript are not now under consideration for publication elsewhere. (2) The contents of this manuscript will not be copyrighted, submitted, or published elsewhere, while acceptance by the Journal is under consideration. (3) Use of laboratory animals (fish) in the present study has complied with the guidelines and policies of the ethical committee of the Institute.
Consent to participate
Not applicable.
Consent for publication
All authors have given consent for publication of this manuscript.
Conflict of interest
The authors declare that there is no conflict of interest.
Additional information
Publisher's Note
Springer Nature remains neutral with regard to jurisdictional claims in published maps and institutional affiliations.
Communicated by Erko Stackebrandt.
About this article
Cite this article
Hoque, F., Abraham, T.J. Adhesion and colonization of potential probiont Pseudomonas aeruginosa FARP72 in the intestine of yellowtail catfish, Pangasius pangasius. Arch Microbiol (2021). https://doi.org/10.1007/s00203-021-02188-8
Received:

Revised:

Accepted:

Published:
Keywords
Catfish aquaculture

Antagonistic bacteria

Pseudomonas aeruginosa

Adhesion

Probiont