Abstract
The essential oil (EO) from the roots of Plectranthus barbatus Andr. (Syn. Coleus forskohlii Briq.) was evaluated for quorum sensing (QS) inhibitory activity. P. barbatus EO was screened for inhibition of QS regulated violacein production in Chromobacterium violaceum (ATCC 12472) wild-type strain. At inhibitory (6.25% v/v) and sub-inhibitory concentrations (3.125% v/v) of the EO, dose-dependent response in the inhibition of violacein production was observed in C. violaceum. Similarly, sub-MIC (6.25% v/v) of P. barbatus EO disrupted QS regulated biofilm formation by 27.87% and inhibited swarming and twitching motility in Pseudomonas aeruginosa PA01 implying its anti-infective and QS modulatory activity. Fluorescence microscopy studies confirmed the disruption of biofilm formation by EO in P. aeruginosa PAO1. Promising antibacterial activity was recorded at concentrations as low as 3.12% v/v for Listeria monocytogenes (ATCC 13932) and at 6.25% v/v for both Salmonella enterica subsp. enterica serovar Typhimurium (ATCC 25241) and Escherichia coli (ATCC 11775). Furthermore, significant dose-dependent inhibition was observed for biofilm formation and motility in all the tested pathogens in different treated concentrations. GC–MS analysis revealed α-pinene, endo-borneol, bornyl acetate, 1-Hexyl-2-Nitrocyclohexane as the major phytoconstituents. P. barbatus EO or its constituent compounds with QS modulatory, antimicrobial and biofilm inhibitory property could be potential new-age dietary source based intervention and preservation technologies.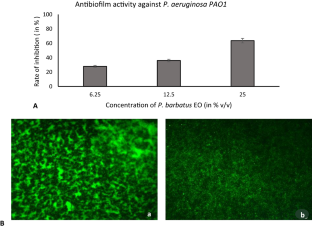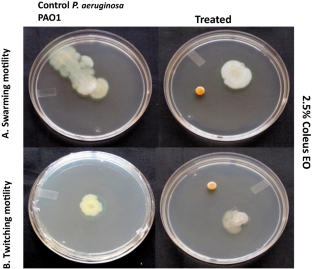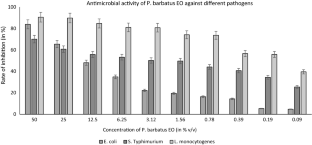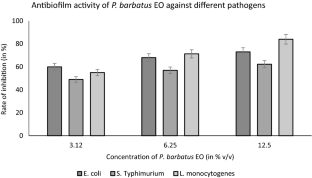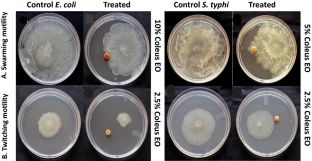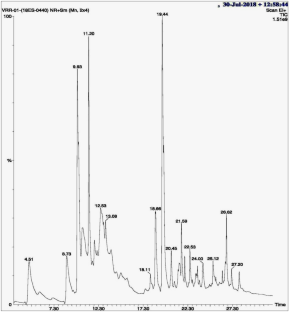 References
Ahmad A, Viljoen AM, Chenia HY (2015) The impact of plant volatiles on bacterial quorum sensing. Lett Appl Microbiol 60:8–19

Alasbahi RH, Melzig MF (2010) Plectranthus barbatus: a review of phytochemistry, ethnobotanical uses and pharmacology–part 1. Planta Med 76:653–661

Arora N, Pandey RS (2014) GC–MS analysis of the essential oil of Celastrus paniculatus Willd. seeds and antioxidant, anti-inflammatory study of its various solvent extracts. Ind Crops Prod 61:345–351

Asfour HZ (2018) Anti-quorum sensing natural compounds. J Microsc Ultrastruct 6:1–1

Azzimonti B, Cochis A, Beyrouthy ME, Iriti M, Uberti F, Sorrentino R, Landini MM, Rimondini L, Varoni EM (2015) Essential oil from berries of Lebanese Juniperus excelsa M. Bieb displays similar antibacterial activity to chlorhexidine but higher cytocompatibility with human oral primary cells. Molecules 20:9344–9357

Bai AJ, Rai RV (2014) Quorum sensing inhibitory and anti-biofilm activity of essential oils and their in vivo efficacy in food systems. Food Biotechnol 28:269–292

Bai AJ, Rai VR (2011) Bacterial quorum sensing and food industry. Comprehens Rev Food Sci Food Saf 10:183–193

Baptista A, Garcez AS, Nunez SC, Ribeiro MS (2014) Antimicrobial effects of azulene induced by light. Photodiagn Photodyn Ther 8:179–180

Beshiru A, Igbinosa IH, Igbinosa EO (2018) Biofilm formation and potential virulence factors of Salmonella strains isolated from ready-to-eat shrimps. PLoS ONE 13(9):e0204345

Blosser RS, Gray KM (2000) Extraction of violacein from Chromobacterium violaceum provides a new quantitative bioassay for N-acyl homoserine lactone autoinducers. J Microbiol Methods 40:47–55

Bone K (2007) The Ultimate Herbal Compendium: a desktop guide for herbal prescribers.Warwick, Qld: Phytotherapy Press

Burt S (2004) Essential oils: their antibacterial properties and potential applications in foods-a review. Int J Food Microbiol 94:223–253

Chakraborty P, Dastidar DG, Paul P, Dutta S, Basu D, Sharma SR, Basu S, Sarker RK, Sen A, Tribedi P (2020) Inhibition of biofilm formation of Pseudomonas aeruginosa by caffeine: a potential approach for sustainable management of biofilm. Arch Microbiol 202:623–635

Chorianopoulos NG, Giaouris ED, Skandamis PN, Haroutounian SA, Nychas GJ (2008) Disinfectant test against monoculture and mixed-culture biofilms composed of technological, spoilage and pathogenic bacteria: bactericidal effect of essential oil and hydrosol of Satureja thymbra and comparison with standard acid–base sanitizers. J Appl Microbiol 104:1586–1596

Connelly MB, Young Glenn M, Sloma A (2004) Extracellular proteolytic activity plays a central role in swarming motility in Bacillus subtilis. J Bacteriol 186:4159–4167

Cutillas AB, Carrasco A, Martinez-Gutierrez R, Tomas V, Tudela J (2017) Composition and antioxidant, antienzymatic and antimicrobial activities of volatile molecules from Spanish Salvia lavandulifolia (Vahl) essential oils. Molecules 22:1382

Da Costa JG, Pereira CK, Rodrigues FF, de Lima SG (2010) Chemical Composition, Antibacterial and Fungicidal Activities of Leaf Oil of Plectranthus amboinicus (Lour.) Spreng. J Essent Oil Res 22:183–185

De Souza NJ, Dohadwalla AN, Reden Ü (1983) Forskolin: a labdane diterpenoid with antihypertensive, positive inotropic, platelet aggregation inhibitory, and adenylate cyclase activating properties. Med Res Rev 3:201–219

Girennavar B, Cepeda ML, Soni KA, Vikram A, Jesudhasan P, Jayaprakasha GK, Pillai SD, Patil BS (2008) Grapefruit juice and its furocoumarins inhibits autoinducer signalling and biofilm formation in bacteria. Int J Food Microbiol 125:204–208

Hammer Brian K, Bassler BL (2003) "Quorum sensing controls biofilm formation in Vibrio cholerae. Mol Microbiol 50(1):101–104

Jadhav S, Shah R, Bhave M, Palombo EA (2013) Inhibitory activity of yarrow essential oil on Listeria planktonic cells and biofilms. Food Control 29:125–130

Jin Q, He B (1998) Minor constituents from Coleus forskohlii. Acta Botan Yunnan 20:469–473

Kanne H, Burte NP, Prasanna V, Gujjula R (2015) Extraction and elemental analysis of Coleus forskohlii extract. Pharmacognosy Research 7:237

Khan MSA, Zahin M, Hasan S, Husain FM, Ahmad I (2009) Inhibition of quorum sensing regulated bacterial functions by plant essential oils with special reference to clove oil. Lett Appl Microbiol 49:354–360

Luciardi MC, Blázquez MA, Cartagena E, Bardón A, Arena ME (2016) Mandarin essential oils inhibit quorum sensing and virulence factors of Pseudomonas aeruginosa. LWT Food Sci Technol 68:373–380

Malleswari D, Bagyanarayana G, Hindumathi A (2013) Anti-bacterial activity of coleus forskohlii extracts against some pathogenic bacteria. J Nat Prod Plant Resour 3(4):75–78

Mariya P, Radha A, Kumar DS (2013) On the high value medicinal plant, Coleus forskohlii Briq. Hygeia J Drugs Med 5:69–78

McLean RJ, Pierson LS III, Fuqua C (2004) A simple screening protocol for the identification of quorum signal antagonists. J Microbiol Methods 58:351–360

Misra LN, Tyagim BR, Ahmad A, Bahl JR (1994) Variability in the chemical composition of the essential oil of Coleus forskohlii genotypes. J Essent Oil Res 6:243–247

Mwitari Peter G, Ayeka PA, Ondicho J, Matu EN, Bii CC (2013) Antimicrobial activity and probable mechanisms of action of medicinal plants of Kenya: Withania somnifera, Warbugia ugandensis, Prunus africana and Plectrunthus barbatus. PLoS ONE 8(6):e65619

Ng W-L, Bassler BL (2009) Bacterial quorum-sensing network architecture. Annu Rev Genet 43:97-222

Nazzaro F, Fratianni F, De Martino L, Coppola R, De Feo V (2013) Effect of essential oils on pathogenic bacteria. Pharmaceuticals 12:1451–1474

Niu C, Afre S, Gilbert ES (2006) Subinhibitory concentrations of cinnamaldehyde interfere with quorum sensing. Lett Appl Microbiol 43:489–494

Niu C, Gilbert ES (2004) Colorimetric method for identifying plant essential oil components that affect biofilm formation and structure. Appl Environ Microbiol 70:6951–6956

Noumi E, Merghni A, Alreshidi M, M, Haddad O, Akmadar G, De Martino L, Mastouri M, Ceylan O, Snoussi M, Al-Sieni A and De Feo V, (2018) Chromobacterium violaceum and Pseudomonas aeruginosa PAO1: models for evaluating anti-quorum sensing activity of melaleuca alternifolia essential oil and its main component terpinen-4-ol. Molecules 23:2672

O'May C, Tufenkji N (2011) The swarming motility of Pseudomonas aeruginosa is blocked by Cranberry proanthocyanidins and other tannin-containing materials. Appl Environ Microbiol 77:3061–3067

Orhan F, Sekerel BE, Kocabas CN, Sackesen C, Adalioglu G, Tuncer A (2003) Complementary and alternative medicine in children with asthma. Ann Allergy Asthma Immunol 90:611–615

Oura H, Tashiro Y, Toyofuku M, Ueda K, Kiyokawa T, Ito S, Takahashi Y, Lee S, Nojiri H, Nakajima-Kambe T, Uchiyama H (2015) Inhibition of Pseudomonas aeruginosa swarming motility by 1-naphthol and other bicyclic compounds bearing hydroxyl groups. Appl Environ Microbiol 81:2808–2818

Peet J, Selyutina A, Bredihhin A (2016) Antiretroviral (HIV-1) activity of azulene derivatives. Bioorg Med Chem 24:1653–1657

Pejin B, Ciric A, Glamoclija J, Nikolic M, Sokovic M (2015) In vitro anti-quorum sensing activity of phytol. Nat Prod Res 29:374–377

Pejčić M, Stojanović-Radić Z, Genčić, M, Dimitrijević, M, Radulović N (2020) Anti-virulence potential of basil and sage essential oils: Inhibition of biofilm formation, motility and pyocyanin production of Pseudomonas aeruginosa isolates. Food and Chemical Toxicology 111431.

Pongsavee M (2015) Effect of sodium benzoate preservative on micronucleus induction, chromosome break, and Ala40Thr superoxide dismutase gene mutation in lymphocytes. Biomed Res Int 10:3512

Qaralleh H (2019) Thymol rich Thymbra capitata essential oil inhibits quorum sensing, virulence and biofilm formation of beta lactamase producing Pseudomonas aeruginosa. Nat Prod Sci 25:172–180

Rajkumar K, Malathi R (2015) Phytochemical investigation GC-MS analysis and in vitro antimicrobial activity of Coleus forskohlii. Bangladesh J Pharmacol 10:924–930

Ren D, Sims JJ, Wood TK (2001) Inhibition of biofilm formation and swarming of Escherichia coli by (5Z)-4-bromo-5-(bromomethylene)-3-butyl-2 (5H)-furanone. Environ Microbiol 11:731–736

Santos CCDMP, Salvadori MS, Mota VG, Costa LM, de Almeida AAC, de Oliveira GAL, Costa JP, de Sousa DP, de Freitas RM, de Almeida RN (2013) Antinociceptive and antioxidant activities of phytol in vivo and in vitro models. Neurosci J. https://doi.org/10.1155/2013/949452

Schultz C, Bossolani MP, Torres LM, Lima-Landman MTR, Lapa AJ, Souccar C (2007) Inhibition of the gastric H+, K+-ATPase by plectrinone A, a diterpenoid isolated from Plectranthus barbatus Andrews. J Ethnopharmacol 111:1–7

Scotti F, Decani S, Sardella A, Iriti M, Varoni EM, Lodi G (2018) Anti-inflammatory and wound healing effects of an essential oils-based bioadhesive gel after oral mucosa biopsies: Preliminary results. Cell Mol Biol (Noisy-le-grand) 64:78–83

Silva ACRD, Lopes PM, Azevedo MMBD, Costa DCM, Alviano CS, Alviano DS (2012) Biological activities of a-pinene and β-pinene enantiomers. Molecules 17:6305–6316

Skandamis PN, Nychas G-J (2012) Quorum sensing in the context of food microbiology. Appl Environ Microbiol 78(16):5473–5482

Smith JL, Fratamico PM, Novak JS (2004) Quorum sensing: a primer for food microbiologists. J Food Prot 67:1053–1070

Srivastava SK, Chaubey M, Khatoon S, Rawat AKS, Mehrotra S (2002) Pharmacognostic evaluation of Coleus forskohlii. Pharm Biol 40:129–134

Taganna JC, Quanico JP, Perono RMG, Amor EC, Rivera WL (2011) Tannin-rich fraction from Terminalia catappa inhibits quorum sensing (QS) in Chromobacterium violaceum and the QS-controlled biofilm maturation and LasA staphylolytic activity in Pseudomonas aeruginosa. J Ethnopharmacol 134:865–871

Teplitski M, Mathesius U, Rumbaugh KP (2011) Perception and degradation of N-acyl homoserine lactone quorum sensing signals by mammalian and plant cells. Chem Rev 111:100–116

Turovskiy Y, Kashtanov D, Paskhover B, Chikindas ML (2007) Quorum sensing: fact, fiction, and everything in between. Adv Appl Microbiol 62:191–234

Umegaki K, Yokotani K, Marumoto S, Miyazawa M (2019) Identification of compounds in Coleus forskohlii extract involved in the induction of hepatic CYP and fatty liver in mice. J Oleo Sci 68:995–1002

Upadhyaya M, Prajapati G (2014) Chlorophyl, antioxidant and phenolic contents in Coleus forskohlii. Int J Food Diary Tech 1:13–15

Vandeputte OM, Kiendrebeogo M, Rajaonson S, Diallo B, Mol A, El Jaziri M, Baucher M (2010) Identification of catechin as one of the flavonoids from Combretum albiflorum bark extract that reduces the production of quorum-sensing-controlled virulence factors in Pseudomonas aeruginosa PAO1. Appl Environ Microbial 76:243–253

Vattem DA, Mihalik K, Crixell SH, McLean RJC (2007) Dietary phytochemicals as quorum sensing inhibitors. Fitoterapia 78:302–310

Wang W, Huang X, Yang H, Niu X, Li D, Yang C, Li L, Zou L, Qiu Z, Wu S, Li Y (2019) Antibacterial activity and anti-quorum sensing mediated phenotype in response to essential oil from Melaleuca bracteata leaves. Int J Mol Sci 20:5696

Zhu H, He CC, Chu QH (2011) Inhibition of quorum sensing in Chromobacterium violaceum by pigments extracted from Auricularia auricular. Lett Appl Microbiol 52:269–274

Zolfaghar I, Evans DJ, Fleiszig SM (2003) Twitching motility contributes to the role of pili in corneal infection caused by Pseudomonas aeruginosa. Infect Immun 71:5389–5393
Acknowledgements
The authors would like to acknowledge DRDO for funding the research work (Project No (ERIP/ER/201611002/M/01/1672 dated 22nd June 2017) and Sophisticated Instrumentation Facility, VIT University, Vellore for GC-MS facility.
Ethics declarations
Conflict of interest
The authors declare no conflict of interest to disclose.
Additional information
Publisher's Note
Springer Nature remains neutral with regard to jurisdictional claims in published maps and institutional affiliations.
Communicated by Erko Stackebrandt.
About this article
Cite this article
Chatterjee, B., Vittal, R.R. Quorum sensing modulatory and biofilm inhibitory activity of Plectranthus barbatus essential oil: a novel intervention strategy. Arch Microbiol (2021). https://doi.org/10.1007/s00203-020-02171-9
Received:

Revised:

Accepted:

Published:
Keywords
Antimicrobial

Anti-quorum sensing

Antibiofilm

Plectranthus barbatus