Abstract
The hot spring water of Atri in India was believed to have disease curing property. An antibacterial producing organism was isolated and identified as Bacillus paralicheniformis by morphology, microscopy, and 16S-rRNA. Its secretion inhibited bacteria, yeast, and fungus in well-diffusion-method. The secreted antimicrobial was a 16.74 kDa protein homologous of chicken-lysozyme-C. The novel lysozyme's activities were recorded under different parameters. It was active from pH 5–9 and endured up to 60 °C for 120 min. Complete cell wall lysis of S. flexneri and P. aeruginosa was observed under a microscope at 4500× with a minimum inhibitory concentration of 7.8 µg/ml, while others required a higher dose, i.e., 13 µg/ml, and 20 µg/ml for E.coli and S. typhimurium, respectively. The discovered lysozyme has the extraordinary potential to lyse Gram-positive bacteria, yeast, fungus, and more efficiently lyse chick-lysozyme-C resistant lipopolysaccharide rich Gram-negative bacteria's outer cell wall.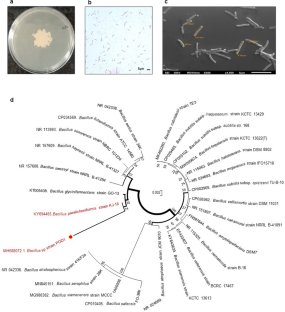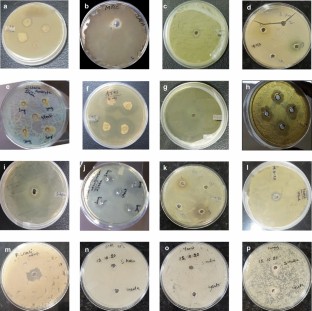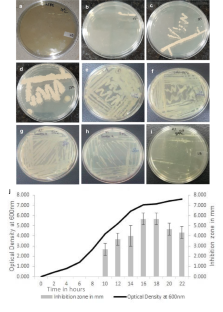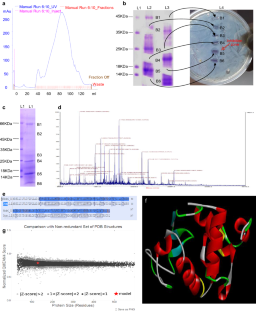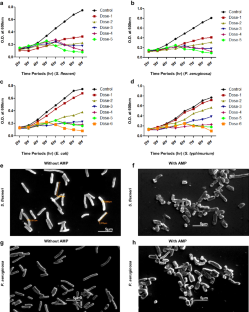 References
Agata N, Ohta M, Mori M, Shibayama K (1999) Growth conditions of and emetic toxin production by Bacillus cereus in a defined medium with amino acids. Microbiol Immunol 43:15–18. https://doi.org/10.1111/j.1348-0421.1999.tb02367.x

Ahire JJ, Kashikar MS, Lakshmi SG, Madempudi R (2020) Identification and characterization of antimicrobial peptide produced by indigenously isolated Bacillus paralicheniformis UBBLi30 strain. 3 Biotech 10:112. https://doi.org/10.1007/s13205-020-2109-6

Alkhalili RN et al (2016) Antimicrobial Protein Candidates from the Thermophilic Geobacillus sp Strain ZGt-1:s Production, Proteomics, and Bioinformatics Analysis. Int J Mol Sci. https://doi.org/10.3390/ijms17081363

Andrews JM (2001) Determination of minimum inhibitory concentrations . J Antimicrob Chemother 48:5–16. https://doi.org/10.1093/jac/48.suppl_1.5

Badhai J, Ghosh TS, Das SK (2015) Taxonomic and functional characteristics of microbial communities and their correlation with physicochemical properties of four geothermal springs in Odisha India. Front Microbiol 6:1166. https://doi.org/10.3389/fmicb.2015.01166

Bera A, Biswas R, Herbert S, Götz F (2006) The presence of peptidoglycan O-acetyltransferase in various staphylococcal species correlates with lysozyme resistance and pathogenicity. Infect Immun 74:4598–4604. https://doi.org/10.1128/IAI.00301-06

Bisht SS, Das NN, Tripathy N (2011) Indian hot-water springs: a bird's eye view . J Energy Environm Carbon Credits 1:1–15

Bradford MM (1976) A rapid and sensitive method for the quantitation of microgram quantities of protein utilizing the principle of protein-dye binding. Anal Biochem 72:248–254. https://doi.org/10.1016/0003-2697(76)90527-3

Cegielska-Radziejewska R, Lesnierowski G, Szablewski T, Kijowski J (2010) Physicochemical properties and antibacterial activity of modified egg white–lysozyme. Eur Food Res Technol 231:959–964. https://doi.org/10.1007/s00217-010-1347-y

Conceição K et al (2020) Design of bioactive peptides derived from CART sequence isolated from the toadfish Thalassophryne nattereri. 3 Biotech 10:162. https://doi.org/10.1007/s13205-020-2151-4

Cunningham F, Proctor V, Goetsch S (1991) Egg-white lysozyme as a food preservative: an overview. World's Poultry Sci J 47:141–163. https://doi.org/10.1079/WPS19910015

Deckers D, Masschalck B, Aertsen A, Callewaert L, Van Tiggelen C, Atanassova M, Michiels C (2004) Periplasmic lysozyme inhibitor contributes to lysozyme resistance in Escherichia coli. Cell Mol Life Sci CMLS 61:1229–1237. https://doi.org/10.1007/s00018-004-4066-3

Eswari JS, Dhagat S, Sen R (2019) Applications of thermophiles. In: Thermophiles for biotech industry. Springer, Berlin pp 99–111. https://doi.org/10.1007/978-981-32-9919-1_6

Fjell CD, Hiss JA, Hancock RE, Schneider G (2012) Designing antimicrobial peptides: form follows function . Nat Rev Drug Discovery 11:37–51. https://doi.org/10.1038/nrd3591

Hajji M, Kanoun S, Nasri M, Gharsallah N (2007) Purification and characterization of an alkaline serine-protease produced by a new isolated Aspergillus clavatus ES1. Process Biochem 42:791–797. https://doi.org/10.1016/j.procbio.2007.01.011

Ho TD, Hastie JL, Intile PJ, Ellermeier CD (2011) The Bacillus subtilis extracytoplasmic function σ factor σV is induced by lysozyme and provides resistance to lysozyme. J Bacteriol 193:6215–6222. https://doi.org/10.1128/JB.05467-11

Kaur S, Kaur S (2015) Bacteriocins as potential anticancer agents. Front Pharmacol 6:272. https://doi.org/10.3389/fphar.2015.00272

Khosravi M, Mirzaie A, Kashtali AB, Noorbazargan H (2020) Antibacterial, anti-efflux, anti-biofilm, anti-slime (exopolysaccharide) production and urease inhibitory efficacies of novel synthesized gold nanoparticles coated Anthemis atropatana extract against multidrug-resistant Klebsiella pneumoniae strains. Arch Microbiol 202:2105–2115. https://doi.org/10.1007/s00203-020-01930-y

Kizhakkekalam VK, Chakraborty K (2020) Marine macroalgae-associated heterotrophic Firmicutes and Gamma-proteobacteria: prospective anti-infective agents against multidrug resistant pathogens. Arch Microbiol 202:905–920. https://doi.org/10.1007/s00203-019-01800-2

Kumar S, Stecher G, Li M, Knyaz C, Tamura K (2018) MEGA X: molecular evolutionary genetics analysis across computing platforms. Molec Biol Evol 35:1547–1549. https://doi.org/10.1093/molbev/msz312

Laemmli U (1970) Glycine-SDS-PAGE for separation of proteins. Nature 227:680–685. https://doi.org/10.1038/227680a0

Mahajan GB, Balachandran L (2017) Sources of antibiotics: Hot springs. Biochem Pharmacol 134:35–41. https://doi.org/10.1016/j.bcp.2016.11.021

Mahato NK, Sharma A, Singh Y, Lal R (2019) Comparative metagenomic analyses of a high-altitude Himalayan geothermal spring revealed temperature-constrained habitat-specific microbial community and metabolic dynamics. Arch Microbiol 201:377–388. https://doi.org/10.1007/s00203-018-01616-6

Nash JA, Ballard TNS, Weaver TE, Akinbi HT (2006) The peptidoglycan-degrading property of lysozyme is not required for bactericidal activity in vivo. J Immunol 177:519–526. https://doi.org/10.4049/jimmunol.177.1.519

Nischitha R, Vasanthkumari M, Kumaraswamy B, Shivanna M (2020) Antimicrobial and antioxidant activities and chemical profiling of Curvularia tsudae endophytic in Cynodon dactylon (L.) Pers. 3 Biotech 10:300. https://doi.org/10.1007/s13205-020-02250-0

Nithya K, Muthukumar C, Kadaikunnan S, Alharbi NS, Khaled JM, Dhanasekaran D (2017) Purification, characterization, and statistical optimization of a thermostable α-amylase from desert actinobacterium Streptomyces fragilis DA7-7. 3 Biotech 7:350. https://doi.org/10.1007/s13205-017-0981-5

Nnyigide OS (2020) Hyun K (2020) Molecular dynamics studies of the protective and destructive effects of sodium dodecyl sulfate in thermal denaturation of hen egg-white lysozyme and bovine serum albumin. J Biomolec Struct Dynam 10(1080/07391102):1726209

Panda AK, Bisht SS, Rana M, De Mandal S, Kumar NS (2018) Biotechnological potential of thermophilic actinobacteria associated With Hot Springs. In: New and Future Developments in Microbial Biotechnology and Bioengineering. Elsevier, pp 155–164. https://doi.org/10.1016/B978-0-444-63994-3.00010-2

Park Y-S et al (2019) Complete genome sequence of acetate-producing Klebsiella pneumoniae L5-2 isolated from infant feces. 3 Biotech 9:84. https://doi.org/10.1007/s13205-019-1578-y

Pellati D, Mylonakis I, Bertoloni G, Fiore C, Andrisani A, Ambrosini G, Armanini D (2008) Genital tract infections and infertility. Eur Jf Obstetr Gynecol Reprod Biol 140:3–11. https://doi.org/10.1016/j.ejogrb.2008.03.009

Poulakou G, Bassetti M, Righi E, Dimopoulos G (2014) Current and future treatment options for infections caused by multidrug-resistant Gram-negative pathogens. Future Microbiol 9:1053–1069. https://doi.org/10.2217/fmb.14.58

Preena PG, Swaminathan TR, Kumar VJR, Singh ISB (2020) Antimicrobial resistance in aquaculture: a crisis for concern. Biologia 75:1497–1517. https://doi.org/10.2478/s11756-020-00456-4

Rossetto G, Bergese P, Colombi P, Depero LE, Giuliani A, Nicoletto SF, Pirri G (2007) Atomic force microscopy evaluation of the effects of a novel antimicrobial multimeric peptide on Pseudomonas aeruginosa Nanomedicine: Nanotechnology. Biol Med 3:198–207. https://doi.org/10.1016/j.nano.2007.06.002

Sahay H, Yadav AN, Singh AK, Singh S, Kaushik R, Saxena AK (2017) Hot springs of Indian Himalayas: potential sources of microbial diversity and thermostable hydrolytic enzymes. 3 Biotech 7:118. https://doi.org/10.1007/s13205-017-0762-1

Saito H et al (2019) Antibacterial activity of lysozyme-chitosan oligosaccharide conjugates (LYZOX) against Pseudomonas aeruginosaAcinetobacter baumannii and Methicillin-resistant Staphylococcus aureus. PLoS ONE 14:e0217504. https://doi.org/10.1371/journal.pone.0217504

Samaranayake Y, Cheung B, Parahitiyawa N, Seneviratne C, Yau J, Yeung K, Samaranayake L (2009) Synergistic activity of lysozyme and antifungal agents against Candida albicans biofilms on denture acrylic surfaces. Arch Oral Biol 54:115–126. https://doi.org/10.1016/j.archoralbio.2008.09.015

Sherman EX, Hufnagel DA, Weiss DS (2016) MCR-1 confers cross-resistance to lysozyme. Lancet Infect Dis 16:1226–1227. https://doi.org/10.1016/S1473-3099(16)30395-4

Strating H, Clarke AJ (2001) Differentiation of bacterial autolysins by zymogram analysis. Anal Biochem 291:149–154. https://doi.org/10.1006/abio.2001.5007

Taillardet M et al (2009) The thymus-independent immunity conferred by a pneumococcal polysaccharide is mediated by long-lived plasma cells. Blood 114:4432–4440. https://doi.org/10.1182/blood-2009-01-200014

Tokatli A, Idil O, Veyisoglu A, Saygin H, Guven K, Cetin D, Sahin N (2020) Streptomyces boluensis sp., nov, isolated from lake sediment. Arch Microbiol 202:2303–2309. https://doi.org/10.1007/s00203-020-01901-3

Vega-Manriquez XD et al (2020) Pet dogs potential transmitters of pathogenic Escherichia coli with resistance to antimicrobials. Arch Microbiol 202:1173–1179. https://doi.org/10.1007/s00203-020-01828-9

Vescovo M, Morelli L, Cocconcelli P, Bottazzi V (1984) Protoplast formation, regeneration and plasmid curing in Lactobacillus reuteri. FEMS Microbiol Lett 23:333–336. https://doi.org/10.1111/j.1574-6968.1984.tb01089.x

Waterhouse A et al (2018) SWISS-MODEL: homology modelling of protein structures and complexes. Nucleic acids Res 46:296–303. https://doi.org/10.1093/nar/gky427

Webster J, Chen G, HU K LJ (2002) Bacterial metabolites: entomopathogenic nematology. CABI Publishing. CAB Int., Wallingford, Oxon OX10 8DE, UK. pp 99–114 https://doi.org/10.1079/9780851995670.0099

Weidenmaier C, Peschel A (2008) Teichoic acids and related cell-wall glycopolymers in Gram-positive physiology and host interactions. Nat Rev Microbiol 6:276–287. https://doi.org/10.1038/nrmicro1861

Yu T et al (2020) Circumventing antimicrobial-resistance and preventing its development in novel, bacterial infection-control strategies. Expert Opin Drug Deliv 17:1151–1164 https://doi.org/10.1080/17425247.2020.1779697

Zasloff M (2002) Antimicrobial peptides of multicellular organisms. Nature 415:389–395. https://doi.org/10.1038/415389a

Zhang H, Fu G, Zhang D (2014) Cloning, characterization and production of a novel lysozyme by different expression hosts. J Microbiol Biotechnol 24:1405–1412. https://doi.org/10.4014/jmb.1404.04039

Zin NM, Al-shaibani MM, Jalil J, Sukri A, Al-Maleki AR, Sidik NM (2020) Profiling of gene expression in methicillin-resistant Staphylococcus aureus in response to cyclo-(l-Val-l-Pro) and chloramphenicol isolated from Streptomyces sp., SUK 25 reveals gene downregulation in multiple biological targets. Arch Microbiol 202:2083–2092. https://doi.org/10.1007/s00203-020-01896-x
Acknowledgements
The authors acknowledge the kind cooperation of Dr. Sujay Singh, Director, Imgenex India Private Limited, Bhubaneswar. The research facility was provided by the Centre of Excellence (OHEPEE), Ravenshaw University, Cuttack. Bacterial strains were provided by Kalinga Institute of Industrial Technology, Bhubaneswar and Institute of Life Sciences, Bhubaneswar. I express my deep sense of gratitude to Protein Lounge group, Imgenex India Pvt. Ltd. I am also grateful to Mrs. Himadri Tanaya Behera, Mr. Sanjeet Kumar Das, Mr. Abhik Mazumdar and Mr. Mahendra Kumar Lenka, Imgenex India Pvt. Ltd. for assisting in performing different experiments. Lastly I would like to express my indebtedness to my wife and parents for providing me moral support and encouragement.
Ethics declarations
Conflicts of interest
The authors declare that they have no conflict of interest in the publication and no competing interests exist.
Additional information
Publisher's Note
Springer Nature remains neutral with regard to jurisdictional claims in published maps and institutional affiliations.
Communicated by Erko Stackebrandt.
Supplementary Information
Below is the link to the electronic supplementary material.
About this article
Cite this article
Ojha, P., Kar, N.P., Nayak, S. et al. Isolation of a broad spectrum antimicrobial producing thermophilic Bacillus and characterization of its antimicrobial protein. Arch Microbiol (2021). https://doi.org/10.1007/s00203-020-02162-w
Received:

Revised:

Accepted:

Published:
Keywords
Novel antimicrobial-protein

Thermophile

Broad-spectrum-antibacterial

Lysozyme