Abstract
The present study was aimed to study the effect of bacteria inhabiting in buffalo dung on nutritional properties of soil and plant. Three beneficial bacteria Proteus mirabilis, Pseudomonas aeruginosa, and Enterobacter xiangfangensis were isolated from buffalo dung to evaluate for their effects individually as well as in consortium. The combined effect of P. mirabilis and P. aeruginosa showed a significant enhancement in different biological parameters of Foeniculum vulgare such as primary branch (99.32%), secondary branch (98.32%), number of umbels (87.62%), number of umbellets (99.85%), number of seeds (104.94%), grain yield (62.38%), biological yield (35.99%), and harvest index (19.48%). Consortium of these potent bacteria also enhanced proximate constituents such as total ash (49.79%), ether extract (63.06%), crude fibre (48.91%), moisture content (33.40%), dry matter (31.45%), acid insoluble ash (33.20%), and crude protein (40.73%). A highly significant correlation (p ≤ 0.01) was found between nitrogen (r = 0.97), phosphorous (r = 0.95), and potassium (r = 0.97) contents of soil. This research enhances the knowledge of the effect of plant growth-promoting bacteria on nutrient properties of soil and fennel which deliver a new index for healthier use in organic agricultural practices.
This is a preview of subscription content, log in to check access.
Access options
Buy single article
Instant access to the full article PDF.
US$ 39.95
Price includes VAT for USA
Subscribe to journal
Immediate online access to all issues from 2019. Subscription will auto renew annually.
US$ 199
This is the net price. Taxes to be calculated in checkout.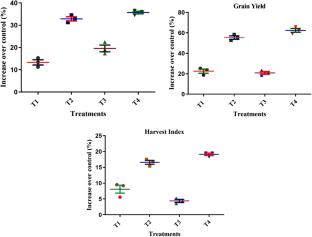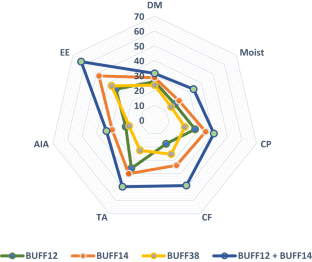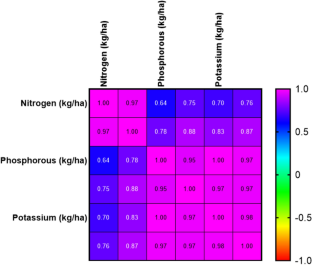 References
Abbasi S, Zahedi H, Sadeghipour O, Akbari R (2013) Effect of plant growth promoting rhizobacteria (PGPR) on physiological parameters and nitrogen content of soybean grown under different irrigation regimes. Res Crops 14:798–803

Abeer H, Abdallah EF, Alqarawi AA et al (2015) Impact of plant growth promoting Bacillus subtilis on growth and physiological parameters of Bassia indica (Indian Bassia) grown under salt stress. Pak J Bot 47(5):1735–1741

Agarwal M, Dheeman S, Dubey RC et al (2017) Differential antagonistic responses of Bacillus pumilus MSUA3 against Rhizoctonia solani and Fusarium oxysporum causing fungal diseases in Fagopyrum esculentum Moench. Microbiol Res 205:40–47

Alemayehu FR, Bendevis MA, Jacobsen SE (2015) The potential for utilizing the seed crop amaranth (Amaranthus spp.) in East Africa as an alternative crop to support food security and climate change mitigation. J Agric Crop Sci 201(5):321–329

Al-Erwy AS, Bafeel SO, Al-Toukhy A (2016) Effect of chemical, organic and bio fertilizers on germination, growth and yield of wheat (Triticum aestivum L.) plants irrigated with sea water. Seeds 10:100

Asgharipour RM, Armin M, Pooresmail H (2014) Plant growth promoting rhizobacteria (PGPR) alleviate toxicity of cadmium on germination and early seedling growth of fennel. Int J Biosci 5(1):355–358

Baliyan N, Dheeman S, Maheshwari DK et al (2018) Rhizobacteria isolated under field first strategy improved chickpea growth and productivity. Environ Sustain 1(4):461–469

Barros L, Carvalho AM, Ferreira IC (2010) The nutritional composition of fennel (Foeniculum vulgare): shoots, leaves, stems and inflorescences. LWT-Food Sci Technol 43(5):814–818

Bhutta ZA, Salam RA (2012) Global nutrition epidemiology and trends. Ann Nut Metabol 61:19–27

Boruvka L, Valla M, Donátová H et al (2002) Vulnerability of soil aggregates in relation to soil properties. Rostlinná Vyroba 48(8):329–334

Bremner JM (1960) Determination of nitrogen in soil by the Kjeldahl method. J Agric Sci 55(1):11–33

Choure K, Dubey RC (2012) Development of plant growth promoting microbial consortium based on interaction studies to reduce wilt incidence in Cajanus cajan L. var. Manak. World J Agric Sci 8(1):118–128

Das I, Singh AP (2014) Effect of PGPR and organic manures on soil properties of organically cultivated mungbean. Bioscan 9:27–29

Das A, Bhattacharya S, Murali L (2010) Production of cellulase from a thermophilic Bacillus sp. isolated from cow dung. AM Eurasian J Agric Environ Sci 8:685–691

Dhiman S, Dubey RC, Maheshwari DK et al (2019) Sulfur-oxidizing buffalo dung bacteria enhance growth and yield of Foeniculum vulgare Mill. Canad J Microbiol 65(999):1–10

Dubey RC, Maheshwari DK (2012) Practical Microbiology. S. Chand & Co., New Delhi

Dubey RC, Maheshwari DK, Kumar V et al (2012) Growth enhancement of Sesamum indicum L. by rhizosphere-competent Azotobacter chroococcum AZO2 and its antagonistic activity against Macrophomina phaseolina. Arch Phytopathol Plant Protect 45(4):437–454

Dutta S, Sarkar A, Dutta S (2019) Characterization of Pseudomonas aeruginosa MCC 3198 and its potential for growth promotion of seedlings of the medicinal plant Celosia cristata L. Intern J Curr Microbiol App Sci 8(4):985–997

Elizabeth AA, Josephine G, Muthiah NS et al (2014) Evaluation of analgesic and anti-inflammatory effect of Foeniculum vulgare. Res J Pharma Biol Chem Sci 5(2):658–668

Graham RD, Welch RM, Bouis HE (2001) Addressing micronutrient malnutrition through enhancing the nutritional quality of staple foods: principles, perspectives and knowledge gaps. Adv Agron 70:77–142

Himpsl SD, Pearson MM, Arewång CJ et al (2010) Proteobactin and a yersiniabactin-related siderophore mediate iron acquisition in Proteus mirabilis. Mol microbiol 78(1):138–157

Hirdyani H (2014) Nutritional composition of Chickpea (Cicer arietinum-L) and value added products—a review. Ind J Commun Health 26:102–106

Ipek M, Pirlak L, Esitken A et al (2014) Plant growth-promoting rhizobacteria (PGPR) increase yield, growth and nutrition of strawberry under high-calcareous soil conditions. J plant nut 37(7):990–1001

Irshad M, Eneji AE, Hussain Z et al (2013) Chemical characterization of fresh and composted livestock manures. J soil sci plant nut 13(1):115–121

Jha Y, Subramanian RB (2013) Paddy plants inoculated with PGPR show better growth physiology and nutrient content under saline condition. Chilean j agr res 73(3):213–219

Kobayashi T, Nozoye T, Nishizawa NK (2019) Iron transport and its regulation in plants. Free Radical Biol Med 133:11–20

Kuan KB, Othman R, Rahim KA et al (2016) Plant growth-promoting rhizobacteria inoculation to enhance vegetative growth, nitrogen fixation and nitrogen remobilisation of maize under greenhouse conditions. PLoS ONE 11(3):e0152478

Kumar H, Bajpai VK, Dubey RC et al (2010) Wilt disease management and enhancement of growth and yield of Cajanus cajan (L) var. Manak by bacterial combinations amended with chemical fertilizer. Crop protect 29(6):591–598

Maheshwari DK (ed) (2010) Plant growth and health promoting bacteria, vol 18. Springer Science & Business Media, New York

Martínez OA, Crowley DE, Mora ML et al (2015) Short-term study shows that phytate-mineralizing rhizobacteria inoculation affects the biomass, phosphorus (P) uptake and rhizosphere properties of cereal plants. J Soil Sci Plant Nut 15(1):153–166

Meena VS, Maurya BR, Verma JP et al (2016) Potassium solubilizing microorganisms for sustainable agriculture. Springer, New York

Mirzaei A, Naseri R, Soleymanifard A et al (2011) Effect of plant growth promoting rhizobacteria (PGPR) on agronomic characteristic and root colonization in fennel. Planta Med 77(12):PB5

Mohammadi M, Shabanpour M, Mohammadi MH et al (2019) Characterizing spatial variability of soil textural fractions and fractal parameters derived from particle size distributions. Pedosphere 29(2):224–234

Nassar MI, El-sayed AA, Makled YA et al (2010) Secondary metabolites and pharmacology of Foeniculum vulgare Mill. Subsp. Piperitum. Revista latinoamericana de química 38(2):103–111

Ndung'u-Magiroi KW, Herrmann L, Okalebo JR et al (2012) Occurrence and genetic diversity of phosphate-solubilizing bacteria in soils of differing chemical characteristics in Kenya. Ann Microbiol 62:897–904

Nielsen SS (2017) Food analysis. Springer, New York, pp 257–359

Olsen SR (1954) Estimation of available phosphorus in soils by extraction with sodium bicarbonate. US Depart Agric Circ 939:1–19

Pandey C, Bajpai VK, Negi YK et al (2018) Effect of plant growth promoting Bacillus spp. on nutritional properties of Amaranthus hypochondriacus grains. Saudi J Boil Sci 25(6):1066–1071

Pandey P, Maheshwari DK (2007) Bioformulation of Burkholderia sp. MSSP with a multispecies consortium for growth promotion of Cajanus cajan. Can J Microbiol 53(2):213–222

Pandey P, Bisht S, Sood A et al (2012) Consortium of plant-growth-promoting bacteria: future perspective in agriculture. Bacteria in agrobiology: plant probiotics. Springer, Berlin, pp 185–200

Pierson EA, Weller DM (1994) to Suppress take-all and improve the growth of wheat. Phytopathol 84:940–947

Piri R (2018) Effect of seed inoculation with plant growth promoting rhizobactria (PGPR) on some germination, biochemical indices and element contents of fennel (Foeniculum vulgare L.) under salinity stress. Sci Inf Database 49:151–165

Prateek S, Gopal R, Mayur S et al (2009) Biomethanation potential of Jatropha (Jatropha curcas) cake along with buffalo dung. Afr J Agric Res 4(10):991–995

Proehl EC, Nelson WP (1950) The flame photometer in determination of sodium and potassium. Am J Clin Pathol 20(9):806–813

Rahmoune B, Morsli A, Khelifi-Slaoui M et al (2017) Isolation and characterization of three new PGPR and their effects on the growth of Arabidopsis and Datura plants. J plant int 12(1):1–6

Rfaki A, Zennouhi O, Nassiri L et al (2018) Soil properties related to the occurrence of rock phosphate-solubilizing bacteria in the rhizosphere soil of faba bean (Vicia faba L.) in Morocco. Soil Syst 2(2):31

Richardson AE (2001) Prospects for using soil microorganisms to improve the acquisition of phosphorus by plants. Aust J Plant Physiol 28:897–906

Rocha DK, Matosc O, Novoa MT et al (2015) Larvicidal activity against Aedes aegypti of Foeniculum vulgare essential oils from Portugal and Cape Verde. Nat Product Commun 10(4):677–682

Russell FM, Biribo SSN, Selvaraj G et al (2006) As a bacterial culture medium, citrated sheep blood agar is a practical alternative to citrated human blood agar in laboratories of developing countries. J Clinic Microbiol 44(9):3346–3351

Sambrook JF, Russell DW (2001) Molecular cloning: a laboratory manual, 3rd edn. Cold Spring Harbor Laboratory Press, Cold Spring Harbor, pp 17–18

Sapre S, Gontia-Mishra I, Tiwari S (2018) Klebsiella sp. confers enhanced tolerance to salinity and plant growth promotion in oat seedlings (Avena sativa). Microbiol Res 206:25–32

Searchinger T, Waite R, Hanson C et al (2019) Creating a sustainable food future: a menu of solutions to feed nearly 10 billion people by 2050. Final report.

Sharma IP, Chandra S, Kumar N et al (2017) PGPR: heart of soil and their role in soil fertility. Agriculturally important microbes for sustainable agriculture. Springer, Singapore, pp 51–67

Singh AK, Bharati RC, Manibhushan NC et al (2013) An assessment of faba bean (Vicia faba L.) current status and future prospect. Afr J Agric Res 8(50):6634–6641

Singh RP, Jha PN (2017) The PGPR Stenotrophomonas maltophilia SBP-9 augments resistance against biotic and abiotic stress in wheat plants. Front Microbiol 8:1945

Springmann M, Mason-D'Croz D, Robinson S et al (2016) Global and regional health effects of future food production under climate change: a modelling study. Lancet 387(10031):1937–1946

Srivastava R, Aragno M, Sharma AK (2010) Cow dung extract: a medium for the growth of pseudomonads enhancing their efficiency as biofertilizer and biocontrol agent in rice. Ind J microbiol 50(3):349–354

Stefan M, Munteanu N, Mihasan M (2013) Application of plant growth-promoting rhizobacteria to runner bean increases seed carbohydrate and protein yield. Analele Stiintifice ale Universitatii Alexandru Ioan Cuza din Iasi. Sectiunea II A, Genetica si Biologie Moleculara 14(1):29–35

Vikram A, Alagawadi AR, Hamzehzarghani H et al (2007) Factors related to the occurrence of phosphate solubilizing bacteria and their isolation in Vertisols. Int J Agric Res 2:571–580

Wakeel A, Farooq M, Bashir K, Ozturk L (2018) Micronutrient malnutrition and biofortification: recent advances and future perspectives. Plant micronutrient use efficiency. Academic Press, New York, pp 225–243

Welch RM (2002) The impact of mineral nutrients in food crops on global human health. Plant Soil 247(1):83–90

Weller DM, Cook RJ (1983) Suppression of take-all of wheat by seed treatments with fluorescent pseudomonads. Phytopathology 73(3):463–469

Wu F, Wan JHC, Wu S et al (2012) Effects of earthworms and plant growth–promoting rhizobacteria (PGPR) on availability of nitrogen, phosphorus, and potassium in soil. J Plant Nut Soil Sci 175(3):423–433

Yadav GS, Das A, Lal R et al (2018) Conservation tillage and mulching effects on the adaptive capacity of direct-seeded upland rice (Oryza sativa L.) to alleviate weed and moisture stresses in the North Eastern Himalayan Region of India. Arch Agric Soil Sci 64(9):1254–1267

Yu C, Sun C, Shen C et al (2015) The auxin transporter, Os AUX 1, is involved in primary root and root hair elongation and in Cd stress responses in rice (Oryza sativa L.). Plant J 83(5):818–830

Zega A, Suryanto D (2018) An ability of endophytic bacteria from nutgrass (Cyperus rotundus) from lafau beach of north nias in producing indole acetic acid and in solubilizing phosphate. IOP Conf Ser Earth Environ Sci 130:012007
Acknowledgements
The authors are thankful to the Department of Botany and Microbiology, Gurukul Kangri Vishwavidyalaya, Haridwar for providing all the necessary facilities to conduct the current research.
Ethics declarations
Conflict of interest
The authors declare that there is no competing interest.
Additional information
Publisher's Note
Springer Nature remains neutral with regard to jurisdictional claims in published maps and institutional affiliations.
Communicated by Erko Stackebrandt .
About this article
Cite this article
Dhiman, S., Baliyan, N. & Maheshwari, D.K. Buffalo dung-inhabiting bacteria enhance the nutrient enrichment of soil and proximate contents of Foeniculum vulgare Mill. Arch Microbiol (2020). https://doi.org/10.1007/s00203-020-01969-x
Received:

Revised:

Accepted:

Published:
Keywords
Buffalo dung

Plant parameters

Proximate complete analysis

Soil correlation