Abstract
A total of 15 samples of thalassotherapy products, distributed in Tunisia in their intact and final state of production, was analyzed to determine their microbiological safety status. The result shows the absence of pathogenic bacteria (Staphylococcus aureus, Candida albicans, Salmonella, Pseudomonas aeruginosa and coliforms). The incidence of contamination by Gram-positive Bacilli (mesophelic bacteria, aerobic and anaerobic spore forming bacteria, anaerobic sulphite-reducing bacteria) was found to be higher in products composed by mud and extract of alga. The biochemical and molecular identification of the major contaminant show that Bacilli were the most covered from 75% of the thalassotherapy products. Mineral analysis (organic matter, Fe, Mg, Ca, Na d K, Al, Si and Ti) shows strong composition on Aluminum and Silica. Cytotoxicity study of six thalassotherapy products and three essential oil extracts (Menthol, Clove and Eucalyptus) did not show any cytotoxic effect. Furthermore, antibacterial acitivity of 5 essentila oils, against 30 isolates of the genus Bacillus and 10 reference strains, has been characterized showing an interesting bactericidal potential of the extract of menthol and Eucalyptus.
This is a preview of subscription content, log in to check access.
Access options
Buy single article
Instant access to the full article PDF.
US$ 39.95
Price includes VAT for USA
Subscribe to journal
Immediate online access to all issues from 2019. Subscription will auto renew annually.
US$ 199
This is the net price. Taxes to be calculated in checkout.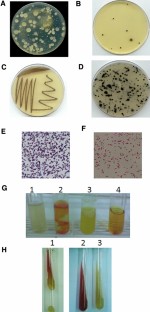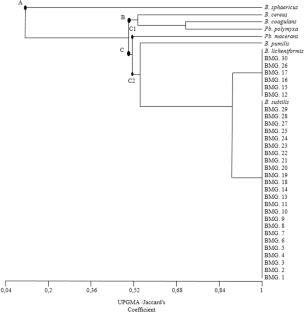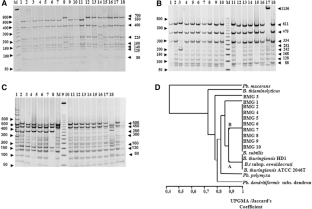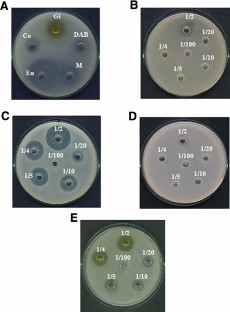 References
Amann RI (1995) In situ identification of micro-organisms by whole cell hybridization with rRNA-targeted nucleic acid probes. In: Akkermans ADL, Van Elsas JD, De Bruijn FJ (eds) Molecular microbial ecology manual. Springer Netherlands, Dordrecht, pp 331–345

Bachir RG, Benali M (2012) Antibacterial activity of the essential oils from the leaves of Eucalyptus globulus against Escherichiacoli and Staphylococcusaureus. Asian Pac J Trop Biomed 2:739–742. https://doi.org/10.1016/S2221-1691(12)60220-2

Behravan J, Bazzaz F, Malaekeh P (2005) Survey of bacteriological contamination of cosmetic creams in Iran (2000). Int J Dermatol 44:482–485. https://doi.org/10.1111/j.1365-4632.2005.01963.x

Ben-Jacob E, Schochet O, Tenenbaum A, Cohen I, Czirók A, Vicsek T (1994) Generic modelling of cooperative growth patterns in bacterial colonies. Nature 368(6466):46–49

Bergonzelli GE, Donnicola D, Porta N, Corthésy-Theulaz IE (2003) Essential oils as components of a diet-based approach to management of helicobacter infection|antimicrobial agents and chemotherapy. Antimicrob Agents Chemother 47:3240–3246. https://doi.org/10.1128/AAC.47.10.3240-3246.2003

Boudabous CA (1978) Taxonomy and ecology of the Bacillus genus isolated from the marine environment. 3rd cycle doctoral thesis in Biochemistry; Microbiology option. University of Provence Aix-Marseille I

Campana R, Scesa C, Patrone V et al (2006) Microbiological study of cosmetic products during their use by consumers: health risk and efficacy of preservative systems. Lett Appl Microbiol 43:301–306. https://doi.org/10.1111/j.1472-765X.2006.01952.x

Cimbiz A, Bayazit V, Hallaceli H, Cavlak U (2005) The effect of combined therapy (spa and physical therapy) on pain in various chronic diseases. Complem Ther Med 13:244–250. https://doi.org/10.1016/j.ctim.2005.08.004

Claudepierre P (2005) Spa therapy for ankylosing spondylitis: still useful? Joint Bone Spine 72:283–285. https://doi.org/10.1016/j.jbspin.2005.01.003

Dao H, Lakhani P, Police A et al (2018) Microbial stability of pharmaceutical and cosmetic products. AAPS PharmSciTech 19:60–78. https://doi.org/10.1208/s12249-017-0875-1

De Smet PAGM (2002) Herbal remedies. N Engl J Med 347:2046–2056. https://doi.org/10.1056/NEJMra020398

Delgado B, Palop A, Fernández PS, Periago PM (2004) Combined effect of thymol and cymene to control the growth of Bacillus cereus vegetative cells. Eur Food Res Technol 218:188–193. https://doi.org/10.1007/s00217-003-0806-0

Elansary HO, Yessoufou K, Shokralla S et al (2016) Enhancing mint and basil oil composition and antibacterial activity using seaweed extracts. Ind Crops Prod 92:50–56. https://doi.org/10.1016/j.indcrop.2016.07.048

Fernández Freire P, Labrador V, Pérez Martín JM, Hazen MJ (2005) Cytotoxic effects in mammalian Vero cells exposed to pentachlorophenol. Toxicology 210:37–44. https://doi.org/10.1016/j.tox.2005.01.009

Goldenberger D, Perschil I, Ritzler M, Altwegg M (1995) A simple "universal" DNA extraction procedure using SDS and proteinase K is compatible with direct PCR amplification. PCR Methods Appl 4:368–370. https://doi.org/10.1101/gr.4.6.368

Gordon RE (1973) The genus Bacillus. Agricultural Research Service, U.S. Dept. of Agriculture : for sale by the Supt. of Docs., U.S. Govt. Print. Off

Kaewtapee C, Burbach K, Tomforde G et al (2017) Effect of Bacillus subtilis and Bacillus licheniformis supplementation in diets with low- and high-protein content on ileal crude protein and amino acid digestibility and intestinal microbiota composition of growing pigs. J Anim Sci Biotechnol 8:37. https://doi.org/10.1186/s40104-017-0168-2

Kiuru P, D'Auria MV, Muller CD et al (2014) Exploring marine resources for bioactive compounds. Planta Med 80:1234–1246. https://doi.org/10.1055/s-0034-1383001

Kubaszewski Ł, Zioła-Frankowska A, Frankowski M et al (2014) Atomic absorption spectrometry analysis of trace elements in degenerated intervertebral disc tissue. Med Sci Monit 20:2157–2164. https://doi.org/10.12659/MSM.890654

Lacroix P, Aboyans V (2005) Thermalisme et médecine vasculaire. EMC Cardiol Angéiol 2:344–350. https://doi.org/10.1016/j.emcaa.2005.06.001

Ma'or Z, Henis Y, Alon Y et al (2006) Antimicrobial properties of Dead Sea black mineral mud. Int J Dermatol 45:504–511. https://doi.org/10.1111/j.1365-4632.2005.02621.x

Millikan LE (2001) Cosmetology, cosmetics, cosmeceuticals: definitions and regulations. Clin Dermatol 19:371–374. https://doi.org/10.1016/s0738-081x(01)00195-x

Moreira MR, Ponce AG, del Valle CE, Roura SI (2005a) Inhibitory parameters of essential oils to reduce a foodborne pathogen. LWT Food Sci Technol 38:565–570. https://doi.org/10.1016/j.lwt.2004.07.012

Moreira MR, Ponce AG, del Valle CE, Roura SI (2005b) Inhibitory parameters of essential oils to reduce a foodborne pathogen. LWT Food Sci Technol 38:565–570. https://doi.org/10.1016/j.lwt.2004.07.012

Mourelle ML, Gómez CP, Legido JL (2017) The potential use of marine microalgae and cyanobacteria in cosmetics and thalassotherapy. Cosmetics 4:46. https://doi.org/10.3390/cosmetics4040046

Okeke IN, Lamikanra A (2001) Bacteriological quality of skin-moisturizing creams and lotions distributed in a tropical developing country. J Appl Microbiol 91:922–928. https://doi.org/10.1046/j.1365-2672.2001.01456.x

Oumeish OY (2001) The cultural and philosophical concepts of cosmetics in beauty and art through the medical history of mankind. Clin Dermatol 19:375–386. https://doi.org/10.1016/s0738-081x(01)00194-8

Pieroni A, Quave CL, Villanelli ML et al (2004) Ethnopharmacognostic survey on the natural ingredients used in folk cosmetics, cosmeceuticals and remedies for healing skin diseases in the inland Marches, Central-Eastern Italy. J Ethnopharmacol 91:331–344. https://doi.org/10.1016/j.jep.2004.01.015

Rouis Z, Abid N, Koudja S et al (2013) Evaluation of the cytotoxic effect and antibacterial, antifungal, and antiviral activities of Hypericum triquetrifolium Turra essential oils from Tunisia. BMC Compl Altern Med 13:24. https://doi.org/10.1186/1472-6882-13-24

Sacchetti G, Maietti S, Muzzoli M et al (2005) Comparative evaluation of 11 essential oils of different origin as functional antioxidants, antiradicals and antimicrobials in foods. Food Chem 91:621–632. https://doi.org/10.1016/j.foodchem.2004.06.031

Tepe B, Daferera D, Sokmen A et al (2005) Antimicrobial and antioxidant activities of the essential oil and various extracts of Salviatomentosa Miller (Lamiaceae). Food Chem 90:333–340. https://doi.org/10.1016/j.foodchem.2003.09.013

Tyagi AK, Malik A (2011) Antimicrobial potential and chemical composition of Eucalyptusglobulus oil in liquid and vapour phase against food spoilage microorganisms. Food Chem 126:228–235. https://doi.org/10.1016/j.foodchem.2010.11.002

Valero M, Salmerón MC (2003) Antibacterial activity of 11 essential oils against Bacillus cereus in tyndallized carrot broth. Int J Food Microbiol 85:73–81. https://doi.org/10.1016/s0168-1605(02)00484-1

Xu J, Wu J, He Y (2013) Functions of natural organic matter in changing environment. Dordrecht, New York

Zijlstra TR, van de Laar Ma FJ, Bernelot Moens HJ et al (2005) Spa treatment for primary fibromyalgia syndrome: a combination of thalassotherapy, exercise and patient education improves symptoms and quality of life. Rheumatology (Oxford) 44:539–546. https://doi.org/10.1093/rheumatology/keh537
Acknowledgements
We are grateful to Dr. Brahim Dridi, President and CEO of the Biomare International Group, for the availability of samples. As an exporter, he has mitigated the lack of standards on the scale of Europe and the Mediterranean. Special thanks to Professor Mahjoub Aouni from the Laboratoire des Maladies Transmissibles et Substances Biologiquement Actives LR99ES27, Faculty of Pharmacy, University of Monastir, Monastir, Tunisia, for providing us the Vero cells (ATCC® CCL81™) used in this study.
Ethics declarations
Conflict of interest
The authors declare that they have no conflict of interest regarding the publication of this article.
Additional information
Publisher's Note
Springer Nature remains neutral with regard to jurisdictional claims in published maps and institutional affiliations.
Communicated by Erko Stackebrandt.
Electronic supplementary material
Below is the link to the electronic supplementary material.
About this article
Cite this article
Guesmi, A., Boumaiza, M. & Boudabous, A. Microbiological quality and safety of commercialized thalassotherapy products based on marine mud and algae extracts in Tunisia. Arch Microbiol (2020). https://doi.org/10.1007/s00203-020-01957-1
Received:

Revised:

Accepted:

Published:
Keywords
Thalassotherapy products

Microbiological quality

Biochemical characterization

ARDRA

Essential oils

Antibacterial activity