Abstract
A Gram-positive, endospore-forming, rod-shaped bacterium with a single flagellum, and a motile strain, designated CX253, was isolated from bioaerosols. The isolate is facultatively anaerobic, is able to grow at 25–45 ℃ (optimum 37 ℃) and pH 6.5–10.0 (optimum 7.5), and can tolerate up to 5.0% NaCl (w/v) under aerobic conditions. The diagnostic diamino acid in the cell wall of strain CX253T is meso-diaminopimelic acid, while major isoprenoid quinone is menaquinone 6 (MK-6) along with a smaller amount of MK-7 (20%). The polar lipid profile is composed of diphosphatidylglycerol, phosphatidylglycerol, phosphatidylethanolamine, phospholipids and glycolipids. The major cellular fatty acid is iso-C15:0 and anteiso-C15:0. Phylogenetic analysis based on 16S rRNA gene and genome sequence grouped strain CX253T into the genus Bacillus. The strain was most closely related to Bacillus thermotolerans CCTCC AB 2012108 T by comparison of 16S rRNA gene sequence (97.2% similarity) and to Bacillus wudalianchiensis CCTCC AB 2015266 T by comparison of gyrB gene sequence (80.1% similarity). The draft genome of strain CX253T comprised 3,929,195 bp with a G + C content of 43.3 mol%. The average nucleotide identity and digital DNA–DNA hybridization values between strain CX253T and phylogenetically related Bacillus species were lower than 95% and 70%, respectively. Thus, the polyphasic evidence generated through phenotypic, chemotaxonomic and genomic methods confirmed that strain CX253T (= GDMCC 1.1608 T = KACC 21318 T) was a novel species of the genus Bacillus, for which the name Bacillus aerolatus sp. nov. is proposed.
This is a preview of subscription content, log in to check access.
Access options
Buy single article
Instant access to the full article PDF.
US$ 39.95
Price includes VAT for USA
Subscribe to journal
Immediate online access to all issues from 2019. Subscription will auto renew annually.
US$ 199
This is the net price. Taxes to be calculated in checkout.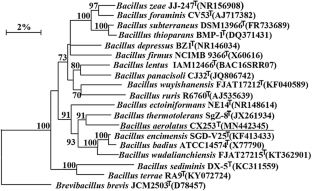 References
Auch AF, von Jan M, Klenk HP, Göker M (2010) Digital DNA-DNA hybridization for microbial species delineation by means of genome-to-genome sequence comparison. Stand Genomic Sci 2:117–134

Baker GC, Smith JJ, Cowan DA (2003) Review and reanalysis of domain-specific 16S primers. J Microbiol Methods 55:541–555

Bankevich A, Nurk S, Antipov D, Gurevich AA, Dvorkin M, Kulikov AS, Lesin VM, Nikolenko SI, Pham S, Prjibelski AD, Pyshkin AV, Sirotkin AV, Vyahhi N, Tesler G, Alekseyev MA, Pevzner PA (2012) SPAdes: a new genome assembly algorithm and its applications to single-cell sequencing. J Comput Biol 19:455–477

Cohn F (1872) Untersuchungen über Bakterien. Beitr Biol Pflanz Heft 1:127–224

Collins MD, Pirouz T, Goodfellow M, Minnikin DE (1977) Distribution of menaquinones in actinomycetes and corynebacteria. J Gen Microbiol 100:221–230

Dominguez-Moñino I, Jurado V, Gonzalez-Pimentel JL, Miller AZ, Hermosin B, Saiz-Jimenez C (2018) Bacillus onubensis sp. nov., isolated from the air of two Andalusian caves. Syst Appl Microbiol 41:167–172

Dunlap CA, Schisler DA, Perry EB, Connor N, Cohan FM, Rooney AP (2017) Bacillus swezeyi sp. nov. and Bacillus haynesii sp. nov., isolated from desert soil. Int J Syst Evol Microbiol 67:2720–2725

Faridi S, Hassanvand MS, Naddafi K, Yunesian M, Nabizadeh R, Hossein Sowlat M, Kashani H, Gholampour A, Niazi S, Zare A, Nazmara S, Alimohammadi M (2015) Indoor/outdoor relationships of bioaerosol concentrations in a retirement home and a school dormitory. Environ Sci Pollut Res Int 22:8190–8200

Guo J, Wang YQ, Yang G, Chen Y, Zhou S, Zhao Y, Zhuang L (2016) Bacillus nitroreducens sp. nov., a humus-reducing bacterium isolated from a compost. Arch Microbiol 198:347–352

Kämpfer P, Kroppenstedt RM (1996) Numerical analysis of fatty acid patterns of coryneform bacteria and related taxa. Can J Microbial 42:989–1005

Kim M, Oh HS, Park SC, Chun J (2014) Towards a taxonomic coherence between average nucleotide identity and 16S rRNA gene sequence similarity for species demarcation of prokaryotes. Int J Syst Evol Microbiol 64:346–351

Kim KH, Kabir E, Jahan SA (2018) Airborne bioaerosols and their impact on human health. J Environ Sci 67:23–35

Kumar S, Stecher G, Li M, Knyaz C, Tamura K (2018) MEGA X: molecular evolutionary genetics analysis across computing platforms. Mol Biol Evol 35:1547–1549

Liu Y, Lai Q, Dong C, Sun F, Wang L, Li G, Shao Z (2013) Phylogenetic diversity of the Bacillus pumilus group and the marine ecotype revealed by multilocus sequence analysis. PLoS ONE 8:e80097

Liu B, Liu GH, Sengonca C, Schumann P, Wang JP, Zhu YJ, Zhang HF (2017) Bacillus wudalianchiensis sp. nov., isolated from grass soils of the Wudalianchi scenic area. Int J Syst Evol Microbiol 67:2897–2902

Mawlankar R, Thorat MN, Krishnamurthi S, Dastager SG (2016) Bacillus cellulasensis sp. nov., isolated from marine sediment. Arch Microbiol 198:83–89

Meier-Kolthoff JP, Auch AF, Klenk HP, Göker M (2013) Genome sequence-based species delimitation with confidence intervals and improved distance function. BMC Bioinform 60:471–2105

Morakinyo OM, Mokgobu MI, Mukhola MS, Godobedzha T (2019) Biological composition of respirable particulate matter in an industrial vicinity in South Africa. Int J Environ Res Public Health 16:629

Park C, Lee YS, Park SY, Park W (2018) Methylobacterium currus sp. nov., isolated from a car air conditioning system. Int J Syst Evol Microbiol 68:3621–3626

Qi J, Wang B, Hao BL (2004) Whole proteome prokaryote phylogeny without sequence alignment: a K-String composition approach. J Mol Evol 58:1–11

Ranmadugala D, Grainger M, Manley-Harris M, Berenjian A (2018) Determination of menaquinone-7 by a simplified reversed phase-HPLC method. Curr Pharm Biotechnol 19:664–673

Richter M, Rosselló-Móra R (2009) Shifting the genomic gold standard for the prokaryotic species definition. Proc Natl Acad Sci USA 106:19126–19131

Schaeffer AB, Fulton MD (1933) A simplified method of staining endospores. Science 77:194–194

Shivaji S, Chaturvedi P, Begum Z, Pindi PK, Manorama R, Ananth Padmanaban D, Shouche YS, Pawar S, Vaishampayan P, Dutt CBS, Datta GN, Manchanda RK, Rao UR, Bhargava PM, Narlikar JV (2009) Janibacter hoylei sp. nov., Bacillus isronensis sp. nov. and Bacillus aryabhattai sp. nov., isolated from cryotubes used for collecting air from the upper atmosphere. Int J Syst Evol Microbiol 59:2977–2986

Singh H, Kaur M, Kaur L, Sharma S, Mishra S, Srinivas Tanuku NR, Kumar PA (2018) Bacillus lacus sp. nov., isolated from a water sample of a salt lake in India. Int J Syst Evol Microbiol 68:801–809

Sun W, Li W, Ji X, Li H, Qin K, Wei Y (2018) Cold-adapted bacterial diversity in Mingyong Glacier based on combination analysis of fatty acids and 16S rRNA gene sequence. Microbiology 87:842–847

Sun L, Chen Y, Tian W, Yao L, Chen Z, Ouyang WK (2019) Bacillus acidinfaciens sp. nov., isolated from farmland soil. Int J Syst Evol Microbiol 69:1075–1080

Thompson JD, Gibson TJ, Plewniak F, Jeanmougin F, Higgins DG (1997) The CLUSTAL_X windows interface: flexible strategies for multiple sequence alignment aided by quality analysis tools. Nucleic Acids Res 25:4876–4882

Tindall BJ (1990) A comparative study of the lipid composition of Halobacterium saccharovorum from various sources. Syst Appl Microbiol 13:128–130

Wang LT, Lee FL, Tai CJ, Kasai H (2007) Comparison of gyrB gene sequences, 16S rRNA gene sequences and DNA-DNA hybridization in the Bacillus subtilis group. Int J Syst Evol Microbiol 57:1846–1850

Wei K, Zheng YH, Li J, Shen FX, Zou ZL, Fan HQ, Li XY, Wu CY, Yao MS (2014) Microbial aerosol characteristics in highly polluted and near pristine environments featuring different climatic conditions. Earth Sci 60:1439–1447

Xu Z, Yao M (2013) Monitoring of bioaerosol inhalation risks in different environments using a six-stage Andersen sampler and the PCR-DGGE method. Environ Monit Assess 185:3993–4003

Yamamoto S, Harayama S (1995) PCR amplification and direct sequencing of gyrB genes with universal primers and their application to the detection and taxonomic analysis of Pseudomonas putida Strains. Appl Environ Microbiol 61:1104–1109

Yan D, Zhang T, Su J, Zhao LL, Wang H, Fang XM, Zhang YQ, Liu HY, Yu LY (2016) Diversity and composition of airborne fungal community associated with particulate matters in Beijing during haze and non-haze days. Front Microbiol 7:487
Acknowledgements
We thank Li Zhuang and Guiqin Yang (Guangdong Institute of Eco-Environmental and Soil Sciences) for support in reference strains and technical assistance. This work was supported by the National Science Foundation of China (NSFC 31500076), the Science and Technology Program of Guangzhou, China (201904010161) and Guangzhou Municipal Science and Technology Project (20191A011063).
Ethics declarations
Conflicts of interest
The authors declare that there are no conflicts of interest.
Additional information
Publisher's Note
Springer Nature remains neutral with regard to jurisdictional claims in published maps and institutional affiliations.
GenBank accession numbers: The GenBank accession numbers for 16S rRNA gene and genome sequence of strain CX253T are MN442345 and WEIO00000000, respectively.
Communicated by Erko Stackebrandt.
Electronic supplementary material
Below is the link to the electronic supplementary material.
About this article
Cite this article
Chen, P., Wang, D., Ren, Q. et al. Bacillus aerolatus sp. nov., a novel member of the genus Bacillus, isolated from bioaerosols in a school playground. Arch Microbiol (2020). https://doi.org/10.1007/s00203-020-01955-3
Received:

Revised:

Accepted:

Published:
Keywords
Bacillus aerolatus

Bioaerosols

16S rRNA gene sequence

Genomic taxonomy