Abstract
Methanolic extract of Artemisia pallens (MEAP) (Asteraceae) was explored as greenbiocorrosion inhibitor for mild steel 1010 in 1.5% sodium chloride environment. Bacillus megaterium SKR7 induces the development of biofilm on the metal surface and forms the pitting corrosion. MEAP was showed (25 ppm) optimum inhibition effect of biocorrosion and further corrosion rate was highly reduced (0.3335 mm/year) than the control system (0.009 mm/year). The electrochemical study has supported the results with a higher value of total resistance (34 Ω cm2) when compared to control systems. It reveals the formation of a protective layer on the metal surface and reduces the adsorption of biofilm. This was due to the antimicrobial effect of MEAP. Overall, the results recognized that MEAP used as a green corrosion inhibitor for MS 1010 with 83% inhibition efficiency.
This is a preview of subscription content, log in to check access.
Access options
Buy single article
Instant access to the full article PDF.
US$ 39.95
Price includes VAT for USA
Subscribe to journal
Immediate online access to all issues from 2019. Subscription will auto renew annually.
US$ 199
This is the net price. Taxes to be calculated in checkout.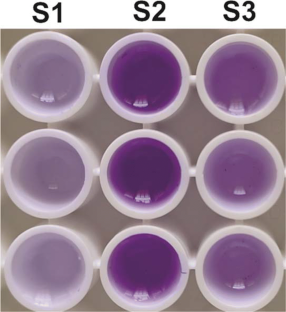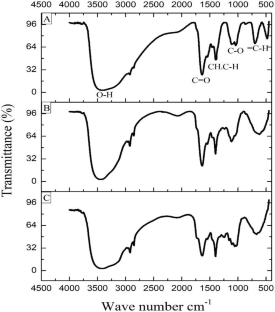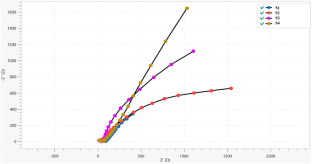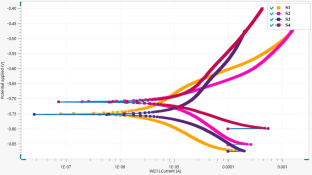 References
Abdallah M, Benoliel C, Drider D, Dhulster P, Chihib NE (2014) Biofilm formation and persistence on abiotic surfaces in the context of food and medical environments. Arch Microbiol 196(7):453–472. https://doi.org/10.1007/s00203-014-0983-1

Ahmed SA, Makki HF (2020) Corrosion behavior of mild-steel in cooling towers using high salinity solution. In: AIP Conference Proceedings 2213(1):020178. AIP Publishing LLC. doi: https://doi.org/10.1063/5.0000274

Aruliah R, Ting YP (2014) Characterization of corrosive bacterial consortia isolated from water in a cooling tower. ISRN Corrosion, Article ID 803219, p.11. doi: https://doi.org/10.1155/2014/803219

Atalah J, Blamey L, Köhler H, Alfaro-Valdés HM, Galarce C, Alvarado C, Sancy M, Páez M, Blamey JM (2020) Study of an Antarctic thermophilic consortium and its influence on the electrochemical behavior of aluminum alloy 7075–T6. Bioelectrochemistry 133:107450. https://doi.org/10.1016/j.bioelechem.2019.107450

Bail S, Buchbauer G, Schmidt E, Wanner J, Slavchev A, Stoyanova A, Denkova Z, Geissler M, Jirovetz L (2008) GC-MS-analysis, antimicrobial activities and olfactory evaluation of essential davana (Artemisia pallens Wall. ex DC) oil from India. Nat Prod Commun 3(7). doi: https://doi.org/10.1177/1934578X0800300705

Bensouda Z, Elassiri E, Galai M, Sfaira M, Farah A, Touhami ME (2018) Corrosion inhibition of mild steel in 1 M HCl solution by Artemisia Abrotanum essential oil as an eco-friendly inhibitor. J Mater Environ Sci 9:1851–1865. https://doi.org/10.26872/jmes.2018.9.6.205

Bentham RH, Broadbent CR (1995) Field trial of biocides for control of Legionella in cooling towers. Curr Microbiol 30(3):167–172. https://doi.org/10.1007/BF00296203

Bora KS, Sharma A (2011) Evaluation of antioxidant and free-radical scavenging potential of Artemisia absinthium. Pharm Biol 49(12):1216–1223. https://doi.org/10.3109/13880209.2011.578142

Bouyanzer A, Hammouti B (2004) A study of anti-corrosive effects of Artemisia oil on steel. Pigm Resin Technol. https://doi.org/10.1108/03699420410560489

Bruno WJ, Socci ND, Halpern AL (2000) Weighted neighbor joining: a likelihood-based approach to distance-based phylogeny reconstruction. Mol Biol Evol 17(1):189–197. https://doi.org/10.1093/oxfordjournals.molbev.a026231

Chauhan LR, Gunasekaran G (2007) Corrosion inhibition of mild steel by plant extract in dilute HCl medium. Corros Sci 49(3):1143–2116. https://doi.org/10.1016/j.corsci.2006.08.012

Chen C, Wang Y, Liu S, Feng R, Gu X, Qiao C (2019) Research on the application of compound microorganism preparation in reusing urban reclaimed water in circulating cooling water system. Water Sci Technol 80(9):1763–1773. https://doi.org/10.2166/wst.2019.430

Chirkunov A, Kuznetsov Y (2015) Corrosion inhibitors in cooling water systems. In: Amjad Z, Demadis KD (eds) Mineral scales and deposits: scientific and technological approaches. Elsevier, pp 85–105

Dhaidan SK, Reshan SAA, Hussain MS (2009) Assessment of phenol derivatives in cooling tower system as biocides. J Eng 15(4):4429–4437

Ford TE, Black JP, Mitchell R (1990) Relationship between bacterial exopolymers and corroding metal surfaces. Corrosion 90/110 NACE Houston

Garai S, Garai S, Jaisankar P, Singh JK, Elango A (2012) A comprehensive study on crude methanolic extract of Artemisia pallens (Asteraceae) and its active component as effective corrosion inhibitors of mild steel in acid solution. Corros Sci 60:193–204. https://doi.org/10.1016/j.corsci.2012.03.036

Garrett JH (1891) The action of water on lead, etc. HK Lewis, London

George RP, Mudali UK, Raj B (2016) Characterizing biofilms for biofouling and microbial corrosion control in cooling water systems. Anti-Corros Method M. https://doi.org/10.1108/ACMM-07-2014-1401

Gogoi PK, Barhai B (2010) Corrosion inhibition of carbon steel in open recirculating cooling water system of petroleum refinery by a multi-component blend containing zinc (II) diethyldithiocarbamate. https://nopr.niscair.res.in/handle/123456789/10000

Hsieh MK, Li H, Chien SH, Monnell JD, Chowdhury I, Dzombak DA, Vidic RD (2010) Corrosion control when using secondary treated municipal wastewater as alternative makeup water for cooling tower systems. Water Environ Res 82(12):2346–2356. https://doi.org/10.2175/106143010x12681059117094

Kalaiselvi P, Chellammal S, Palanichamy S, Subramanian G (2010) Artemisia pallens as corrosion inhibitor for mild steel in HCl medium. Mater Chem Phys 120(2–3):643–648. https://doi.org/10.1016/j.matchemphys.2009.12.015

Moura V, Ribeiro I, Moriggi P, Capão A, Salles C, Bitati S, Procópio L (2018) The influence of surface microbial diversity and succession on microbiologically influenced corrosion of steel in a simulated marine environment. Arch Microbiol 200(10):1447–1456. https://doi.org/10.1007/s00203-018-1559-2

NACE R (2005) 0775 "Preparation installation, analysis, and interpretation of corrosion coupons in oilfield operation." NACE International: standard recommended practice

Narenkumar J, Parthipan P, Nanthini AUR, Benelli G, Murugan K, Rajasekar A (2017a) Ginger extract as green biocide to control microbial corrosion of mild steel. 3 Biotech 7(2):133. https://doi.org/10.1007/s13205-017-0783-9

Narenkumar J, Sathishkumar K, Sarankumar RK, Murugan K, Rajasekar A (2017b) An anticorrosive study on potential bioactive compound produced by Pseudomonas aeruginosa TBH2 against the biocorrosive bacterial biofilm on copper metal. J Mol Liq 243:706–713. https://doi.org/10.1016/j.molliq.2017.08.075

Narenkumar J, Sathishkumar K, Selvi A, Gobinath R, Murugan K, Rajasekar A (2017c) Role of calcium-depositing bacteria Agrobacterium tumefaciens and its influence on corrosion of different engineering metals used in cooling water system. 3 Biotech 7(6):374. https://doi.org/10.1007/s13205-017-1007-z

Narenkumar J, AlSalhi MS, Arul Prakash A, Abilaji S, Devanesan S, Rajasekar A, Alfuraydi AA (2019a) Impact and role of bacterial communities on biocorrosion of metals used in the processing industry. ACS Omega 4(25):21353–21360. https://doi.org/10.1021/acsomega.9b02954

Narenkumar J, Elumalai P, Subashchandrabose S, Megharaj M, Balagurunathan R, Murugan K, Rajasekar A (2019b) Role of 2-mercaptopyridine on control of microbial influenced corrosion of copper CW024A metal in cooling water system. Chemosphere 222:611–618. https://doi.org/10.1016/j.chemosphere.2019.01.193

Parthipan P, Babu TG, Anandkumar B, Rajasekar A (2017a) Biocorrosion and its impact on carbon steel API 5LX by Bacillus subtilis A1 and Bacillus cereus A4 isolated from Indian crude oil reservoir. J Bio Tribo Corros 3(3):32. https://doi.org/10.1007/s40735-017-0091-2

Parthipan P, Narenkumar J, Elumalai P, Preethi PS, Nanthini AUR, Agrawal A, Rajasekar A (2017b) Neem extract as a green inhibitor for microbiologically influenced corrosion of carbon steel API 5LX in a hypersaline environment. J Mol Liq 240:121–127. https://doi.org/10.1016/j.molliq.2017.05.059

Parthipan P, Elumalai P, Narenkumar J, Machuca LL, Murugan K, Karthikeyan OP, Rajasekar A (2018) Allium sativum (garlic extract) as a green corrosion inhibitor with biocidal properties for the control of MIC in carbon steel and stainless steel in oilfield environments. Int Biodeter Biodegr 132:66–73. https://doi.org/10.1016/j.ibiod.2018.05.005

Pavithra KS, Annadurai J, Ragunathan R (2018) Phytochemical, antioxidant and a study of bioactive compounds from Artemisia pallens. J Pharmacogn Phytochem 7(4):664–675

Popoola LT (2019) Organic green corrosion inhibitors (OGCIs): a critical review. Corros Rev 37(2):71–102

Preethi PS, Narenkumar J, Prakash AA, Abilaji S, Prakash C, Rajasekar A, Nanthini AUR, Valli G (2019) Myco-synthesis of zinc oxide nanoparticles as potent anti-corrosion of copper in cooling towers. J Clust Sci 30(6):1583–1590. https://doi.org/10.1007/s10876-019-01600-0

Rahmani K, Jadidian R, Haghtalab S (2016) Evaluation of inhibitors and biocides on the corrosion, scaling and biofouling control of carbon steel and copper–nickel alloys in a power plant cooling water system. Desalination 393:174–185. https://doi.org/10.1016/j.desal.2015.07.026

Rajasekar A, Ting YP (2011) Role of inorganic and organic medium in the corrosion behavior of Bacillus megaterium and Pseudomonas sp. in stainless steel SS 304. Ind Eng Chem Res 50(22):12534–12541. https://doi.org/10.1021/ie200602a

Rajasekar A, Rajendran L, Maruthamuthu S, Palaniswamy N, Rajendran A (2006) Prediction of corrosion rate of steel AP5LX using curve fitting method. Zaštitamaterijala 47(4):47–50

Rajasekar A, Maruthamuthu S, Palaniswamy N, Rajendran A (2007a) Biodegradation of corrosion inhibitors and their influence on petroleum product pipeline. Microbiol Res 162(4):355–368. https://doi.org/10.1016/j.micres.2006.02.002

Rajasekar A, Ponmariappan S, Maruthamuthu S, Palaniswamy N (2007b) Bacterial degradation and corrosion of naphtha in transporting pipeline. Curr Microbiol 55(5):374–381. https://doi.org/10.1007/s00284-007-9001-z

Rajasekar A, Anandkumar B, Maruthamuthu S, Ting YP, Rahman PK (2010) Characterization of corrosive bacterial consortia isolated from petroleum-product-transporting pipelines. Appl Microbiol Biotechnol 85(4):1175–1188. https://doi.org/10.1007/s00253-009-2289-9

Rani BE, Basu BBJ (2012) Green inhibitors for corrosion protection of metals and alloys: an overview. Intern J Corros. https://doi.org/10.1155/2012/380217

Rochdi A, Kassou O, Dkhireche N, Touir R, El Bakri M, Touhami ME, Sfaira M, Mernari B, Hammouti B (2014) Inhibitive properties of 2, 5-bis (n-methylphenyl)-1, 3, 4-oxadiazole and biocide on corrosion, biocorrosion and scaling controls of brass in simulated cooling water. Corros Sci 80:442–452. https://doi.org/10.1016/j.corsci.2013.11.067

Rodriguez-Leiva M, Tributsch H (1988) Morphology of bacterial leaching patterns by Thiobacillusferrooxidans on synthetic pyrite. Arch Microbiol 149(5):401–405. https://doi.org/10.1007/bf00425578

Matt Schnepf. (2018). Identifying types of corrosion in water systems. Retrieved May 2020. https://www.chemaqua.com/en-us/Blog/identifying-types-of-corrosion-in-water-systems-1

Selvi A, Ananthaselvam A, Narenkumar J, Prakash AA, Madhavan J, Rajasekar A (2019) Effect of nano-zerovalent iron incorporated polyvinyl-alginate hybrid hydrogel matrix on inhibition of corrosive bacteria in a cooling tower water environment. SN Appl Sci 1(5):424. https://doi.org/10.1007/s42452-019-0443-2

Shi X (2010) On the use of nanotechnology to manage steel corrosion. Recent Pat Eng 4(1):44–50. https://doi.org/10.2174/187221210790244730

Soares SS, Souza TK, Berté FK, Cantarelli VV, Rott MB (2017) Occurrence of infected free-living amoebae in cooling towers of Southern Brazil. Curr Microbiol 74(12):1461–1468. https://doi.org/10.1007/s00284-017-1341-8

Telegdi J, Shaban A, Trif L (2020) Review on the microbiologically influenced corrosion and the function of biofilms. Int J Corros Scale Inhib 9(1):1–33. https://doi.org/10.17675/2305-6894-2020-9-1-1

Tewari R, Mehta SK, Vaishnav P (2019) Influence of microbes in cooling tower: a review. Int Res J Eng Technol 6(8):376–383

Xu P, Xu Z, Wang J, Zhang Y, Liu T (2012) Microbiological induced corrosion on brass in recycling cooling water system makeup by reclaimed water. Mat Sci Appl 3(4):253–258. https://doi.org/10.4236/msa.2012.34037

Yadav PNS, Singh AK, Wadhwani R (1999) Role of hydroxyl group in the inhibitive action of benzoic acid toward corrosion of aluminum in nitric acid. Corrosion 55(10):937–941. https://doi.org/10.5006/1.3283929

Zadvorny OA, Zorin NA, Gogotov IN (2006) Transformation of metals and metal ions by hydrogenases from phototrophic bacteria. Arch Microbiol 184(5):279–285. https://doi.org/10.1007/s00203-005-0040-1

Zobell CE (1943) The effect of solid surfaces upon bacterial activity. J bacterial Res 46(1):39
Acknowledgements
The authors are grateful to the researchers supporting project number (RSP-2020/68), King Saud University, Riyadh, Saudi Arabia.
Ethics declarations
Conflict of interest
All the authors listed in the manuscript declare no conflict of interest in this publication. The tannery cooling tower water and biofilm samples were collected from the authorities of Ranipet tannery effluent treatment Co. Ltd., Tamil Nadu, India with proper permission.
Additional information
Publisher's Note
Springer Nature remains neutral with regard to jurisdictional claims in published maps and institutional affiliations.
Communicated by Erko Stackebrandt.
About this article
Cite this article
Kokilaramani, S., AlSalhi, M.S., Devanesan, S. et al. Bacillus megaterium-induced biocorrosion on mild steel and the effect of Artemisia pallens methanolic extract as a natural corrosion inhibitor. Arch Microbiol (2020). https://doi.org/10.1007/s00203-020-01951-7
Received:

Revised:

Accepted:

Published:
Keywords
Biocorrosion

Mild steel

Bacterial community

Electrochemical studies