Abstract
The objective is to compare the electrical performance of a tubular barrier made of silicone and glass protecting an air gap with an alternating electric field. This investigation is focused on rod–rod and rod–plane electrode systems with variable interelectrode distance. An experimental device consists of wooden support in U shape. The air space disruption tests of the two systems with tubular barriers were supported by a visualization of the path of their electrical rupture. A disruption model of a non-uniform electric field air gap was developed in this study. Using the experimental results of dielectric breakdown of the considered systems, this model characterizes the flashover voltage as a function of the barrier insulation's nature. In addition, it allows an easy comparison of its electrical insulation capacity under these conditions. Under pollution, no protection is provided by a glass barrier to the two systems due to the highly conductive behaviour of the pollution layer covering its surface. On the other hand, that offered by a tubular silicone barrier is by far the best because of the flashover discharge's presence on its surface under these conditions. In a clean and dry atmosphere, the electrical insulation power of the systems is more efficient with a silicone barrier than with a glass one, because of its more advantageous dielectric properties and its lightness.
Access options
Buy single article
Instant access to the full article PDF.
US$ 39.95
Tax calculation will be finalised during checkout.
Subscribe to journal
Immediate online access to all issues from 2019. Subscription will auto renew annually.
US$ 79
Tax calculation will be finalised during checkout.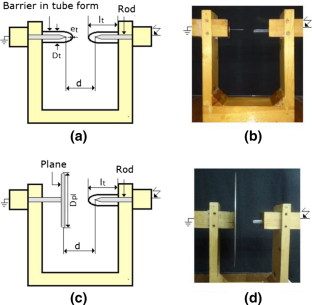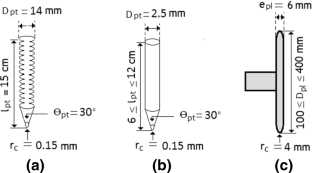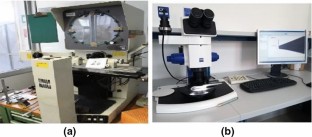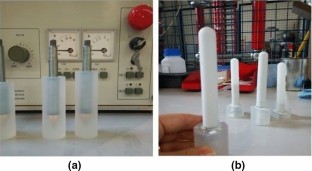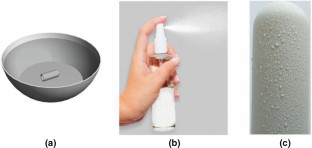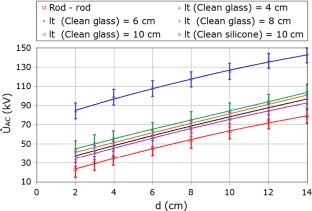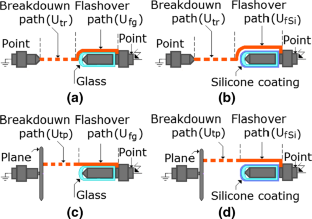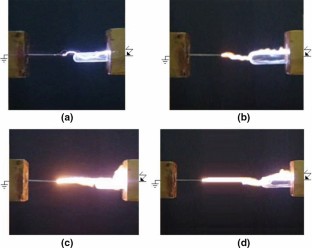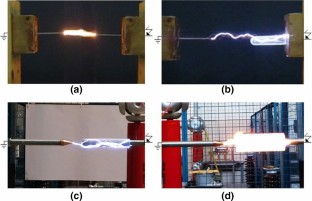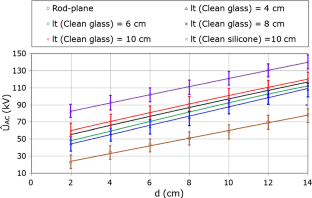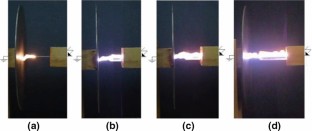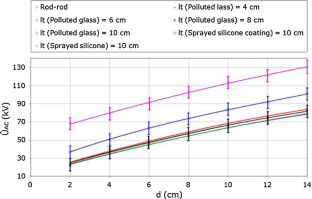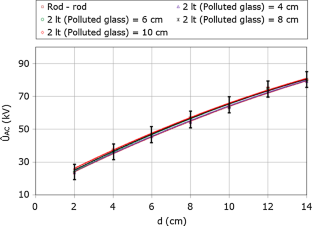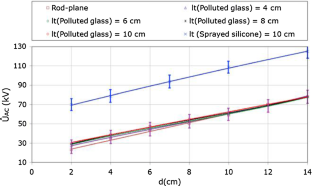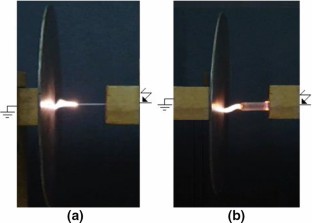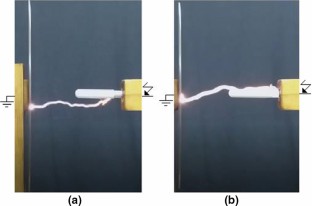 References
1.

Böhme H, Schwarzer K (1974) Isolierungen von Mittelspannungsschalt-Anlagen. Elektrie 28(11):592–593

2.

Pilling J (1967) Luftisolierungen mit Isolierstoffbarrieren und—Verkleidungen bei Wechselspannung. Dissertation A, Technische Universität Dresden

3.

Ming L, Bengston T (1995) Factors influencing barrier effects in air-gaps. In: Proceedings of 9th ISHVE, Austria, pp 1–4

4.

Scolova MV, Zhukov AN (1995) Influence of barrier surface properties on the discharge in a narrow gas gap. In: Proceedings of 9th ISHVE, Austria, pp 1–4

5.

Boudissa R, Harid N, Baersch R (2011) Effect of surface condition and isolation mode on the efficiency of a barrier inserted in nonuniform electric field under AC voltage. In: Proceedings of 17th ISHVE, Germany

6.

Awad A, Böhme H (1977) Durchschlagspannung inhomogener Funkenstrecken mit verschmutzten Barrieren. Elektrie 31(H1):35–38

7.

Awad M (1975) Durchschlag von inhomogenen Luftfunkenstrecken mit verschmutzten Isolierstoffbarrieren bei Wechsel—und Schaltspannungen. Dissertation A, Technische Universität Dresden

8.

Boudissa R, Merabet S, Iouknane S (2013) Effect of isolation mode and surface condition of an insulating barrier on the performance of a non-uniform field electrode system under positive DC voltage. IEEE Trans Dielectr Electr Insul 20(5):1523–1529

9.

Boudissa R, Bayadi A, Baersch R (2014) AC performance of silicone and glass barriers in clean and polluted atmosphere. Electr Power Syst Res 108:170–177

10.

Belhoul T, Boudissa R, Haim KD (2017) Comparison of the performance of silicone and glass barriers under direct current and very severe conditions of pollution. IEEE Trans Dielectr Electr Insul 24(1):471–482

11.

Hackam R (1999) Outdoor HV composite polymeric insulators. IEEE Trans Dielectr Electr Insul 6(5):557–5585

12.

Cherney EA, Gorur RS (1999) RTV silicone rubber coatings for outdoor insulators. IEEE Trans Dielectr Electr Insul 6(5):605–611

13.

Küchler A (2009) Hochspannungstechnik: Grundlagen-Technologie-Anwendungen, 3. Neu bearbeitete Auflage. Springer, Berlin

14.

Karady GG (1999) Flashover mechanism of non-ceramic insulators. IEEE Trans Dielectr Electr Insul 6(5):718–723

15.

Zhu Y, Haji K, Otsubo M, Honda C, Hayashi N (2006) Electrohydrodynamic behaviour of water droplet on an electrically stressed hydrophobic surface. J Appl Phys 39:1970–1975

16.

Phillips AJ, Childs DJ, Schneider HM (1999) Aging of non-ceramic insulator due to corona from water drops. IEEE Trans Power Deliv 14(3):258–263

17.

Rowland SM, Lin FC (2006) Stability of alternating current discharges between water drops on insulation surfaces. J Appl Phys 39:3067–3076

18.

Swift DA, Spellman C, Haddad A (2006) Hydrophobicity transfer from silicone rubber to adhering pollutants and its effect on insulator performance. IEEE Trans Dielectr Electr Insul 13(4):820–829

19.

Benziada MA, Boubakeur A, Mekhaldi A (2018) Numerical simulation of the electric field distribution in point–barrier–plane air gaps. IEEE Trans Dielectr Electr Insul 25(6):2093–2102

20.

Lebedev SM, Gefle OS, Pokholkov YP (2005) The barrier effect in dielectrics: the role of interfaces in the breakdown of inhomogeneous dielectrics. IEEE Trans Dielectr Electr Insul 12(3):537–555

21.

Merabet S, Boudissa R, Slimani S, Bayadi A (2014) Optimisation of the dielectric strength of a non-uniform electric field electrode system under positive DC voltage by insertion of multiple barriers. IEEE Trans Dielectr Electr Insul 21:74–79

22.

Beroual A, Boubakeur A (1991) Influence of barriers on the lightning and switching impulse strength of mean air gaps in point/plane arrangements. IEEE Trans Electr Insul 26(6):1130–1139

23.

Messad S, Bouchelga F, Boudissa R, Kornhuber S, Haim KD (2019) Electrical performance of rod–plane system with silicone tubular barrier under DC voltage and any atmosphere. In: Conference silicone insulation (CSI). Wacker Academy, München

24.

Mavroidis PN, Micropoulos PN, Stassinopoulos CA (2012) Impulse behavior of dielectric-covered rod–plane air gaps. IEEE Trans Dielectr Electr Insul 19(2):632–640

25.

Belhoul T (2019) 'Performance d'un intervalle d'air à champ électrique non uniforme avec barrière isolante à géométrie variable sous atmosphère quelconque', thèse de doctorat en sciences Université A. Mira de Béjaia, Algérie

26.

Päsold G, Baersch R, Mauroux JC, Schoenemann T (2008) Elektrisches Verhalten von polymeren Isolierstoffoberflächen unter erschwerten klimatischen Innenraumbedingungen. In: ETG—Fachbericht No. 112. VDE-Verlag, pp 27–34

27.

IEC 60507:2013 (2013) Artificial pollution tests on high-voltage insulators to be used on AC systems, 3rd edn. IEC, Geneva

28.

IEC-TS 62073 (2016) Guidance on the measurement of hydrophobicity of insulator surfaces. IEC, Geneva

29.

IEC 60060-1 (2010) High-voltage test techniques—part 1: general definitions and test requirements. IEC, Geneva

30.

Phillipow E (1982) Systems of electrical power engineering, Taschenbuch Elektrotechnik, vol 6, Hoschspannungstechnik, Carl Hanser, VEB Verl, Berlin, Muenchen, Wien

31.

Karra A, Kalenderli O, Mardikyan K (2006) Effect of dielectric barriers to the electric field of rod plane air gap. In: Procceding of the COMSOL users conference. Prague
Acknowledgements
The authors would like to express their deepest gratitude to all the members of the HV laboratory of Bejaia and the General Directorate of Scientific Research and Technological Development as a sponsoring institution. The authors are also extremely grateful to the members of the laboratory of HV in Zittau, Germany.
Additional information
Publisher's Note
Springer Nature remains neutral with regard to jurisdictional claims in published maps and institutional affiliations.
About this article
Cite this article
Belhoul, T., Bouchelga, F., Boudissa, R. et al. Small air gap's performance under non-uniform electrical field with silicone tubular barriers under AC voltage. Electr Eng (2021). https://doi.org/10.1007/s00202-021-01227-3
Received:

Accepted:

Published:
Keywords
Rod–plane

Rod–rod

Tubular barriers

Severe pollution

Water drops

Electrical discharge

AC voltage