Abstract
In this paper, a predictive current control technique is utilized to generate switching pulses for four-leg-shunt active power filter (FL-shunt active power filter). The d-q theory technique is executed for removing the reactive and harmonic components of load current. MATLAB-based simulation and FPGA-controlled experimentation have been carried out to evaluate the behavior of predictive current control technique under dynamic and heterogeneous loading conditions. The 3-phase induction machine is considered as a dynamic load, and the capability of FL-shunt active power filter is assessed for compensating the reactive power. The compensation behavior of FL-shunt active power filter is observed with heterogeneous load, which is an amalgamation of dynamic and unstable static loads. Under steady-state and transient conditions, the simulation and experimentation results demonstrate that the proposed technique makes the supply current sinusoidal as well as balanced; compensates the reactive power; maintains near to unity power factor at the point of common coupling (PCC); and annuls the current flow in neutral conductor.
Access options
Buy single article
Instant access to the full article PDF.
US$ 39.95
Tax calculation will be finalised during checkout.
Subscribe to journal
Immediate online access to all issues from 2019. Subscription will auto renew annually.
US$ 79
Tax calculation will be finalised during checkout.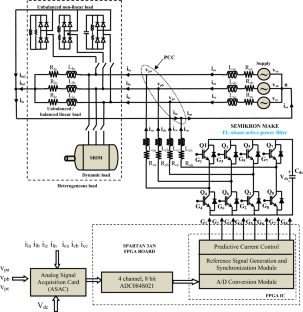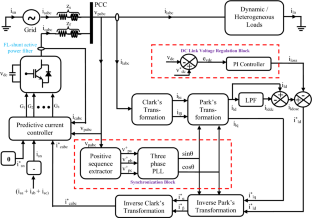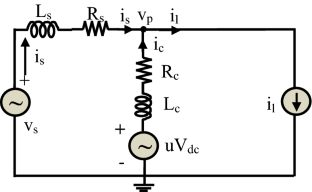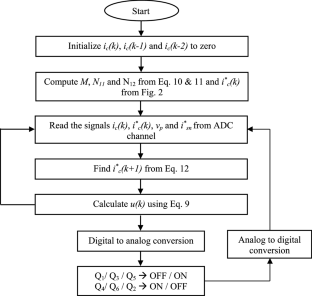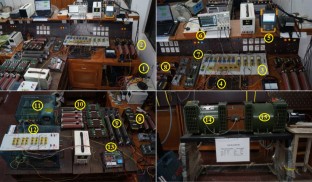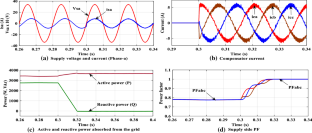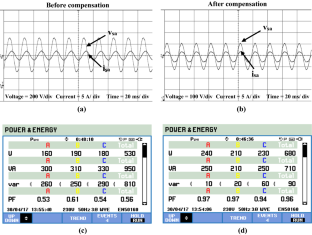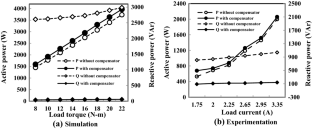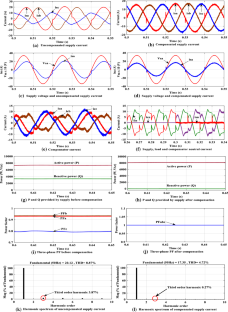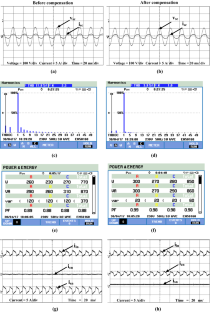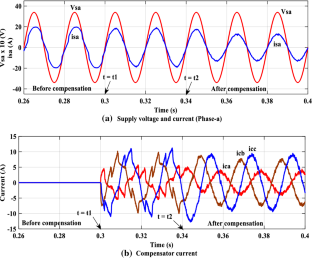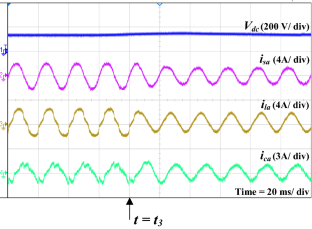 References
1.

Singh B, Chandra A, Al-Haddad K (2015) Power quality: problems and mitigation techniques. West Sussex, U.K., Wiley

2.

Chen H, Cramer AM, Liu X (2016) Average-value modeling of hysteresis current controlled three-phase inverters. Electr Power Compon Syst 44(6):93–700

3.

Venkatraman K, Selvan MP, Moorthi S (2016) Predictive current control of distribution static compensator for load compensation in distribution system. IET Gener Transm Distrib 10(10):2410–2423

4.

Yaramasu V, Rivera M, Wu B, Rodriguez J (2013) Model predictive current control of two-level four-leg inverters-Part I: Concept, algorithm, and simulation analysis. IEEE Trans Power Electron 28(7):3459–3468

5.

Golwala H, Chudamani R (2016) New three-dimensional space vector-based switching signal generation technique without null vectors and with reduced switching losses for a grid-connected four-leg inverter. IEEE Trans Power Electron 31(2):1026–1035

6.

Chen H, Xu F, Xi Y (2012) Field programmable gate array/system on a programmable chip-based implementation of model predictive controller. IET Control Theory and Appl 6(8):1055–1063

7.

Karami A, Mahmoodi Galougahi K (2019) Improvement in power system transient stability by using STATCOM and neural networks. Electr Eng 101:19–33

8.

Bharadwaj A, Maiti S, Dhal N, Chakraborty S (2019) Control and sizing of modular multilevel converter-based STATCOM with hybrid energy storage system for large-scale integration of wind farms with the grid. Electr Eng 101:743–757

9.

Cristian AS, Munoz JA, Espinoza JR, Figueroa ME, Melin PE (2013) All-on-chip-frame based D-STATCOM control implementation in a low-cost FPGA. IEEE Trans Ind Electron 60(2):659–669

10.

Azazi HZ, El-Kholy EE, Mahmoud SA, Shokralla SS (2014) Power factor correction using predictive current control for three-phase induction motor drive system. Electr Power Compon Syst 42(2):190–202

11.

Arab Markadeh G, Soltani J (2006) Robust direct torque and flux control of adjustable speed sensorless induction machine drive based on space vector modulation using a PI predictive controller. Electr Eng 88:485–496

12.

Kumar C, Mishra MK (2015) Predictive Voltage control of transformer less dynamic Voltage restorer. IEEE Trans Ind Electron 62(5):2693–2697

13.

Abdelrahem M, Hackl CM, Kennel R (2017) Simplified model predictive current control without mechanical sensors for variable-speed wind energy conversion systems. Electr Eng 99:367–377

14.

Sepulveda CA, Munoz JA, Espinoza JR, Figueroa ME, Baier CR (2013) FPGA v/s DSP Performance comparison for a VSC-based STATCOM control application. IEEE Trans Ind Inform 9(3):1351–1360

15.

Urkovic MC, Jezernik K, Horvat R (2013) FPGA-based predictive sliding mode controller of a three-phase inverter. IEEE Trans Ind Electron 60(2):637–644

16.

Venkatraman K, Moorthi S, Selvan MP, Raja P, Deepa K (2015) Performance evaluation of FPGA controlled DSTATCOM for load compensation. Arab J Sci Eng 41(9):3355–3367

17.

Sanchez PM, Machado O, Pena EJB, Rodriguez FJ, Meca FJ (2013) FPGA-based implementation of a predictive current controller for power converters. IEEE Trans Ind Inform 9(3):1312–1321

18.

Vyncke T, Thielemans S, Melkebeek J (2013) Finite-set model based predictive control for flying capacitor converters: cost function design and efficient FPGA implementation. IEEE Trans Ind Inform 9(2):1113–1121

19.

Morales-Caporal M, Rangel-Magdaleno J, Peregrina-Barreto H, Morales-Caporal R (2018) FPGA-in-the-loop simulation of a grid-connected photovoltaic system by using a predictive control. Electr Eng 100:1327–1337

20.

Latran MB, Teke A, Yoldas Y (2015) Mitigation of power quality problems using distribution static synchronous compensator: a comprehensive review. IET Power Electron 8(7):1312–1328

21.

George V, Mishra MK (2010) DSTATCOM topologies for three-phase high power Applications. Int J Power Electron 2(2):107–124

22.

Dheepanchakkravarthy A, Venkatraman K, Selvan MP, Moorthi S, Venkatakirthiga M (2016) Capability Evaluation of Four-leg DSTATCOM for Compensating Multifarious Loads. Aust J Electr Electron Eng 13(4):229–243

23.

Singh B, Arya SR, Jain C, Goel S (2014) Implementation of four-leg distribution static compensator. IET Gener Transm Distrib 8(6):1127–1139

24.

Hemeida MG, Rezk H, Hamada MM (2018) A comprehensive comparison of STATCOM versus SVC-based fuzzy controller for stability improvement of wind farm connected to multi-machine power system. Electr Eng 100:935–951

25.

Dheepanchakkravarthy A, Akhil S, Venkatraman K, Selvan MP, Moorthi S (2018) Performance analysis of FPGA controlled four-leg DSTATCOM for multifarious load compensation in electric distribution system. J Eng Sci tech 21:692–703

26.

Carrasco G, Silva CA, Pena R, Cardenas R (2015) Control of a four-leg converter for the operation of a DFIG feeding stand-alone unbalanced loads. IEEE Trans Ind Electron 62(7):4630–4640

27.

Badoni M, Singh A, Singh B (2015) Design and implementation of adaptive neuro –fuzzy inference system based control algorithm for distribution static compensator. Electr Power Compon Syst 43(15):1741–1751

28.

Mustafa I, Kamil CB, Mehmet T (2016) Improved synchronous reference frame based controller method for multifunctional compensation. Electr Power Syst Res 141:500–509

29.

Venkatraman K, Selvan MP, Moorthi S (2017) Predictive current control of DSTATCOM for VAR compensation of grid connected wind farms. J Renewable Sustain Energy 9:023301

30.

Dionisio Barros J, Fernando A, Silva J, Jesus EGA (2013) Fast-Predictive Optimal Control of NPC Multilevel Converters. IEEE Trans Ind Electron 60(2):619–627

31.

Chaves M, Margato E, Silva JF, Pinto SF, Santana J (2011) HVDC transmission systems: bipolar back-to-back diode clamped multilevel converter with fast optimum-predictive control and capacitor balancing strategy. Electr Power Syst Res 81(7):1436–1445
Additional information
Publisher's Note
Springer Nature remains neutral with regard to jurisdictional claims in published maps and institutional affiliations.
About this article
Cite this article
Azhagesan, D., Periyasamy, M., Manickavasagam Parvathy, S. et al. Predictive current control of FL-shunt active power filter for dynamic and heterogeneous load compensation. Electr Eng (2021). https://doi.org/10.1007/s00202-021-01224-6
Received:

Accepted:

Published:
Keywords
Predictive current control

FL-shunt active power filter

FPGA

Heterogeneous load