Abstract
A rotor retaining sleeve is mechanically necessary in the structure of high-speed SPM machines to prevent structural failure. However, the significant eddy current loss within metal sleeves leads to a reduction in electromagnetic efficiency and serious thermal and mechanical issues. Therefore, several techniques and methods have been proposed and developed to reduce such losses. In this paper, a helical retaining sleeve is proposed to reduce losses by cutting the flow path of the eddy currents. Using FEA, a comparison is made of the electromagnetic and mechanical performance of the proposed sleeve against a conventional sleeve having the same material and dimensions. It is concluded that the eddy current loss reduces significantly when the helical sleeve is used, whereas the mechanical stress is broadly unchanged in the central region of the rotor with only a small increase around the ends when compared with the conventional sleeve.
Access options
Buy single article
Instant access to the full article PDF.
US$ 39.95
Tax calculation will be finalised during checkout.
Subscribe to journal
Immediate online access to all issues from 2019. Subscription will auto renew annually.
US$ 79
Tax calculation will be finalised during checkout.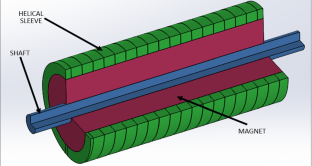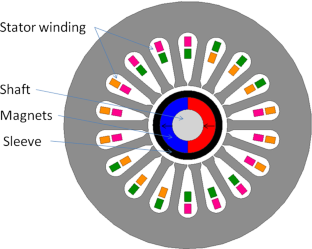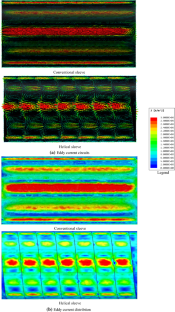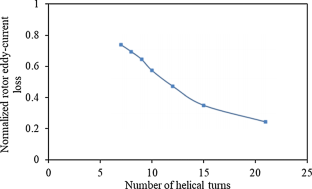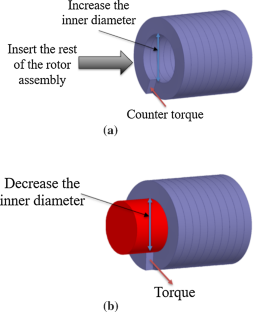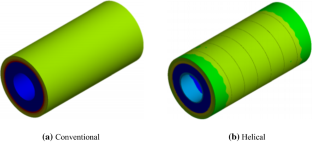 References
1.

Soong WL, Kliman GB, Johnson RN, White RA, Miller JE (2000) Novel high-speed induction motor for a commercial centrifugal compressor. IEEE Trans Ind Appl 36(3):706–713

2.

Zwyssig C, Round SD, Kolar JW (2008) An ultra high-speed, low power electrical drive system. IEEE Trans Industr Electron 55(2):577–585

3.

Schwager LL, Tüysüz A, Zwyssig C, Kolar JW (2014) Modelling and comparison of machine and converter losses for PWM and PAM in highspeed drives. IEEE Trans IndAppl 50(2):995–1006

4.

Al-ani MMJ, Carter J, Jupp M (2016) Comparison of electromagnetic performance and power losses of a high-speed machine fed by PWM and PAM inverter strategies. In: 8th IET international conference on power electronics, machines, drives (PEMD), Glasgow, p 1

5.

Kawabata T, Higashino S (1988) Parallel operation of voltage source inverters. IEEE Trans Ind Appl 24(2):281–287

6.

Su GJ, Tang L (2012) A segmented traction drive system with a small dc bus capacitor. In: IEEE energy conversion congress and exposition (ECCE), Raleigh, pp 2847–2853

7.

Papini L, Raminosoa T, Gerada D, Gerada C (2014) A high-speed permanent-magnet machine for fault-tolerant drivetrains. IEEE Trans Ind Electron 61(6):3071–3080

8.

Zhu ZQ, Azar Z, Ombach G (2012) Influence of additional air gaps between stator segments on cogging torque of permanent-magnet machines having modular stators. IEEE Trans Magn 48(6):2049–2055

9.

Markovic M, Perriard Y (2008) Analytical solution for rotor eddy-current losses in a slotless permanent-magnet motor: the case of current sheet excitation. IEEE Trans Magn 44(3):386–393

10.

Zhou F, Shen J, Fei W, Lin R (2006) Study of retaining sleeve and conductive shield and their influence on rotor loss in high-speed PM BLDC motors. IEEE Trans Magn 42(10):3398–3400

11.

Ede JD, Atallah K, Jewell GW, Wang JB, Howe D (2007) Effect of axial segmentation of permanent magnets on rotor loss in modular permanent-magnet brushless machines. IEEE Trans IndAppl 43(5):1207–1213

12.

Li J, Qu R, Cho Y, Li D (2015) Reduction of eddy-current losses by circumferential and radial PM segmentation in axial flux permanent magnet machines with fractional-slot concentrated winding. In: 2015 IEEE magnetics conference (INTERMAG), Beijing, p 1

13.

Zhang F, Du G, Wang T, Liu G, Cao W (2015) Rotor retaining sleeve design for a 1.12-MW high-speed PM machine. IEEE Trans IndAppl 51(5):3675–3685

14.

Shah MR, EL-Refaie AM (2009) Eddy-current loss minimization in conducting sleeves of surface PM machine rotors with fractional-slot concentrated armature windings by optimal axial segmentation and copper cladding. IEEE Trans IndAppl 45(2):720–728

15.

Shen JX, Hao H, Jin MJ, Yuan C (2013) Reduction of rotor eddy current loss in high speed PM brushless machines by grooving retaining sleeve. IEEE Trans Magn 49(7):3973–3976

16.

Jun HW, Lee J, Lee HW, Kim WH (2015) Study on the optimal rotor retaining sleeve structure for the reduction of eddy-current loss in highspeed SPMSM. IEEE Trans Magn 51(3):1–4
Additional information
Publisher's Note
Springer Nature remains neutral with regard to jurisdictional claims in published maps and institutional affiliations.
About this article
Cite this article
Al-ani, M., Barrans, S. Helical retaining sleeve for eddy current loss reduction in high-speed SPM machine. Electr Eng (2021). https://doi.org/10.1007/s00202-021-01218-4
Received:

Accepted:

Published:
Keywords
Eddy current

High-speed machine

Loss reduction

Mechanical stress

PM machine

SPM machine

Retaining sleeve