Abstract
The authors present a rare case of multiple vertebral compression fractures in a young female with iatrogenic glucocorticoid-induced Cushing syndrome and concomitant human immunodeficiency virus (HIV) infection. Both long-term steroid use and HIV infection may lead to osteopenia or even osteoporosis. Multiple vertebral fractures in young patients are very uncommon and should alert the examiner to investigate any underlying cause. Treatment choices include pharmacological agents such as bisphosphonates or parathyroid hormone and even surgical interventions such as percutaneous vertebroplasty.
Access options
Buy single article
Instant access to the full article PDF.
US$ 39.95
Tax calculation will be finalised during checkout.
Subscribe to journal
Immediate online access to all issues from 2019. Subscription will auto renew annually.
US$ 119
Tax calculation will be finalised during checkout.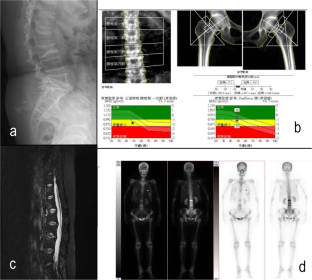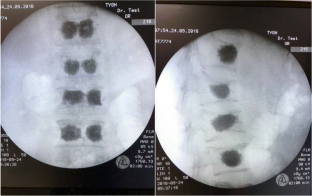 Availability of data and material
References
1.

Wong SPY, Mok CC (2020) Management of glucocorticoid-related osteoporotic vertebral fracture. Osteoporos Sarcopenia. 6(1):1–7

2.

Adami G, Saag KG (2019) Glucocorticoid-induced osteoporosis update. Curr Opin Rheumatol. 31(4):388–393

3.

van Staa TP, Leufkens HG, Cooper C (2002) The epidemiology of corticosteroid-induced osteoporosis: a meta-analysis. Osteoporos Int. 13(10):777–787

4.

LeBlanc CM, Ma J, Taljaard M et al (2015) Incident vertebral fractures and risk factors in the first three years following glucocorticoid initiation among pediatric patients with rheumatic disorders. J Bone Miner Res. 30(9):1667–1675

5.

Buckley L, Guyatt G, Fink HA, Cannon M, Grossman J, Hansen KE, Humphrey MB, Lane NE, Magrey M, Miller M, Morrison L, Rao M, Byun Robinson A, Saha S, Wolver S, Bannuru RR, Vaysbrot E, Osani M, Turgunbaev M, Miller AS, McAlindon T (2017) 2017 American College of Rheumatology Guideline for the Prevention and Treatment of Glucocorticoid-Induced Osteoporosis. Arthritis Care Res (Hoboken). 69(8):1095–1110

6.

Compston J, Cooper A, Cooper C et al (2017) UK clinical guideline for the prevention and treatment of osteoporosis. Arch Osteoporos. 12(1):43

7.

Lekamwasam S, Adachi JD, Agnusdei D et al (2012) A framework for the development of guidelines for the management of glucocorticoid-induced osteoporosis. Osteoporos Int. 23(9):2257–2276

8.

Saag KG, Shane E, Boonen S, Marín F, Donley DW, Taylor KA, Dalsky GP, Marcus R (2007) Teriparatide or alendronate in glucocorticoid-induced osteoporosis. N Engl J Med. 357(20):2028–2039

9.

Balasubramanian A, Wade SW, Adler RA, Lin CJF, Maricic M, O'Malley CD, Saag K, Curtis JR (2016) Glucocorticoid exposure and fracture risk in patients with new-onset rheumatoid arthritis. Osteoporos Int. 27(11):3239–3249

10.

Walker Harris V, Brown TT (2012) Bone loss in the HIV-infected patient: evidence, clinical implications, and treatment strategies. J Infect Dis 205(Suppl 3):S391–S398

11.

Brown TT, McComsey GA, King MS, Qaqish RB, Bernstein BM, da Silva BA (2009) Loss of bone mineral density after antiretroviral therapy initiation, independent of antiretroviral regimen. J Acquir Immune Defic Syndr. 51(5):554–561

12.

Grant PM, Kitch D, McComsey GA et al (2013) Low baseline CD4+ count is associated with greater bone mineral density loss after antiretroviral therapy initiation. Clin Infect Dis. 57(10):1483–1488

13.

Brown TT, Moser C, Currier JS, Ribaudo HJ, Rothenberg J, Kelesidis T, Yang O, Dubé MP, Murphy RL, Stein JH, McComsey GA (2020) Erratum to: Changes in bone mineral density after initiation of antiretroviral treatment with tenofovir disoproxil fumarate/emtricitabine plus atazanavir/ritonavir, darunavir/ritonavir, or raltegravir. J Infect Dis. 221(12):2083–2084

14.

Elliot ER, Theodoraki A, Jain LR, Marshall NJ, Boffito M, Baldeweg SE, Waters LJ (2016) Iatrogenic Cushing's syndrome due to drug interaction between glucocorticoids and the ritonavir or cobicistat containing HIV therapies. Clin Med (Lond). 16(5):412–418

15.

Saberi P, Phengrasamy T, Nguyen DP (2013) Inhaled corticosteroid use in HIV-positive individuals taking protease inhibitors: a review of pharmacokinetics, case reports and clinical management. HIV Med. 14:519–529

16.

Kedem E, Shahar E, Hassoun G, Pollack S (2010) Iatrogenic Cushing's syndrome due to coadministration of ritonavir and inhaled budesonide in an asthmatic human immunodeficiency virus infected patient. J Asthma. 47:830–831

17.

Yombi JC, Maiter D, Belkhir L et al (2008) Iatrogenic Cushing's syndrome and secondary adrenal insufficiency after a single intra-articular administration of triamcinolone acetonide in HIV-infected patients treated with ritonavir. Clin Rheumatol 27(Suppl 2):S79–S82

18.

Schwarze-Zander C, Klingmuller D, Klumper J et al (2013) Triamcinolone and ritonavir leading to drug-induced Cushing syndrome and adrenal suppression: description of a new case and review of the literature. Infection. 41:1183–1187

19.

Alidoost M, Conte GA, Agarwal K, Carson MP, Lann D, Marchesani D (2020) Iatrogenic Cushing's syndrome following intra-articular triamcinolone injection in an HIV-infected patient on cobicistat presenting as a pulmonary embolism: case report and literature review. Int Med Case Rep J. 13:229–235

20.

Trout AT, Kallmes DF, Kaufmann TJ (2006) New fractures after vertebroplasty: adjacent fractures occur significantly sooner. AJNR Am J Neuroradiol. 27(1):217–223

21.

Sun HL, Li CD, Zhu JL et al (2015) Beijing Da Xue Xue Bao Yi Xue Ban. 47(2):242–247
Ethics declarations
Conflicts of interest
None.
Additional information
Publisher's note
Springer Nature remains neutral with regard to jurisdictional claims in published maps and institutional affiliations.
About this article
Cite this article
Hsu, HE., Hsu, YP. & Yu, CH. Multiple vertebral compression fractures in a human immunodeficiency virus-positive patient with glucocorticoid-induced Cushing syndrome treated with percutaneous vertebroplasty: a case report. Osteoporos Int (2021). https://doi.org/10.1007/s00198-021-05880-z
Received:

Accepted:

Published:
Keywords
Cushing syndrome

Human immunodeficiency virus

Osteoporosis

Percutaneous vertebroplasty

Vertebral compression fracture