Abstract
Summary
This meta-analysis evaluated the evidence for the use of parathyroid hormone (PTH) analogues to improve fracture healing. Eligible studies were prospective randomised controlled trials of adults with acute fractures treated with a PTH analogue. PTH improved functional outcomes but did not affect fracture healing rate or reduce pain.
Purpose
This meta-analysis evaluated the evidence of parathyroid hormone (PTH) analogues in fracture healing. The use of PTH analogues to prevent osteoporotic fractures is well investigated, and studies are emerging on extended indications. One such indication receiving increasing attention is the effect of PTH in fracture healing; however, the overall degree of efficacy remains inconclusive.
Methods
A systematic electronic database search of MEDLINE, EMBASE and the Cochrane Library was conducted for relevant articles in August 2019 with no date restrictions. Randomised controlled trials of adults with acute fractures treated with a PTH analogue were included. PTH was compared with a comparator intervention, placebo or no treatment.
Results
PTH analogue treatment improved functional outcomes in a range of fracture types but did not affect the fracture healing rate or reduce pain. Most trials included in this review were in elderly patients with osteoporosis. There was no evidence that PTH treatment caused harm or impeded fracture healing.
Conclusions
Meta-analysis of published data supports the use of PTH analogues to improve functional outcomes but not fracture healing rate or pain for different fracture types. The evidence for PTH analogue use in fracture healing is less clear in younger, non-osteoporotic patient populations. Trial design was heterogeneous and of limited quality, justifying further original trials.
Access options
Buy single article
Instant access to the full article PDF.
US$ 39.95
Tax calculation will be finalised during checkout.
Subscribe to journal
Immediate online access to all issues from 2019. Subscription will auto renew annually.
US$ 119
Tax calculation will be finalised during checkout.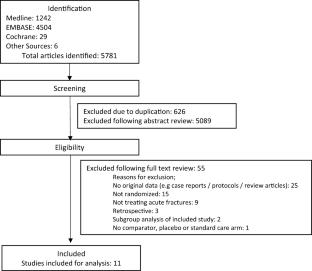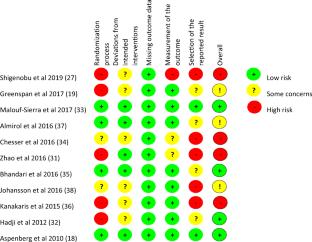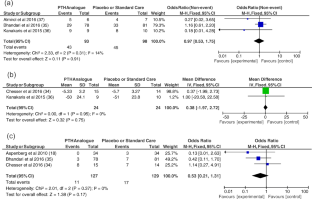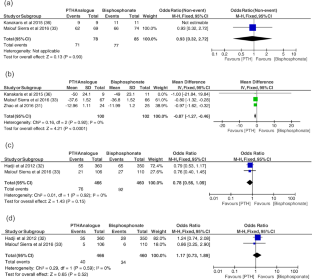 Data availability
This study used data already in the public domain, data collection tools will be made available on request to the corresponding author.
References
1.

Einhorn TA, Gerstenfeld LC (2015) Fracture healing: mechanisms and interventions. Nat Rev Rheumatol. 11(1):45–54

2.

Curtis EM, van der Velde R, Moon RJ, van den Bergh JP, Geusens P, de Vries F et al (2016) Epidemiology of fractures in the United Kingdom 1988-2012: variation with age, sex, geography, ethnicity and socioeconomic status. Bone. 87:19–26

3.

Gormley KJ (2011) Falls prevention and support: translating research, integrating services and promoting the contribution of service users for quality and innovative programmes of care. Int J Older People Nurs. 6(4):307–314

4.

England N. NHS Right Care Senario https://www.england.nhs.uk/rightcare/wp-content/uploads/sites/40/2017/02/rightcare-susans-story-full-narrative.pdf2017 [

5.

Fazzalari NL (2011) Bone fracture and bone fracture repair. Osteoporos Int. 22(6):2003–2006

6.

Goldhahn J, Féron JM, Kanis J, Papapoulos S, Reginster JY, Rizzoli R, Dere W, Mitlak B, Tsouderos Y, Boonen S (2012) Implications for fracture healing of current and new osteoporosis treatments: an ESCEO consensus paper. Calcif Tissue Int. 90(5):343–353

7.

Aslan D, Andersen MD, Gede LB, de Franca TK, Jørgensen SR, Schwarz P, Jørgensen NR (2012) Mechanisms for the bone anabolic effect of parathyroid hormone treatment in humans. Scand J Clin Lab Invest. 72(1):14–22

8.

Rubin MR, Bilezikian JP (2003) New anabolic therapies in osteoporosis. Endocrinol Metab Clin North Am. 32(1):285–307

9.

Rubin MR, Bilezikian JP (2003) The anabolic effects of parathyroid hormone therapy. Clin Geriatr Med. 19(2):415–432

10.

Dempster DW, Cosman F, Parisien M, Shen V, Lindsay R (1993) Anabolic actions of parathyroid hormone on bone. Endocr Rev. 14(6):690–709

11.

Ito M, Oishi R, Fukunaga M, Sone T, Sugimoto T, Shiraki M, Nishizawa Y, Nakamura T (2014) The effects of once-weekly teriparatide on hip structure and biomechanical properties assessed by CT. Osteoporos Int. 25(3):1163–1172

12.

Varela A, Chouinard L, Lesage E, Smith SY, Hattersley G (2017) One year of abaloparatide, a selective activator of the PTH1 receptor, increased bone formation and bone mass in osteopenic ovariectomized rats without increasing bone resorption. J Bone Miner Res. 32(1):24–33

13.

Komatsubara S, Mori S, Mashiba T, Nonaka K, Seki A, Akiyama T, Miyamoto K, Cao Y, Manabe T, Norimatsu H (2005) Human parathyroid hormone (1-34) accelerates the fracture healing process of woven to lamellar bone replacement and new cortical shell formation in rat femora. Bone. 36(4):678–687

14.

Komrakova M, Krischek C, Wicke M, Sehmisch S, Tezval M, Rohrberg M, Brandsch T, Stuermer KM, Stuermer EK (2011) Influence of intermittent administration of parathyroid hormone on muscle tissue and bone healing in orchiectomized rats or controls. J Endocrinol. 209(1):9–19

15.

Gardner MJ, van der Meulen MC, Carson J, Zelken J, Ricciardi BF, Wright TM et al (2007) Role of parathyroid hormone in the mechanosensitivity of fracture healing. J Orthop Res. 25(11):1474–1480

16.

Li YF, Zhou CC, Li JH, Luo E, Zhu SS, Feng G, Hu J (2012) The effects of combined human parathyroid hormone (1-34) and zoledronic acid treatment on fracture healing in osteoporotic rats. Osteoporos Int. 23(4):1463–1474

17.

Peichl P, Holzer LA, Maier R, Holzer G (2011) Parathyroid hormone 1-84 accelerates fracture-healing in pubic bones of elderly osteoporotic women. J Bone Joint Surg Am. 93(17):1583–1587

18.

Aspenberg P, Genant HK, Johansson T, Nino AJ, See K, Krohn K, García-Hernández PA, Recknor CP, Einhorn TA, Dalsky GP, Mitlak BH, Fierlinger A, Lakshmanan MC (2010) Teriparatide for acceleration of fracture repair in humans: a prospective, randomized, double-blind study of 102 postmenopausal women with distal radial fractures. J Bone Miner Res. 25(2):404–414

19.

Greenspan SL, Vujevich K, Britton C, Herradura A, Gruen G, Tarkin I, Siska P, Hamlin B, Perera S (2018) Teriparatide for treatment of patients with bisphosphonate-associated atypical fracture of the femur. Osteoporos Int. 29(2):501–506

20.

Tsuchie H, Miyakoshi N, Kasukawa Y, Nishi T, Abe H, Segawa T, Shimada Y (2016) The effect of teriparatide to alleviate pain and to prevent vertebral collapse after fresh osteoporotic vertebral fracture. J Bone Miner Metab. 34(1):86–91

21.

Im GI, Lee SH (2015) Effect of teriparatide on healing of atypical femoral fractures: a systemic review. J Bone Metab. 22(4):183–189

22.

Zhang D, Potty A, Vyas P, Lane J (2014) The role of recombinant PTH in human fracture healing: a systematic review. J Orthop Trauma. 28(1):57–62

23.

Kim SM, Kang KC, Kim JW, Lim SJ, Hahn MH (2017) Current role and application of teriparatide in fracture healing of osteoporotic patients: a systematic review. J Bone Metab. 24(1):65–73

24.

Shi Z, Zhou H, Pan B, Lu L, Liu J, Kang Y, Yao X, Feng S (2016) Effectiveness of teriparatide on fracture healing: a systematic review and meta-analysis. PLoS One. 11(12):e0168691

25.

Lou S, Lv H, Wang G, Zhang L, Li M, Li Z et al (2016) The effect of teriparatide on fracture healing of osteoporotic patients: a meta-analysis of randomized controlled trials. Biomed Res Int. 2016:6040379

26.

Hong H, Song T, Liu Y, Li J, Jiang Q, Song Q et al (2019) The effectiveness and safety of parathyroid hormone in fracture healing: a meta-analysis. Clinics (Sao Paulo) 74:e800

27.

Shigenobu K, Hashimoto T, Kanayama M, Ohha H, Yamane S (2019) The efficacy of osteoporotic treatment in patients with new spinal vertebral compression fracture pain, ADL, QOL, bone metabolism and fracture-healing - In comparison with weekly teriparatide with bisphosphonate. Bone Rep. 11:100217

28.

Moher D, Shamseer L, Clarke M, Ghersi D, Liberati A, Petticrew M et al (2015) Preferred reporting items for systematic review and meta-analysis protocols (PRISMA-P) 2015 statement. Syst Rev. 4:1

29.

Sterne JAC, Savović J, Page MJ, Elbers RG, Blencowe NS, Boutron I et al (2019) RoB 2: a revised tool for assessing risk of bias in randomised trials. BMJ. 366:l4898

30.

Baker A, Young K, Potter J, Madan I. A review of grading systems for evidence-based guidelines produced by medical specialties. Clinical medicine (London, England). 2010;10(4):358-63.

31.

Zhao Y, Xue R, Shi N, Xue Y, Zong Y, Lin W, Pei B, Sun C, Fan R, Jiang Y (2016) Aggravation of spinal cord compromise following new osteoporotic vertebral compression fracture prevented by teriparatide in patients with surgical contraindications. Osteoporos Int. 27(11):3309–3317

32.

Hadji P, Zanchetta JR, Russo L, Recknor CP, Saag KG, McKiernan FE et al (2012) The effect of teriparatide compared with risedronate on reduction of back pain in postmenopausal women with osteoporotic vertebral fractures. Osteoporos Int. 23(8):2141–2150

33.

Malouf-Sierra J, Tarantino U, García-Hernández PA, Corradini C, Overgaard S, Stepan JJ et al (2016) Effect of teriparatide or risedronate in BMD and fracture recovery in elderly patients with a recent pertrochanteric hip fracture: final results of a 78-week randomized clinical trial. J Bone Miner Res. 32:1040–1051

34.

Chesser TJ, Fox R, Harding K, Halliday R, Barnfield S, Willett K et al (2016) The administration of intermittent parathyroid hormone affects functional recovery from trochanteric fractured neck of femur: a randomised prospective mixed method pilot study. Bone Joint J. 98-B(6):840–845

35.

Bhandari M, Jin L, See K, Burge R, Gilchrist N, Witvrouw R, Krohn KD, Warner MR, Ahmad QI, Mitlak B (2016) Does teriparatide improve femoral neck fracture healing: results from a randomized placebo-controlled trial. Clin Orthop Relat Res. 474(5):1234–1244

36.

Kanakaris NK, West RM, Giannoudis PV (2015) Enhancement of hip fracture healing in the elderly: Evidence deriving from a pilot randomized trial. Injury. 46(8):1425–1428

37.

Almirol EA, Chi LY, Khurana B, Hurwitz S, Bluman EM, Chiodo C, Matzkin E, Baima J, LeBoff MS (2016) Short-term effects of teriparatide versus placebo on bone biomarkers, structure, and fracture healing in women with lower-extremity stress fractures: a pilot study. J Clin Transl Endocrinol. 5:7–14

38.

Johansson T (2016) PTH 1-34 (teriparatide) may not improve healing in proximal humerus fractures. A randomized, controlled study of 40 patients. Acta Orthop. 87(1):79–82

39.

Stanciu M, Popa FL. Teriparatide treatment in pelvic fracture. Osteoporos Int (2016) 272016. p. (Suppl 1):S79–S548.

40.

Kastirr I, Radmer S, Andresen R, Schober HC (2016) Osseous consolidation of an aseptic delayed union of a lower leg fracture after parathyroid hormone therapy - a case report. J Clin Diagn Res. 10(7):RD03–RD05

41.

Yang DH, Hu SY, Meng Y, Tong GJ, Chen JT (2016) Teriparatide for conservative treatment of osteoporotic vertebral fracture: analysis of 12 cases. Nan Fang Yi Ke Da Xue Xue Bao. 36(3):414–418

42.

Coppola C, Del Buono A, Maffulli N (2015) Teriparatide in fracture non-unions. Transl Med UniSa. 12:47–53

43.

Kim Y, Tanaka C, Tada H, Kanoe H, Shirai T (2015) Radiographic features of teriparatide-induced healing of femoral fractures. Bone Rep. 3:11–14

44.

Mancilla EE, Brodsky JL, Mehta S, Pignolo RJ, Levine MA (2015) Teriparatide as a systemic treatment for lower extremity nonunion fractures: a case series. Endocr Pract. 21(2):136–142

45.

Nozaka K, Shimada Y, Miyakoshi N, Yamada S, Hongo M, Kasukawa Y, Saito H, Kijima H (2014) Combined effect of teriparatide and low-intensity pulsed ultrasound for nonunion: a case report. BMC Res Notes. 7:317

46.

Bednar DA (2013) Teriparatide treatment of a glucocorticoid-associated resorbing nonunion of a type III odontoid process fracture: a case report. J Spinal Disord Tech. 26(8):E319–E322

47.

Borges JL (2015) Accelerated fracture healing with teriparatide. Arch Endocrinol Metab. 59(1):89

48.

Cortés Franco S, Lorente Muñoz A, Perez Barrero P, Alberdi Viñas J. Surgical failure in patient with cervical fracture and ankylosing spondylitis treated with teriparatide to try to augment consolidation. Acta Neurochirurgica 2013. p. 1955–6.

49.

Tamai K, Takamatsu K, Kazuki K (2013) Successful treatment of nonunion with teriparatide after failed ankle arthrodesis for Charcot arthropathy. Osteoporos Int. 24(10):2729–2732

50.

Lou S, Lv H, Li Z, Tang P, Wang Y (2018) Parathyroid hormone analogues for fracture healing: protocol for a systematic review and meta-analysis of randomised controlled trials. BMJ Open. 8(1):e019291

51.

Gallagher EJ, Liebman M, Bijur PE (2001) Prospective validation of clinically important changes in pain severity measured on a visual analog scale. Ann Emerg Med. 38(6):633–638

52.

Fredericson M, Bergman AG, Hoffman KL, Dillingham MS (1995) Tibial stress reaction in runners. Correlation of clinical symptoms and scintigraphy with a new magnetic resonance imaging grading system. Am J Sports Med. 23(4):472–481

53.

Gruber R, Koch H, Doll BA, Tegtmeier F, Einhorn TA, Hollinger JO (2006) Fracture healing in the elderly patient. Exp Gerontol. 41(11):1080–1093

54.

Gaston MS, Simpson AH (2007) Inhibition of fracture healing. J Bone Joint Surg Br. 89(12):1553–1560
Acknowledgements
We would like to thank both Professor Lee Shepstone (Norwich Medical School) and Dr Andoni Toms (Norfolk and Norwich University Hospital), for their help with the statistical and imaging analysis respectively in this meta-analysis.
Funding
This research was funded as part of a Ministry of Defence, UK grant.
Ethics declarations
Conflicts of interest
Professor William Fraser has received unrestricted research grants, sat on advisory boards and given lectures on behalf of Eli Lilly, NPS and Nycomed. Dr Matt Gerlach, Dr Isabelle Piec, Prof Julie Greeves and Mrs Katharine Eastman have no conflicts of interest.
Ethics approval
This study was not a human or animal experiment so no ethical approval was required.
Consent to participate
This study used data already in the public domain, there was no requirement for consent to be taken.
Consent for publication
This study used data already in the public domain, there was no requirement for consent to be taken.
Code availability
Software used was Review Manager (RevMan) [Computer program]. Version 5.3. Copenhagen: The Nordic Cochrane Centre, The Cochrane Collaboration, 2014.
RoB 2 tool [Computer program]. Sterne JAC, Savović J, Page MJ, Elbers RG, Blencowe NS, Boutron I, Cates CJ, Cheng H-Y, Corbett MS, Eldridge SM, Hernán MA, Hopewell S, Hróbjartsson A, Junqueira DR, Jüni P, Kirkham JJ, Lasserson T, Li T, McAleenan A, Reeves BC, Shepperd S, Shrier I, Stewart LA, Tilling K, White IR, Whiting PF, Higgins JPT. RoB 2: a revised tool for assessing risk of bias in randomised trials. BMJ 2019; 366: l4898.
Additional information
Publisher's note
Springer Nature remains neutral with regard to jurisdictional claims in published maps and institutional affiliations.
Supplementary information
About this article
Cite this article
Eastman, K., Gerlach, M., Piec, I. et al. Effectiveness of parathyroid hormone (PTH) analogues on fracture healing: a meta-analysis. Osteoporos Int (2021). https://doi.org/10.1007/s00198-021-05847-0
Received:

Accepted:

Published:
Keywords
Fracture healing

Meta-analysis

Osteoporosis

Parathyroid hormone

Teriparatide