Abstract
Summary
This study aims to investigate the role of obesity and diabetes on bone health in a nation-wide cohort of women with high risk of fracture.
Introduction
The role of obesity and diabetes on fracture risk is yet poorly understood. Body mass index (BMI) and bone mineral density (BMD) are strongly correlated; however, patients with elevated BMI are not protected against fractures, configuring the obesity paradox. A similar controversial association has been also found in diabetic patients. Herein, we present a retrospective analysis on 59,950 women.
Methods
Using a new web-based fracture risk-assessment tool, we have collected demographic (including BMI), densitometric, and clinical data (including history of vertebral or hip and non-vertebral, non-hip fractures, presence of comorbidities). We performed a propensity score generation with 1:1 matching for patients in the obese (BMI ≥ 30) and non-obese (BMI < 30) groups, in the diabetics and non-diabetics. Propensity score estimates were estimated using a logistic regression model derived from the clinical variables: age, lumbar spine T-score, and femoral neck T-score.
Results
We found an association between diabetes and fractures of any kind (OR 1.3, 95% CI 1.1–1.4 and 1.3, 95% CI 1.2–1.5 for vertebral or hip fractures and non-vertebral, non-hip fractures, respectively). Obesity, on the other hand, was significantly associated only with non-vertebral, non-hip fractures (OR 1.3, 95% CI 1.1–1.6). To estimate the individual effect of obesity and diabetes on bone health, we ran sensitivity analyses which included obese non-diabetic patients and non-obese diabetic patients, respectively.
Conclusions
Non-obese diabetics had the highest risk of vertebral or hip fracture, whereas obese non-diabetics predominantly had non-vertebral, non-hip fracture's risk. These results should raise awareness in clinical practice when evaluating diabetic and/or obese patients.
This is a preview of subscription content, log in to check access.
Access options
Buy single article
Instant access to the full article PDF.
US$ 39.95
Price includes VAT for USA
Subscribe to journal
Immediate online access to all issues from 2019. Subscription will auto renew annually.
US$ 199
This is the net price. Taxes to be calculated in checkout.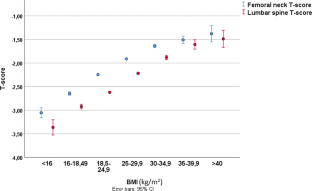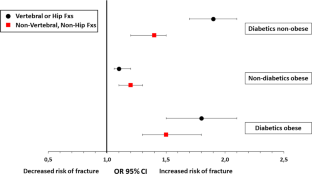 Ethics declarations
The study was conducted according to the protocol 1876 approved by our local Ethics Committee, in accordance with the 1964 Helsinki declaration and its later amendments or comparable ethical standards. Informed consent was waived because encrypted retrospective information was used.
Conflicts of interest
Maurizio Rossini reports personal fees from AbbVie, Abiogen, Eli-Lilly, Merck Sharp & Dohme, Novartis, Sanofi, UCB, outside the submitted work. Giovanni Adami, Davide Gatti, Giovanni Orsolini, Francesco Pollastri, Eugenia Bertoldo, Ombretta Viapiana, Francesco Bertoldo, Alessandro Giollo, and Davide Gatti have no conflict of interest to declare.
Additional information
Publisher's note
Springer Nature remains neutral with regard to jurisdictional claims in published maps and institutional affiliations.
About this article
Cite this article
Adami, G., Gatti, D., Rossini, M. et al. Risk of fragility fractures in obesity and diabetes: a retrospective analysis on a nation-wide cohort. Osteoporos Int (2020). https://doi.org/10.1007/s00198-020-05519-5
Received:

Accepted:

Published:
Keywords
Body mass index (BMI)

Diabetes

Fractures

Obesity

Osteoporosis