Zusammenfassung
Hintergrund
Der Leistungssport wird immer wieder von nationalen und internationalen Doping-Fällen erschüttert. Inzwischen ist die Einnahme von Doping-Substanzen allerdings auch unter Freizeitsportlern weit verbreitet, wie Untersuchungen aus Norddeutschland, Frankfurt a. M., Franken und Traunstein zeigen konnten.
Material und Methoden
Um den Doping-Konsum im Großraum Würzburg, einschließlich Kitzingens, zu erforschen, wurden 2015 zwei Untersuchungsmethoden eingesetzt: die konventionelle, direkte Fragebogentechnik in 7 Fitnessstudios und eine Online-Erhebung in 5 weiteren Fitnessstudios. Es wurde nach dem Konsum von legalen und illegalen Drogen, Nahrungsergänzungsmitteln und Doping-Substanzen gefragt. Die Zielgruppe sollte zuvor mindestens 6 Monate lang trainiert haben.
Ergebnisse
An der Fragebogenerhebung nahmen 284 Teilnehmer (180 ♂, 104 ♀) und an der Online-Erhebung 105 Teilnehmer (82 ♂, 23 ♀) teil. Es gaben 3,3 % (n = 6) der befragten Kraftsportler in der konventionellen Erhebung (ausschließlich Männer) sowie 7,3 % (n = 6) der männlichen und 4,3 % der weiblichen Befragten (n = 1) in der Online-Studie den Dopingmittel-Konsum zu. Bei den konsumierten Substanzen handelte es sich in beiden Kollektiven in erster Linie um anabole Steroide (konventionelle Erhebung: n = 5, 83,3 %; Online-Studie: n = 6, 85,7 %), gefolgt von den Stimulanzien (konventionelle Erhebung: n = 2, 33,3 %; Online-Studie: n = 2, 28,6 %). Außerdem fiel auf, dass verhältnismäßig viele Doping-Konsumenten auch illegale Rauschdrogen zu sich nahmen: in der Online-Studie Marihuana 4 (57,1 %) und Kokain ein Teilnehmer (14,2 %) sowie in der konventionellen Erhebung Marihuana 6 (100 %) und Kokain ein Teilnehmer (16,7 %).
Diskussion
Doping scheint bei gleicher Untersuchungsmethodik innerhalb Deutschlands in Franken und in Traunstein etwas weniger verbreitet zu sein als in Norddeutschland und Frankfurt a. M., was möglicherweise einem Stadt-Land-Gefälle oder auch regionalen Faktoren in den verschiedenen Bundesländern zuzuschreiben sein könnte. Hochgerechnet auf die hohe Zahl der Fitnessstudiobesucher insgesamt erscheinen allerdings schon Anteile zwischen 3,3 und 7 % von mutmaßlichen Dopingmittel-Konsumenten als äußerst bedenklich.
Abstract
Background
Competitive sport is repeatedly shaken by national and international doping cases. Meanwhile, the use of doping substances is also widespread among recreational athletes, as studies from northern Germany, Frankfurt am Main, Franconia and Traunstein could show.
Material and methods
In order to investigate the use of doping substances in the area of Würzburg including Kitzingen, two examination methods were used: the conventional direct questionnaire technique was used in seven fitness studios and an online survey in five further fitness studios. The questions concerned the consumption of legal and illegal drugs, dietary supplements and doping substances. The target group should have previously trained for at least 6 months.
Results
A total of 284 subjects (180 ♂, 104 ♀) participated in the questionnaire survey and 105 (82 ♂, 23 ♀) in the online survey. Of the surveyed strength athletes in the conventional survey (only men) 3.3% (n = 6) admitted doping drug abuse and 7.3% (n = 6) of male and 4.3% of female respondents (n = 1) in the online survey. Consumed substances in both groups were primarily anabolic steroids (conventional survey n = 5, 83.3%, online study n = 6, 85.7%), followed by stimulants (conventional survey n = 2, 33.3%, online study n = 2, 28.6%). In addition, it was noted that a relatively large number of doping substance users also ingested illicit drugs: marijuana 4 (57.1%) and cocaine 1 (14.2%) in the online study and in the conventional survey marijuana 6 (100%) and cocaine 1 (16.7%).
Discussion
Doping seems to be somewhat less widespread in Franconia and Traunstein than in northern Germany and Frankfurt am Main, when using the same research methodology. This could possibly be attributed to an urban-rural difference or regional factors in the various federal states. Extrapolated to the high number of attendees of fitness studios in total, however, even proportions between 3.3% and 7% of suspected doping substance users appear to be extremely alarming.
Access options
Buy single article
Instant access to the full article PDF.
US$ 39.95
Tax calculation will be finalised during checkout.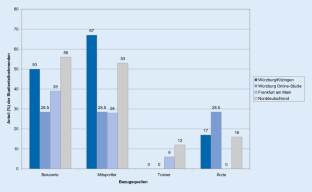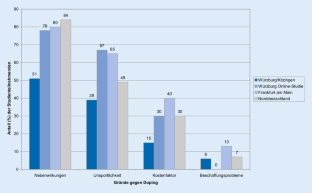 Literatur
1.

Boos C, Wulff P, Kujath P, Bruch H (1998) Medikamentenmissbrauch beim Freizeitsportler im Fitnessbereich. Dtsch Arztebl 95(16):A-953–A-957

2.

Buckman J, Yusko D, White H, Pandina R (2009) Risk profile of male college athletes who use performance-enhancing substances. J Stud Alcohol Drugs 70(6):919–923

3.

DuRant R, Rickert V, Ashworth C, Newman C, Slavens G (1993) Use of multiple drugs among adolescents who use anabolic steroids. N Engl J Med 328(13):922–926

4.

Hakansson A, Mickelsson K, Wallin C, Berglund M (2012) Anabolic androgenic steroids in the general population: user characteristics and associations with substance use. Eur Addict Res 18(2):83–90

5.

Kern A, Raschka C (2016) Zur Dopinghäufigkeit in ländlichen Fitnessstudios Frankens: eine aktuelle Studie und Momentaufnahme zur Dopinghäufigkeit von 432 Sportlern. Doping 3:25–28

6.

Korkia P, Stimson G (1997) Indications of prevalence, practice and effects of anabolic steroid use in Great Britain. Int J Sports Med 18(7):557–562

7.

Leifman H, Rehnman C, Sjöblom E, Holgersson S (2011) Anabolic androgenic steroids—use and correlates among gym users—an assessment study using questionnaires and observations at gyms in the stockholm region. Int J Environ Res Public Health 8(7):2656–2674

8.

Lenehan P, Bellis M, McVeigh J (1996) A study of anabolic steroid use in the North West of England. J Perform Enhancing Drugs 1(2):57–70

9.

Mattila V, Rimpelä A, Jormanainen V, Sahi T, Pihlajamäki H (2010) Anabolic-androgenic steroid use among young Finnish males. Scand J Med Sci Sports 20(2):330–335

10.

Nilsson S, Baigi A, Marklund B, Fridlund B (2001) The prevalence of the use of androgenic anabolic steroids by adolescents in a county of Sweden. Eur J Public Health 11(2):195–197

11.

Parzeller M, Prittwitz C (2015) Die Würfel sind gefallen!? Der Referentenentwurf des Gesetzes zur Bekämpfung von Doping im Sport. StoffR 12(1):2–19

12.

Parzeller M, Prittwitz S, Prittwitz C (2013) Doping und Dopingbekämpfung in der Bundesrepublik Deutschland Teil I: Situationsbeschreibung und Kurzdarstellung des Berichts der Bundesregierung zur Evaluation des Gesetzes zur Verbesserung der Bekämpfung des Dopings im Sport. StoffR 10(2):67–76

13.

Parzeller M, Prittwitz S, Prittwitz C (2013) Doping und Dopingbekämpfung in der Bundesrepublik Deutschland Teil II: Kritische Diskussion des Berichts der Bundesregierung zur Evaluation des Gesetzes zur Verbesserung der Bekämpfung des Dopings im Sport (DBVG) und Fazit unter Berücksichtigung von weiteren gesellschaftlichen Formen des Dopings. StoffR 10(3):109–119

14.

Perry H, Wright D, Littlepage B (1992) Dying to be big: a review of anabolic steroid use. Br J Sports Med 26(4):259–261

15.

Peters R, Copeland J, Dillon P (1999) Anabolic-androgenic steroids: user characteristics, motivations, and deterrents. Psychol Addict Behav 13(3):232–242

16.

Pope H, Kanayama G, Athey A, Ryan E, Hudson J, Baggish A (2014) The lifetime prevalence of anabolic-androgenic steroid use and dependence in americans: current best estimates. Am J Addict 23(4):371–377

17.

Raschka C, Chmiel C, Preiß R, Boos C (2013) Doping bei Freizeitsportlern. Eine Untersuchung in 11 Fitnessstudios im Raum Frankfurt am Main. MMW Fortschr Med 155(4):41–43

18.

Raschka C, Draßner N (2015) Zur Dopingepidemiologie in ländlichen Fitnessstudios im Landkreis Traunstein. MMW Fortschr Med 157(Suppl 5):5–8

19.

Simon P, Striegel H, Aust F, Dietz K, Ulrich R (2006) Doping in fitness sports: estimated number of unreported cases and individual probability of doping. Addiction 101(11):1640–1644

20.

https://de.statista.com/statistik/daten/studie/5966/umfrage/mitglieder-der-deutschen-fitnessclubs/Zugriff am 17. März 2019

21.

https://de.statista.com/statistik/daten/studie/272075/umfrage/fitnessstudio-nutzer-in-deutschland-nach-geschlecht/Zugriff am 17. März 2019

22.

Creditreform (2011) Branchenreport 2011. Grundsätzliche und finanzspezifische Entwicklungen der Fitnessbranche in Deutschland. http://business.metropoleruhr.de/fileadmin/user_upload/wmr.de/tmp/Presse/Newsletter_So_gesehen/8._Ausgabe_Februar_2012/ANHANG_Branchenreport_Fitnesswirtschaft_2011.pdf. Zugegriffen: 17. März 2019
Ethics declarations
Interessenkonflikt
C. Raschka, A. Hoffmann und J. Andre geben an, dass kein Interessenkonflikt besteht.
Die beschriebenen Befragungen wurden mit Zustimmung der zuständigen Ethikkommission, im Einklang mit nationalem Recht sowie gemäß der Deklaration von Helsinki von 1975 (in der aktuellen, überarbeiteten Fassung) durchgeführt. Von allen beteiligten Personen liegt eine Einverständniserklärung vor.
About this article
Cite this article
Raschka, C., Hoffmann, A. & Andre, J. Doping-Epidemiologie in Fitnessstudios im Großraum Würzburg. Rechtsmedizin 31, 18–25 (2021). https://doi.org/10.1007/s00194-019-00348-1
Schlüsselwörter
Epidemiologie

Fitnessstudios

Kraftsport

Bodybuilding

Anabole Steroide
Keywords
Epidemiology

Gyms

Weightlifting

Bodybuilding

Anabolic steroids