Abstract
Introduction and hypothesis
On April 16, 2019, the United States Food and Drug Administration announced a withdrawal on sales and distribution of transvaginal mesh products for pelvic organ prolapse. The aim of this study was to asses online user behavior on pelvic-mesh related articles after the withdrawal and to evaluate article accuracy.
Materials and methods
We used Google Trends© to identify the terms related to pelvic mesh that experienced increased activity after the FDA announcement. The terms were analyzed for worldwide social media engagement (Facebook, Twitter, Pinterest, and Reddit) between April 16–19, 2019. The top ten lay press articles shared for each term were evaluated. We also examined the top ten Google search results for each term on June 6, 2019, in the US to evaluate what information was available after peak interest subsided.
Results
During peak activity in April, 30 unique articles were identified after the FDA announcement. Two (6.7%) did not mention the April 2019 FDA announcement. Seven (23%) discussed mesh for stress urinary incontinence. After peak interest on June 6, 2019, Google identified 26 unique articles for the four terms. Seven (27%) did not mention the FDA announcement, and 3 (12%) mentioned mesh for incontinence.
Conclusions
Internet search patterns and social media behavior following the April 2019 ordered withdrawal on transvaginal mesh for pelvic organ prolapse reveal that some of the most disseminated information did not accurately or thoroughly distinguish the type of mesh discussed. This could lead to negative consequences for other mesh indications in female pelvic medicine and reconstructive surgery.
This is a preview of subscription content, log in to check access.
Access options
Buy single article
Instant access to the full article PDF.
US$ 39.95
Price includes VAT for USA
Subscribe to journal
Immediate online access to all issues from 2019. Subscription will auto renew annually.
US$ 199
This is the net price. Taxes to be calculated in checkout.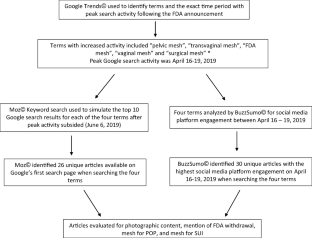 Abbreviations
FDA:

Food and Drug Administration

POP:

Pelvic organ prolapse

SUI:

Stress urinary incontinence
Ethics declarations
Financial disclaimers/conflict of interest
None.
Prior presentations
Western Section of the American Urological Association; November 2019; Monterrey, CA, USA
Society of Women in Urology; January 17, 2020; New Orleans, LA, USA
Society of Urodynamics, Female Pelvic Medicine, and Urogenital Reconstruction; February 2020, Scottsdale, AZ, USA.
Additional information
Publisher's note
Springer Nature remains neutral with regard to jurisdictional claims in published maps and institutional affiliations.
About this article
Cite this article
Shoureshi, P.S., Lee, W., Kobashi, K.C. et al. Media coverage of the 2019 United States Food and Drug Administration ordered withdrawal of vaginal mesh products for pelvic organ prolapse. Int Urogynecol J (2020). https://doi.org/10.1007/s00192-020-04401-6
Received:

Accepted:

Published:
Keywords
FDA mesh

Pelvic organ prolapse

Transvaginal mesh

Vaginal mesh