Abstract
Introduction and hypothesis
A voiding diary is a method to investigate lower urinary tract symptoms. The purpose was to elaborate a descriptive analysis of nonpaid voiding diaries for mobile applications and to compare them regarding their quality.
Methods
We searched the platforms of iTunes (Apple Inc., Brazil) and Google Play (Google Inc., Brazil) using the keywords: "voiding diary," "bladder diary," "urinary diary," "urinary incontinence," and "pelvic floor." Inclusion criteria were: apps free of charge and specific for voiding diaries in the Portuguese, Spanish, French, or English language. Exclusion criteria were: access or technical problems and pediatric apps. We quantitatively analyzed and compared the apps with each other according to their functionality features and voiding diary topics (type and volume of fluid intake, voiding episodes and volume, type and episodes of incontinence, amount of leakage, urgency, and use of pads and nocturia). We rated the apps using the Mobile App Rating Scale (MARS), whose scores for each feature vary from 1 (worst score) to 5 (best score).
Results
Fifty-five apps were eligible; 16 were included for analyses. None presented all 11 topics of the voiding diary, and the median number of available features was 6 (3.75–7). "Incontinence episodes" was present in eight apps, and "nocturia" was present in five. The mean score of apps ranged between 1.7 and 4.5.
Conclusion
There is variation in the content of voiding topics among the apps. Patients and professionals should choose the app based on the topics of most or particular interest.
This is a preview of subscription content, log in to check access.
Access options
Buy single article
Instant access to the full article PDF.
US$ 39.95
Price includes VAT for USA
Subscribe to journal
Immediate online access to all issues from 2019. Subscription will auto renew annually.
US$ 199
This is the net price. Taxes to be calculated in checkout.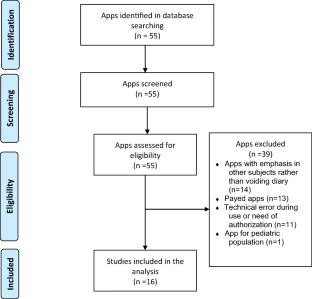 References
1.

Bright E, Cotterill N, Drake M, Abrams P. Developing a validated urinarydiary: phase 1. Neurourol Urodyn. 2012;31(5):625–33. https://doi.org/10.1002/nau.21254.

2.

Bright E, Cotterill N, Drake M, Abrams P. Developing and validating the international consultation on incontinence questionnaire bladder diary. Eur Urol. 2014;66(2):294–300. https://doi.org/10.1016/j.eururo.2014.02.057.

3.

Chapple CR. Is a voiding diary really necessary in 2014? Eur Urol. 2014;66(2):301–2. https://doi.org/10.1016/j.eururo.2014.05.001.

4.

Abrams P, Cardozo L, Fall M, Griffiths D, Rosier P, Ulmsten U, et al. Standardisation sub-committee of the international continence society. The standardisation of terminology of lower urinary tract function: report from the standardisation sub-committee of the international continence society. Neurourol Urodyn. 2002;21(2):167–78. https://doi.org/10.1002/nau.10052.

5.

Yap TL, Cromwell DA, Brown C, Emberton M, van der Meulen J. The reliability of the frequency-volume chart in assessing LUTS. BJU Int. 2007;100(1):111–5. https://doi.org/10.1111/j.1464-410X.2007.06864.x.

6.

Furlong LM, Morris ME, Erickson S, Serry TA. Quality of Mobile phone and tablet Mobile apps for speech sound disorders: protocol for an evidence-based appraisal. JMIR Res Protoc 29. 2016;5(4):e233. https://doi.org/10.2196/resprot.6505.

7.

Silva BM, Rodrigues JJ, de la Torre DI, López-Coronado M, Saleem K. Mobile-health: a review of current state in 2015. J Biomed Inform. 2015;56:265–72. https://doi.org/10.1016/j.jbi.2015.06.003.

8.

Myint M, Adam A, Herath S, Smith G. Mobile phone applications in management of enuresis: the good, the bad, and the unreliable! J Pediatr Urol. 2016;12(2):112.e1–6. https://doi.org/10.1016/j.jpurol.2015.09.011.

9.

Quinn P, Goka J, Richardson H. Assessment of an electronic daily diary in patients with overactive bladder. BJU Int. 2003;91(7):647–52. https://doi.org/10.1046/j.1464-410x.2003.04168.x.

10.

Sussman RD, Richter LA, Tefera E, Park AJ, Sokol AI, Gutman RE, et al. Utilizing Technology in Assessment of lower urinary tract symptoms: a randomized trial of electronic versus paper voiding diaries. Female Pelvic Med Reconstr Surg. 2016;22(4):224–8. https://doi.org/10.1097/SPV.0000000000000266.

11.

Santo K, Richtering SS, Chalmers J, Thiagalingam A, Chow CK, Redfern J. Mobile phone apps to improve medication adherence: a systematic stepwise process to identify high-quality apps. JMIR Mhealth Uhealth 2. 2016;4(4):e132. https://doi.org/10.2196/mhealth.6742.

12.

Singh K, Drouin K, Newmark LP, Rozenblum R, Lee J, Landman A, et al. Developing a framework for evaluating the patient Engagement,Quality, and safety of Mobile health applications. Issue Brief (Commonw Fund). 2016;5:1–11.

13.

Stoyanov SR, Hides L, Kavanagh DJ, Zelenko O, Tjondronegoro D, Mani M. Mobile app rating scale: a new tool for assessing the quality of health mobile apps. JMIR Mhealth Uhealth. 2015;3(1):e27. https://doi.org/10.2196/mhealth.3422.

14.

WHO Global Observatory for eHealth. (2011). mHealth: new horizons for health through mobile technologies: second global survey on eHealth. World Health Organization. ISBN 978 92 4 156425 0 https://apps.who.int/iris/handle/10665/44607

15.

Pereira-Azevedo N, Osório L, Cavadas V, Fraga A, Carrasquinho E, Cardoso de Oliveira E, et al. Expert involvement predicts mHealth app downloads: multivariate regression analysis of urology apps. JMIR Mhealth Uhealth. 2016;4(3):e86. https://doi.org/10.2196/mhealth.5738.

16.

Agarwal S, LeFevre AE, Lee J, L'Engle K, Mehl G, Sinha C, et al. Guidelines for reporting of health interventions using mobile phones: mobile health (mHealth) evidence reporting and assessment (mERA) checklist. BMJ 17. 2016;352:i1174. https://doi.org/10.1136/bmj.i1174.

17.

Abrams P, Paty J, Martina R, Newgreen DT, Van Maanen R, Paireddy A, et al. Electronic bladder diaries of differing duration versus a paper diary for data collection in overactive bladder. Neurourology and Urodynamics. 2015. https://doi.org/10.1002/nau.
Ethics declarations
Conflict of interest
Nothing to declare.
Additional information
Publisher's note
Springer Nature remains neutral with regard to jurisdictional claims in published maps and institutional affiliations.
About this article
Cite this article
Vaccari, N.A., da Silveira, L.T.Y., Bortolini, M.A.T. et al. Content and functionality features of voiding diary applications for mobile devices in Brazil: a descriptive analysis. Int Urogynecol J (2020). https://doi.org/10.1007/s00192-020-04382-6
Received:

Accepted:

Published:
Keywords
Urination

Mobile applications

Urinary incontinence

Urinary bladder

Overactive