Abstract
Introduction and hypothesis
Orgasm and other sexual responses such as pain, arousal and lubrication may be mediated by nerve fibers and vessels in the lamina propria and muscularis of the vaginal wall, in which case the number of nerve fibers and vessels would be associated with sexual functions. The aim of the study is to map the distribution of nerves and vessels in the anterior vaginal wall along the paraurethral region in a systematic fashion.
Methods
Specimens were taken from women with anterior vaginal wall prolapse undergoing colporrhaphy anterior repair. All specimens were mapped in a standard way starting 15 mm proximal to the external urethral orifice. Selected blocks of samples were immunohistochemically stained: actin, smooth muscle Ab-1 and S100 Protein Ab-1. The numbers of microvessels and nerves in the lamina propria and muscularis were counted in five consecutive high-power fields of a light microscope. Pairwise comparisons of proximal, distal, right and left paravaginal microvessel and nerve fiber density were analyzed with paired-sample t-test or Wilcoxon signed-rank test.
Results
Vaginal nerve fibers in the lamina propria and muscularis have a fairly even distribution in the anterior vaginal wall. Vaginal small vessel vascularization and microvascularization are also evenly distributed, with no concentrated site along the paraurethral region of the anterior vaginal wall.
Conclusions
Nerve fiber, nerve bundle, microvessel and small vessel densities in the lamina propria and muscularis were fairly regular, with no concentrated site on the paraurethral region of the anterior vaginal wall.
This is a preview of subscription content, log in to check access.
Access options
Buy single article
Instant access to the full article PDF.
US$ 39.95
Price includes VAT for USA
Subscribe to journal
Immediate online access to all issues from 2019. Subscription will auto renew annually.
US$ 199
This is the net price. Taxes to be calculated in checkout.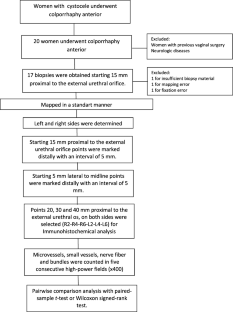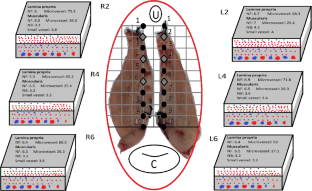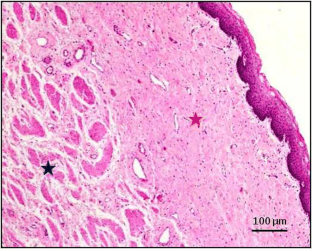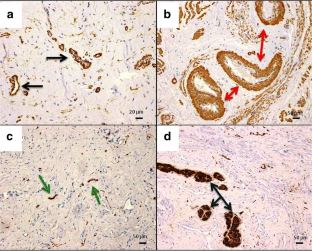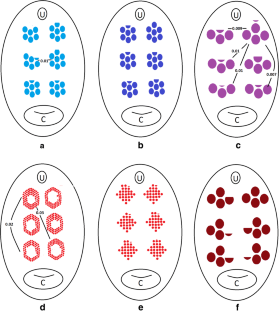 References
1.

Gräfenberg E. The role of urethra in female orgasm. Int J Sexol. 1950;3:145–8.

2.

Hilliges M, Falconer C, Ekman-Ordeberg G, Johansson O. Innervation of the human vaginal mucosa as revealed by PGP 9.5 immunohistochemistry. Acta Anat (Basel). 1995;153:119–26.

3.

Song YB, Hwang K, Kim DJ, et al. Innervation of vagina: microdissection and immunohistochemical study. J Sex Marital Ther. 2009;35:144–53.

4.

Li T, Liao Q, Zhang H, et al. Anatomic distribution of nerves and microvascular density in the human anterior Vaginal Wall: prospective study. PLoS One. 2014;9(11):e110239.

5.

Pauls R, Mutema G, Segal J, et al. A prospective study examining the anatomic distribution of nerve density in the human vagina. J Sex Med. 2006;3:979–87.

6.

Ulfelder H, Robboy SJ. The embryologic development of the human vagina. Am J Obstet Gynecol 1. 1976;126(7):769–76.

7.

Johansson O, Wang L, Hilliges M, et al. Intraepidermal nerves in human skin: PGP 9.5 immunohistochemistry with special reference to the nerve density in skin from different body regions. J Peripher Nerv Syst. 1999;4:43–52.

8.

Jiang M, Li K, Li S, et al. Calretinin, S100 and protein gene product 9.5 immunostaining of rectal suction biopsies in the diagnosis of Hirschsprung' disease. Am J Transl Res 15. 2016;8(7):3159–68.

9.

Feldner PC Jr, Delroy CA, Martins SB, et al. Sexual function after anterior vaginal wall prolapse surgery. Clinics (Sao Paulo). 2012. 2016;67(8):871–5.

10.

Morselli S, Li Marzi V, Verrienti P, et al. Transvaginal mesh surgery for pelvic organ prolapse does not affect sexual function at long term follow up. Eur J Obstet Gynecol Reprod Biol. 2019;240:282–7.

11.

Sentilhes L, Berthier A, Sergent F, et al. Sexual function in women before and after transvaginal mesh repair for pelvic organ prolapse. Int Urogynecol J Pelvic Floor Dysfunct. 2008;19(6):763–72.

12.

Farthmann J, Mengel M, Henne B, et al. Improvement of pelvic floor-related quality of life and sexual function after vaginal mesh implantation for cystocele: primary endpoint of a prospective multicentre trial. Arch Gynecol Obstet. 2016;294(1):115–21.

13.

Szell N, Komisaruk B, Goldstein SW, et al. A meta-analysis detailing overall sexual function and orgasmic function in women undergoing midurethral sling surgery for stress incontinence. Sex Med. 2017;5:e84–93.

14.

Ostrzenski A. G-spot anatomy: a new discovery. J Sex Med. 2012;9:1355–9.

15.

Ostrzenski A, Krajewski P, Ganjei-Azar P, et al. Verification of the anatomy and newly discovered histology of the G-spot complex. BJOG. 2014;121:1333–9.

16.

Hoag N, Keast JR, O'Connell HE. The "G-spot" is not a structure evident on macroscopic anatomic dissection of the Vaginal Wall. J Sex Med. 2017;14:1524e1532.

17.

Zhu L, Lang J, Chen J, et al. Study on nerve fiber in anterior vaginal epithelium for stress urinary incontinence. Int Urogynecol J. 2004;15:272–5.

18.

Inal HA, Kaplan PB, Usta U, et al. Neuromuscular morphometry of the vaginal wall in women with anterior vaginal wall prolapse. Neurourol Urodyn. 2010;29(3):458–63.

19.

Addiego F, Belzer EG, Comolli J, et al. Female ejaculation: a case study. J Sex Res. 1981;17:13–21.
Acknowledgements
We would like to thank Bezmialem Vakif University and the participants for their support of this study.
Ethics declarations
Conflıct of interest
The authors report no conflicts of interest. The authors alone are responsible for the content and writing of this paper.
Additional information
Publisher's note
Springer Nature remains neutral with regard to jurisdictional claims in published maps and institutional affiliations.
About this article
Cite this article
Aydın, S., Sönmez, F.C., Karasu, A.F.G. et al. Search for the G spot: microvessel and nerve mapping of the paraurethral anterior vaginal wall. Int Urogynecol J (2020). https://doi.org/10.1007/s00192-020-04379-1
Received:

Accepted:

Published:
Keywords
Anterior vaginal wall

G spot

Microvessel

Nerve fiber

Orgasm