Abstract
Introduction and hypothesis
Our primary objective was to evaluate parturition mode (PM) recommendations following obstetric anal sphincter injuries (OASIs) and adherence to these recommendations and to evaluate recurrence of OASIs in women who had a subsequent vaginal delivery (VD). The hypothesis was that adherence to the PM recommendations leads to a reasonable OASI recurrence rate.
Methods
This was a retrospective observational cohort study of patients with previous OASIs between 2010 and 2016. After an outpatient visit including 3D transperineal ultrasound to screen for pelvic floor and anal sphincter injuries, all patients received recommendations for a subsequent PM. Patients were invited to complete validated questionnaires 2 to 5 years post-OASIs.
Results
The majority of invited patients (265/320) attended follow-up, with 264 receiving a recommendation for PM. Only 5.6% did not adhere to the received recommendation. One hundred sixty-one patients delivered again, 58% had a VD, and 42% had a cesarean section (CS). Recurrence of OASIs was observed in 4.3% of the patients that had a VD. Fecal incontinence occurred in 4.9%, however any form of anal incontinence in 48% of patients. While dyspareunia was common in patients with residual external anal sphincter (EAS) injuries and levator ani muscle (LAM) avulsions, anal pain occurred more frequently in EAS injuries and fecal incontinence in LAM avulsions.
Conclusions
This study showed that the vast majority of patients followed PM recommendations, and this resulted in a low recurrence of OASIs with a high CS rate. Fecal incontinence after OASIs was correlated with the degree of OASIs.
Access options
Buy single article
Instant access to the full article PDF.
US$ 39.95
Tax calculation will be finalised during checkout.
Subscribe to journal
Immediate online access to all issues from 2019. Subscription will auto renew annually.
US$ 119
Tax calculation will be finalised during checkout.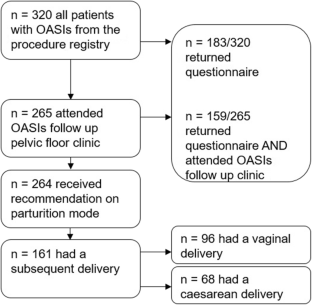 References
1.

Gurol-Urganci I, Cromwell DA, Edozien LC, Mahmood TA, Adams EJ, Richmond DH, et al. Third- and fourth-degree perineal tears among primiparous women in England between 2000 and 2012: time trends and risk factors. BJOG. 2013;120(12):1516–25.

2.

Selmer-Olsen T, Nohr EA, Tappert C, Eggebo TM. Incidence and risk factors for obstetric anal sphincter ruptures, OASIS, following the introduction of preventive interventions. A retrospective cohort study from a Norwegian hospital 2012-2017. Sex Reprod Healthc. 2019;22:100460.

3.

de Leeuw JW, Struijk PC, Vierhout ME, Wallenburg HC. Risk factors for third degree perineal ruptures during delivery. BJOG. 2001;108(4):383–7.

4.

Farrar D, Tuffnell DJ, Ramage C. Interventions for women in subsequent pregnancies following obstetric anal sphincter injury to reduce the risk of recurrent injury and associated harms. Cochrane Database Syst Rev. 2014 (11):CD010374. doi(11):CD010374.

5.

Ginath S, Mizrachi Y, Bar J, Condrea A, Kovo M. Obstetric Anal Sphincter Injuries (OASIs) in Israel: A Review of the Incidence and Risk Factors. Rambam Maimonides Med J. 2017 8(2):https://doi.org/10.5041/RMMJ.10295.

6.

van Bavel J, Hukkelhoven CWPM, de Vries C, Papatsonis DNM, de Vogel J, Roovers JWR, et al. The effectiveness of mediolateral episiotomy in preventing obstetric anal sphincter injuries during operative vaginal delivery: a ten-year analysis of a national registry. Int Urogynecol J. 2018;29(3):407–13.

7.

de Leeuw JW, de Wit C, Kuijken JP, Bruinse HW. Mediolateral episiotomy reduces the risk for anal sphincter injury during operative vaginal delivery. BJOG. 2008;115(1):104–8.

8.

Sagi-Dain L, Sagi S. Morbidity associated with episiotomy in vacuum delivery: a systematic review and meta-analysis. BJOG. 2015;122(8):1073–81.

9.

Meister MR, Cahill AG, Conner SN, Woolfolk CL, Lowder JL. Predicting obstetric anal sphincter injuries in a modern obstetric population. Am J Obstet Gynecol. 2016;215(3):310.e1–7.

10.

Jordan PA, Naidu M, Thakar R, Sultan AH. Effect of subsequent vaginal delivery on bowel symptoms and anorectal function in women who sustained a previous obstetric anal sphincter injury. Int Urogynecol J. 2018;29(11):1579–88.

11.

Mous M, Muller SA, de Leeuw JW. Long-term effects of anal sphincter rupture during vaginal delivery: faecal incontinence and sexual complaints. BJOG. 2008;115(2):234–8.

12.

Sultan AH, Kamm MA, Hudson CN, Bartram CI. Third degree obstetric anal sphincter tears: risk factors and outcome of primary repair. BMJ. 1994;308(6933):887–91.

13.

Borello-France D, Burgio KL, Richter HE, Zyczynski H, Fitzgerald MP, Whitehead W, et al. Fecal and urinary incontinence in primiparous women. Obstet Gynecol. 2006;108(4):863–72.

14.

Andrews V, Shelmeridine S, Sultan AH, Thakar R. Anal and urinary incontinence 4 years after a vaginal delivery. Int Urogynecol J. 2013;24(1):55–60.

15.

Jango H, Langhoff-Roos J, Rosthoj S, Sakse A. Recurrent obstetric anal sphincter injury and the risk of long-term anal incontinence. Am J Obstet Gynecol. 2017;216(6):610.e1–8.

16.

Vaizey CJ, Carapeti E, Cahill JA, Kamm MA. Prospective comparison of faecal incontinence grading systems. Gut. 1999;44(1):77–80.

17.

Vasseur A, Lepigeon K, Baud D, Horsch A, Meyer S, Vial Y, et al. Counseling after perineal laceration: does it improve functional outcome? Int Urogynecol J. 2019;30(6):925–31.

18.

Third- and Fourth-degree Perineal Tears, Management (Green-top Guideline No. 29) [Internet].: Royal College of Obstetricians and Gynaecologists; 2015 [updated 12.06.2015; cited 29.10.2019]. Available from: https://www.rcog.org.uk/en/guidelines-research-services/guidelines/gtg29/.

19.

Shumaker SA, Wyman JF, Uebersax JS, McClish D, Fantl JA. Health-related quality of life measures for women with urinary incontinence: the incontinence impact questionnaire and the urogenital distress inventory. Continence program in women (CPW) research group. Qual Life Res. 1994;3(5):291–306.

20.

van der Vaart CH, de Leeuw JR, Roovers JP, Heintz AP. Measuring health-related quality of life in women with urogenital dysfunction: the urogenital distress inventory and incontinence impact questionnaire revisited. Neurourol Urodyn. 2003;22(2):97–104.

21.

Roovers JP, van der Bom JG, van der Vaart CH, Heintz AP. Prediction of findings at defecography in patients with genital prolapse. BJOG. 2005;112(11):1547–53.

22.

Zhang J, Geerts C, Hukkelhoven C, Offerhaus P, Zwart J, de Jonge A. Caesarean section rates in subgroups of women and perinatal outcomes. BJOG. 2016;123(5):754–61.

23.

Karmarkar R, Bhide A, Digesu A, Khullar V, Fernando R. Mode of delivery after obstetric anal sphincter injury. Eur J Obstet Gynecol Reprod Biol. 2015;194:7–10.

24.

Ros C, Martinez-Franco E, Wozniak MM, Cassado J, Santoro GA, Elias N, et al. Postpartum two- and three-dimensional ultrasound evaluation of anal sphincter complex in women with obstetric anal sphincter injury. Ultrasound Obstet Gynecol. 2017;49(4):508–14.

25.

Oom DM, West RL, Schouten WR, Steensma AB. Detection of anal sphincter defects in female patients with fecal incontinence: a comparison of 3-dimensional transperineal ultrasound and 2-dimensional endoanal ultrasound. Dis Colon Rectum. 2012;55(6):646–52.

26.

Tankova L, Draganov V, Damyanov N. Endosonography for assessment of anorectal changes in patients with fecal incontinence. Eur J Ultrasound. 2001;12(3):221–5.

27.

Heilbrun ME, Nygaard IE, Lockhart ME, Richter HE, Brown MB, Kenton KS, et al. Correlation between levator ani muscle injuries on magnetic resonance imaging and fecal incontinence, pelvic organ prolapse, and urinary incontinence in primiparous women. Am J Obstet Gynecol. 2010;202(5):488.e1–6.

28.

Martinez Franco E, Lopez Negre JL, Pares D, Ros Cerro C, Amat Tardiu L, Cuadras D, et al. Anatomic and functional evaluation of the levator ani muscle after an obstetric anal sphincter injury. Arch Gynecol Obstet. 2019;299(4):1001–6.

29.

Elenskaia K, Thakar R, Sultan AH, Scheer I, Beggs A. The effect of pregnancy and childbirth on pelvic floor muscle function. Int Urogynecol J. 2011;22(11):1421–7.
Ethics declarations
Conflict of interest
None.
Additional information
Publisher's note
Springer Nature remains neutral with regard to jurisdictional claims in published maps and institutional affiliations.
About this article
Cite this article
van der Vlist, M., Oom, D., van Rosmalen, J. et al. Parturition mode recommendation and symptoms of pelvic floor disorders after obstetric anal sphincter injuries. Int Urogynecol J 31, 2353–2359 (2020). https://doi.org/10.1007/s00192-020-04241-4
Received:

Accepted:

Published:

Issue Date:
Keywords
Obstetric anal sphincter injury

Levator ani muscle avulsion

Anal incontinence

Obstetric deliveries

Cesarean section

Directive counseling