Abstract
Introduction and hypothesis
The aim of this study was to compare treatment outcomes 1 year after uterosacral ligament suspension (USLS) with or without concomitant anterior repair (AR) for anterior vaginal wall prolapse resolved under simulated apical support.
Methods
This retrospective cohort study included 179 women who underwent USLS with or without concomitant AR for Pelvic Organ Prolapse Quantification (POPQ) stage 2–4 anterior vaginal wall prolapse resolved under simulated apical support, and who completed a 1-year follow-up. The primary outcome was composite surgical failure defined as anterior anatomical recurrence (point Ba>0), symptomatic recurrence (presence of vaginal bulge symptoms), or retreatment for prolapse. Secondary outcomes included changes in POPQ values and Urogenital Distress Inventory-6 (UDI-6) scores, perioperative outcomes, and complications.
Results
Eighty-six women underwent concomitant AR, and 93 did not. The group receiving AR had more advanced anterior and apical prolapse. Surgical failure rates were significantly higher in the group not receiving AR than in the group receiving AR (21.5% vs 7.0%, p < 0.01). However, there were no differences in the mean point Ba and C values and UDI-6 scores through 12 months postoperatively between the two groups. Operating times were longer, and adverse events, such as immediate postoperative urinary retention and minor wound complications, were more frequent in the group receiving AR (p < 0.05).
Conclusions
Concomitant AR at the time of USLS seems to reduce the recurrence of anterior vaginal wall prolapse without significant morbidity. Considering the small difference in anatomical outcomes, a longer follow-up period will be required to confirm this.
Access options
Buy single article
Instant access to the full article PDF.
US$ 39.95
Tax calculation will be finalised during checkout.
Subscribe to journal
Immediate online access to all issues from 2019. Subscription will auto renew annually.
US$ 119
Tax calculation will be finalised during checkout.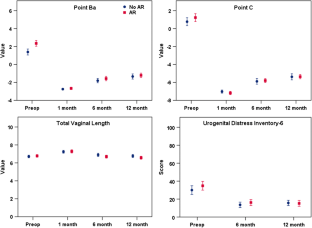 References
1.

Suskind AM, Jin C, Walter LC, Finlayson E. Frailty and the role of obliterative versus reconstructive surgery for pelvic organ prolapse; a national study. J Urol. 2017;197:1502–6.

2.

Haya N, Baessler K, Christmann-Schmid C, de Tayrac R, Dietz V, Guldberg R, et al. Prolapse and continence surgery in countries of the Organization for Economic Cooperation and Development in 2012. Am J Obstet Gynecol. 2015;212:755.e1–755.e27.

3.

Olsen AL, Smith VJ, Berström JO, Colling JC, Clark AL. Epidemiology of surgically managed pelvic organ prolapse and urinary incontinence. Obstet Gynecol. 1997;89:501–6.

4.

Bump RC, Mattiasson A, Bø K, Brubaker LP, DeLancey JO, Klarskov P, et al. The standardization of terminology of female pelvic organ prolapse and pelvic floor dysfunction. Am J Obstet Gynecol. 1996;175:10–7.

5.

Altman D, Väyrynen T, Engh ME, Axelsen S, Falconer C, Nordic Transvaginal Mesh Group. Anterior colporrhaphy versus transvaginal mesh for pelvic-organ prolapse. N Engl J Med. 2011;364:1826–36.

6.

Jeon MJ. Surgical decision making for symptomatic pelvic organ prolapse: evidence-based approach. Obstet Gynecol Sci. 2019;62:307–12.

7.

Rooney K, Kenton K, Mueller ER, FitzGerald MP, Brubaker L. Advanced anterior vaginal wall prolapse is highly correlated with apical prolapse. Am J Obstet Gynecol. 2006;195:1837–40.

8.

Summers A, Winkel LA, Hussain HK, DeLancey JO. The relationship between anterior and apical compartment support. Am J Obstet Gynecol. 2006;194:1438–43.

9.

Chen L, Ashton-Miller JA, Hsu Y, DeLancey JO. Interaction among apical support, levator ani impairment, and anterior vaginal wall prolapse. Obstet Gynecol. 2006;108:324–32.

10.

Hsu Y, Chen L, Summers A, Ashton-Miller JA, DeLancey JO. Anterior vaginal wall length and degree of anterior compartment prolapse seen on dynamic MRI. Int Urogynecol J. 2008;19:137–42.

11.

Lowder JL, Park AJ, Ellison R, Ghetti C, Moalli P, Zyczynski H, et al. The role of apical vaginal support in the appearance of anterior and posterior vaginal prolapse. Obstet Gynecol. 2008;111:152–7.

12.

Yoo EH, Jeon MJ, Ahn KH, Bai SW. Translation and linguistic validation of Korean version of short form of pelvic floor distress inventory-20, pelvic floor impact questionnaire-7. Obstet Gynecol Sci. 2013;56:330–2.

13.

Hendrix SL, Clark A, Nygaard I, Aragaki A, Barnabei V, McTiernan A. Pelvic organ prolapse in the Women's health initiative: gravity and gravidity. Am J Obstet Gynecol. 2002;186:1160–6.

14.

Weber AM, Walters MD, Piedmonte MR, Ballard LA. Anterior colporrhaphy: a randomized trial of three surgical techniques. Am J Obstet Gynecol. 2001;185:1299–304.

15.

Eilber KS, Alperin M, Khan A, Wu N, Pashos CL, Clemens JQ, et al. Outcomes of vaginal prolapse surgery among female Medicare beneficiaries: the role of apical support. Obstet Gynecol. 2013;122:981–7.

16.

Silva WA, Pauls RN, Segal JL, Rooney CM, Kleeman SD, Karram MM. Uterosacral ligament vault suspension: five-year outcomes. Obstet Gynecol. 2006;108:255–63.

17.

Nager CW, Grimes CL, Nolen TL, Wai CY, Brubaker L, Jeppson PC, et al. Concomitant anterior repair, preoperative prolapse severity, and anatomic prolapse outcomes after vaginal apical procedures. Female Pelvic Med Reconstr Surg. 2019;25:22–8.

18.

Antosh DD, Iglesia CB, Vora S, Sokol AI. Outcome assessment with blinded versus unblinded POP-Q exams. Am J Obstet Gynecol. 2011;205(489):e1–4.

19.

Dietz HP, Hankins KJ, Wong V. The natural history of cystocele recurrence. Int Urogynecol J. 2014;25:1053–7.
Ethics declarations
Conflicts of interest
None.
Additional information
Publisher's note
Springer Nature remains neutral with regard to jurisdictional claims in published maps and institutional affiliations.
About this article
Cite this article
Lee, S.Y., Jeon, M.J. Anterior repair versus no anterior repair for anterior vaginal wall prolapse resolved under simulated apical support at the time of uterosacral ligament suspension. Int Urogynecol J 31, 2043–2049 (2020). https://doi.org/10.1007/s00192-020-04229-0
Received:

Accepted:

Published:

Issue Date:
Keywords
Anterior vaginal wall prolapse

Anterior repair

Uterosacral ligament suspension