Abstract
Introduction and hypothesis
The objective was to identify the prevalence and risk factors for urinary incontinence (UI) in healthy midlife Singaporean women.
Methods
Healthy women, aged 45–69 years, were assessed for UI and sociodemographic characteristics, including ethnicity, menopausal status, parity, and body mass index (BMI). UI subtypes corresponding to stress (SUI) alone, urge (UUI) alone, mixed (MUI), and leakage (drops only) incontinence were classified using the Urinary Distress Inventory 6 (UDI-6). Risk factors were examined using Chi-squared tests, followed by sequential multivariate logistic regression to estimate adjusted odds ratios (aOR and 95% confidence intervals).
Results
A total of 1,119 women (mean age 56.2 ± 5.2) completed the UDI-6. 52.3% reported any UI; MUI and SUI were the most common, each affecting 20% of women. Post-menopausal women had a lower risk (aOR 0.5 [0.3–0.9]) of SUI, but a higher risk (aOR 4.4 [1.0–19.9]) of UUI compared with premenopausal women. Higher education was negatively associated (aOR 0.3 [0.2–0.7]) with UUI, but positively associated with MUI (aOR 2.3 [1.3–4.0]). Parity (1–2 children) increased the risk of SUI (aOR 1.8 [1.0–3.1]), but reduced the risk of UUI (aOR 0.4 [0.2–0.9]). Obesity was associated with increased risk for MUI (aOR 2.2 [1.4–3.4]) and leakage (aOR 2.0 [1.0–4.1]). Malays and Indians had a higher risk of MUI, having (aOR 2.1 (1.2–3.7) and 1.7 (1.1–2.7) respectively compared with Chinese, a difference mediated by higher BMI.
Conclusion
Urinary incontinence is a major morbidity prevalent in healthy midlife Asian women. Post-menopausal status, education level, parity, BMI (and its link with ethnicity) are independent risk factors in this population, and should be incorporated into counseling and targeted interventions.
Access options
Buy single article
Instant access to the full article PDF.
US$ 39.95
Tax calculation will be finalised during checkout.
Subscribe to journal
Immediate online access to all issues from 2019. Subscription will auto renew annually.
US$ 119
Tax calculation will be finalised during checkout.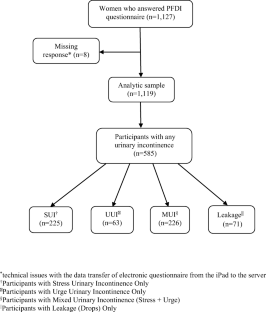 References
1.

Lukacz ES, Santiago-Lastra Y, Albo ME, Brubaker LJJ. Urinary incontinence in women: a review. JAMA. 2017;318(16):1592-1604.

2.

Abrams P, Cardozo L, Wagg A, Wein A. Incontinence, 6th edition. Bristol: ICI-ICS International Continence Society. 2017.

3.

Waetjen LE, Xing G, Johnson WO, Melnikow J, Gold EB; Study of Women's Health Across the Nation (SWAN). Factors associated with reasons incontinent midlife women report for not seeking urinary incontinence treatment over 9 years across the menopausal transition. Menopause. 2018;25(1):29-37.

4.

Abrams P, Andersson KE, Apostolidis A, Birder L, Bliss D, Brubaker L, Cardozo L, Castro-Diaz D, O'Connell P, Cottenden AJN. Urodynamics 6th International Consultation on Incontinence. Recommendations of the International Scientific Committee: evaluation and treatment of urinary incontinence, pelvic organ prolapse and faecal incontinence. Neurourol Urodyn. 2018;37(7):2271–2272.

5.

Koelbl H, Nitti V, Baessler K, Salvatore S, Sultan A, Yamaguchi OJI. Committee 4: pathophysiology of urinary incontinence, faecal incontinence and pelvic organ prolapse, 4th edn. Paris: Health Publications. 2009.

6.

Human Development Indices and Indicators—Statistical Update, 2018. http://hdr.undp.org/en/content/human-development-indices-indicators-2018-statistical-update Accessed 27 July 2019.

7.

Population structure. Singapore Department of Statistics, 2015. https://www.singstat.gov.sg/find-data/search-by-theme/population/population-and-population-structure/latest-data.

8.

Lachman ME, Teshale S, Agrigoroaei S. Midlife as a pivotal period in the life course: balancing growth and decline at the crossroads of youth and old age. Int J Behav Dev. 2015;39(1):20–31.

9.

Jennings JT. Social and economic characteristics of Americans during midlife, special studies series (no. 111). US Department of Commerce, Bureau of the Census, 1981; p. 23.

10.

Islam MR, Gartoulla P, Bell RJ, Fradkin P, Davis SR. Prevalence of menopausal symptoms in Asian midlife women: a systematic review. Climacteric. 2015;18(2):157–76.

11.

Brim OG, Ryff CD, Kessler RC. How healthy are we?: a national study of well-being at midlife. Chicago: University of Chicago Press, 2019.

12.

Death and life expectancy. 2018. https://www.singstat.gov.sg/find-data/search-by-theme/population/death-and-life-expectancy/latest-data Accessed 27 July 2019.

13.

Ouchi Y, Rakugi H, Arai H, Akishita M, Ito H, Toba K, et al. Redefining the elderly as aged 75 years and older: proposal from the Joint Committee of Japan Gerontological Society and the Japan Geriatrics Society. Geriatr Gerontol Int. 2017;17(7):1045–7.

14.

Thu WPP, Logan SJS, Lim CW, Wang YL, Cauley JA, Ejijoe Y. Cohort profile: the Integrated Women's Health Programme (IWHP): a study of key health issues of midlife Singaporean women. Int J Epidemiol. 2018;47(2):389-390f.

15.

WHO Expert Consultation. Appropriate body-mass index for Asian populations and its implications for policy and intervention strategies. Lancet. 2004;363(9403):157.

16.

Simonsick EM, Newman AB, Nevitt MC, Kritchevsky SB, Ferrucci L, Guralnik JM, et al. Measuring higher level physical function in well-functioning older adults: expanding familiar approaches in the health ABC study. J Gerontol Ser A Biol Med Sci. 2001;56(10):M644–9.

17.

Abizanda P, Navarro JL, García-Tomás MI, López-Jiménez E, Martínez-Sánchez E, Paterna G. Validity and usefulness of hand-held dynamometry for measuring muscle strength in community-dwelling older persons. Arch Gerontol Geriatr. 2012;54(1):21–7.

18.

Barber M, Walters M, Bump R. Short forms of two condition-specific quality-of-life questionnaires for women with pelvic floor disorders (PFDI-20 and PFIQ-7). Am J Obstet Gynecol. 2005;193(1):103–13.

19.

Waetjen LE, Liao S, Johnson WO, Sampselle CM, Sternfield B, Harlow SD, Gold EB. Factors associated with prevalent and incident urinary incontinence in a cohort of midlife women: a longitudinal analysis of data: study of women's health across the nation. Am J Epidemiol. 2006;165(3):309–18.

20.

Mitchell E, Woods N. Correlates of urinary incontinence during the menopausal transition and early postmenopause: observations from the Seattle Midlife Women's Health Study. Climacteric. 2013;16(6):653–62.

21.

Botlero R, Davis SR, Urquhart DM, Shortreed S, Bell RJ. Age-specific prevalence of, and factors associated with, different types of urinary incontinence in community-dwelling Australian women assessed with a validated questionnaire. Maturitas. 2009;62(2):134–9.

22.

Saito M, Kobayashi S, Uchida H, Suga H, Kobayashi J, Sasaki S. No association of caffeinated beverage or caffeine intake with prevalence of urinary incontinence among middle-aged Japanese women: a multicenter cross-sectional study. J Womens Health. 2017;26(8):860–9.

23.

Waetjen LE, Ye J, Feng W-Y, Johnson WO, Greendale GA, Sampselle CM, Sternfield B, Harlow SD, Gold EB. Association between menopausal transition stages and developing urinary incontinence. Obstet Gynecol. 2009;114(5):989.

24.

Schreiber Pedersen L, Lose G, Høybye MT, Elsner S, Waldmann A, Rudnicki MJ, Aoeg S. Prevalence of urinary incontinence among women and analysis of potential risk factors in Germany and Denmark. Acta Obstet Gynecol Scand. 2017;96(8):939–48.

25.

Gopal M, Sammel MD, Arya LA, Freeman EW, Lin H, Gracia CJO. Association of change in estradiol to lower urinary tract symptoms during the menopausal transition. Gynecology. 2008;112(5):1045.

26.

Grady D, Brown JS, Vittinghoff E, Applegate W, Varner E, Snyder T, et al. Postmenopausal hormones and incontinence: the heart and estrogen/progestin replacement study. Gynecology. 2001;97(1):116–20.

27.

Manson JE, Chlebowski RT, Stefanick ML, Aragaki AK, Rossouw JE, Prentice RL, Anderson G, Howard BV, Thomson CA, LaCroix AZ. Menopausal hormone therapy and health outcomes during the intervention and extended poststopping phases of the Women's Health Initiative randomized trials. JAMA. 2013;310(13):1353–68.

28.

Gartlehner G, Patel SV, Feltner C, Weber RP, Long R, Mullican K, Boland E, Lux L, Viswanathan M. Hormone therapy for the primary prevention of chronic conditions in postmenopausal women: evidence report and systematic review for the US Preventive Services Task Force. JAMA. 2017;318(22):2234–49.

29.

Hendrix SL, Cochrane BB, Nygaard IE, Handa VL, Barnabei VM, Iglesia C, Aragaki A, Naughton MJ, Wallace RB, McNeeley SG. Effects of estrogen with and without progestin on urinary incontinence. JAMA. 2005;293(8):935-48.

30.

Cody JD, Jacobs ML, Richardson K, Moehrer B, Hextall A. Oestrogen therapy for urinary incontinence in post-menopausal women. Cochrane Database Syst Rev. 2012;10:CD001405.

31.

Zhu L, Lang J, Liu C, Xu T, Liu X, Li L, Wong FJ. Epidemiological study of urge urinary incontinence and risk factors in China. Int Urogynecol J. 2010;21(5):589–93.

32.

Woodley SJ, Boyle R, Cody JD, Mørkved S, Hay-Smith EJC. Pelvic floor muscle training for prevention and treatment of urinary and faecal incontinence in antenatal and postnatal women. Cochrane Database Syst Rev. 2017;12:CD007471.

33.

Ge J, Yang P, Zhang Y, Li X, Wang Q, Lu Y. Prevalence and risk factors of urinary incontinence in Chinese women: a population-based study. Asia Pac J Public Health. 2015;27(2):NP1118-31.

34.

Wu JM, Vaughan CP, Goode PS, Redden DT, Burgio KL, Richter HE, Markland AD. Prevalence and trends of symptomatic pelvic floor disorders in US women. Obstet Gynecol. 2014;123(1):141.

35.

Suskind AM, Cawthon PM, Nakagawa S, Subak LL, Reinders I, Satterfield S, et al. Urinary incontinence in older women: the role of body composition and muscle strength: from the health, aging, and body composition study. J Am Geriatr Soc. 2017;65(1):42–50.

36.

Parker-Autry C, Houston DK, Rushing J, Richter HE, Subak L, Kanaya AM, et al. Characterizing the functional decline of older women with incident urinary incontinence. Gynecology. 2017;130(5):1025–32.

37.

Hannestad Y, Rortveit G, Sandvik H, Hunskaar SJ; Norwegian EPINCONT study, Epidemiology of Incontinence in the County of Nord-Trøndelag. Epidemiology of incontinence in the county of Nord-Trøndelag. A community-based epidemiological survey of female urinary incontinence: the Norwegian EPINCONT study. J Clin Epidemiol. 2000;53(11):1150–7.

38.

Brown JS, Sawaya G, Thom DH, Grady D. Hysterectomy and urinary incontinence: a systematic review. Lancet. 2000;356(9229):535–9.

39.

Gustafsson C, Ekström Å, Brismar S, Altman D. Urinary incontinence after hysterectomy—three-year observational study. Urology. 2006;68(4):769–74.

40.

Swami V, Tovée M, Harris AS. An examination of ethnic differences in actual-ideal weight discrepancy and its correlates in a sample of Malaysian women. Int J Cult Ment Health. 2013;6(2):96–107.

41.

Lakerveld J, Mackenbach J. The upstream determinants of adult obesity. Obes Facts. 2017;10(3):216–22.

42.

Hughes K, Yeo P, Lun K, Thai A, Wang K, Cheah J. Obesity and body mass indices in Chinese, Malays and Indians in Singapore. Ann Acad Med Singapore. 1990;19(3):333–8.

43.

Hong C, Chia K, Hughes K, Ling SJ. Ethnic differences among Chinese, Malay and Indian patients with type 2 diabetes mellitus in Singapore. Singapore Med J. 2004;45(4):154–60.

44.

Tan AK, Dunn RA, Yen ST. Ethnic disparities in metabolic syndrome in Malaysia: an analysis by risk factors. Metab Syndr Relat Disord. 2011;9(6):441–51.

45.

Lai S, Sidek S. Delivery after a lower segment caesarean section. Singapore Med J. 1993;34(1):62–6.

46.

Sowers MFR, Crawford SL, Sternfeld B, Morganstein D, Gold EB, Greendale GA, Evans DA, Neer R, Matthews KA, Sherman S. SWAN: a multicenter, multiethnic, community-based cohort study of women and the menopausal transition. In Lobo RA, Kelsey J, Marcus R, editors. Menopause: biology and pathobiology. San Diego: Academic Press. 2000. pp. 175-88

47.

Loxton D, Tooth L, Harris ML, Forder PM, Dobson A, Powers J, et al. Cohort profile: the Australian longitudinal study on Women's health (ALSWH) 1989–95 cohort. Int J Epidemiol. 2017;47(2):391–392e.
Acknowledgements
The authors would like to thank our study participants and all members of the IWHP who coordinated the study visits and performed data collection. We would also like to acknowledge contribution of Ms. Shamini Ganasarajah, who provided initial data analysis support.
Funding
This study was partially funded by a Singapore National Medical Research Council Grant (Number: CSASI16May007) to E.L. Yong.
This study was supported by Obstetrics and Gynecology Pitch for Fund Research Grant (OG PFFR FY 2014) from the Department of Obstetrics and Gynecology, National University of Singapore.
Ethics declarations
Conflicts of interest
The authors declare that they have no conflicts of interest.
Additional information
Publisher's note
Springer Nature remains neutral with regard to jurisdictional claims in published maps and institutional affiliations.
About this article
Cite this article
Ng, K.L., Ng, K.W.R., Thu, W.P.P. et al. Risk factors and prevalence of urinary incontinence in mid-life Singaporean women: the Integrated Women's Health Program. Int Urogynecol J 31, 1829–1837 (2020). https://doi.org/10.1007/s00192-019-04132-3
Received:

Accepted:

Published:

Issue Date:
Keywords
Urinary incontinence

Prevalence

Midlife

Asian women

Risk factors

Urinary distress inventory 6 (UDI-6)