Abstract
Introduction and hypothesis
The objective was to determine if a bowel preparation prior to minimally invasive sacrocolpopexy (MIS) influences post-operative constipation symptoms. We hypothesized that women who underwent a bowel preparation would have an improvement in post-operative defecatory function.
Methods
In this randomized controlled trial, women undergoing MIS received a pre-operative bowel preparation or no bowel preparation. Our primary outcome was post-operative constipation measured by the Patient Assessment of Constipation Symptoms (PAC-SYM) 2 weeks post-operatively. Secondary outcomes included surgeon's perception of case difficulty. Both intention-to-treat (ITT) and per-protocol analyses (PPA) were performed. Analyses were carried out using t test, Fisher's exact test, the Wilcoxon test and the Chi-squared test.
Results
Of 105 enrolled women, 95 completed follow-up (43 preparation and 52 no preparation). Baseline characteristics and rates of complications were similar. No differences were noted on ITT. The post-operative abdominal PAC-SYM subscale was closer to baseline for women who received a bowel preparation on PPA (change in score 0.74 vs 1.08, p = 0.045). Women who underwent a preparation were less likely to report strain (6.0% vs 26.7%, p = 0.009) or type 1 Bristol stool on their first post-operative bowel movement (4.3% vs 17.5%, p = 0.047). Surgeons were more likely to rate the complexity of the case as "more difficult than average" (54.4% vs 40.1%, p = 0.027) in those without a bowel preparation.
Conclusions
Although there was no difference in ITT analysis, women who underwent a bowel preparation prior to MIS demonstrated benefit to post-operative defecatory function with a corresponding improvement in surgeon's perception of case complexity.
This is a preview of subscription content, log in to check access.
Access options
Buy single article
Instant access to the full article PDF.
US$ 39.95
Price includes VAT for USA
Subscribe to journal
Immediate online access to all issues from 2019. Subscription will auto renew annually.
US$ 199
This is the net price. Taxes to be calculated in checkout.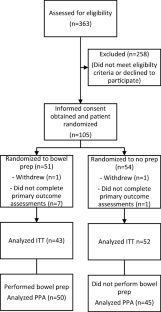 References
1.

Wells T, Plante M, McAlpine JN. Preoperative bowel preparation in gynecologic oncology: a review of practice patterns and an impetus to change. Int J Gynecol Cancer. 2011;21(6):1135–42.

2.

Slim K, Vicaut E, Launay-Savary MV, Contant C, Chipponi J. Updated systematic review and meta-analysis of randomized clinical trials on the role of mechanical bowel preparation before colorectal surgery. Ann Surg. 2009;249(2):203–9.

3.

Muzii L, Bellati F, Zullo MA, Manci N, Angioli R, Panici PB. Mechanical bowel preparation before gynecologic laparoscopy: a randomized, single-blind, controlled trial. Fertil Steril. 2006;85(3):689–93.

4.

Siedhoff M, Clark LH, Hobbs KA, Findley AD, Moulder JK, Garrett JM. Mechanical bowel preparation before laparoscopic hysterectomy: a randomized controlled trial. Obstet Gynecol. 2014;123(3):562–7.

5.

Ballard A, Parker-Autry CY, Markland AD, Varner RE, Huisingh C, Richter HE. Bowel preparation before vaginal prolapse surgery: a randomized controlled trial. Obstet Gynecol. 2014;123:232–8.

6.

Jelovsek J, Barber MD, Paraiso MF, Walters MD. Functional bowel and anorectal disorders in patients with pelvic organ prolapse and incontinence. Am J Obstet Gynecol. 2005;193(6):2105–11.

7.

Raza-Khan F, Cunkelman J, Lowenstein L, Shott S, Kenton K. Prevalence of bowel symtpoms in women with pelvic floor disorders. Int Urogynecol J. 2010;21(8):933–8.

8.

Whitehead W, Bradley CS, Brown MB, Brubaker L, Gutman RE, Varner E, et al. Gastrointestinal complications following abdominal sacrocolpopexy for advanced pelvic organ prolapse. Am J Obstet Gynecol. 2007;197(1):78.e1–7.

9.

Weir L, Nygaard IE, Wilken J, Brandt D, Janz KF. Postoperative activity restrictions: any evidence? Obstet Gynecol. 2006;107(2):305–9.

10.

Blake MR, Raker JM, Whelan K. Validity and reliability of the Bristol stool form scale in healthy adults and patients with diarrhoea-predominant irritable bowel syndrome. Aliment Pharmacol Ther. 2016;44(7):693–703.

11.

Frank L, Kleinman L, Farup C, Taylor L, Miner P. Pyschometric validation of a constipation symptom assessment questionnaire. Scan J Gastroenterol. 1999;34(9):870–7.

12.

Patel M, O'Sullivan D, LaSala C. Constipation symptoms before and after vaginal and abdominal pelvic reconstructive surgery. Int Urogynecol J. 2011;22:1413–9.

13.

Yang L, Arden D, Lee TT, Mansuria SM, Broach AN, D'Ambrosio L, et al. Mechanical bowel preparation for gynecologic laparoscopy: a prospective randomized trial of oral sodium phosphate solution vs single sodium phosphate enema. J Minim Invasive Gynecol. 2011;18(2):149–56.

14.

Yiannakou Y, Tack J, Dubois B, Quigley EMM, Ke MY, DaSilva S, Joseph A, Kerstens R. The PAC-SYM questionnaire for chronic constipation: defining the minimal important difference. Aliment Pharmacol Ther 2017;46(11–12):1103–11.

15.

Linder B, Occhino JA, Habermann EB, Glasgow AE, Bews KA, Gershman B. A national contemporary analysis of perioperative outcomes for open versus minimally-invasive sacrocolpopexy. J Urol. 2018;200(4):862–7.
Acknowledgements
Our research was supported by the National Institutes of Health through Grant Number UL1TR001857.
Ethics declarations
Conflicts of interest
The authors report that they have no conflicts of interest.
About this article
Cite this article
Sassani, J.C., Kantartzis, K., Wu, L. et al. Bowel preparation prior to minimally invasive sacrocolpopexy: a randomized controlled trial. Int Urogynecol J 31, 1305–1313 (2020). https://doi.org/10.1007/s00192-019-04120-7
Received:

Accepted:

Published:

Issue Date:
Keywords
Sacrocolpopexy

Pelvic organ prolapse

Bowel prep

Constipation

PAC-SYM