Abstract
Introduction and hypothesis
The objective was to apply tomographic ultrasound imaging (TUI) to diagnose urethral diverticulum (UD) and summarize the specific imaging findings.
Methods
This was a retrospective analysis of 42 women with a paraurethral cyst. All women underwent a clinical interview, three-dimensional pelvic floor ultrasound and a transvaginal cystectomy between May 2016 and March 2019. UD was defined on TUI if a tract connecting the paraurethral cyst to the urethral lumen was shown in the urethral rhabdosphincter circular muscle in the pelvic floor axial plane. All patients' demographics, history, clinical evaluation and surgical outcomes were reviewed.
Results
On surgical findings, 33 women had a UD and 9 had a Gartner duct cyst. Characteristics of paraurethral cysts described by TUI were consistent with surgical findings in 40 patients (95%). Good agreement was shown by κ test (κ = 0.88, p < 0.001). Of 33 UD patients, the mean age was 45 years and the mean duration of symptoms was 6.5 months. The most common presenting symptom was recurrent urinary tract infection (17, 52%), followed by stress urinary incontinence and a vaginal lump (15, 46%). The mean maximum diameter of 33 UDs was 26 mm (range 8–45 mm). On TUI, one tract, connecting the paraurethral cyst to the urethral lumen, was identified as a gap in the hyperechoic rhabdosphincter muscle circle in the pelvic floor axial plane in 23 UDs (70%); there were two or more tracts in 8 (24%).
Conclusions
The diagnostic sign to identify urethral diverticulum is a gap in the hyperechoic urethral rhabdosphincter circle formed between the cyst and urethral lumen in the axial plane.
Access options
Buy single article
Instant access to the full article PDF.
US$ 39.95
Tax calculation will be finalised during checkout.
Subscribe to journal
Immediate online access to all issues from 2019. Subscription will auto renew annually.
US$ 119
Tax calculation will be finalised during checkout.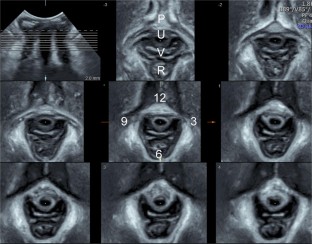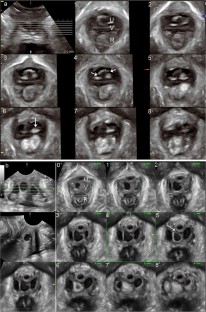 References
1.

Baradaran N, Chiles LR, Freilich DA, Rames RA, Cox L, Rovner ES. Female urethral diverticula in the contemporary era: is the classic triad of the "3Ds" still relevant? Urology. 2016;94:53–6.

2.

El-Nashar SA, Singh R, Bacon MM, Kim-Fine S, Occhino JA, Gebhart JB, et al. Female urethral diverticulum: presentation, diagnosis, and predictors of outcomes after surgery. Female Pelvic Med Reconstr Surg. 2016;22(6):447–52.

3.

Chang YL, Lin AT, Chen KK. Presentation of female urethral diverticulum is usually not typical. Urol Int. 2008;80(1):41–5.

4.

Lee SR, Lim YM, Jeon JH, Park MH. Diagnosis of urethral diverticulum mimicking pelvic organ prolapse with translabial ultrasonography. Am J Obstet Gynecol. 2017;217(4):482.

5.

Dietz HP. The anterior compartment. In: Dietz HP, editor. Atlas of pelvic floor ultrasound. London: Springer. 2008. pp. 41–62.

6.

Gillor M, Dietz HP. Translabial ultrasound imaging of urethral diverticula. Ultrasound Obstet Gynecol. 2019. https://doi.org/10.1002/uog.20305.

7.

Gugliotta G, Calagna G, Adile G, Polito S, Speciale P, Perino A, et al. Use of trans-labial ultrasound in the diagnosis of female urethral diverticula: a diagnostic option to be strongly considered. J Obstet Gynaecol Res. 2015;41(7):1108–14.

8.

Zhao YX, Wang JP, Li JM, Chen T, Mao CW, Liu JH, et al. Preoperative 3D and 4D-CT imaging using 640-multislice CT (640-MSCT) in diagnosis of female urethral diverticulum. World J Urol. 2017;35(7):1133–9.

9.

Doumouchtsis SK, Nazarian DA, Gauthaman N, Durnea CM, Munneke G. Three-dimensional volume rendering of pelvic models and paraurethral masses based on MRI cross-sectional images. Int Urogynecol J. 2017;28(10):1579–87.

10.

Wang X, Dou C, Yan Y, Song L, Hu B, Ying T. Preoperative transurethral contrast-enhanced ultrasonography in the diagnosis of female urethral diverticula. J Ultrasound Med. 2018;37(12):2881–9.

11.

Wang X, Dou C, Yan Y, Bai Y, Hu B, Ying T. Ultrasonographic features of female urethral diverticula: a retrospective study of 25 patients. Female Pelvic Med Reconstr Surg. 2017;23(5):343–7.

12.

Ashton-Miller JA, Howard D, DeLancey JO. The functional anatomy of the female pelvic floor and stress continence control system. Scand J Urol Nephrol Suppl. 2001;207:1–7 discussion 106-25.
Acknowledgements
This study was supported by "The Project of New Clinic Techniques of Central South University."
Ethics declarations
Conflicts of interest
None.
Ethical approval
This study was approved by the Human Research Ethics Committee of the Second Xiangya Hospital (No.2019-041).
Additional information
Publisher's note
Springer Nature remains neutral with regard to jurisdictional claims in published maps and institutional affiliations.
About this article
Cite this article
Liu, D., Qing, Z. & Wen, L. The use of tomographic ultrasound imaging on three-dimensional translabial ultrasound: a diagnostic sign for urethral diverticulum. Int Urogynecol J 31, 1451–1456 (2020). https://doi.org/10.1007/s00192-019-04111-8
Received:

Accepted:

Published:

Issue Date:
Keywords
Urethral diverticulum

Translabial ultrasound

Tomographic ultrasound imaging

Recurrent urinary tract infections