Abstract
Introduction and hypothesis
Routine assessment of frailty preoperatively is recommended for older adults, because frailty is associated with adverse surgical outcomes. This study was aimed at describing the percentage of patients whose frailty status was correctly categorized by Female Pelvic Medicine and Reconstructive Surgery (FPRMS) providers and to determine patient predictors of accurate categorization.
Methods
Cross-sectional study was carried out of English speaking, new patients, >65 years old, presenting from March to June 2018. Providers categorized patients as frail, pre-frail, or not frail based on clinical impression. Frailty was defined using the Fried Frailty Assessment (FFA), a validated, objective measure including weight loss, exhaustion, physical activity, walk speed, and grip strength. Provider categorizations were compared with FFA results. Multiple logistic regression was used to estimate patient predictors of frailty categorization. Data from other fields that approximated a 45% proportion of miscategorization guided sample size estimates.
Results
Ten FPMRS providers participated, and 106 out of 110 patients (96%) had complete data. Primary diagnoses were pelvic organ prolapse (37%), incontinence (20%), and overactive bladder (17%). On FFA, 16 (15%) patients were frail, 50 (47%) were pre-frail, and 40 (38%) were not frail. The overall proportion of miscategorization was 58% (95% confidence interval 49–68%). Providers correctly categorized 50% of frail patients, 34% of pre-frail patients, and 48% of non-frail patients. Slow walk time was associated with provider categorization of frailty, regardless of frailty status (p = 0.01).
Conclusions
Clinical impression may not adequately assess frailty. Miscategorization of frailty by FPMRS providers was higher than in other fields.
Access options
Buy single article
Instant access to the full article PDF.
US$ 39.95
Tax calculation will be finalised during checkout.
Subscribe to journal
Immediate online access to all issues from 2019. Subscription will auto renew annually.
US$ 119
Tax calculation will be finalised during checkout.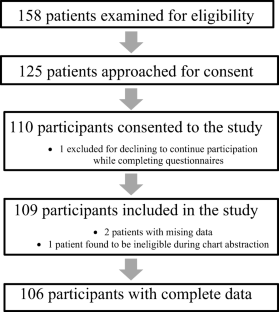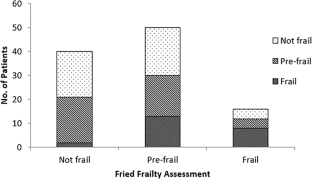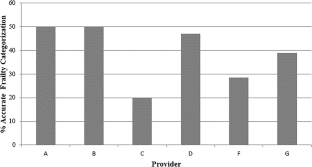 References
1.

Fried LP, Tangen CM, Walston J, Newman AB, Hirsch C, Gottdiener J, et al. Frailty in older adults: evidence for a phenotype. J Gerontol A Biol Sci Med Sci. 2001;56(3):M146–56.

2.

Makary MA, Segev DL, Pronovost PJ, Syin D, Bandeen-Roche K, Patel P, et al. Frailty as a predictor of surgical outcomes in older patients. J Am Coll Surg. 2010;210:901e8.

3.

Revenig LM, Canter DJ, Taylor MD, Tai C, Sweeney JF, Sarmiento JM, et al. Too frail for surgery? Initial results of a large multidisciplinary prospective study examining preoperative variables predictive of poor surgical outcomes. J Am Coll Surg. 2013;217(4):665–670.e1.

4.

Dasgupta M, Rolfson DB, Stolee P, Borrie MJ, Speechley M. Frailty is associated with postoperative complications in older adults with medical problems. Arch Gerontol Geriatr. 2009;48(1):78–83.

5.

Suskind AM, Jin C, Cooperberg MR, Finlayson E, Boscardin WJ, Sen S, et al. Preoperative frailty is associated with discharge to skilled or assisted living facilities after urologic procedures of varying complexity. Urology. 2016;97:25–32.

6.

Hewitt J, Moug SJ, Middleton M, Chakrabarti M, Stechman MJ, McCarthy K. Older persons surgical outcomes collaboration. Prevalence of frailty and its association with mortality in general surgery. Am J Surg. 2015;209(2):254–9.

7.

Optimal perioperative management of the geriatric patient: best practices guideline from ACS/NSQIP/American Geriatrics Society. https://www.facs.org/~/media/files/quality%20programs/geriatric/acs%20nsqip%20geriatric%202016%20guidelines.

8.

Erekson EA, Yip SO, Ciarleglio MM, Fried TR. Postoperative complications after gynecologic surgery. Obstet Gynecol. 2011;118(4):785–93.

9.

Suskind AM, Quanstrom K, Zhao S, et al. Overactive bladder is strongly associated with frailty in older individuals. Urology. 2017;106:26–31.

10.

Adedayo P, Resnick K, Singh S. Preoperative frailty is a risk factor for non-home discharge in patients undergoing surgery for endometrial cancer. J Geriatr Oncol. 2018;9:513–5.

11.

Courtney-Brooks M, Tellawi AR, Scalici J, Duska LR, Jazaeri AA, Modesitt SC, et al. Frailty: an outcome predictor for elderly gynecologic oncology patients. Gynecol Oncol. 2012;126(1):20–4.

12.

Uppal S, Igwe E, Rice LW, Spencer RJ, Rose SL. Frailty index predicts severe complications in gynecologic oncology patients. Gynecol Oncol. 2015;137(1):98–101.

13.

Erekson EA, Fried TR, Bynum JPW. Frailty, cognitive impairment, and functional disability in older women with female pelvic floor dysfunction. Int Urogynecol J. 2015;26(5):823–39.

14.

Zeno A, Alvarez P, Yazdany T. A systematic review of frailty assessments in women with pelvic floor disorders: are we following the American College of Surgeons National Surgical Quality Improvement Program/American Geriatric Society guidelines? Female Pelvic Med Reconstr Surg. 2018;24(2):135–41.

15.

Suskind AM, Jin C, Walter LC. Frailty and the role of obliterative versus reconstructive surgery for pelvic organ prolapse: a national study. J Urol. 2017;197(6):1502–6.

16.

Hope AA, Hsieh SJ, Petti A, Hurtado-Sbordoni M, Verghese J, Gong MN. Assessing the usefulness and validity of frailty markers in critically ill adults. Ann Am Thorac Soc. 2017;14(6):952–9. https://doi.org/10.1513/AnnalsATS.201607-538OC.

17.

Salter ML, Gupta N, Massie AB, McAdams-DeMarco MA, Law AH, Jacob RL, et al. Perceived frailty and measured frailty among adults undergoing hemodialysis: a cross-sectional analysis. BMC Geriatr. 2015;15:52.

18.

Avila-Funes JA, Medina-Campos RH, Tamez-Rivera O, Navarrete-Reyes AP, Amieva H, Aguilar-Navarro S. Frailty is associated with disability and recent hospitalization in community-dwelling elderly: the Coyoacan cohort. J Frailty Aging. 2014;3(4):206–10.

19.

Rockwood K, Andrew M, Mitnitski A. A comparison of two approaches to measuring frailty in elderly people. J Gerontol A Biol Sci Med Sci. 2007;62(7):738–43.

20.

Orme J, Reis J, Herz E. Factorial and discriminate validity of the Center for Epidemiological Studies Depression (CES-D) scale. J Clin Psychol. 1986;42:28–33.

21.

Taylor HL, Jacobs DR, Schuker B, Knudsen J, Leon AS, Debacker G. A questionnaire for the assessment of leisure-time physical activities. J Chronic Dis. 1978;31:745–55.

22.

Harris PA, Taylor R, Thielke R, Payne J, Gonzalez N, Conde JG. Research electronic data capture (REDCap)—a metadata-driven methodology and workflow process for providing translational research informatics support. J Biomed Inform. 2009;42(2):377–81.

23.

Boysen WR, Adamsky MA, Cohen AJ, Rodriguez J, Faris SF, Bales GT. Thirty-day morbidity of abdominal sacrocolpopexy is influenced by additional surgical treatment for stress urinary incontinence. Urology. 2017;109:82–7.

24.

Johnson TM 2nd, Kincade JE, Bernard SL, Busby-Whitehead J, Hertz-Picciotto I, DeFriese GH. The association of urinary incontinence with poor self-rated health. J Am Geriatr Soc. 1998;46(6):693–9.

25.

Berardelli M, de Rango F, Morelli M, Corsonello A, Mazzei B, Mari V, et al. Urinary incontinence in the elderly and in the oldest old: correlation with frailty and mortality. Rejuvenation Res. 2013;16(3):206–11.

26.

Ferguson MK, Thompson K, Huisingh-Scheetz M, Farnan J, Hemmerich J, Acevedo J, et al. The impact of a frailty education module on surgical resident estimates of lobectomy risk. Ann Thorac Surg. 2015;100(1):235–41.
Ethics declarations
Conflicts of interest
None.
Additional information
Publisher's note
Springer Nature remains neutral with regard to jurisdictional claims in published maps and institutional affiliations.
About this article
Cite this article
Shinnick, J.K., Raker, C.A. & Sung, V. Provider miscategorization of frailty in an outpatient urogynecologic population. Int Urogynecol J 31, 1529–1535 (2020). https://doi.org/10.1007/s00192-019-04095-5
Received:

Accepted:

Published:

Issue Date:
Keywords
Frailty

Frailty assessment

Frailty and pelvic floor disorders