Abstract
Introduction and hypothesis
Post-hospital syndrome (PHS), a 90-day period of health vulnerability related to physiologic stressors following recent inpatient admission, has been observed in surgical and non-surgical patients. We aim to explore its effects on readmission and complication rates in patients undergoing elective female mid-urethral sling placement for the treatment of stress urinary incontinence.
Methods
The Healthcare Cost and Utilization Project State Inpatient Database, State Emergency Department Database, and State Ambulatory Surgery Database for Florida between 2009 and 2014 were linked and utilized. Patients were identified as having undergone an outpatient mid-urethral sling placement with or without cystoscopy by CPT code. The primary exposure was PHS, defined as any inpatient admission within 90 days of mid-urethral sling placement. Patients with inpatient hospitalizations within 1 year of sling procedure were categorized based on timing of prior admission and analyzed. The primary outcomes were 30-day hospital readmission, rates of postoperative ED visits, minor/major complications rates, and overall 30-day cost. A multivariable logistic regression model was fit to assess independent predictors of adverse surgical outcomes.
Results
A total of 17,081 female patients who underwent mid-urethral sling procedures were identified. Patients with PHS were at higher risk for 30-day readmission [OR: 5.36 (IQR: 3.61–7.93); p < 0.005], 30-day ED visits [OR: 2.38 (IQR: 1.75–3.25); p < 0.005], major complications [OR: 6.22 (IQR: 4.67–8.29); p < 0.005], and minor complications [OR: 4.62 (IQR: 3.77–5.67); p < 0.005]. This risk was time dependent in nature with a decreasing risk profile the further surgery was from index hospitalization. Furthermore, PHS patients were more likely to incur an increased cost burden with an average 30-day increased cost of $705.80.
Conclusions
Hospitalization within 90 days prior to mid-urethral sling placement is a risk-adjusted, independent predictor of increased rates of 30-day readmission rates, 30-day ED visits, 30-day minor/major complications, and increased hospital-related cost. Clinical and surgical outcomes may be improved with consideration of prior hospitalizations in determining the timing of mid-urethral sling placement for stress urinary incontinence.
This is a preview of subscription content, log in to check access.
Access options
Buy single article
Instant access to the full article PDF.
US$ 39.95
Price includes VAT for USA
Subscribe to journal
Immediate online access to all issues from 2019. Subscription will auto renew annually.
US$ 199
This is the net price. Taxes to be calculated in checkout.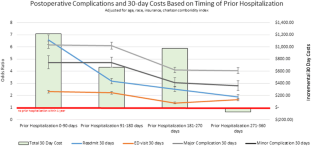 Abbreviations
ED:

Emergency department

CCI:

Charlson Comorbidity Index

CCS:

Clinical Classification Software

CPT:

Current Procedural Terminology

DVT:

Deep venous thrombosis

HCUP:

The Healthcare Cost and Utilization Project

ICD-9:

International Classification of Disease, version 9

MI:

Myocardial infarction

MUS:

Mid-urethral sling

OR:

Odds ratio

PE:

Pulmonary embolism

PNA:

Pneumonia

PHS:

Post-hospital syndrome

SASD:

State Ambulatory Surgery Database

SID:

State Inpatient Database

UTI:

Urinary tract infection
References
1.

Krumholz HM. Post-hospital syndrome–an acquired, transient condition of generalized risk. N Engl J Med. 2013;368:100–2.

2.

Detsky AS, Krumholz HM. Reducing the trauma of hospitalization. JAMA. 2014;311:2169–70.

3.

Dharmarajan K, Hsieh AF, Lin Z, et al. Diagnoses and timing of 30-day readmissions after hospitalization for heart failure, acute myocardial infarction, or pneumonia. JAMA. 2013;309:355–63.

4.

Dharmarajan K, Hsieh AF, Kulkarni VT, et al. Trajectories of risk after hospitalization for heart failure, acute myocardial infarction, or pneumonia: retrospective cohort study. BMJ. 2015;350:h411.

5.

Brownlee SA, et al. Impact of post-hospital syndrome on outcomes following elective, ambulatory surgery. Ann Surg. 2017 Aug;266(2):274–9.

6.

Ford AA, Rogerson L, Cody JD, Ogah J. Mid-urethral sling operations for stress urinary incontinence in women. Cochrane Database Syst Rev. 2015;7:CD006375.

7.

Clemons JL, et al. Impact of the 2011 FDA transvaginal mesh safety update onAUGS members' use of synthetic mesh and biologic grafts in pelvic reconstructive surgery. Female Pelvic Med Reconstr Surg. 2013;19(4):191–8.

8.

Novara G, et al. Updated systematic review and meta-analysis of the comparative data on colposuspensions, pubovaginal slings, and midurethral tapes in the surgical treatment of female stress urinary incontinence. Eur Urol. 2010;58(2):218–38.

9.

Agency for Health Research and Quality. Healthcare cost and utilization project (HCUP). Available at: http://www.ahrq.gov/research/data/hcup/index.html

10.

Kirshenbaum EJ, Nelson M, Hehemann MC, et al. Impact of post-hospital syndrome on penile prosthesis outcomes: a period of Global Health risk. J Urol. 2019;201(1):154–9.

11.

Angus DC, Linde-Zwirble WT, Lidicker J, et al. Epidemiology of severe sepsis in the United States: analysis of incidence, outcome, and associated costs of care. Crit Care Med. 2001;29:1303–10.

12.

Quan H, Sundararajan V, Halfon P, et al. Coding algorithms for defining comorbidities in ICD-9-CM and ICD-10 administrative data. Med Care. 2005;43:1130–9.

13.

Jencks SF, Williams MV, Coleman EA. Rehospitalizations among patients in the Medicare fee-for-service program. N Engl J Med. 2009;360(14):1418–28.

14.

O'Connor CM, Miller AB, Blair JE, et al. Causes of death and rehospitalization in patients hospitalized with worsening heart failure and reduced left ventricular ejection fraction: results from efficacy of vasopressin antagonism in heart failure outcome study with Tolvaptan (EVEREST) program. Am Heart J. 2010;159(5):841–9.

15.

Dunlay SM, Weston SA, Killian JM, Bell MR, Jaffe AS, Roger VL. Thirty-day rehospitalizations after acute myocardial infarction: a cohort study. Ann Intern Med. 2012;157(1):11–8.

16.

Kortebein P, Ferrando A, Lombeida J, Wolfe R, Evans WJ. Effect of 10 days of bed rest on skeletal muscle in healthy older adults. JAMA. 2007;297(16):1772–4.

17.

Sullivan DH, Sun S, Walls RC. Protein-energy undernutrition among elderly hospitalized patients: a prospective study. JAMA. 1999;281(21):2013–9.

18.

Yoder JC, Staisiunas PG, Meltzer DO, Knutson KL, Arora VM. Noise and sleep among adult medical inpatients: far from a quiet night. Arch Intern Med. 2012;172(1):68–70.

19.

Kiely DK, Bergmann MA, Murphy KM, Jones RN, Orav EJ, Marcantonio ER. Delirium among newly admitted postacute facility patients: prevalence, symptoms, and severity. J Gerontol A Biol Sci Med Sci. 2003;58(5):M441–5.
Ethics declarations
Conflicts of interest
Elizabeth R Mueller:
Astellas Pharma: investigator funding.
Boston Scientific: advisory board.
Butler-Snow/Ethicon: legal consultation.
UpToDate: royalties.
Spencer Hart, Marc Nelson, Eric Kirshenbaum, and Gopal Gupta have no financial disclosures or conflicts of interest.
Additional information
Publisher's note
Springer Nature remains neutral with regard to jurisdictional claims in published maps and institutional affiliations.
Electronic supplementary material
About this article
Cite this article
Hart, S.T., Nelson, M., Kirshenbaum, E. et al. Post-hospital syndrome predicts poor postoperative outcomes and increased cost following transvaginal midurethral sling placement. Int Urogynecol J 31, 1417–1422 (2020). https://doi.org/10.1007/s00192-019-04009-5
Received:

Accepted:

Published:

Issue Date:
Keywords
Mid-urethral sling

Post-hospital syndrome

Outcomes