Abstract
Introduction and hypothesis
Laparoscopic repair of different female genitourinary fistulae has been recently reported, including both conventional and laparoendoscopic single-site surgery (LESS). We present our 10-year single-center experience of the laparoscopic repair of different types of female genitourinary fistulae.
Methods
A retrospective analysis of our records over the last 10 years was performed. Type of fistula, etiology, laparoscopic approach, operative data, postoperative outcome, and follow-up were recorded.
Results
Overall, 46 patients with laparoscopic repair of genitourinary fistulae were reported: 25 had vesicovaginal fistulae (VVF), 14 had vesicouterine fistulae (VUF), and 7 had ureterovaginal fistulae (UVF). Thirty-three patients had conventional laparoscopic repair, whereas 7 VVF and 6 VUF had LESS repair. In all patients with VVF and VUF, extravesical repair was carried out by excising the fistulous tract and closing both the bladder and the vagina or the uterus with interposing tissue in-between. In patients with UVF, extravesical ureteric re-implantation was performed. Mean operative time was 176 ± 25 min. Mean blood loss was 105 ± 25 cc. No intraoperative or postoperative complications occurred. None was converted to open surgery. Mean postoperative hospital stay was 3.2 ± 1.2 days. After a mean follow-up of 6.3 ± 3.1 years, all patients had undergone successful repair, except for one patient with complex VVF.
Conclusions
Laparoscopic repair of VVF, VUF, and UVF is a feasible procedure with a high success rate and low morbidity. LESS repair of VVF and VUF has a comparable success rate to conventional laparoscopy, but with a shorter hospital stay and fewer analgesic requirements.
This is a preview of subscription content, log in to check access.
Access options
Buy single article
Instant access to the full article PDF.
US$ 39.95
Price includes VAT for USA
Subscribe to journal
Immediate online access to all issues from 2019. Subscription will auto renew annually.
US$ 199
This is the net price. Taxes to be calculated in checkout.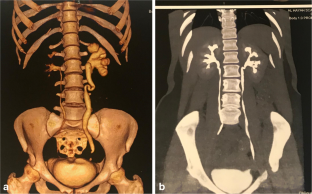 References
1.

Miller EA, Webster GD. Current management of vesicovaginal fistulae. Curr Opin Urol. 2001;11:417–21.

2.

Eilber KS, Kavaler E, Rodriguez LV, Rosenblum N, Raz S. Ten-year experience with transvaginal vesicovaginal fistula repair using tissue interposition. J Urol. 2003;9:215–20.

3.

Knipe W. Vesico-uterine fistula. Am J Obstet Gynecol. 1908;57:211–7.

4.

Youssef AF. "Menouria" following lower segment cesarean section. A syndrome. Am J Obstet Gynecol. 1957;73:759–67.

5.

Miklos JR. Laparoscopic treatment of vesicouterine fistula. J Am Assoc Gynecol Laparosc. 1999;7:211–7.

6.

Ibachie G, Njoku O. Vesico-uterine fistula. Br J Urol. 1985;57:438–9.

7.

Smith RE. Ureteral injuries associated with gynecologic surgery. Prevention and management. Clin Obstet Gynecol. 1976;19:623–44.

8.

Payne C. Ureteral injuries in the female. Fistulas and obstruction. In: Raz S, editor. Female urology. 2nd ed. Philadelphia: Saunders; 1996. p. 507–20.

9.

Stothers L, Chopra A, Raz S. Vesicovaginal fistula. In: Raz S, editor. Female urology. Philadelphia: Saunders; 1996. p. 490–506.

10.

Oakley S, Brown H, Greer J, Richardson M, Adelowo A, Yurteri-Kaplan L, et al. Management of vesicovaginal fistulae: a multicentre analysis from the fellows pelvic research network. Female Pelvic Med Reconstr Surg. 2014;20(1):7–139.

11.

Ghoniem GM, Warda HA. The management of genitourinary fistula in the third millennium. Arab J Urol. 2014;12:97–105.

12.

Abdel-Karim AM, Moussa A, Elsalmy S. Laparoendoscopic single-site surgery extravesical repair of vesicovaginal fistula: early experience. Urology. 2011;78(3):567–71.

13.

Abdel-Karim AM, Elmissiry M, Aboulfotoh A, Moussa A, Elsalmy S. Laparoendoscopic single-site surgery (LESS) and conventional laparoscopic extravesical repair of vesicouterine fistula: single-center experience. Int Urol Nephrol. 2013;45:995–1000.

14.

Chibber PJ, Shah HN, Jain P. Laparoscopic O'Conor's repair for vesico-vaginal and vesico-uterine fistulae. BJU Int. 2005;96(1):183–6.

15.

Porpiglia F, Autorino R, Cicione A, Pagliarulo V, Falsaperla M, Volpe A, et al. Contemporary urologic minilaparoscopy: indications, technique and surgical outcomes in multiinstitutional European cohort. J Endourol. 2014;28(8):951–7.

16.

Kaouk J, Gill I. Laparoscopic reconstructive urology. J Urol. 2003;170(4):1070–8.

17.

Nezhat CH, Nezhat F, Nezhat C, Rottenberg H. Laparoscopic repair of a vesicovaginal fistula: a case report. Obstet Gynecol. 1994;83:899–901.

18.

Tiong HY, Shim T, Lee YM, Tan JK. Laparoscopic repair of vesicovaginal fistula. Int Urol Nephrol. 2007;39:1085–90.

19.

Puntambekar SP, Desai R, Galagali A, et al. Laparoscopic transvesical approach for vesicovaginal fistula repair. J Minim Invasive Gynecol. 2013;20:334.

20.

Hemal AK, Kumar R, Nabi G. Post-cesarean cervicovesical fistula: technique of laparoscopic repair. J Urol. 2001;165:1167–8.

21.

Das Mahapatra P, Bhattacharyya P. Laparoscopic intraperitoneal repair of high-up urinary bladder fistula: a review of 12 cases. Int Urogynecol J Pelvic Floor Dysfunct. 2007;18:635–9.

22.

Occhino JA, Hokenstad ED, Linder BJ. Robot-assisted vesicovaginal fistula repair via a transvesical approach. Int Urogynecol J. 2018;30(2):327–9. https://doi.org/10.1007/s00192-018-3843-8.

23.

Hemal AK, Sharma N, Mukherjee S. Robotic repair of complex vesicouterine fistula with and without hysterectomy. Urol Int. 2009;82:411–5.

24.

Miklos JR, Moore RD, Chinthakanan O. Laparoscopic and robotic-assisted vesicovaginal fistula repair: a systematic review of the literature. J Minim Invasive Gynecol. 2015;22(5):727–36.

25.

Autorino R, Cadeddu JA, Desai MM, Gettman M, Gill IS, Kavoussi LR, et al. Laparoendoscopic single-site and natural orifice transluminal endoscopic surgery in urology: a critical analysis of the literature. Eur Urol. 2011;59:26–45.

26.

Tracy CR, Raman JD, Cadeddu JA, Rane A. Laparoendoscopic single-site surgery in urology: where have we been and where are we heading? Nat Clin Pract Urol. 2008;5:561–8.

27.

O'Conor VJ Jr. Review of experience with vesicovaginal fistula repair. J Urol. 1980;123:367–9.

28.

Aminsharifi A. Minimally invasive management of concomitant vesicovaginal and ureterovaginal fistulas after transabdominal hysterectomy: laparoscopic fistula repair with ureteroneocystostomy using Boari flap. J Minim Invasive Gynecol. 2018;25(1):17–8. https://doi.org/10.1016/j.jmig.2017.04.013.

29.

Ramalingam M, Senthil K, Venkatesh V. Laparoscopic repair of ureterovaginal fistula: successful outcome by laparoscopic ureteral reimplantation. J Endourol. 2005;19(10):1174–6.
Ethics declarations
Conflicts of interest
None.
Additional information
Publisher's note
Springer Nature remains neutral with regard to jurisdictional claims in published maps and institutional affiliations.
About this article
Cite this article
Abdel-Karim, A., Elmissiry, M., Moussa, A. et al. Laparoscopic repair of female genitourinary fistulae: 10-year single-center experience. Int Urogynecol J 31, 1357–1362 (2020). https://doi.org/10.1007/s00192-019-04002-y
Received:

Accepted:

Published:

Issue Date:
Keywords
Laparoscopy

Genitourinary fistula

Repair