Abstract
Introduction and hypothesis
Post-operative urinary retention is a common problem affecting close to half of all women undergoing pelvic reconstructive surgery. This was an exploratory analysis that was aimed at identifying factors associated with an inability to learn clean intermittent self-catheterization (CISC) after a failed post-operative retrograde voiding trial (RGVT).
Methods
We performed a retrospective case–control study of women who underwent pelvic organ prolapse or urinary incontinence surgery within a single division from 2016 to 2018. We compared women who could learn CISC with those unable to learn and discharged home with an indwelling catheter (IC). Analyses were carried out using Fisher's exact test, the Mann–Whitney U test, the Chi-squared test, and the t test with logistic regression.
Results
Of the 202 women who failed their RGVT, 134 (66.3%) were able to learn CISC and 68 (33.7%) were not. Older age, urinary incontinence, diabetes and colpectomy/colpocleisis were associated with an inability to learn CISC (p < 0.05). Women with an IC were more likely to have an office visit related to catheter care (65.7% vs 5.2%, p < 0.001). A UTI within 30 days of surgery was more common with CISC (16.4% vs 6.0%, p = 0.037). In a multivariate logistic regression model, each increasing year of age was associated with a 1.036-fold decrease in the ability to learn CISC (aOR 1.036, 95% CI 1.002–1.071; p = 0.04).
Conclusions
Increasing age was the only variable identified on multivariate logistic regression as a risk factor for failure to learn CISC. Further studies are needed to identify barriers to learning post-operative self-catheterization.
This is a preview of subscription content, log in to check access.
Access options
Buy single article
Instant access to the full article PDF.
US$ 39.95
Price includes VAT for USA
Subscribe to journal
Immediate online access to all issues from 2019. Subscription will auto renew annually.
US$ 199
This is the net price. Taxes to be calculated in checkout.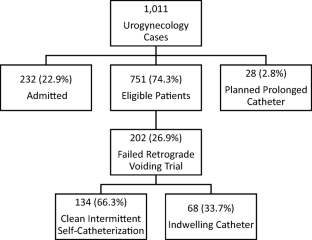 References
1.

Geller EJ. Prevention and management of postoperative urinary retention after urogynecologic surgery. Int J Women's Health. 2014;6:829–38.

2.

Walters MD, Karram MM, editors. Urogynecology and reconstructive pelvic surgery. 4th ed. Philadelphia: Elsevier; 2015.

3.

Hakvoort RA, Dijkgraaf MG, Burger MP, Emanuel MH, Roovers JP. Predicting short-term urinary retention after vaginal prolapse surgery. Neurourol Urodyn. 2009;28(3):225–8.

4.

Turner LC, Kantartzis K, Shepherd JP. Predictors of postoperative acute urinary retention in women undergoing minimally invasive sacral colpopexy. Female Pelvic Med Reconstr Surg. 2015;21(1):39–42.

5.

Book NM, Novi B, Novi JM, Pulvino JQ. Postoperative voiding dysfunction following posterior colporrhaphy. Female Pelvic Med Reconstr Surg. 2012;18(1):32–4.

6.

Madersbacher H, Cardozo L, Chapple C, et al. What are the causes and consequences of bladder overdistension? ICI-RS 2011. Neurourol Urodyn. 2012;31(3):317–21.

7.

Hakvoort RA, Thijs SD, Bouwmeester FW, et al. Comparing clean intermittent catheterisation and transurethral indwelling catheterisation for incomplete voiding after vaginal prolapse surgery: a multicentre randomised trial. BJOG. 2011;118(9):1055–60.

8.

Kisby CK, Polin MR, Visco AG, Siddiqui NY. Same-day discharge after robotic-assisted sacrocolpopexy. Female Pelvic Med Reconstr Surg. 2018; DOI: 10.1097/SPV.0000000000000573.

9.

Carter-Brooks CM, Du AL, Ruppert KM, Romanova AL, Zyczynski HM. Implementation of a urogynecology-specific enhanced recovery after surgery (ERAS) pathway. Am J Obstet Gynecol. 2018;219(5):495.e1–495.e10.

10.

Bickhaus JA, Drobnis EZ, Critchlow WA, Occhino JA, Foster RT Sr. The feasibility of clean intermittent self-catheterization teaching in an outpatient setting. Female Pelvic Med Reconstr Surg. 2015;21(4):220–4.

11.

Webb RJ, Lawson AL, Neal DE. Clean intermittent self-catheterisation in 172 adults. Br J Urol. 1990;65(1):20–3.

12.

Cobussen-Boekhorst H, Beekman J, van Wijlick E, Schaafstra J, van Kuppevelt D, Heesakkers J. Which factors make clean intermittent (self) catheterisation successful? J Clin Nurs. 2016;25(9-10):1308–18.

13.

Dieter AA, Amundsen CL, Edenfield AL, et al. Oral antibiotics to prevent postoperative urinary tract infection: a randomized controlled trial. Obstet Gynecol. 2014;123(1):96–103.

14.

Nygaard I, Brubaker L, Chai TC, et al. Risk factors for urinary tract infection following incontinence surgery. Int Urogynecol J. 2011;22(10):1255–65.

15.

Prieto J, Murphy CL, Moore KN, Fader M. Intermittent catheterisation for long-term bladder management. Cochrane Database Syst Rev. 2014;8:CD006008.

16.

Sutkin G, Alperin M, Meyn L, Wiesenfeld HC, Ellison R, Zyczynski HM. Symptomatic urinary tract infections after surgery for prolapse and/or incontinence. Int Urogynecol J. 2010;21(8):955–61.

17.

Lavelle ES, et al. Nitrofurantoin prophylaxis in women undergoing catheterization for acute postoperative urinary retention after pelvic reconstructive surgery: a randomized, double-blind, placebo-controlled trial. American Urogynecologic Society Pelvic Floor Disorders Week. Chicago; October 9–13, 2018.

18.

Elkadry EA, Kenton KS, FitzGerald MP, Shott S, Brubaker L. Patient-selected goals: a new perspective on surgical outcome. Am J Obstet Gynecol. 2003;189(6):1551–7, discussion 1557-8.

19.

Brubaker L, Litman HJ, Rickey L, et al. Surgical preparation: are patients "ready" for stress urinary incontinence surgery? Int Urogynecol J. 2014;25(1):41–6.

20.

Chong C, Kim HS, Suh DH, Jee BC. Risk factors for urinary retention after vaginal hysterectomy for pelvic organ prolapse. Obstet Gynecol Sci. 2016;59(2):137–43.
Acknowledgements
Our research was supported by the National Institutes of Health through Grant Number UL1TR001857.
Ethics declarations
Conflicts of interest
The authors report that they have no conflicts of interest.
Additional information
Publisher's note
Springer Nature remains neutral with regard to jurisdictional claims in published maps and institutional affiliations.
About this article
Cite this article
Sassani, J.C., Stork, A., Ruppert, K. et al. Variables associated with an inability to learn clean intermittent self-catheterization after urogynecologic surgery. Int Urogynecol J 31, 1401–1407 (2020). https://doi.org/10.1007/s00192-019-03974-1
Received:

Accepted:

Published:

Issue Date:
Keywords
Pelvic organ prolapse

Post-operative urinary retention

Self-catheterization