Abstract
Introduction and hypothesis
Pelvic organ prolapse (POP) surgery using a mesh has a complication rate of 26%, and an estimated 10% of those operated on do not consider it brings improvement. The objective of this study was to identify preoperative predictors of improvement after POP repair with mesh to develop a predictive score.
Methods
This is a secondary analysis of the randomized multicenter trial PROSPERE, which compared morbidity after prolapse repair with mesh according to the vaginal or laparoscopic approach. Improved women [PGI-I score at 1-year follow-up = 1 (much better) or 2 (better)] were compared with unimproved women. Two hundred fifty-five women were included to derive the prediction score based on multiple logistic regression. An internal validation by bootstrapping estimated the unbiased performance of the model.
Results
Criteria independently related to improvement were: (1) cystocele stage > II [OR: 2.93 95% CI (1.22–7.04), p = 0.015]; (2) preoperative expectation related to bulge symptom improvement [OR: 2.57 95% CI (1.07–6.04), p = 0.031] and (3) absence of chronic pelvic pain [OR: 4.55 95% CI (1.77–11.46), p = 0.001]. A score (scored from 0 to 11) was constructed from the aOR of the predictive model: the ROC-AUC of the score was 0.75, and a score ≥ 9 predicted a 97% chance of improvement (95% CI 92–99), with a specificity of 85% (95% CI 68–94). The ROC-AUC corrected for optimism by the bootstrap procedure was 0.70.
Conclusions
This score could be used by surgeons in preoperative counseling of women.
This is a preview of subscription content, log in to check access.
Access options
Buy single article
Instant access to the full article PDF.
US$ 39.95
Price includes VAT for USA
Subscribe to journal
Immediate online access to all issues from 2019. Subscription will auto renew annually.
US$ 199
This is the net price. Taxes to be calculated in checkout.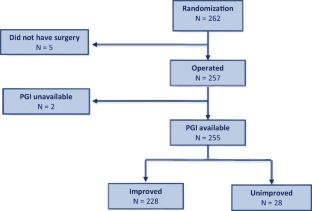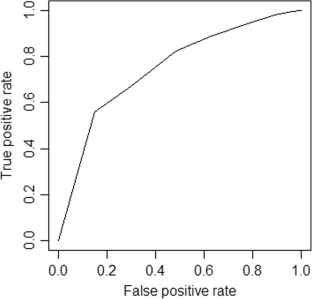 References
1.

Bump RC, Norton PA. Epidemiology and natural history of pelvic floor dysfunction. Obstet Gynecol Clin N Am. 1998;25(4):723–46.

2.

Smith FJ, Holman CDJ, Moorin RE, Tsokos N. Lifetime risk of undergoing surgery for pelvic organ prolapse. Obstet Gynecol. 2010;116(5):1096–100.

3.

Maher CF, Baessler KK, Barber MD, Cheon C, Consten ECJ, Cooper KG, et al. Summary: 2017 international consultation on incontinence evidence-based surgical pathway for pelvic organ prolapse. Female Pelvic Med Reconstr Surg. 2018. https://doi.org/10.1097/SPV.0000000000000591. Volume Publish Ahead of Print-Issue-p.

4.

Lucot J-P, Cosson M, Bader G, Debodinance P, Akladios C, Salet-Lizée D, et al. Safety of vaginal mesh surgery versus laparoscopic mesh Sacropexy for cystocele repair: results of the prosthetic pelvic floor repair randomized controlled trial. Eur Urol. 2018;74(2):167–76.

5.

de Landsheere L, Ismail S, Lucot J-P, Deken V, Foidart J-M, Cosson M. Surgical intervention after transvaginal Prolift mesh repair: retrospective single-center study including 524 patients with 3 years' median follow-up. Am J Obstet Gynecol. 2012;206(1):83.e1–7.

6.

Pécheux O, Giraudet G, Drumez E, Di Serio M, Estelle J-D-G, De Landsheere L, et al. Long-term (8.5 years) analysis of the type and rate of reoperation after transvaginal mesh repair (Prolift®) in 349 patients. Eur J Obstet Gynecol Reprod Biol. 2019;232:33–9.

7.

Wagner L, Chevrot A, Llinares E, Costa P, Droupy S. Long-term anatomic and functional results of laparoscopic sacrocolpopexy: a prospective study. Int Urol Nephrol. 2019. https://doi.org/10.1007/s11255-019-02124-2.

8.

Le Normand L, Cosson M, Cour F, Deffieux X, Donon L, Ferry P, et al. Clinical practice guidelines: synthesis of the guidelines for the surgical treatment of primary pelvic organ prolapse in women by the AFU, CNGOF, SIFUD-PP, SNFCP, and SCGP. J Gynecol Obstet Hum Reprod. 2017;46(5):387–91.

9.

Duraes M, Panel L, Cornille A, Courtieu C. Long-term follow-up of patients treated by transvaginal mesh repair for anterior prolapse. Eur J Obstet Gynecol Reprod Biol. 2018;230:124–9.

10.

Bui C, Ballester M, Chéreau E, Guillo E, Daraï E. Functional results and quality of life of laparoscopic promontofixation in the cure of genital prolapse. Gynécologie Obstétrique Fertil. 2010;38(10):563–8.

11.

Bacle J, Papatsoris AG, Bigot P, Azzouzi A-R, Brychaet P-E, Piussan J, et al. Laparoscopic promontofixation for pelvic organ prolapse: a 10-year single center experience in a series of 501 patients. Int J Urol. 2011;18(12):821–6.

12.

Milani AL, Damoiseaux A, IntHout J, Kluivers KB, Withagen MIJ. Long-term outcome of vaginal mesh or native tissue in recurrent prolapse: a randomized controlled trial. Int Urogynecol J. 2018;29(6):847–58.

13.

Srikrishna S, Robinson D, Cardozo L. A longitudinal study of patient and surgeon goal achievement 2 years after surgery following pelvic floor dysfunction surgery. BJOG Int J Obstet Gynaecol. 2010;117(12):1504–11.

14.

Bump RC, Mattiasson A, Bø K, Brubaker LP, DeLancey JO, Klarskov P, et al. The standardization of terminology of female pelvic organ prolapse and pelvic floor dysfunction. Am J Obstet Gynecol. 1996;175(1):10–7.

15.

Dindo D, Demartines N, Clavien P-A. Classification of surgical complications: a new proposal with evaluation in a cohort of 6336 patients and results of a survey. Ann Surg. 2004;240(2):205–13.

16.

de Tayrac R, Deval B, Fernandez H, Marès P. Mapi research institute. [development of a linguistically validated French version of two short-form, condition-specific quality of life questionnaires for women with pelvic floor disorders (PFDI-20 and PFIQ-7)]. J Gynécologie Obstétrique. Biol Reprod. 2007;36(8):738–48.

17.

Wein AJ. ICIQ: a brief and robust measure for evaluating the symptoms and impact of urinary incontinence. J Urol. 2005;173(3):908–9.

18.

Altomare DF, Spazzafumo L, Rinaldi M, Dodi G, Ghiselli R, Piloni V. Set-up and statistical validation of a new scoring system for obstructed defaecation syndrome. Color Dis. 2008;10(1):84–8.

19.

Shaw JW, Johnson JA, Coons SJ. US valuation of the EQ-5D health states: development and testing of the D1 valuation model. Med Care. 2005;43(3):203–20.

20.

Rosen R, Brown C, Heiman J, Leiblum S, Meston C, Shabsigh R, et al. The female sexual function index (FSFI): a multidimensional self-report instrument for the assessment of female sexual function. J Sex Marital Ther. 2000;26(2):191–208.

21.

Rockwood TH, Constantine ML, Adegoke O, Rogers RG, McDermott E, Davila GW, et al. The PISQ-IR: considerations in scale scoring and development. Int Urogynecol J. 2013;24(7):1105–22.

22.

Chapron C, Barakat H, Fritel X, Dubuisson J-B, Bréart G, Fauconnier A. Presurgical diagnosis of posterior deep infiltrating endometriosis based on a standardized questionnaire. Hum Reprod. 2005;20(2):507–13.

23.

Chapron C, Fauconnier A, Vieira M, Barakat H, Dousset B, Pansini V, et al. Anatomical distribution of deeply infiltrating endometriosis: surgical implications and proposition for a classification. Hum Reprod Oxf Engl. 2003;18(1):157–61.

24.

Fauconnier A, Dubuisson J-B, Foulot H, Deyrolles C, Sarrot F, Laveyssière M-N, et al. Mobile uterine retroversion is associated with dyspareunia and dysmenorrhea in an unselected population of women. Eur J Obstet Gynecol Reprod Biol. 2006;127(2):252–6.

25.

Srikrishna S, Robinson D, Cardozo L. Validation of the patient global impression of improvement (PGI-I) for urogenital prolapse. Int Urogynecol J. 2010;21(5):523–8.

26.

Yalcin I, Bump RC. Validation of two global impression questionnaires for incontinence. Am J Obstet Gynecol. 2003;189(1):98–101.

27.

Moons KGM, Altman DG, Reitsma JB, Collins GS. Transparent reporting of a multivariate prediction model for individual prognosis or development initiative. New guideline for the reporting of studies developing, validating, or updating a multivariable clinical prediction model: the TRIPOD statement. Adv Anat Pathol. 2015;22(5):303–5.

28.

Steyerberg EW. Clinical prediction models [internet]. New York: Springer; 2009. [cited 2017 May 7]. (Statistics for Biology and Health). Available from: http://link.springer.com/10.1007/978-0-387-77244-8.

29.

Demler OV, Pencina MJ, D'Agostino RB. Misuse of DeLong test to compare AUCs for nested models. Stat Med. 2012;31(23):2577–87.

30.

Buckley RG, King KJ, Disney JD, Ambroz PK, Gorman JD, Klausen JH. Derivation of a clinical prediction model for the emergency department diagnosis of ectopic pregnancy. Acad Emerg Med Off J Soc Acad Emerg Med. 1998;5(10):951–60.

31.

Miller TD, Hodge DO, Christian TF, Milavetz JJ, Bailey KR, Gibbons RJ. Effects of adjustment for referral bias on the sensitivity and specificity of single photon emission computed tomography for the diagnosis of coronary artery disease. Am J Med. 2002;112(4):290–7.

32.

Sabbagh R, Mandron E, Piussan J, Brychaert PE, Tu LM. Long-term anatomical and functional results of laparoscopic promontofixation for pelvic organ prolapse. BJU Int. 2010;106(6):861–6.

33.

Mourik SL, Martens JE, Aktas M. Uterine preservation in pelvic organ prolapse using robot assisted laparoscopic sacrohysteropexy: quality of life and technique. Eur J Obstet Gynecol Reprod Biol. 2012;165(1):122–7.
Ethics declarations
Conflicts of interest
This research was supported by a grant from Institut de Recherche en Santé de la Femme (Women's Health Research Institute).
Additional information
Publisher's note
Springer Nature remains neutral with regard to jurisdictional claims in published maps and institutional affiliations.
About this article
Cite this article
Chattot, C., Deffieux, X., Lucot, J. et al. Preoperative predictors and a prediction score for perception of improvement after mesh prolapse surgery. Int Urogynecol J 31, 1393–1400 (2020). https://doi.org/10.1007/s00192-019-03953-6
Received:

Accepted:

Published:

Issue Date:
Keywords
Genital prolapse

Cystocele

Surgery

Postoperative improvement

Counseling

Clinical prediction rule