Abstract
Introduction and hypothesis
The use of an appropriate uterine manipulator is key to various laparoscopic gynecologic procedures. Adequate uterine manipulation is important for total or supracervical laparoscopic hysterectomies, laparoscopic sacrocolpopexy as well as laparoscopic repair of vaginal vault prolapse. While several uterine manipulators are available to choose from, their use may be specific to certain procedures and their cost may vary as well.
Methods
This video aims to provide an introduction to a multipurpose, reusable uterine/vaginal manipulator that can be used for laparoscopic supracervical hysterectomy, laparoscopic sacrocolpopexy, laparoscopic hysteropexy as well as laparoscopic repair of vaginal vault prolapse.
Results
The video highlights the user-friendly, easy-to-clean, reusable, multipurpose uterine/vaginal manipulator.
Conclusions
The manipulator is designed for an efficient combination of laparoscopic urogynecologic procedures and supracervical hysterectomy.
This is a preview of subscription content, log in to check access.
Access options
Buy single article
Instant access to the full article PDF.
US$ 39.95
Tax calculation will be finalised during checkout.
Subscribe to journal
Immediate online access to all issues from 2019. Subscription will auto renew annually.
US$ 119
Tax calculation will be finalised during checkout.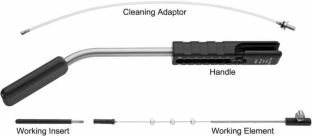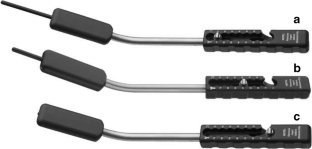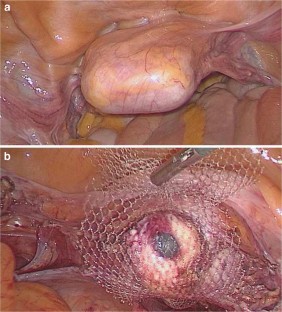 References
1.

van den Haak L, Alleblas C, Nieboer TE, Rhemrev JP, Jansen FW. Efficacy and safety of uterine manipulators in laparoscopic surgery: a review. Arch Gynecol Obstet. 2015;292(5):1003–11.

2.

Croft K, Mattingly PJ, Bosse P, Naumann RW. Physician education on controllable costs significantly reduces cost of laparoscopic hysterectomy. J Minim Invasive Gynecol. 2017;24(1):62–6.

3.

Murphy M, Holzberg A, van Raalte H, Kohli N, Goldman HB, Lucente V, et al. Time to rethink: an evidence-based response from pelvic surgeons to the FDA safety communication: "UPDATE on serious complications associated with transvaginal placement of surgical mesh for pelvic organ prolapse". Int Urogynecol J. 2012;23(1):5–9.

4.

Schaer GN, Koechli OR, Haller U. Single-use versus reusable laparoscopic surgical instruments: a comparative cost analysis. Am J Obstet Gynecol. 1995;173(6):1812–5.
Ethics declarations
Conflicts of interest
The first author is, together with Karl Storz, the developer of the instrument. Royalties go to the employer/hospital. Therefore, there is no financial conflict of interest of the first or other two authors.
Consent
Written informed consent was obtained from the patient for publication of this video article and any accompanying images.
Additional information
Publisher's note
Springer Nature remains neutral with regard to jurisdictional claims in published maps and institutional affiliations.
Electronic supplementary material
About this article
Cite this article
Schaer, G.N., Sarlos, D. & Khan, Z. A multipurpose uterine/vaginal manipulator for laparoscopic urogynecologic procedures. Int Urogynecol J 30, 1377–1379 (2019). https://doi.org/10.1007/s00192-019-03940-x
Received:

Accepted:

Published:

Issue Date:
Keywords
Uterine manipulator

Vaginal manipulator

Laparoscopic Sacrocolpopexy

Laparoscopic supracervical hysterectomy

Laparoscopic repair of vaginal vault prolapse

Hysteropexy

Uterovaginal prolapse