Abstract
This paper tests Minsky's financial instability hypothesis (FIH) for a panel of Spanish manufacturing firms. We find that the probability of a firm being financially constrained externally in terms of undertaking innovation projects moves inversely with the business and credit cycle, which is consistent with Minsky's FIH. We provide evidence that the credit and business cycles strengthen each other. These results highlight the importance of implementing polices designed to contain the financial cycle.
We're sorry, something doesn't seem to be working properly.
Please try refreshing the page. If that doesn't work, please contact support so we can address the problem.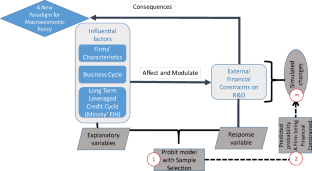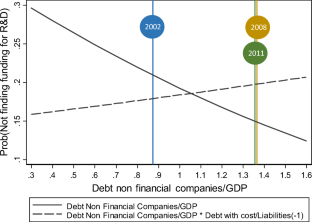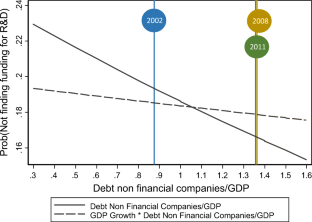 References
Aghion P, Askenazy P, Berman N, Cette G, Eymard L (2012) Credit constraints and the cyclicality of R&D investments: evidence from France. J Eur Econ Assoc 10:1001–1024

Arza V, Español P (2008) Les liaisons dangereuses: a Minskyan approach to the relation of credit and investment in Argentina during the 1990s. Camb J Econ 32:739–759

Aw BY, Roberts MJ, Xu DJ (2008) R&D investments, exporting, and the evolution of firm productivity. Am Econ Rev 98:451–456

Aw BY, Roberts MJ, Xu DJ (2011) R&D investment, exporting and productivity dynamics. Am Econ Rev 101:1312–1344

Barlevy G (2007) On the cyclicality of research and Developmen. Am Econ Rev 97:1134–1164

Beck T, Demirgüç-Kunt A, Maksimovic V (2006) The determinants of financing obstacles. J Int Money Financ 25:932–952

Bellofiore R, Ferri P (2001) Financial Keynesianism and market instability. The economic legacy of Hyman Minsky. Edward Elgar Publishing, Northampton

Benfratello L, Schiantarelli F, Sembenelli A (2008) Banks and innovation: microeconometric evidence on Italian firms. J Financ Econ 90:197–217

Bernanke B, Gertler M, Gilchrist S (1999) The financial accelerator in a quantitative business cycle framework. In: Taylor JB, Woodford M (eds) Handbook of macroeconomics, 1 (part C). Elsevier, Amsterdam, pp 1341–1393

Brown J, Petersen B (2011) Cash holdings and R&D smoothing. J Corp Finan 17:694–709

Brown J, Martinsson G, Petersen B (2012) Do financing constraints matter for R&D? Eur Econ Rev 56:1512–1529

Bustos P (2011) Trade liberalization, exports, and technology upgrading: evidence on the impact of MERCOSUR on Argentinean firms. Am Econ Rev 101:304–340

Charles S (2008) Corporate debt, variable retention rate and the appearance of financial fragility. Camb J Econ 32(781):795

Comin D, Gertler M (2006) Medium-term business cycles. Am Econ Rev 96:523–551

Czarnitzki D, Hottenrott H (2011) R&D investment and financing constraints of small and medium-sized firms. Small Bus Econ 36:65–83

Diamond D (1989) Reputation Acquisition in Debt Markets. J Polit Econ 97:828–862

Fatas A (2000) Do business-cycles cast long shadows? Short-run persistence and economic growth. J Econ Growth 5:147–162

Fazzari S, Ferri P, Greenberg E (2008) Cash flow, investment, and Keynes-Minsky cycles. J Econ Behav Organ 65(555):572

Flaschel P, Franke R, Semmler W (1997) Dynamic macroeconomics: instability, fluctuation, and growth in monetary economies. Mit Press, Cambridge

Foley D (1987) Liquidity-profit rate cycles in a capitalist economy. J Econ Behav Organ 8(363):376

Galia F, Legros D (2004) Complementarities between obstacles to innovation: evidence from France. Res Policy 33:1185–1199

García-Vega M, Huergo E (2011) Determinants of International R&D Outsourcing: the role of trade. Rev Dev Econ 15:93–107

Girma S, Görg H, Hanley A (2008) R&D and exporting: a comparison of British and Irish firms. Rev World Econ 144:750–773

Greenwald B, Stiglitz J (1993) Financial market imperfections and business cycles. Q J Econ 108:77–114

Jarsulic M (1989) Endogenous credit and endogenous business cycles. J Post Keynes Econ 12(1):35–48

Keen S (1995) Finance and economic breakdown: modeling Minsky's financial instability hypothesis. J Post Keynes Econ 17:607–635

Knell M (2014) Schumpeter, Minsky and the financial instability hypothesis. J Evol Econ 25:293–310

Laborda J, Laborda R. (2009) A new global tactical asset allocation approach to implement in a global macro hedge fund. Rev Econ Financ September: 82–98

Lee S (2012) Financial determinants of corporate R&D Investment in Korea. Asian Econ J 26:119–135

Lima G, Meirelles A (2007) Macrodynamics of debt regimes, financial instability and growth. Camb J Econ 31(563):580

Lopez-Garcia P, Montero JM, Morat-Benito E (2012) Business cycles and Investment in Intangibles: evidence from Spanish firms. Working paper Bank of Spain: 1219, Madrid

Mazzucato M (2013) Financing innovation: creative destruction vs. destructive creation. Ind Corp Chang 22:869–901

Mazzucato M, Perez C (2015) Innovation as growth policy: the challenge for Europe. In: Fagerberg J, Laestadius S, Martin B (eds) The triple challenge: Europe in a new age. Oxford University Press, Oxford

Mazzucato M, Wray R (2015) Financing the capital development of the economy: a Keynes-Schumpeter-Minsky synthesis, levy economics Institute of Bard College Working Paper no. 837

Melitz M (2003) The impact of trade on aggregate industry productivity and intra-industry reallocations. Econometrica 71:1695–1725

Minsky H (1984) Can it happen again? M.E. Sharpe, New York

Minsky H (1985) The financial instability process: a restatement. In: Arestis P, Shouras T (eds) Post Keynesian economic theory. Wheatsheaf Books, Sussex

Minsky H (1986) Stabilizing an unstable economy. Yale University Press, New Haven

Minsky H (1992) The financial instability hypothesis. The Jerome levy economics Institute of Bard College, working paper 74

Nikiforos M (2017) Uncertainty and contradiction: an essay on the business cycle. Rev Radic Political Econ 49(247):264

Nikolaidi M, Stockhammer E (2017) Minsky models: a structured survey. J Econ Surv 31:1304–1331

Pagano P, Schivardi F (2003) Firm size distribution and growth. Scand J Econ 105:255–274

Perez C (2002) Technological revolutions and financial capital: the dynamics of bubbles and Golden ages. Edward Elgar Publishing, Cheltenham

Ryoo S (2010) Long waves and short cycles in a model of endogenous financial fragility. J Econ Behav Organ 74(163):186

Ryoo S (2013) Bank profitability, leverage and financial instability: a Minsky-Harrod model. Camb J Econ 37:1127–1160

Schiantarelli F, Sembenelli A (2000) Form of ownership and financial constraints: panel data evidence from flow of funds and investment equations. Empirica 27:175–192

Setterfield M (2004) Financial fragility, effective demand and the business cycle. Rev Polit Econ 16(207):223

Stein J (2003) Agency, information and corporate investment. In: Constantinides G, Harris M, Stulz R (eds) Handbook of economics and finance. Elsevier North Holland, Amsterdam

Stockhammer E, Calvert-Jump R, Kartsten K, Cavallero J (2019) Short and medium term financial-real cycles: an empirical assessment. J Int Money Financ 94:81–96

Taylor L, O'Connell S (1985) A Minsky crisis. Q J Econ 100(871):885

Tiwari A, Mohnen P, Palm FC, van der Loeff SS (2008) Financial constraints and R&D investment: Evidence from CIS. In: Kleinknecht A, Ott R, van Beers C, Verburg R (eds) Determinants of innovative behaviour: a Firm's internal practices and its external environments. Palgrave Macmillan, London

Walde K, Woitek U (2004) R&D expenditure in G7 countries and the implications for endogenous fluctuations and growth. Econ Lett 82:91–97

Whalen CJ (2001) Integrating Schumpeter and Keynes: Hyman Minsky's theory of capitalist development. J Econ Issues 35(4):805–823

Wray R (2009) The rise and fall of money manager capitalism: a Minskian approach. Camb J Econ 33:807–828
Ethics declarations
Conflict of interest
The authors declare that they have no conflict of interest.
Additional information
Publisher's note
Springer Nature remains neutral with regard to jurisdictional claims in published maps and institutional affiliations.
About this article
Cite this article
Laborda, J., Salas, V. & Suárez, C. Financial constraints on R&D projects and minsky moments: containing the credit cycle. J Evol Econ (2021). https://doi.org/10.1007/s00191-021-00721-y
Keywords
R&D

Financial constraints

Business cycle

Credit cycle

Financial instability hypothesis
JEL classification