Abstract
Global ionosphere maps (GIM) computed from dual-frequency GNSS measurements have been widely used for monitoring ionosphere as well as providing ionospheric corrections in Space Geodesy since 1998. This work focuses on a comprehensive study of the influence of time resolution on GIM performance. One and a half solar cycle of the IGS GIM with higher time resolution and accuracy (the UPC-IonSAT Quarter-of-an-hour time resolution Rapid GIM, AKA uqrg) has been taken as baseline to downsample them to all possible sub-daily temporal resolutions. The performance of the resulting GIMs has been assessed by directly comparing with external vertical total electron content (VTEC) measurements from Jason altimeters over oceanic regions. In order to perform a complete assessment and analysis of involved GIMs, the influence of geographical position and solar and geomagnetic activities was also taken into account during more than one solar cycle. In addition, to have a clear view at the smaller time resolutions, a more accurate assessment, the dSTEC test based on external GNSS measurements not used in the GIM generation was also done during two solstice and two equinox days in 2015 over continental regions. The assessment shows that discrepancy among GIMs with different time resolutions becomes more apparent at low latitudes and also at high solar-geomagnetic activity. The results also suggest that the accuracy for GIMs with time resolution smaller or equal to 60 min is consistent during the period from 2002 to 2019 and is more accurate than other GIMs with lower temporal resolution. Accordingly, high time resolution (including 15, 30, 45 and 60 min) is recommended for the application of GIMs with the highest accuracy.
Access options
Buy single article
Instant access to the full article PDF.
US$ 39.95
Tax calculation will be finalised during checkout.
Subscribe to journal
Immediate online access to all issues from 2019. Subscription will auto renew annually.
US$ 119
Tax calculation will be finalised during checkout.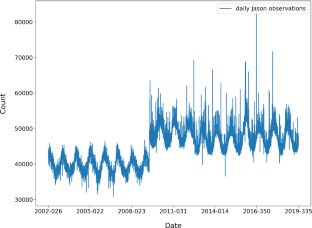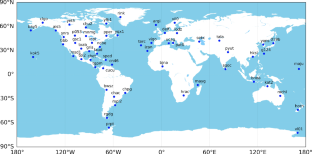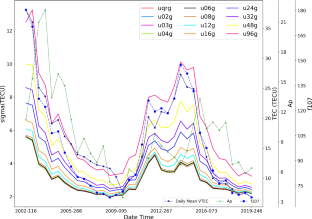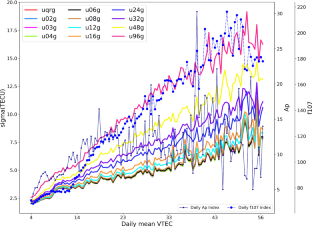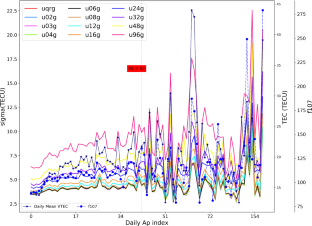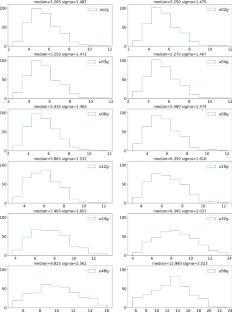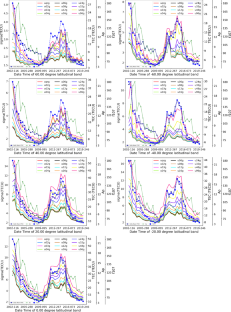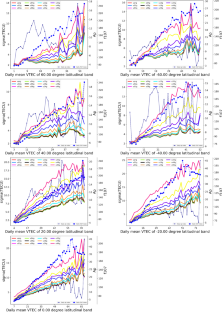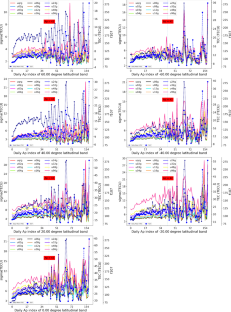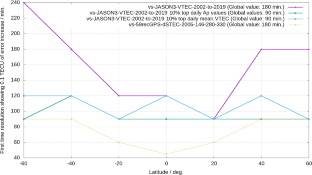 References
Azpilicueta F, Brunini C (2009) Analysis of the bias between TOPEX and GPS vTEC determinations. J Geod 83(2):121–127

Bidaine B, Lonchay M, Warnant R (2013) Galileo single frequency ionospheric correction: performances in terms of position. GPS Solut 17(1):63–73

Dach R, Jean Y (2013) IGS technical report 2012. IGS Central Bureau and University of Bern. ftp://igs.org/pub/resource/pubs/2012_techreport.pdf

Feltens J (2003) The activities of the ionosphere working group of the International GPS Service (IGS). GPS Solut 7(1):41–46

Goss A, Schmidt M, Erdogan E, Görres B, Seitz F (2019) High-resolution vertical total electron content maps based on multi-scale B-spline representations. Ann Geophys 37:699–717

Gurevich A (2012) Nonlinear phenomena in the ionosphere, vol 10. Springer, Berlin

Hernández-Pajares M, Juan J, Sanz J (1997) Neural network modeling of the ionospheric electron content at global scale using GPS data. Radio Sci 32(3):1081–1089

Hernández-Pajares M, Juan J, Sanz J (1999) New approaches in global ionospheric determination using ground GPS data. J Atmos Solar-Terr Phys 61(16):1237–1247

Hernández-Pajares M, Juan J, Sanz J, Colombo OL (2000) Application of ionospheric tomography to real-time GPS carrier-phase ambiguities Resolution, at scales of 400–1000 km and with high geomagnetic activity. Geophys Res Lett 27(13):2009–2012

Hernández-Pajares M, Juan JM, Sanz J (2006) Medium-scale traveling ionospheric disturbances affecting GPS measurements: spatial and temporal analysis. J Geophys Res Space Phys 111(A7):S11

Hernández-Pajares M, Juan J, Sanz J, Orus R, García-Rigo A, Feltens J, Komjathy A, Schaer S, Krankowski A (2009) The IGS VTEC maps: a reliable source of ionospheric information since 1998. J Geod 83(3–4):263–275

Hernández-Pajares M, Roma-Dollase D, Krankowski A, García-Rigo A, Orús-Pérez R (2017) Methodology and consistency of slant and vertical assessments for ionospheric electron content models. J Geod. https://doi.org/10.1007/s00190-017-1032-z

Hernández-Pajares M, Lyu H, Garcia-Fernandez M, Orus-Perez R (2020) A new way of improving global ionospheric maps by ionospheric tomography: consistent combination of multi-GNSS and multi-space geodetic dual-frequency measurements gathered from vessel-, leo-and ground-based receivers. J Geod 94(8):1–16

Imel DA (1994) Evaluation of the topex/poseidon dual-frequency ionosphere correction. J Geophys Res Oceans 99(C12):24895–24906

Jee G, Lee H-B, Kim YH, Chung J-K, Cho J (2010) Assessment of GPS global ionosphere maps (GIM) by comparison between CODE GIM and TOPEX/Jason TEC data: ionospheric perspective. J Geophys Res Space Phys 115(A10):319

Kivelson A (1995) Introduction to space physics. Cambridge University Press, Cambridge

Klobuchar JA (1987) Ionospheric time-delay algorithm for single-frequency GPS users. IEEE Trans Aerosp Electron Syst 3:325–331

Komjathy A (1997) Global ionospheric total electron content mapping using the global positioning system. Ph.D. thesis, University of New Brunswick Fredericton

Laundal KM, Cnossen I, Milan SE, Haaland S, Coxon J, Pedatella N, Förster M, Reistad JP (2017) North–south asymmetries in Earth's magnetic field. Space Sci Rev 206(1–4):225–257

Li M, Yuan Y, Wang N, Li Z, Huo X (2018) Performance of various predicted GNSS global ionospheric maps relative to GPS and Jason tec data. GPS Solut 22(2):55

Orús R, Hernández-Pajares M, Juan J, Sanz J (2005) Improvement of global ionospheric VTEC maps by using kriging interpolation technique. J Atmos Solar-Terr Phys 67(16):1598–1609

Roma-Dollase D, Hernández-Pajares M, Krankowski A, Kotulak K, Ghoddousi-Fard R, Yuan Y, Li Z, Zhang H, Shi C, Wang C et al (2018) Consistency of seven different GNSS global ionospheric mapping techniques during one solar cycle. J Geod 92(6):691–706

Schaer S (1999) Mapping and predicting the earths ionosphere using the Global Positioning System. 1999. Ph.D. thesis, Ph.D. dissertation. University of Bern, Bern, Switzerland

Schaer S, Gurtner W, Feltens J (1998) IONEX: The ionosphere map exchange format version 1. In: Proceedings of the IGS AC workshop, Darmstadt, Germany, vol 9, no 11. ftp://igs.org/pub/data/format/ionex1.pdf

Yuan Y, Wang N, Li Z, Huo X (2019) The Beidou global broadcast ionospheric delay correction model (BDGIM) and its preliminary performance evaluation results. Navigation 66(1):55–69

Zhang Q, Zhao Q (2019) Analysis of the data processing strategies of spherical harmonic expansion model on global ionosphere mapping for moderate solar activity. Adv Space Res 63(3):1214–1226

Zhao B, Wang M, Yu T, Wan W, Lei J, Liu L, Ning B (2008) Is an unusual large enhancement of ionospheric electron density linked with the 2008 great Wenchuan earthquake? J Geophys Res Space Phys 113(A11):304
Acknowledgements
The first author is grateful to the financial support of China Scholarship Council(CSC). The Group for Jason-altimeter data were obtained from the NASA EOSDIS Physical Oceanography Distributed Active Archive Center (PO.DAAC) at the Jet Propulsion Laboratory, Pasadena, CA (http://dx.doi.org/10.5067/GHGMR-4FJ01) and the National Oceanic and Atmospheric Administration (NOAA). And we are also thankful to GFZ and SWPC for providing Ap index and F10.7 index, respectively. Also many thanks to Heng Yang for his kind advice of GIM id.
About this article
Cite this article
Liu, Q., Hernández-Pajares, M., Lyu, H. et al. Influence of temporal resolution on the performance of global ionospheric maps. J Geod 95, 34 (2021). https://doi.org/10.1007/s00190-021-01483-y
Received:

Accepted:

Published:
Keywords
Global Navigation Satellite Systems

Ionosphere

Global ionospheric map

Temporal resolution

Vertical total electron content

Jason